Devil's Reign, written by Chip Zdarsky with art by Marco Checcheto, colours by Marcia Menyz, and lettering by Clayton Cowles is not Zdarsky and Checcheto's first time in Hell's Kitchen. This time however, instead of focusing on Daredevil, Zdarsky and Checcheto tell a story about Wilson Fisk, also known as Kingpin.
After discovering that he no longer knows Daredevil's secret identity, Fisk outlaws all vigilantism in New York City with the Powers Act, a law that outlaws vigilantism in the city. It's not a particularly new concept for Marvel, Civil War, which is referenced within Devil's Reign, had done it previously, albeit on a much larger scale, and in 2020, Outlawed
introduced the Underaged Superhuman Welfare Act, which banned vigilantism for those under the age of 21, a law which is actually mentioned by Fisk in the first issue.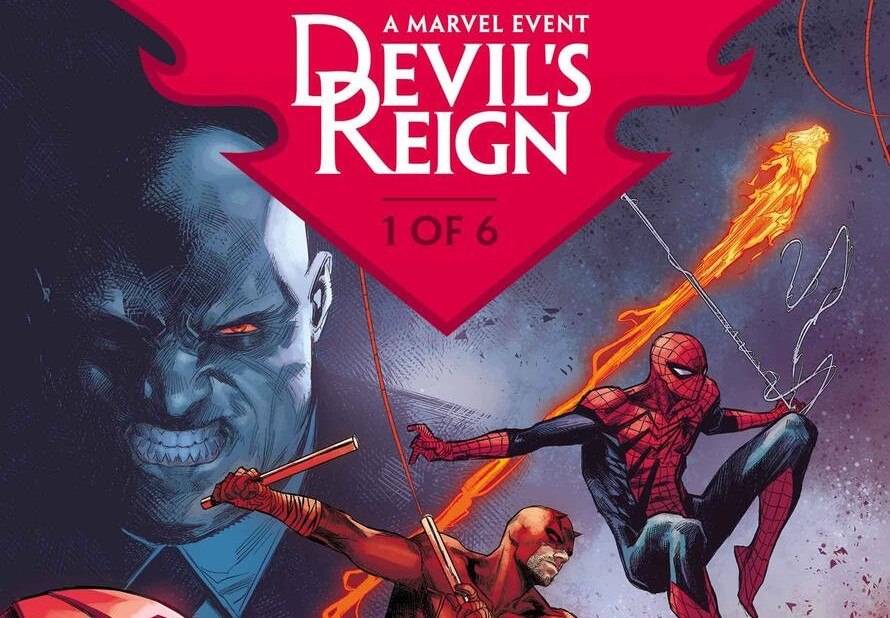 As the law comes into effect, the city's superheroes are forced to either go into hiding or risk capture and imprisonment and Wilson Fisk begins to manipulate the minds of the people of New York using the power of the Purple Man. Several of the heroes, namely the Avengers, the Fantastic Four (minus Sue and Reed, who have been imprisoned), and the street-level heroes like Daredevil, Elektra, and multiple Spider-Men fight back against the corrupt mayor and his draconian law; while the Avengers and Daredevil focus their energy on Fisk, the Champions and Jessica Jones search for the Purple Children, children who carry fragments of Zebediah Killgrave's power and who Fisk wants to capture to use to increase his hold over New York City. Meanwhile, Reed and Sue Richards orchestrate a prison break involving Iron Fist, Moon Knight, and the rest of the heroes who have been imprisoned in the Myrmidon, a high-security prison.
I'll be honest, the only parts of this that really stood out to me are the parts concerning Daredevil and Fisk and maybe that's by design, after all, Zdarsky writes Daredevil
, not Amazing Spider-Man and not Fantastic Four. Why shouldn't Matt Murdock be the most interesting part of his Daredevil event?
Support For Comic Book Herald:
Comic Book Herald is reader-supported. When you buy through links on our site, we may earn a qualifying affiliate commission.
Comic Book Herald's reading orders and guides are also made possible by reader support on Patreon, and generous reader donations.
Any size contribution will help keep CBH alive and full of new comics guides and content. Support CBH on Patreon for exclusive rewards, or Donate here! Thank you for reading!
That being said, there is potential here for something that could have been great. As with Empyre, which I reviewed previously, there's a missing piece here; Luke Cage: City of Fire. The three-part miniseries was meant to tie in to Devil's Reign and was cancelled by Marvel one month prior to release, something which was revealed by writer Ho Che Anderson on his instagram page. That cancellation feels like a major loss, especially for an event that thrusts Cage to the forefront like this one does, with him running for mayor against Kingpin. You'd think that if they had an X-Men tie-in for a New York based event that they'd at the very least not cancel the Luke Cage tie-in miniseries for an event where he becomes mayor, even one where it's really just a footnote more than anything by the end.
This wasted potential is disappointing, to say the least, and while it doesn't feel like as large an absence as Empyre dealt with, City of Fire still feels like such a lost opportunity and it's a shame that it never even got to be released after the event as a stand-alone book.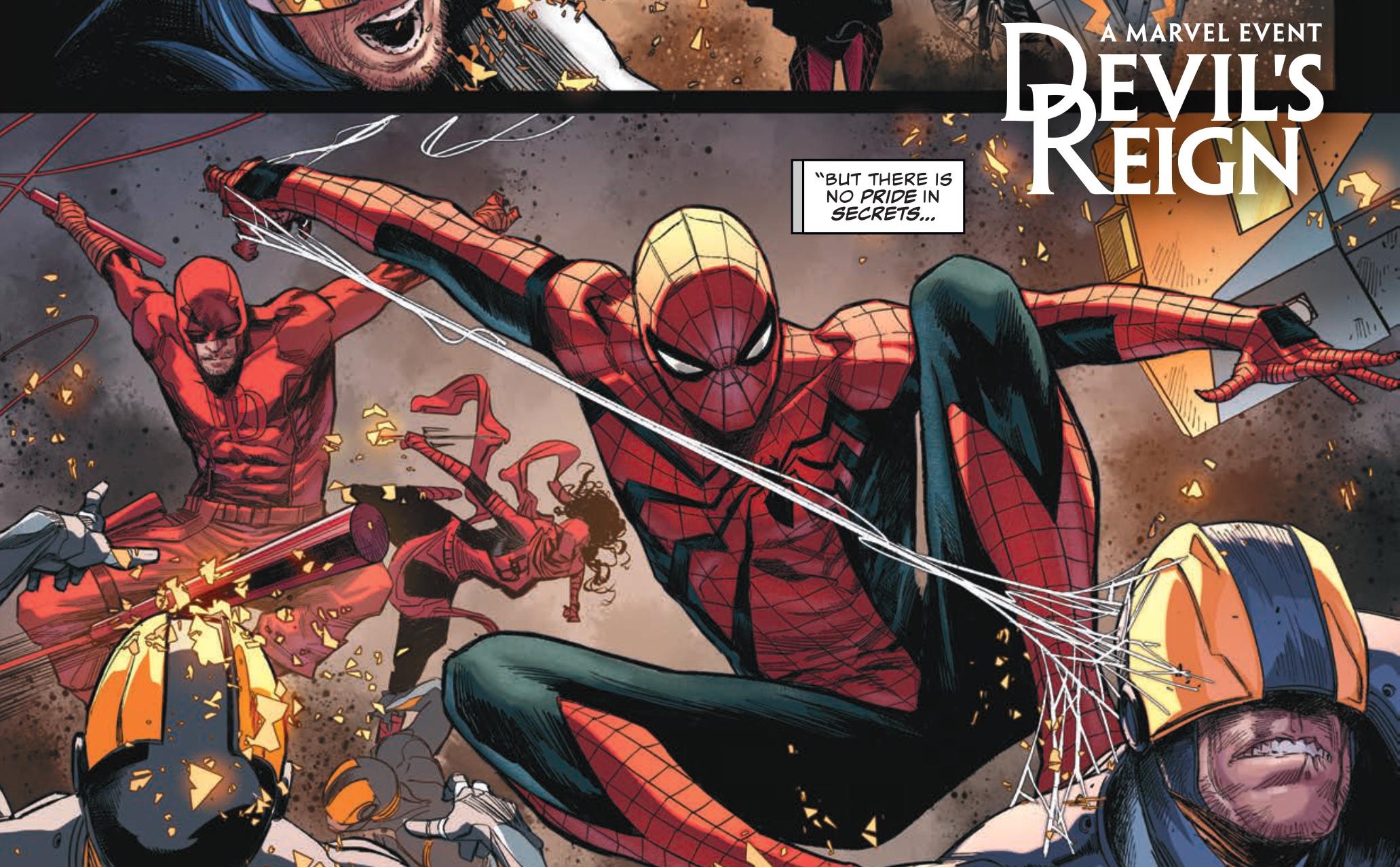 All of this comes to a head with an all-out battle between the heroes and the rest of the city, all under the control of the Purple Man. In the midst of it, Matt finds out that the fragment of his identical twin brother Mike, a twin who never really existed aside from as an alternate identity Matt would use to help conceal his dual life, has been murdered by Kingpin in Matt's apartment. Fisk is under the impression that he's just killed Matt, who he now knows is Daredevil thanks to regaining his memory by using the Purple Man's powers. Afterwards, Matt and Fisk come to blows, with Matt nearly killing him before Elektra reminds him of what he stands for. And in the end, Fisk gets away, he gets a happy ending, and Daredevil's fight hasn't ended.
In my opinion, Marco Chechetto's art is the real standout here. He makes fight scenes flow and don't even get me started on the way he draws the women in this book. I've been obsessed with his Elektra since I first saw her in his and Zdarsky's Daredevil. More than anything, that's what makes me want to revisit this event someday. Which is more than can be said for other events I've read. Chechetto's tale on Typhoid Mary is also something that stands out to me, the way Chechetto draws her looks so similar to how Joe Madureira drew her on the cover of Spectacular Spider-Man #213, and like with Elektra, Chechetto seems to be drawing heavily from John Romita Jr.'s work on Daredevil. I'll be honest, character design tends to jump out at me more when women on are the page (see: any time Valerio Schiti is drawing a woman) and Chechetto's work on Devil's Reign, and by extension, Daredevil is no exception.
One of Devil's Reign biggest weaknesses is its failure to make it easy for those unfamiliar with all of the elements of the story to follow along, and even over the course of writing this review I found myself often doing quick google searches to double check that I was right about what happened and rereading passages of the book to make sure that I hadn't gotten something wrong or gotten confused about what was happening in the event. At some points I had upwards of six tabs open at once just to get my facts straight, at others I had multiple devices powered on, using my tablet to have Devil's Reign up as a reference and writing this article on my laptop at the same time. I understand that comic events are difficult for newcomers to understand almost by design, but it shouldn't be this difficult to keep everything straight in my head, no matter how familiar or unfamiliar I am with the material. (I would like to note that, aside from Fantastic Four and Amazing Spider-Man which I do not read, I am familiar with the material involved in this event.)
Despite having a core plot that has been recycled at least twice before, Devil's Reign finds ways to make it feel less like a rehash than, say, Civil War II. The scale of the event is small, affecting only New York as opposed to the entire country, but the stakes feel real. There's a clear progression for how things could get worse outlined within, and it makes the event feel big without being so spread across the Marvel line that it lasts too long or feels spread thin, an all-too common issue for comic book events. It's tried and more or less true, but Zdarsky and Chechetto still find a way to make it feel fresh, something which isn't always easy to do when it comes to any comic, let alone event comics.