Up until very recently there was just something about Westerns that I rejected intellectually. As a genre, Westerns seem so base. Cowboys and Indians? At best it's a throwaway Sleigh Bells lyric, and worst it's violent, racist, and embodies American's deep-seeded inability to ever just get along.
I realize the hypocrisy here from a (relatively) grown man who reads comic books like it's his job. But, for whatever reason, Westerns always seemed a rung below acceptable.
Then I watched The Good, The Bad, and The Ugly.
Turns out, I love Westerns. They're awesome! Man, I had no idea. Immediately after that Clint Eastwood classic, I binge-watched True Grit and season one of Justified, and I may have bought a shotgun. Just a bunch of straight tough guys walking around grabbing their you-know-whats, shooting cans and hats dead-on at impossible ranges! It's everything we love about Wolverine distilled into one gruff genre.
I mention all of that to say I didn't drop All-Star Western because I'm out on the genre. I've grown to like the potential for a good Cowboy in the city story, and I really wanted to root for Jonah Hex.
Support For Comic Book Herald:
Comic Book Herald is reader-supported. When you buy through links on our site, we may earn a qualifying affiliate commission.
Comic Book Herald's reading orders and guides are also made possible by reader support on Patreon, and generous reader donations.
Any size contribution will help keep CBH alive and full of new comics guides and content. Support CBH on Patreon for exclusive rewards, or Donate here! Thank you for reading!
But after 9 issues, it was time to move on.
A 10 Gallon Hat in Gotham
Much like Brian Azzarello's Wonder Woman, Justin Gray and Jimmy Palmiotti's plotting has strategically taken the focus off their main character, Jonah Hex. Despite a cult following that brings to mind a smaller scale Punisher, Jonah Hex doesn't exactly scream guaranteed dollars.  So what we get in All-Star Western is a comic book focused less on Jonah Hex, and more on something a little more iconic: Gotham City.
The thrill of Hex in late 1800's Gotham is immense, and provides all sorts of natural Batman connectivity. In Gotham, Hex meets Dr. Amadeus Arkham (cue the fist-pumping mouth-watering of every fan of the world's greatest superhero video game) and the odd couple are instantly thrust into a murder case that reaches much deeper than expected.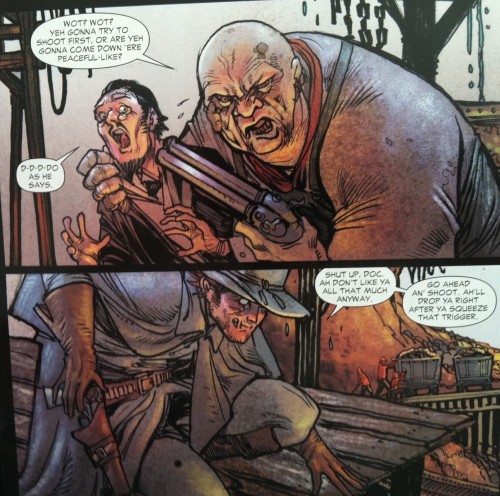 The mystery of "the Gotham Butcher" is a great start to All-Star Western, combining elements of Justified, CSI, and maybe even a little Dexter into a familiar DCU setting. Unfortunately, almost as suddenly as Jonah rode his horse into Gotham, the Gotham Butcher case is solved and tossed aside. Normally, I'm all for self-contained issues and plot threads that provide closure (I'm looking at you LOST). But honestly, the Gotham Butcher had the potential for a long-running murder mystery crime spree. Gray and Palmiotti pushed things along much too fast, almost immediately diving into the Crime Bible and eventually the Court of Owls.
It's this decision to make All-Star Western more of a series of easter eggs for people who like Batman that has taken me away from the book. There are giant man-bats in the bat cave, and Mayor Cobblepot looking all Penguin-y at a gala, and this is immediately fun for a time. I think there was a lot of potential here, and Moritat's art is consistently unique – a relatively rare feat in big 2 comics sometimes; he really owns the book as his own – but if I want to read about Gotham City, I'll probably just pick up Scott Snyder's Batman run.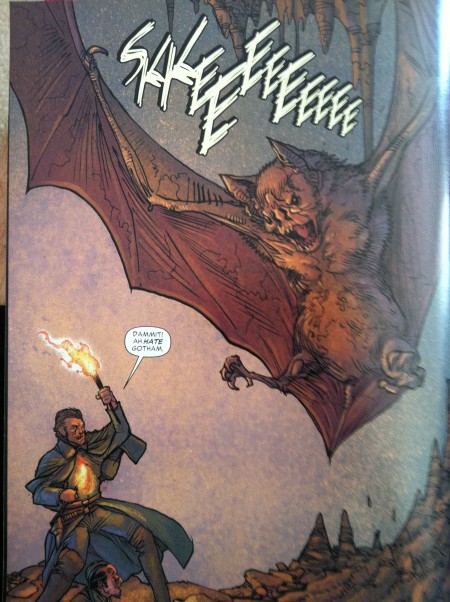 Worse yet, All-Star Western is so reliant on the appeal of Gotham and Arkham that when Hex leaves the city for New Orleans, the book immediately sinks out of contention with other top books in the new 52. The choice of Arkham as narrator is brilliant, and it's interesting to see this character developed in his formative years, but All-Star Western is only going to be as interesting as Hex. And when Jonah Hex is fighting convoluted terrorist organizations and not just hunting bounties? Well, he's a little out of his element.
Whereas Azzarello's focus on the Greek gods in Wonder Woman feels revelatory, in retrospect Gray and Palmiotti's focus on Gotham feels like an unsustainable attention-grabber. It feels designed to rake in some dollars, and clearly it worked. I don't really have a problem with the approach, with the effort to pull in new readers through some familiar DCU devices, but it does make issues seven through nine feel like a real let down.
I wouldn't rule out finding my way back to an exciting Western comic book; I just don't think it will be All-Star Western.