1.3.0: The Best Stories and Moments of the year. (Series ranked)
For this section, I want to look a little closer at the different books themselves. Here is my ranking of every book in Infinite Frontier so far. My ratings are based on the quality of the comic, my personal enjoyment, and overall discussion around the comic. I only included comics that have released five or more issues, because I can have a relatively accurate sense of the direction of the story and quality consistency. The exception to this rule being four issue mini-series. I did include digital mini-series like Infinite Frontier: Secret Files, because I personally felt like there was enough content to merit its own rating. At the end of the day though, I genuinely enjoyed all of these books except for one. I placed them in a tier list at the bottom of this section.
Previously: Part One – The Road to DC Infinite Frontier
30. Justice League
Written by: Brian Michael Bendis and Ram V
– Pros: Ram V's Justice League Dark back-up story is relatively good. The only positive thing I have to say about the main book is Naomi being relatively fun. Also, the last issue of the year, Justice League #70, was a step in the right direction, but with the run ending in March, I don't see this story getting any better in time.
Support For Comic Book Herald:
Comic Book Herald is reader-supported. When you buy through links on our site, we may earn a qualifying affiliate commission.
Comic Book Herald's reading orders and guides are also made possible by reader support on Patreon, and generous reader donations.
Any size contribution will help keep CBH alive and full of new comics guides and content. Support CBH on Patreon for exclusive rewards, or Donate here! Thank you for reading!
– Cons: This is a horrendous book that plays to all of Bendis's worst tendencies at DC. Every one of his books has to reference something he's already written in one way or another. When a whole arc is dedicated to Synmar attacking the Justice League, and also trying to tell a story with Lois Lane's brother (yeah…), the comic manages to be incredibly messy, convoluted, and full of stories I do not care about with unnatural dialog. The Synmar arc is genuinely the worst comic I've read this year of the 423 comics on my "read this year" list. This comic is proof that DC is best when moving on to newer and younger talent and leaving multi-decade long writers like Bendis in the dust bin.
29. Crime Syndicate
Written by Andy Schmidt
– Pros: A unique take on the Crime Syndicate detailing their origin. With multiple random comments including "our founding father Benedict Arnold" and shocking character appearances, the story has fleshed out Earth-3 in interesting ways. The second three issues in particular are really fun as Luthor and the Legion of Justice fight the newly formed Crime Syndicate. As opposed to the more typical focus on Owlman and Ultraman, this series ended up focusing more on Atomica and Emerald Knight and giving them surprisingly nuanced and interesting stories. While not for everyone, the Crime Syndicate book ended up being a unique read. Its first three-issue arc is really weak, but the second three issues were surprisingly fun and full of heart.
– Cons: The art is really rough and the writing always feels off. Ultraman makes no sense as a character and the Legion of Justice doesn't get much development.
28. Superman
Written by Phillip Kennedy Johnson
– Pros: Basically a four-issue mini-series. Phillip Kennedy Johnson tells two different father-son stories that explore the nuances of fatherhood and how children look up to their parents
– Cons: The story is messy and repetitive, and the first issue (#29) and the other three don't feel connected at all. Both stories feel a little repetitive and the second one took multiple reads to fully understand.
27. Green Lantern
Written by Geoffrey Thorne
– Pros: Few runs have done more to move a franchise forward into new territory than Geoffrey Thorne's Green Lantern run. Often told as two different stories in each issue, the story on Oa has been surprisingly great. Teen Lantern and Jo Mullein have been fun additions to the Lantern cast. A surprise addition to the Yellow Lantern Corps has also been compelling.
– Cons: The main premise of the run hasn't been delivered great and the John Stewart story, in particular, is bad. While the Oa story has been relatively good, the main question I ask after every issue is "Why did he choose THIS premise?"
26. The Flash
Written by Jeremy Adams
– Pros: Fans have spent the last decade begging for a Wally West story that does the character justice and we finally got it!! After a time-traveling opening arc, Wally West gets to enjoy his new life with his family. Told through a series of one-offs, this comic is a great reminder of why we love Wally.
– Cons: Every comic varies wildly in quality with a particularly strange issue making you play a really hard game of iSpy in the most fourth-wall breaking comic of the year. When Harley Quinn has an ongoing, it says a lot about that issue. Also, the first arc, while fun, is very different from the second, leading to a disjointed year of Flash comics.
25. Suicide Squad
Written by: Robbie Thompson
– Pros: Waller has bigger ambitions than ever before and she's not afraid to do whatever it takes. Full of D-list villains and a couple of bigger surprises, Waller's new team is building up to something big. Full of interesting characters and lots and lots of death, this story is doing something fresh with a crew that's had a fixed roster for years.
– Cons: The story's plot has centered around multiple missions that feel very random. Obviously, it's leading to war for Earth-3, but it's moving in that direction very slowly. Also it relies on minor characters who aren't super compelling and don't get enough time to be compelling.
24. Checkmate
Written by Brian Michael Bendis
– Pros: For all the hate Bendis gets, Event Leviathan was always my favorite Superman story of his and he continues that trend with the sequel. It's beautiful, with a great plot and some really cool moments.
– Cons: The Macguffin that Leviathan is after is really dumb. The story can also lack clarity and be convoluted at times, and Lois Lane's brother really isn't an interesting character.
23. Crush and Lobo
Written by Mariko Tamaki
– Pros: Crush gets her first solo story that embraces its DC Pride advertising in meaningful ways. As Crush navigates her destructive tendencies and dad issues, Mariko Tamaki writes a fun and meta young adult story.
– Cons: For a story called Lobo and Crush, there really isn't much Lobo content, and the father-daughter relationship, though the heart of the plot, isn't the heart of the book. As such, the story feels like it isn't emotionally going anywhere. For a young adult story that leans into discussion of mental health and trying to figure yourself out, this bildungsroman is falling flat.
22. Harley Quinn
Written by Stephanie Phillips
– Pros: Featuring the first ongoing Harley Quinn story that emphasizes current continuity rather than the traditionally goofy, basically out of continuity stories of the past, Stephanie Phillip's Harley Quinn is full of laughs and heart. Culminating in a decades-long moment in comics, this comic is everything Harley Quinn fans have been begging for.
– Cons: Rossmo's art can be hit or miss and certain issues can be full of filler, such as when Harley gets chased by a bear. It also takes a while to get going and spends the first six issues not even focusing on Ivy or acknowledging the events of Batman #109. Also, Keepsake is such a bad villain, and while that is kinda the point, his presence isn't making the story better.
21. Batman: Urban Legends
Written by Matthew Rosenberg and Chip Zdarsky
– Pros: With a wide range of stories from Tim Drake, Azrael, Red Hood, the Outsiders, Batwoman, Grifter, and a surprisingly stellar Tweedledee and Tweedledum, this Batman anthology is full of highlights and some rougher edges, but regardless of what stories we get, every issue has something important and exciting for readers.
– Cons: Not every story is great or important – the first Outsiders story and the Oracle, Luke Fox, and Grifter stories are pretty rough. Similarly, the Future issue (#7) is really random and has only one good story.
20. Superman: Son of Kal-el
Written by Tom Taylor
– Pros: The aged Jonathan Kent is finally getting fleshed out and I couldn't be happier. With a stellar mission statement and a direction that hopes to redefine what the character of Superman is supposed to represent, this story has a lot of personal meaning for me. Superman coming out was probably the single biggest comics moment of the year and it genuinely meant a lot to so many other members of the queer community.
– Cons: Unfortunately, I still don't think Taylor has given Jonathan Kent a variation on the personality that we all fell in love with Superboy for. Though he's nailed Jon's values and mortality, the personality is lacking. The villain has also been bad, and Jay Nakamura isn't particularly interesting.
19. Batman/Superman
Written by Gene Luen Yang
– Pros: The opening issue of Batman/Superman is one of the most unique and well written stories of the year. Fun, unique, and meta-breaking, Gene Luen Yang finds something unique in an 80-year industry and an arc unlike anything ever written.
– Cons: Your enjoyment of the plot is dependent on whether or not you like Golden Age stories and older films. The plot can be very confusing with multiple timelines to keep track of. The series also should have ended after the 2021 Annual instead of ending with Batman/Superman #22, which didn't fit with the other issues.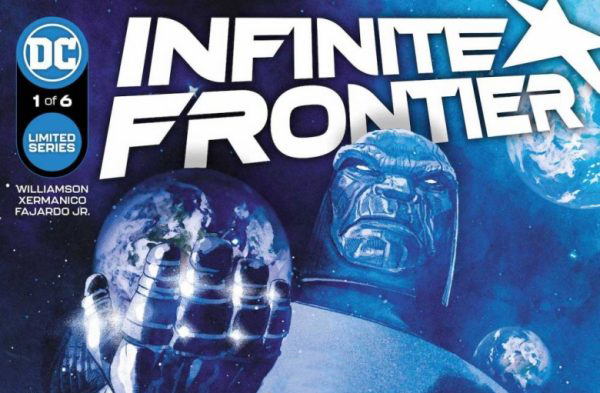 18. Infinite Frontier
Written by Joshua Williamson
– Pros: DC's record with cosmic event comics is all over the place and fortunately this book falls on the better end. It's full of energy, big moments, wild new concepts, and the return of a fan-favorite team. Its last couple of pages only promise more wild stories.
– Cons: There's too much going on in this book and as such it can feel scattered and disappointing. Its opening structure of a couple of pages of five different stories that eventually come together can result in the pacing feeling off at times.
17. Infinite Frontier: Secret Files
– Pros: Call it a mini-series or a single issue (digitally it was a mini-series), this collection contains my favorite single issue of Infinite Frontier. The idea of the comic was to serve as a bridge between Infinite Frontier #0 and Infinite Frontier #1 and it succeeds tremendously.
– Cons: Many issues can feel pressure not to progress plot threads very far, but it reads like a prelude comic at its finest.
16. Mister Miracle: Source of Freedom
Written by Brandon Easton
– Pros: There's a new Mister Miracle! Shilo Norman is cocky, but still struggling to figure out his life. The story breaks down how easy it is to prioritize hiding who you are over being yourself when racism is prevalent. It also has new gods and looks at what being a legacy character means.
– Cons: The new god content is rough and often unclear. N'Vir Free is not a compelling villain and the fight scenes are messy and not super clear.
15. Shazam
Written by Tim Sherridan
– Pros: Containing one of the best opening issues of a comic this year, Tim Sheridan nails Billy Batson's characterization while giving readers a stellar and essential supplement to Teen Titans Academy.
– Cons: The various events in hell are fun, but don't have the same impact as the first issue leaving readers a mini-series that doesn't quite deliver. Also, while it is on purpose, a Shazam mini-series without Captain Marvel can feel like it's missing what readers expect, tonally speaking.
14. Action Comics
Written by Phillip Kennedy Johnson
– Pros: There's an impending sense that an all-time great Superman story is on the way from Phillip Kennedy Johnson. He's spent this entire year setting up the threat of War World through high stakes situations, while still giving some of the more emotional personal moments of the story.
– Cons: It is clear that the War World Saga has a lot of potential to be an all-time great story. Unfortunately, the lead up has been less so. Thao-la wasn't very compelling, and the Atlantis stone plotline felt very forced and unnatural.
13. Wonder Girl
Written by Joelle Jones
– Pros: Genuinely one of the wildest origin stories I have ever seen for a superhero. Explaining the plot of this book is incredibly difficult. What I can confidently say, though, is that the first six issues of Wonder Girl have been a treat full of mesmerizing art, laughs, and a sense of scale that is only matched by The Joker and Infinite Frontier's mini-series.
– Cons: Eros and Hera's motivations are confusing, and the human characters Yara Flor meets are very flat.
12. The Next Batman: Second Son
Written by John Ridley IV
– Pros: The comic is at its best when it explores the intersection of wealth and race in the Fox Family. John Ridley IV created the definitive Fox Family story with a comic full of compelling moments between Jace and Lucius.
– Cons: The mini-series doesn't end very satisfyingly, and it very obviously sets up the story for I Am Batman. There's also problematic elements with the way deadnaming is used in the story.
11. Detective Comics
Written by Mariko Tamaki
– Pros: Mariko Tamaki's first outing has been creepy and a fun alternative to Tynion's Batman. With the haunting Vile and an exploration of the wealthy elite in Gotham, Mariko Tamaki's first year was really solid.
– Cons: The story always felt like a side story that was very detached from the rest of the Gotham stories. The villains weren't very compelling and the inclusion of Lady Clayface felt very random.
10. Superman and the Authority
Written by Grant Morrison
– Pros: Grant Morrisson's "one last" story at DC is a resounding success. While the story leans on their signature weirdness, the four issue mini-series does a phenomenal job of setting up who the Authority is. Every character gets moments to shine while Morrison still navigates building the team together, fighting Eclipso, and still fighting robots that mimic the tendencies of the Internet. Also, this comic is visually stunning.
– Cons: The opening especially relies on how much you like Manchester Black. Once you get through his introduction, the story quickly opens up to characters that have a lot more interesting dynamics at play. The story is completely focused on building the team for the War World Saga, and the villains seem shoehorned in even as they prove to be very important.
9. Nightwing
Written by Tom Taylor
– Pros: Nightwing is back!! With an uplifting run that takes homage to Matt Fraction's Hawkeye, Dick Grayson has a new mission statement of saving Bludhaven with a small fortune from Alfred. In particular, Nightwing #87 is a true standout story that is the equivalent of a continuous movie (as in a movie that uses only one camera and doesn't cut or stop filming, like the movie 1917).
– Cons: The story can sometimes lack depth and most issues feel like filler, even as the feel and sentiment of the comic are phenomenal.
8. Robin
Written by Joshua Williamson
– Pros: Robin's Mortal Kombat Tournament is full of fights, and a powerful growing up story for Damian. Damian is continuing to mature and Williamson excellently captures the nuances of Damian's ego and youth with his insecurities and darkness in a thrilling series.
– Cons: The ending of the first arc is predictable and kinda lame, and Flatline and Ravager aren't particularly fleshed out characters in this comic.
7. Wonder Woman
Written by Becky Cloonan and Michael Conrad
– Pros: Wonder Woman is always at its best when its mythology is simple and its characters are compelling, and Becky Cloonan and Michael Conrad nailed that. From a nine-issue opening arc through the afterlife to her return to earth, the book never ceased to stay fun. It has one of the best surprise supporting characters. Also the end of the year shift towards preparing for the Trial of the Amazons has been full of exciting teases.
– Cons: The book promised to help Diana figure out her new role in the world, but ten months in, we still don't understand what that role is.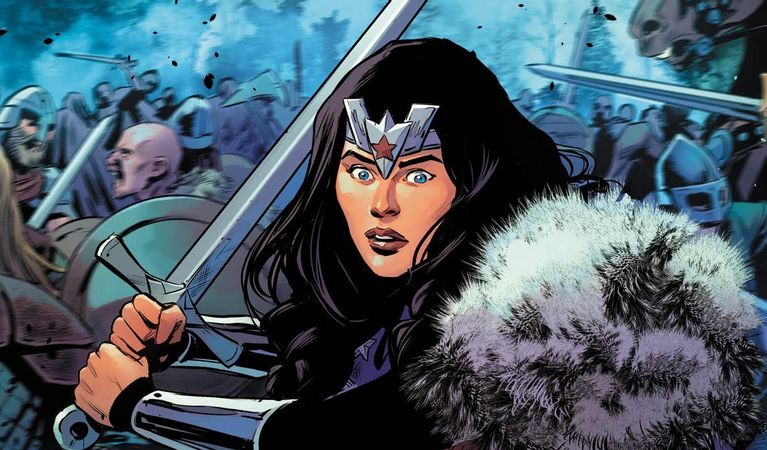 6. Batman
Written by James Tynion
– Pros: The main title of the Magistrate storyline, James Tynion's writing is full of interesting new characters like the Gardener, tense moments and big fights, and a dense plot that shows how fear and misinformation can bring out the worst in people.
– Cons: Batman can sometimes bite off more than it can chew. There are a ton of plot threads and in order to finish, Tynion often has to make characters more one-note than should be, or leave other newer characters without much screen time. The final fight scene also is a bit of a letdown.
5. The Swamp Thing
Written by Ram V
– Pros: A deep book full of nuance and beautiful storytelling. Focused on a new Swamp Thing, Ram V tells on a beautiful story about two brothers with different viewpoints on life, and new ideas about Avatars that changes how we will view Swamp Thing for years to come.
– Cons: The Suicide Squad's presence drags out, especially compared to the Suicide Squad version of the crossover. The story lacks momentum and can feel like a slog to get through at times because the pace can feel slow and story moments like Kamei's backstory are restated so much that they start to feel repetitive.
4. Catwoman
Written by Ram V
– Pros: This year has truly been a stellar year for Ram V, and Catwoman is a large part of that trend. Full of experimental issues, a powerful new biblical villain, and a heartwarming story about finding purpose and learning to fight for something greater than yourself.
– Cons: A couple of plot threads ran out of time and had to quickly resolve in the final issue. I would have loved to see another issue or two before Ram V's run ended.
3. Supergirl: Woman of Tomorrow
Written by Tom King
– Pros: A powerful look at the grief that comes from the genocide of Supergirl's people to the genocide of populations, it is nuanced, brutal, beautiful, and tragic all at the same time. Tom King masterfully captures the tragedy of the aftermath of such a terrible act of violence, and how people live on after such an act. In every scene is some of the best comics art in the industry – Bilquis Evely absolutely deserves the Eisner this year.
– Cons: Your mileage with a Tom King book will vary. Many longtime Supergirl comics fans are struggling with this book because the characterization of Supergirl isn't one they identify with. I struggled with the first issue's take on Supergirl, which was kinda rough, but once the story got going, it personally really clicked for me.
2. Titans Academy
Written by Tim Sheridan
– Pros: My personal favorite book of Infinite Frontier. Full of many new fleshed out heroes, the book manages to juggle a lot of unique relationships without feeling rushed or hurried. Characters can want to change roommates, ask people on dates, and yet still have a bigger story in mind.
– Cons: Though it's my favorite book, it's objectively struggling under its ambition. Though most characters have gotten a signature issue or two, it always feels rushed with the big twelve-issue arc teased in Future State always being the least interesting part of the story.
1. Joker
Written by James Tynion
– Pros: An exploration of the legacy of Jim and the Joker, with the inclusion of new villains and an exciting conspiracy, Joker is a Jim Gordon-centered horror story full of mystery and intrigue. Tyrion's tale is proof that a Joker ongoing can be a surprising success.
– Cons: Occasionally there are weird continuity errors and every five issues is a flashback story that retreads old ground and feels like filler.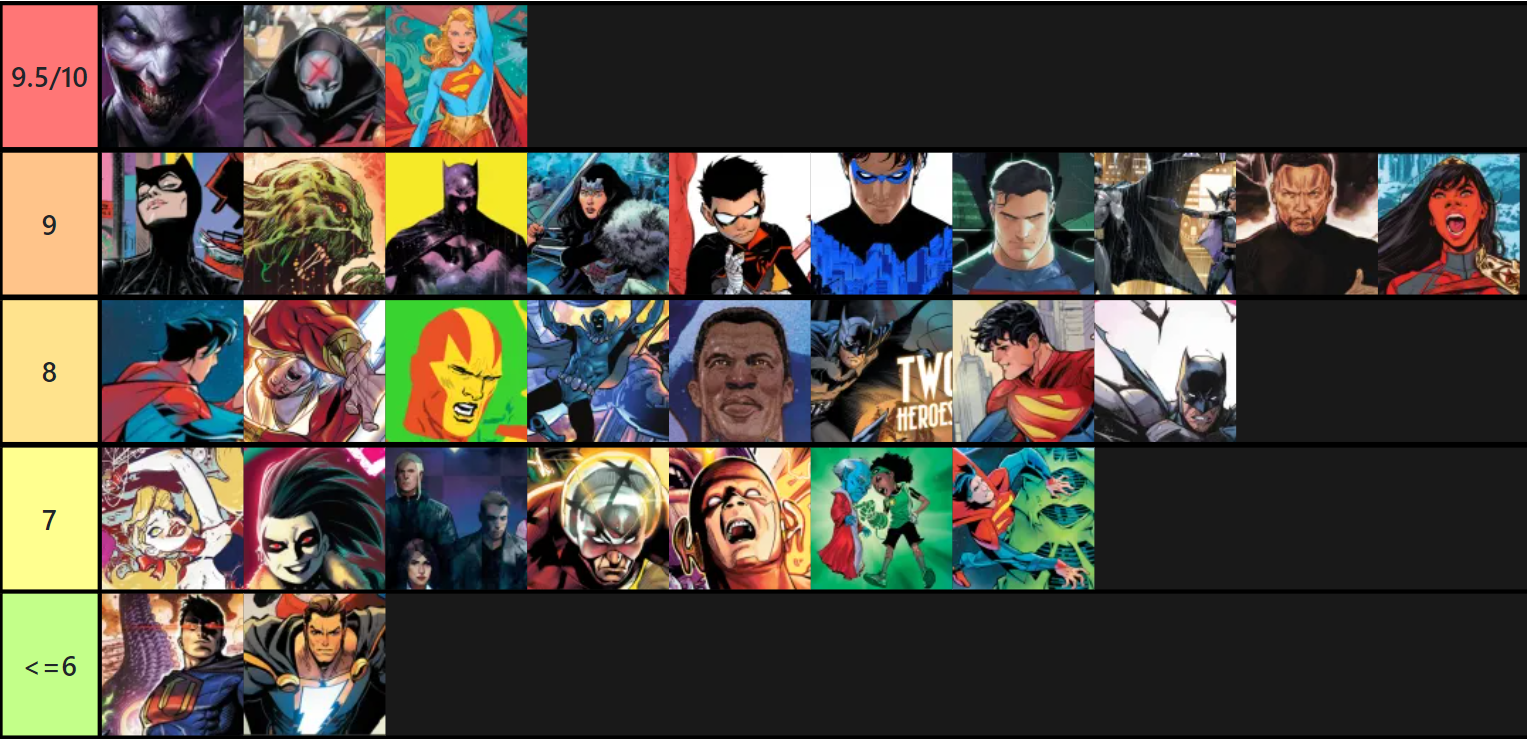 You can make your own Infinite Frontier Tier List here
Not included in these ratings: Blue and Gold, Batman Secret Files (each issue is too different), the specific topic anthologies (DC Pride, Aquaman 80th, etc), Deathstroke Inc, Blue and Gold, Suicide Squad: King Shark, Aquaman: The Becoming, Black Manta, Arkham City: Order of the World, Task Force Z, Aquaman/Green Arrow: Deep Target, Nubia and the Amazons, Justice Legaue Incarnate, Batgirls, and One-Star Squadron.
1.3.1: 25 Big Moments From Infinite Frontier
When reflecting on the year of comics that we've had, there are visual moments and story beats that stick with you. These are 25 moments ranked that I find to be big standouts. Some moments are on this list for being some of my favorite visuals of the year and others are shocking reveals, big plot moments, and emotional beats that I can't help thinking about. There are plenty of other moments that I found resonated with me, but these are the 25 that stuck out the most.
#25. The Pale Wanderer is impaled by a tree in Swamp Thing #2. After fighting the Pale Wanderer for countless nights and dying, Swamp Thing Levi Khamei finally wins and impales him with a giant tree in the ground.
#24. Supergirl enters the No-Magic Zone in Supergirl #6. Chased by an orb, Supergirl flies away on a horse who wears a cape while she also wears a cape into the visually stunning area where magic doesn't work.
#23. Yara Flor gets pulled into the water from Wonder Girl #1. This is maybe my favorite visual moment of Infinite Frontier. It's beautiful and serene and the first moment Yara faces the supernatural that she will become a hero of.
#22. From Action Comics #1034, Atlantis vs. the US. Atlantis and the US fight over a mysterious rock while Superman tries to keep the two armies from going to war.
#21. Wonder Woman meets Deadman in Wonder Woman #772. This is my favorite surprise guest appearance of Infinite Frontier. The slow three-issue reveal is a huge part of what made it so special.
#20. From The Next Batman: Second Son #9 (digitally)/ Second Son #3 (physically), Jace criticizes Lucius about how being wealthy has become more important to him than race. I love the nuance of this moment, and it really captures the dynamic between race and class.
#19. Miracle Molly looking over Gotham with Bruce from Batman #108. Just stunning, and the words match this image so perfectly. It's just serene and gives me chills. This is why Jorge Jimenez is one of the greatest of the decade.
#18. The films merge in Batman/Superman #16. After telling two separate stories in the issue, the stories merge right at the end as a whole is burnt into the film. This was one of the best endings of the year.
#17. Darkseid returns in Infinite Frontier #0. Darkseid kills the quintessence and announces his return as the main (or a main) villain of the Infinite Frontier multiversal story.
#16. Jonathan Kent decides the kind of Superman he wants to be in Superman: Son of El #1. Before it was "Truth, Justice, and a better tomorrow," Taylor actually wrote a better world, and MAN, the Damian/Jon moments are all so amazing.
#15. Nubia opens Medusa's Box in Infinite Frontier #0. The appointment of Queen Nubia!!!! A great character moment, as she decides to risk her life to lead her people.
#14. Nightwing discovers that Alfred left him a letter in Nightwing #78. Reading this letter is powerful and a massive emotional punch to the stomach. What a great moment.
#13. Light Ray Is. in Superman and the Authority #4. The epilogue in Superman and the Authority includes
#12. Doctor Fate warns of a potential Crisis in Shazam #1. This is a great way to show the incoming plot thread and connect moments across various books. It feels big and important and I love this moment so much as the best of what little bits of shared storytelling can be.
#11. Mentioned from my #8 choice, the explosion of the Central Battery in Green Lantern #3. Everything just changed for the Lanterns and damn this moment is massive.
#10. Damian and Jon discussing Jon's fears in Action Comics #1030. Every Damian and Jon conversation is just amazing. Both of them from Infinite Frontier are on this list for a reason, and damn this moment is something special.
#9. The Gotham clock tower blows up in Nightwing #85. The magistrate is after the Batgirls and they retaliate by blowing up the iconic clock tower. Oracle's secret hideout is gone and a massive blow is dealt to the Batfamily.
#8. Red X reveals his identity (just not to us) in Titans Academy #5. This moment was a big re-energizer of why I love this series so much. It almost turns Titans Academy into a strategic game and creates new dynamics very quickly.
#7. Wonder Woman reunites with her Mom in Wonder Woman #780. I know she was only gone for eight months, but this moment still feels special and earned. Wonder Woman's long trek finally gets to end with a hug.
#6: Father Valley fights Catwoman in Catwoman #33. Father Valley surprises Catwoman after a series of issues of watching in the background. It's a visually stunning surprise ending, with Batman seeing Catwoman for the first time since Joker War.
#5. Court of the Owls is behind Gordon's hunt for the Joker in Joker #2. Cressida spent the last two issues getting Gordon ready to hunt down the Joker, and now, we know who's funding him. With so many pieces already busy in Gotham, the reveal of the Owls made so much sense!
#4. The "." in Darkseid is from Infinite Frontier Secret Files #6. Psycho Pirate gets to (what he thinks is) outside of reality where he can be alone. What he doesn't realize is that white reality is just a small piece of Darkseid's presence. Such a cool visual moment.
#3. Superman kisses Jay Nakamura, confirming that Jonathan Kent is queer in Superman: Son of El #6. Though not the most meaningful moment this year for me, this is definitely the defining moment of the year for DC Comics. Nothing symbolizes what DC has done this year for diversity for than letting a young legacy character kiss a guy two years after a month where DC didn't even sell a single comic with a lead queer character.
#2. Harley Quinn and Ivy finally kiss in Batman #118. After decades of DC trying to queercode and queerbait readers, Ivy and Harley Quinn finally got to kiss in a culmination of two decades of friendship and romance.
#1. Tim Drake asking Bernard on a date in Batman Urban Legends #6. I cried when it happened and I am crying now. I know everyone is talking about Jon, but this moment meant so much more. Tim Drake coming out was built on more than fifteen years of queercoding. Robin has been a queercoded character since its origin and DC gave the queer community a massive victory.
1.3.2: In Conclusion
Overall, I think DC has had a stellar year full of great content, meaningful stories, and an effort to expand diversity across the creative teams and the characters. It created many meaningful moments that made me cry this year, especially with Tim Drake exploring his sexuality. I am so happy that this new DC editorial has made meaningful changes to DC content that are both leading to better stories, a better universe, and a more representative one – From the creative Future State with a unique, well designed event, to the conclusion of the year with Fear State, the pinnacle of the last year of Batman stories. When comparing Rebirth, New 52, and Infinite Frontier, I personally think Infinite Frontier is off to a much stronger start than any other event of the postmodern era of DC Comics. While it remains to be seen if DC will continue on this path and expand diversity, continue the tightly connected events, and maintain the quality of the books across the board, I have a lot of faith that they can. In the second part of this two-part review, I will be going deeper into the statistics of Infinite Frontier, looking at where DC can improve, and diving into the different stories that we can expect to see in 2022: the events, the new runs and series, and the plot threads that are coming up.