Starting in 2019, DC formalized their YA comics with the DC Ink imprint dedicated to standalone graphic novels set outside DC Comics expansive continuity. The end result is a growing list of accessible, high quality graphic novels from talented YA creators, and many times writers and artists known to standard floppy comic book fans.
Unlike the "mature readers" Black Label imprint, DC Ink is less centralized around Batman stories (although you'll find some!), and open to a more diverse array of DC heroes, anti-heroes, and villains. My personal favorite so far is Harley Quinn: Breaking Glass which does a great job of showing the potential in these graphic novels for both new readers and longtime comics fans.
Anyone who's been paying attention to book market and comic shop trends will likely agree that DC's foray into a dedicated young adult line of books is a smart move for the publisher. The kids and teen audiences are growing by leaps and bounds this past decade, and despite their dominant role in the culture, superhero comics are often left behind in this wave.
Below you'll find a list to the available DC Ink graphic novels, along with links to where you can find the books.
Related Reading Orders: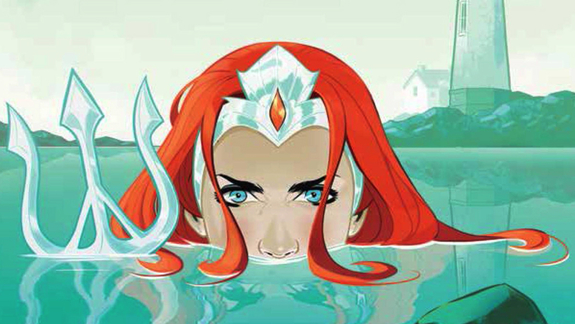 DC YA Graphic Novels! 
Collects: Graphic Novel
Kicking off DC's Young Adult graphic novels, Kami Garcia and Gabriel Picolo
Collects: Graphic Novel
Danielle Page and Stephen Byrne
Under the Moon: A Catwoman Tale
Collects: Graphic Novel
Lauren Myracle and Isaac Goodhart
Collects: Graphic Novel
Mariko Tamaki and Steve Pugh
Collects: Graphic Novel
October 2019 – Marie Lu, Chris Wildgoose, Stuart Moore
Collects: Graphic Novel
Oct 2019 – Meg Cabot and Cara McGee
Collects: Graphic Novel
Feb 2020 – Sarah Kuhn and Nicole Goux
Collects: Graphic Novel
Louise Simonson, Leigh Bardugo, Kit Seaton
Collects: Graphic Novel
March 2020 – Marieke Nijkamp and Manuel Preitano
Collects: Graphic Novel
April 2020 – Melissa de la Cruz, Thomas Pitilli
Lost Carnival: A Dick Grayson Graphic Novel
Collects: Graphic Novel
By Michael Moreci, Sas Milledge, Phil Hester
Collects: Graphic Novel
By Kami Garcia and Gabriel Picolo