If Frank Miller's time on Daredevil is defined by one storyline, it's likely "The Elektra Saga," a running plot thread that laced through his entire run as writer on the title, dipping in and out of Matt Murdock's life and interlocking with other running storylines.
As we've previously discussed, Miller's Daredevil run from 1981 through 1983 completely reshaped the character of Daredevil and is largely composed of two narratives – The rise of The Kingpin and the arrival of Elektra. Miller and collaborator Klaus Janson slowly interweave these two elements, expanding Daredevil mythology and smashing it against a darker, grittier urban crime element until they ignite in tragedy.
The Saga covers issue 168, Miller's first story as solo writer after working as penciller for 9 issues, 174 through 182, and 187 through 190. And while this is Daredevil's story, it's Elektra who defines the personal tragedy that is central to Miller's entire narrative.
The Elektra Saga
sees Matt Murdock, aka Daredevil, encounter long-lost love Elektra Natchios, who now works as a ninja assassin at first going after the same target as the hero. And while their first encounter is tempered by their love for one another, the two are soon forced into a complex rivalry that sees Daredevil's efforts to stop The Kingpin from gaining greater control over New York countered by Elektra, who is hired by the same man to protect his interests. Their long-lost love is complicated further by the arrival of The Hand – an evil ninja clan with ties to both characters – and the return of the psychotic villain Bullseye. The story that follows is a tragedy in more ways than one.
The Elektra Saga remains one of the titanic Daredevil stories. A story that both illustrated the many different directions DD could be taken in and a redefining arc that set its hero on a darker, more mythical course that is still being felt today. Here, we'll look at how Frank Miller and Klaus Janson reshape Daredevil's world into a story of innocent love that can never be reclaimed and of hope snuffed out by violence.
Support For Comic Book Herald:
Comic Book Herald is reader-supported. When you buy through links on our site, we may earn a qualifying affiliate commission.
Comic Book Herald's reading orders and guides are also made possible by reader support on Patreon, and generous reader donations.
Any size contribution will help keep CBH alive and full of new comics guides and content. Support CBH on Patreon for exclusive rewards, or Donate here! Thank you for reading!
A Doomed Romance
The Elektra Saga's plot threads run through issues that have little to do with Elektra or The Hand, but we can separate and discuss this specific plotline on its own for a deeper discussion.
In issue 168, Miller uses the sudden arrival of Elektra to spark a flashback to Matt's time in college, already blind and superpowered but not yet a hero, where he runs into fellow student Elektra Natchios. Their love quickly blooms, but when Elektra's father is killed by cops when taken hostage, she leaves Matt and is placed on a darker path that leads her back to where the issue began.
Miller has said that he didn't originally intend for Elektra to be a recurring character, and while 168 works as a complete story, creating a tragedy of love and loss that loops back around on itself, the dramatic possibilities of keeping Elektra in Matt's life were clearly too great to not explore. And while Miller's run contains plenty of outrageous and silly stories like "Stilts" and "Guts," The Elektra Saga provides Miller's run its spine so that other ideas can be built off of it without fear of losing the central narrative.
Throughout the Saga, Matt battles to stop the machinations of the Kingpin, who is working to elect Randolph Cherryh as the new mayor of New York and become the secret power behind the throne. Daredevil's fight to expose Cherryh's corruption and Elektra's hiring as Kingpin's new assassin while Bullseye is in prison pits the two former lovers against each other and really, any other criminal or ninja that comes in and out of the story is incidental.
That makes Daredevil and Elektra the emotional focus of the entire story, but it also means that any other antagonist outside of Kingpin and Bullseye are fairly empty. The Hand, while a cool physical threat, really have no character. Simply masked ninjas who arrive in swarms to bring the threat of death.
The Hand are, however, key to expanding Daredevil's backstory and putting a new spin on his hypersenses.
Miller introduces the ninja master Stick as a previously unseen aspect of Matt's past – a blind fighter who sharpened Matt's senses after his blinding and re-enters his life when DD temporarily loses his radar sense and again when his hypersenses go out of control. And suddenly, Daredevil is not the story of a man gaining amazing powers through a radioactive accident, but instead of a man tapping into a spirituality and physical capability that was simply revealed by his accident. Elektra, The Hand, Stick, The Chaste, and now Daredevil himself – all of these elements introduced by Miller stand in stark contrast to the character's Cold War nuclear origins and separate him from the throng of Stan Lee and Jack Kirby creations of the same era. Daredevil is no longer Spider-Man-lite, he's his own unique being – a guilt-ridden man likely to indulge in self-destruction via superheroism and a hero whose powers extend from an inner spiritual harmony that stands in direct contrast to the chaotic, violent world around him. A peaceful warrior whose violence is enabled by said peace.
Miller's work is heavily influenced by manga and Japanese culture, which asserts itself through both his art style and the content of his comics. You can see that obviously in his miniseries Ronin, but just like in Daredevil, the bushido warrior code is blended with noir tales of crime to create something dynamic and highly stylized.
It's a style that would be reiterated by Miller over and over and imitated throughout comics, with Kevin Eastman and Peter Laird's "Teenage Mutant Ninja Turtles" satirizing and adopting it to massive success. But its success in Miller's original Daredevil run comes from the fact that the author doesn't go berserk with it. Matt Murdock is thrust into a much larger conflict than he understands, but in the end, his only goal is the salvation of Elektra. The war between The Hand and The Chaste are simply table dressing for the high stakes romantic drama punctuated by fist and blade.
While Matt and Elektra never truly rekindle their relationship, their conflict still plays into the "doomed romance" trope, with death hanging over the former couple like a sword of damocles. And in naming Elektra after the Greek tragic figure, Miller aligns with Carl Jung's "Electra Complex" and its father fixation. Elektra is, after all, compelled to begin her life of murder and vengeance after the wrongful death of her controlling father, cutting herself off from emotions and beginning a life whose tragedies are largely dictated by the male figures within her life. And those emotions resurface after her first encounter with Daredevil.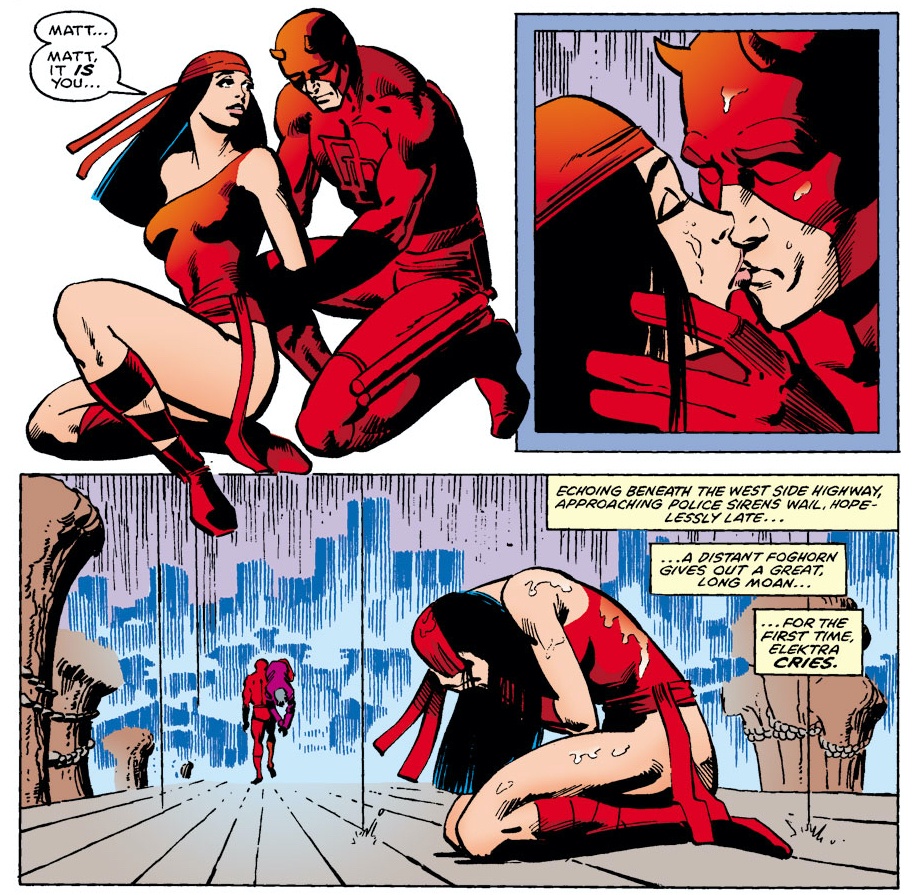 The Art of Ninja-Noir
I've previously discussed Miller and Janson's art on Daredevil in the "Gang War" arc, but looking at the evolution of the creative team across their time on the title affords us a greater look at their shifting styles.
Miller and Janson began working together on issue 158, before Miller began writing the title, with Miller providing fairly complete pencils for Janson's inking. However, as time went on and writing duties ate up more of Miller's time, the creator shifted to providing breakdowns beginning with issue 173 for Janson to complete on his own, and finally providing rough thumbnails starting with 185, with Janson penciling and inking completely, with a variety of colorists, most notable Glynis Wein, working on the title over the years.
"One of the advantages to working on Daredevil at that point was that the book was about to be cancelled," said Janson. "So no one really had any investment from editorial or from management to say, 'Oh you can't do this.' There were no real restrictions on us, so we were allowed to sort of have access to all of the things that we wanted to do."
Miller and Janson's DD is economical in its action, leaving most of the pages in an issue devoted to plot development, character growth, and atmosphere. It's why the duo can devote so much page space to moody cityscapes and emotions that develop across many, many panels. But that's not to say there isn't plenty of action. This is, after all, a superhero crime comic and most plots are either punctuated by or climax in a brawl. However, instead of having an entire issue devoted to a sprawling fight, Miller will have it happen across one or two pages each broken down into a dozen or so panels, often silent save for visceral onomatopoeia and intensely focused on the physicality and strategy of a fight.
The rare exception here is issue 181 – "Last Hand" – a double-sized issue that details the tragic fight between Elektra and Bullseye followed by the vengeance-filled fight between Daredevil and Bullseye. Together, these two battles account for 13 pages, largely silent and relying on dramatic moments of decisive action punctuated by sound effects. Miller and Janson's signature ultra-wide panels create dynamic action that forces the reader to move their eyes across the full width of a page to simulate movement, which is further demonstrated by multiple shadow figures to convey speed and strategy. The DD-Bullseye fight's sudden shift to full-length columns at its climax emphasizes the sheer height of the final confrontation and its sickening fall.
Miller's heavy hatching, which increases over time as the series progresses, shifting when Janson takes over the majority of art duties and then returning in full force for Miller's return to penciling in his finale, "Roulette," is another hint at his manga influences. If we look at Kazuo Koike and Goseki Kojima's "Lone Wolf and Cub," an influence cited by Miller, we can see the same approach to light and shadow, which is made even clearer by the book's black and white publication. This hatching, which Miller deploys by using many short, thick parallel lines instead of long, intersecting ones, provides a heavy use of shadow that informs dramatic reactions. His characters feel heavy and weighed down by the world, like the literal darkness of their environments has become inescapable due to the pull of their own inner darkness.
Throw in numerous fight scenes taking place entirely in shadow against a mono-colored background and you have an ode to Bunraku – Japanese shadow puppet theater that began in the 17th century. These elements highlight the Japanese pop culture that has suddenly invaded Daredevil's world, throwing Hell's Kitchen into chaos and permanently leaving an imprint on the character.
The Resurrection of Love
Throughout his run, Miller uses a variety of perspectives to examine both Daredevil and Elektra. "Gantlet" devotes just as much time to Elektra as it does Matt to provide greater context to her life, the fantastically moody noir journalism issue "Spiked" placed Ben Urich in the role of narrator for a paranoid view of the story, and the climactic "Last Hand" is completely told from Bullseye's perspective, sinking us into a deadly psychotic mind.
But in the end, this is all about whether Elektra will give in to her dark side and, if she doesn't, what will happen to her?
Even decades after her introduction and with many other series, miniseries, and guest spots written by a wide variety of authors, Elektra is still Frank Miller's baby. It's obvious that Miller became fascinated with his deadly assassin for years after his original story had brought her arc to a close. Elektra: Assassin, Daredevil: Love and War, and Elektra Lives Again all gave Miller the chance to build out his antihero far more than his original run ever did.
Now, Miller has never been known to be a great writer for female characters and while his DD run doesn't feature many, Elektra is among his strongest. But there's a tricky balance to be had here. Elektra is largely silent, dabbles in tropes of the femme fatale, and in the end works as the object that Matt Murdock is most tortured by. Her mental state is dictated to viewers through omniscient narration, making her thoughts just as directed by a man as her life. But she remains a fascinating character given agency and meaning through her series of tortured choices.
At least Miller's original run on Daredevil is very light on prostitutes. Something that can't be said for, ohhh, BASICALLY EVERY OTHER COMIC HE'S EVER WRITTEN.
The Elektra Saga uses a double climax separated by 8 issues, first happening in "Last Hand" as Bullseye escapes from prison to kill Elektra. Bullseye's arrival gives the anti-heroine one final moment of redemption, letting Foggy go after being hired to kill him, but she's soon brutally murdered after a visceral fight in one of comics' most famous deaths, dying in Matt's arms and sealing their doomed romance.
"I thought there was something stupid about the way superheroes always had these normal girls for girlfriends," said Miller. "Why wouldn't these people be operatic in their romance the way they are in their combat? Daredevil needed a romance that was worthy of his passion and his physicality. It was an exploration of what superhero sex would be like."
And while Miller's choice to show Elektra's sai stabs as pressing out through clothes helped keep the kills less graphic, there's something sexual, almost penetratively phallic about these kills. And when Bullseye uses Elektra's own sai on her, the tables are turned. Disturbing, huh?
The death of Elektra will haunt Matt for the rest of Miller's run, but first, it sends him into final battle with Bullseye and here, Daredevil truly wants to kill his longtime enemy. After everything he's lost, after countless times he's spared Bullseye's life, the fight climaxes in Matt dropping the killer stories to the street below.
And while Bullseye doesn't die, he's paralyzed. Matt will soon spiral in his personal life, pulling everyone else (especially poor Heather Glenn) into his vortex of self-destruction until he's given a chance at redemption with the return of Stick and Black Widow. Together, the heroes fight The Hand's attempt to resurrect Elektra under their control and to stop the clan, Daredevil must turn to The Kingpin for help.
By the end, Miller hasn't put away The Kingpin to leave a clean slate for future writers. Instead, he's left the villain in a detente with the hero worthy to be explored for decades.
While Miller's final issue would be 191, the many narrative threads of The Elektra Saga climax and close with 190 – Resurrection, where The Hand steal Elektra's corpse to revive her and make her their greatest assassin.
While the bulk of the issue is the battle to stop the resurrection, Miller fills it with flashbacks that flesh out Elektra further. From her rejection by Stick to her brutal training by The Hand, we see Elektra as a woman in search of a purpose but finding no place in man's world. Elektra is both a strong and independent figure and a person whose path through life has been shaped by tragedy, ultimately leading her to a dark fate she could never escape. But Miller also bookends his story with scenes of Elektra attempting to scale an impossible, icy mountain, and it's here where we find Miller's story at its most ambiguous and spiritual.
Is this the past? Is this real? Is this a purely spiritual journey? In any interpretation, the meaning is clear. The long-tormented Elektra has finally found peace thanks to Matt's spiritual cleansing of her body. It's a beautiful note to end this journey on and one that makes Elektra a triumphant figure rather than a martyr tossed about by fate.
While Elektra would eventually reappear in canonical comics, it wasn't for a while, as Miller and Marvel had an informal deal dictating that his creation wouldn't appear in any other books not created by him. In any case, what we find at the end of Elektra's story is a moment of hope. A newfound freedom for a woman whose entire life has been dictated by the actions of men – the death of her father, her rejection by Stick, her corruption by The Hand, her murder by Bullseye, and most importantly, the love from Matt.
And it's Daredevil's final act of purifying her soul with his own life essence that releases her from this cycle.
Miller's time with Daredevil may be a story filled with institutional corruption and the darkest nights a soul can experience, but with the end of the Elektra Saga comes a moment of grace and love. Love that transcends time and existence for one last moment of redemption.
And while Matt Murdock will go on searching for his own soul's peace, we can rest knowing that the woman he loves is free.
https://www.comicbookherald.com/frank-miller-comics-profile-chronology/
http://outsiderjapan.pbworks.com/w/page/9758418/Japanese%20influence%20on%20American%20comics%20%28and%20vice%20versa%29
https://www.marvel.com/articles/comics/legendary-artist-klaus-janson-discusses-his-work-with-frank-miller-on-daredevil