The war within Matt Murdock rages on. But with the coming of a new embodiment of justice comes an even more personal test for The Man Without Fear.
Debuting on Netflix in 2016, Daredevil Season 2 follows Charlie Cox's Matt Murdock, now solidified in his role as The Devil of Hell's Kitchen, working to clean up a city left in disarray after his takedown of The Kingpin Wilson Fisk at the end of Season 1. But Matt's work as both a masked hero and a lawyer are suddenly complicated by the arrival of Frank Castle, played by Jon Bernthal, a lethal vigilante known as The Punisher, and the return of Elektra Natchios, played by Elodie Yung, Matt's old college flame now at the center of a war with the ninja clan known as The Hand. And Daredevil's physical and spiritual battles with these two dark reflections are what inform the story of Daredevil Season 2.
Related:
Daredevil Season 1 is a hard act to follow. A story of anger, righteousness, and inner torment lived out through not only its central hero and major villain, but also played out through its many complex, interweaving character arcs. So how do you top it? Well, Season 2, now under the direction of showrunners Doug Petrie and Marco Ramirez after the departure of Season 1 showrunner Steven S. DeKnight, opts for a bigger, weirder, more unwieldy storyline in the hopes of topping what came before with comic book bombast.
Does Season 2 top Season 1? No. Is Season 2 bad? No. Am I going to use this video exploration of Daredevil Season 2 to delve into an esoteric analysis of its deeper themes like I did with Season 1? Also no. Mostly because Season 2 thought about continuing its predecessor's focus on complex ideas of faith and anger and said, "F*** that, how about ninjas?"
Support For Comic Book Herald:
Comic Book Herald is reader-supported. When you buy through links on our site, we may earn a qualifying affiliate commission.
Comic Book Herald's reading orders and guides are also made possible by reader support on Patreon, and generous reader donations.
Any size contribution will help keep CBH alive and full of new comics guides and content. Support CBH on Patreon for exclusive rewards, or Donate here! Thank you for reading!
So let's look at Daredevil Season 2 and see where it both goes right and very, very wrong by analyzing its Punisher storyline, Elektra storyline, and the many different highs and lows to see the strengths and weaknesses of this specific iteration of The Man Without Fear.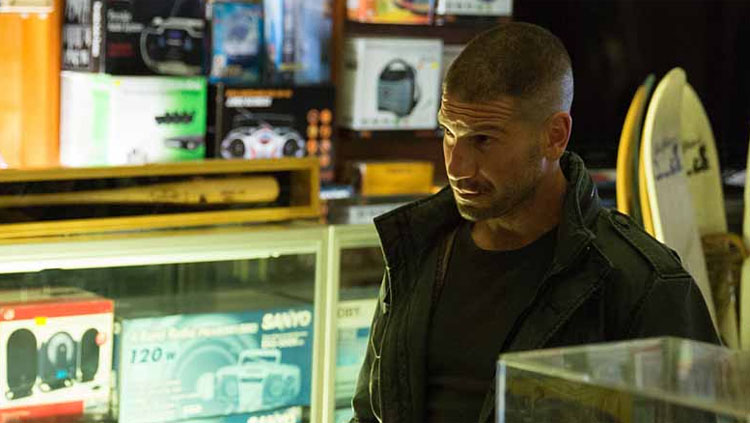 The Punisher's Lament
Daredevil and The Punisher have a storied history in comic books, coming to blows in each others' series over the decades and often highlighting the lightness and darkness within each other through their interactions.
It was Frank Miller who first brought the two together in Daredevil issues 183 and 184, with the two running into each other over and over again throughout the decades. When they meet, the moral scale tips depending on whose series hosts their battle. And on the rare occasion these two join forces, it seems as if the alliance might explode into something more violent than their enemy could ever create.
In the comics, The Punisher, to an ever-changing degree, typically respects Daredevil, but sees him as deeply misguided, while Daredevil absolutely hates The Punisher. He's everything the hero would never want to become and is actively fighting to not be.
Daredevil Season 2 slowly introduces Frank Castle into this world by first framing him like a gun-wielding bogeyman, then a shrouded psychopath, and finally as a complex, broken human being. And in doing so, we're given the chance to slowly sympathize with The Punisher and at least ask ourselves what we'd do in his situation. What would you do to make sense of the world when everything you loved was ripped away, bloodied and bullet-riddled? And will you be able to look at yourself in the mirror once you've done it?
The conflict between Daredevil and Punisher in this series isn't just kill or not kill, it's one person's careful balance of purpose in the world vs the other's complete and total commitment to a single idea. Moral grey vs black and white absolutism. Striving toward purpose vs complete self-destruction.
A large portion of Season 2's thematic focus is once again on whether taking a life is ever justified, with this question now being lived out through the fight between Daredevil and The Punisher. But instead of Matt being pushed to make this decision for himself, we're seeing him battle someone who's the living embodiment of what he could have become. It's pretty clear early on that the viewpoint of this season is that killing isn't justified, with a message from Father Lantom, who played such a crucial role in Season 1 but is almost entirely missing here, saying at a funeral, "Within each of us there is a world webbing out, reaching others, creating reactions. Each of us is a world and today a world has been lost."
And while the series isn't necessarily sympathetic to Frank Castle's style of justice, it is sympathetic to him as a character.
Jon Bernthal is amazing as Punisher, playing him as a man compelled to do what he thinks is necessary, but innately tortured by the compulsion. We understand why he does what he does, with Frank's episode 4 monologue about his family easily being the standout moment of the entire season. And we see Frank as a man whose actions should be condemned, but who, as a person, needs some sort of salvation.
But the problem is that all the criminals the Punisher targets are shallow stereotypes, with the writers here not giving them the emotional complexity that support DD's belief that they are living, valued humans who don't deserve to be killed. Yes, we know that it's wrong to take a life, but the people killed throughout this show are portrayed as little more than obstacles. So when Frank's bullets start flying, especially in the second half of the show, we've completely lost the thread of lethal justice being wrong and instead are pushed to revel in the gruesome violence.
That's an instinct that's hard to work against in your typical action show or movie. We're very used to heroes killing lots and lots of people, so when a show like Daredevil makes not killing a person a central part of its conflict, it becomes much more compelling. When The Punisher shows up and starts blowing people away, it's easy to not be disturbed by it because this is what we're used to seeing in our media. Season 2 at first works to portray Frank's killings as disturbing and wrong, but eventually gives up and just goes with it, especially when undead, faceless ninjas start showing up by the dozens. But more on that in a minute.
Matt's conflict with The Punisher is also a good cause to change his mask. It's pretty clear that the Season 1 Daredevil mask was rushed and it looks like Matt is constantly about to sneeze. Which is why it's in the shadows so much when it's used. So let's put a bullet in it and upgrade to a thankfully much cleaner, more comic book-inspired, just overall better look.
Eventually, by forcing these two opposing forces to team up, season 2 lets Punisher's moral ambiguity be decided by the viewer. But unfortunately, that moral questioning is only lightly applied to the other half of this season's story.
See, there's this thing that Netflix series like to do where they start a season with a strong hook in the first episode, really expand out the ideas in the next 3 or 4, and then totally stop the momentum dead halfway into the season because they suddenly don't know what to do. Then the series starts going in all these weird places that weren't promised at the season's beginning. Finally, they start running out of storyline before they can reach the end of their season order of episodes so they pad it out, hit what should be the climax of the show a couple episodes before the actual finale, which we know is still a few episodes away because it says in right there on the screen, and then the climactic action is shifted into false falling action for the next couple episodes before rising once again to a true climax for the finale.
Anyway, here's The Hand.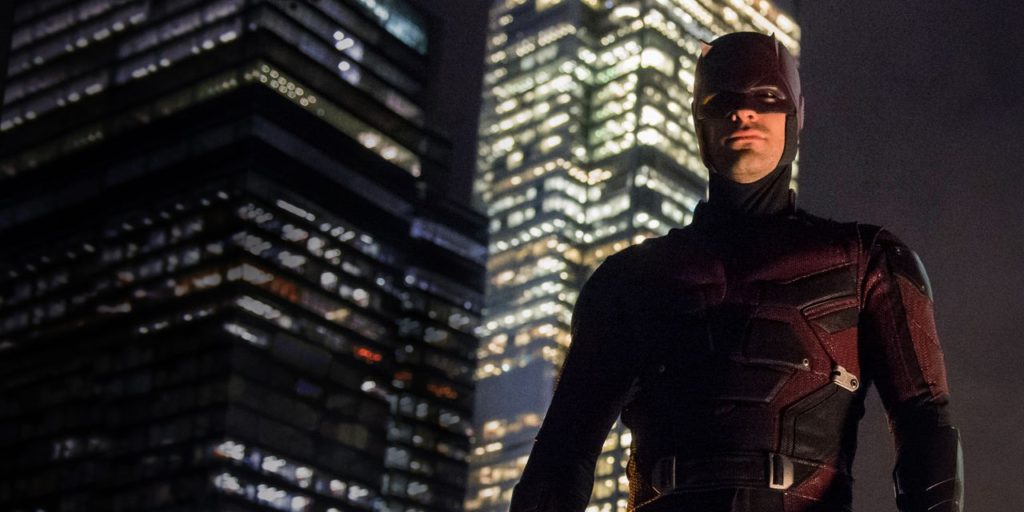 The Many Problems of The Hand
There's a massive problem running throughout Daredevil Season 2 and it's a problem that encapsulates many, many issues found within this show. It's The Hand – the evil ninja clan originally created by Frank Miller and Klaus Janson and the major threat for Daredevil and Elektra throughout two-thirds of this season. There are 4 massive problems with The Hand.
First, the arrival of these ninjas draws the character of Matt Murdock and a large portion of the show's focus away from the conflict with Frank Castle. And it's the Castle-Murdock relationship that has the most potent, thought-provoking, emotionally-resonant moments in this season.
Second, The Hand creates no compelling real world commentary. The first season of Daredevil is deeply focused on Matt Murdock's anger and the question of whether he can truly make a difference in the world by channeling it through his superhero identity. Having his violence butt up against realistic criminal activities makes his actions much more morally ambiguous and forces him to make a definitive decision on whether or not to ever take a life. The Hand are voiceless and often faceless stereotypes that have no personality. Yes, Matt doesn't want to kill them, but these are caricatures here for cool action sequences.
Third, The Hand introduces a mystical element into this show. And while there are plenty of supernatural ideas in Daredevil comics, the Netflix show's attempt is a total botch. Season 1 briefly introduces The Hand and Stick to seed this future battle, but it's obvious that no one involved really knew what they were trying to lay the groundwork for. The Black Sky's power is never clarified. The Hand's purpose is just power. And the supernatural element never properly crosses over to the Punisher side of the story. It's almost as if the show is outright rejecting the compatibility of its two sides. And when Karen is kidnapped by The Hand in the finale? She doesn't know what's going on because she's had nothing to do with this plot.
And fourth, the poor quality of The Hand illustrates the outright racist views happening behind the scenes of Daredevil Season 2. This is something that absolutely must be called out when talking about this show because it both informs and is perpetuated by it.
Recently, actor Peter Shinkoda, who played Nobu in the series, said that former head of Marvel television Jeph Loeb forced Daredevil's writers to drop storylines that would have fleshed out Nobu and fellow recurring villain Madame Gao. Shinkoda stated that Loeb told the writer's room, "Nobody cares about Chinese people and Asian people. There were three previous Marvel movies, a trilogy called 'Blade' that was made where Wesley Snipes killed 200 Asians each movie. Nobody gives a s— so don't write about Nobu and Gao."
Loeb's outright racist views definitively left a mark on Daredevil and follow-up miniseries The Defenders, both of which heavily involve the Asian group of The Hand. So now you have multiple shows that heavily revolve around Asian characters and who also basically only depict Asian people as mysterious, evil, manipulative villains who are largely silent because Loeb decided they weren't worthy of representation. Had Loeb ever seen a Blade movie? Probably not. That's obviously not true about what happens in those movies, but when someone in power wants to back up their own racist views, they just lie and cite it as evidence that history supports their all-powerful beliefs.
And just look at Defenders. I mean, don't really look at it, that show sucked. The Hand, once again the villains, are led by Sigourney Weaver, a white woman – a talented white woman, but still a white woman – as the head of an Asian syndicate. Once again clearly showing Loeb's decision to remove Asian representation from fleshed-out, speaking characters. And while The Hand were never compelling characters in comics, cribbing from Asian culture for your own storytelling and then silencing people actually from that culture is disenfranchisement via art.
So why does The Hand suck? Why do they not have any deeper ideas? Why are their mystical elements never explained and are instead about ancient dragon bones under New York? Because someone at the top's racism influenced an entire segment of the show, no matter what the showrunners, writers, and directors who were actually making the show believed. And some will say "separate the art from the artist" – a tricky proposition at best but impossible here when the art is directly the result of the artist's views.
Am I saying that you shouldn't watch Daredevil season 2 due to the racist views of one man? No. What I'm saying is that these portrayals should be viewed in the context of what is clearly prejudice in power. And that it's a good thing Jeph Loeb doesn't have the power to silence and disenfranchise groups of people through his position anymore.
We probably won't hear from Loeb again anytime soon and that's just fine. Nothing of value is lost because the man hasn't made anything worthwhile on his own in nearly 20 years.
Searching for Meaning with The Man Without Fear
What would you say are the themes of Daredevil Season 1 if I asked you? Well that's kinda cheating because I covered them in depth with my video on it last year, but anger, righteousness, and the internal struggle regarding the role of violence within justice and the soul are the major ideas explored so well throughout that premiere season. But what would you say the themes of Season 2 are? Of course anger and the role of violence are still there, but for all its bluster and theatrics, there's not nearly as much happening beneath this season's surface.
Partially, I blame that on Ben Urich being killed off in Season 1 and Season 2 providing no real substitute for a thought-provoking, issues-focused supporting character. You remember all those amazing conversations between Matt and Father Lantom that defined so much of the themes explored in season 1? The conversations that were some of the best scenes in the entire show? Well forget that because we ain't got time for subtlety and character development anymore.
While Petrie and Ramirez internally referred to this season as "Daredevil vs The Punisher," so much of this show ain't that. Because Daredevil is primarily focused on Elektra and The Hand, Karen Page and Foggy Nelson have to be the ones unpacking the moral complexities of Frank Castle. And this season definitely gives these two more interesting material to work with, allowing them to grow. Karen is more than a love interest and while I doubt her journalistic credentials that somehow let her become the new Ben Urich, it's something for Deborah Ann Woll to do. And Foggy gets to be a real lawyer and not just the person who hates everything Matt does. By the end, I'm no longer asking out loud, "Oh, Foggy's in this?" every time he shows up. Unsurprisingly, neither of these characters even says the words "The Hand."
Thankfully, the use of The Hand and much of Daredevil's second half is given meaning and emotion through the use of Elodie Young's Elektra. And while Elektra has been given many different interpretations over the years, the Netflix series manages to make the character into both a fearsome warrior and a complex figure. If Matt and Frank are both solidified in their sides regarding the execution of justice, Elektra is the figure torn between these interpretations. And in the end, that internal and external conflict makes Season 2 into a tragedy. A tragedy that sets up the absolutely piss-poor Defenders miniseries, but still a tragedy that works here.
Look, I know I've just spent the majority of this video discussing the weaknesses of Daredevil Season 2, but maybe that's because it's easy to find the faults in light of the masterpieces that are seasons 1 and 3. And it's likely that if season 2 didn't stumble in the ways that it did, we wouldn't have gotten a third season as strong as it is.
Daredevil Season 2 is at its strongest when it's either focusing on intimate conversations, like Matt and Frank's rooftop debate, Frank's tombstone confession, tense courtroom questioning, or really any time it allows its characters to be honest and vulnerable with one another about their struggles, and not when it focuses on the plot. The action is still often phenomenal, with The Hand allowing for complex, brutal fights that give Daredevil a stronger and fiercer opponent to match his upgraded superhero strength. And, of course, the acting is top notch, with Charlie Cox still giving a fantastic performance, often without the aid of his eyes to emote. It's just that these elements are often used in service to a story that doesn't dig into its core themes as much as it should and is, in the end, stymied by a viewpoint that wants to exploit and silence a group of people as cannon fodder.
But there's a reason why there's a "Save Daredevil" campaign. Every season of this show is filled with potential that it often fulfills, making each season into a thrilling experience with the promise for so much more. When put into contrast with the rest of Marvel's Netflix offering, Daredevil is easily the most consistently successful fulfillment of what was promised, accounting for 2 ¼ of the 4 ¾ of good seasons of Marvel television produced by Netflix during its run. That just leaves 8 ¼ bad seasons of TV produced over the span of 4 years! And when seen in the content of the Marvel Cinematic Universe, Daredevil feels even more unique due to its willingness to explore the psyche of its characters and make riskier choices with its narrative.
Because this is the story of the few people brave enough to stare into the darkness and fight to bring some light into it. And even when the darkness seeps deeper and deeper into our heroes, we know there will always be a chance for justice and righteousness to prevail. And it will be because of one man who's both an angel and a devil.