By way of Marvel's fuzzy cover-numbering math, this month's Captain Marvel marks the 100th issue of Carol Danvers starring in a super hero comic. Artist David Lopez offers a delightfully retro-slanted tribute to John Romita Senior's 1977 Ms. Marvel #1 featuring the current status quo but the overt commemorations pretty much stop there.
For any casual or lapsed reader hoping for a more traditional look back on our intrepid hero's storied half-century history, this is not that book. Instead, writer Kelly Sue DeConnick creates a thirty-page narrative focusing on the here and now. Most surprisingly, Carol isn't even present for most of it but her presence resounds through every panel. That being said, the actual breakdown and delivery of DeConnick's script comes across more as something one would expect from an Annual or bonus Special story rather than what's being intentionally marketed for additional eyeball grab. Despite the menacing return of one of CM's rogues (not actually Rogue), the entire affair is handled fairly light-heartedly. This includes the detonation of a bomb. As Carol's closest friends take turns handing off their chapters in the form of letters to her in deep space, it's clear the intent is rather to demonstrate that the support network is indeed the greatest testimony to her legacy. It is a bit shameful, though, that the actual mechanism transparently handles in a way that it plays a bit like a "clip-show spectacular" from the anniversary episode of a cheesy 80s sitcom.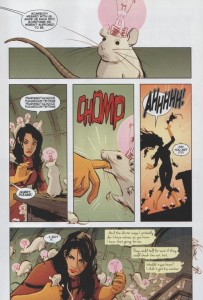 Brain-checking aside, having three artists on board certainly makes it seem like a party as series regular Lopez is also joined by Marcio Takara and Laura Braga. While the "divide and conquer" methodology definitely enforces the diversity with mics being metaphorically passed on-panel and behind the scenes, a level of consistency is sacrificed. Regarding surface-scan cosmetics, everything checks out with just enough stylistic crossover that transitions don't appear too jarring. However, the additional artists murk the action in their respective manners. While Takara masterfully handles a flashback segment between Carol and Spider-Woman Jessica Drew (great use of washed-out sepia tones by color artist Nick Filardi, btw), his remaining pages focus on how Jess handles a threat of mass mind-controlled rats. The plot point established earlier is that some of the rodents have lightbulbs attached to their heads, acting as remote shepherds for the greater horde. Takara's rats all seem to be rocking the look (save for the little cutesy ones sporadically adorning the page gutters). When Drew needs to make her move, the depiction doesn't clearly inform why she singles out the one she does. It's a minor nitpick to the overall enjoyment of the piece but it does produce a bit of the "okay- whatever- just go with it" reflex.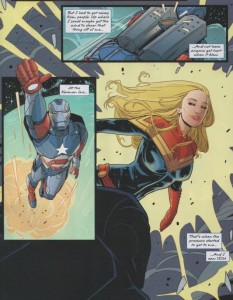 Along those lines, Braga's moment comes as Rhodey the Iron Patriot takes care of a live bomb in orbit. Heroically taking his armor to its atmospheric limit, the Lt. Colonel begins hallucinating from the strain. He produces a very real image of Carol who not only seems to give him the strength to push just that bit more he needs but actually succeeds in prying the explosive free from his armor's back herself! Is time travel or the ability to instantly translocate across the universe one of the Captain's undisclosed powers? If not, the visual account opens itself to more interpretation than maybe it should warrant.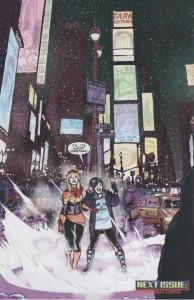 There is one final eyebrow-raising point: the issue's actual title. While it's very punny to release "A Christmas Carol" in mid-December, it's the "Part 1" denotation that brings on the questioning. Harnessing the seasonal tie-in is a bit of an "all-things-to-all-people" stretch and really a bit misleading. Yes, there's some appendencial action on the last two pages that may lend slight validation to the name but it's more in service of setting up next issue. Which brings up a second point: unless "Part 2" is slated for a stealth release within the next two weeks, it will be treading on being unseasonable. A shame Marvel's schedule couldn't be otherwise as coordinating such a one-two combo would've been more befitting an event worth celebrating.
Support For Comic Book Herald:
Comic Book Herald is reader-supported. When you buy through links on our site, we may earn a qualifying affiliate commission.
Comic Book Herald's reading orders and guides are also made possible by reader support on Patreon, and generous reader donations.
Any size contribution will help keep CBH alive and full of new comics guides and content. Support CBH on Patreon for exclusive rewards, or Donate here! Thank you for reading!
CBH Score: 3 out of 5
[schema type="review" rev_name="Captain Marvel" user_review="3.0″ min_review="0.0″ max_review="5.0″ ]