From the classic tales of Ted Kord to the modern exploits of Jaime Reyes, Blue Beetle has undergone an incredible evolution over the years, offering one of the more intriguing examples of legacy in the DC Universe. The mantle is deeply rooted in comics history with Golden Age origins, transformation by Steve Ditko, seeds of what would become Watchmen, and ties to the best to come out of post Crisis on Infinite Earths DC Comics.
Honestly, the best way to make this really easy on yourself is to read the two best introductions to our core Beetles:
Justice League International (1987) starring Ted Kord the Blue Beetle!
Blue Beetle (2006) the debut of Jaime Reyes
If you read both of those long-running comics to your heart's content, you'll be about 95% of the way to the best in Blue Beetle history. For everyone else, check out the complete Blue Beetle reading order below!
Charlton Comics (The Golden Age – Silver Age)
Collects: #13 To #14
Support For Comic Book Herald:
Comic Book Herald is reader-supported. When you buy through links on our site, we may earn a qualifying affiliate commission.
Comic Book Herald's reading orders and guides are also made possible by reader support on Patreon, and generous reader donations.
Any size contribution will help keep CBH alive and full of new comics guides and content. Support CBH on Patreon for exclusive rewards, or Donate here! Thank you for reading!
The earliest Charlton adventures of the original Blue Beetle are hard to come by, and not really applicable for any modern DC continuity. None the less, I am told they did happen!
Collects: #18 To #21
Took over numbering from The Thing and continues from there.
Collects: #1 To #5
Scarab-powered Dan Garrett II Version
Collects: #50 To #54
Captain Atom (1966)
Collects: Captain Atom #83 to #86
Steve Ditko (the co-creator of Marvel's Amazing Spider-Man and Doctor Strange) takes on Captain Atom and Ted Kord as the Blue Beetle for Charlton Comics! These issues are on DC Universe Infinite at time of publication. This is also very much the DNA that Alan Moore and Dave Gibbons would reference in designing Nite Owl for Watchmen.
Blue Beetle Series 5 (1967)
Collects: #1 To #5
Ted Kord version
Collects: #3 To #6
Dan Garret returns from beyond the grave before the series was cancelled and never referenced again.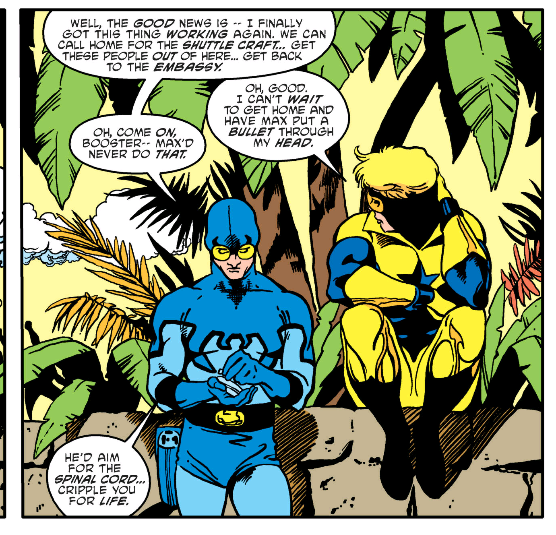 Justice League International
You don't need to read all of 1985's Crisis, but this is the event where the heroes from Charlton Comics (like Ted Kord, the Blue Beetle) officially migrate over to the DC Universe.
Collects: #1 To #24
Through his collaboration with artist Paris Cullins, Wein ushered in a new era for the character, introducing 80s DC fans to the ingenious Ted Kord.
Collects: #1 To #92, Annual #1 To #8
Keith Giffen, J.M. DeMatteis, and Kevin Maguire's Justice League International is a standout from post-Crisis DC (it's one of my favorite 200 comics of all time!), and prominently features Ted Kord leading the charge of zany, humorous superhero hijinks. This is the era where Beetle's connection to Booster Gold is established, and their buddy comedy schtick gets to butt up against the likes of Batman or Apokolips.
Collects: #0 To #18
Modern 2000s Blue Beetle (Enter Jaime Reyes)
Formerly Known as the Justice League
Giffen, DeMatteis and Maguire pick up where they left off.
Collects: #1
Reads much better if you're familiar with Justice League International, but includes one of the biggest moments of the 2000s for Blue Beetle.
Blue Beetle (2006) by Keith Giffen & John Rogers
Collects: #1 To #36
Following Infinite Crisis, a new Beetle is needed: enter Jaime Reyes. A teenager from El Paso, Texas, Jaime unwittingly stumbled upon the Blue Beetle scarab and became the youthful new Blue Beetle for a new generation of readers. Jaime's Mexican-American nationality allows for a shift in specificity and family dynamics compared to the ultrawealth and privilege of Kord Indsutries, and Giffen and Rogers do the new creation justice with a vibrant fan-favorite run.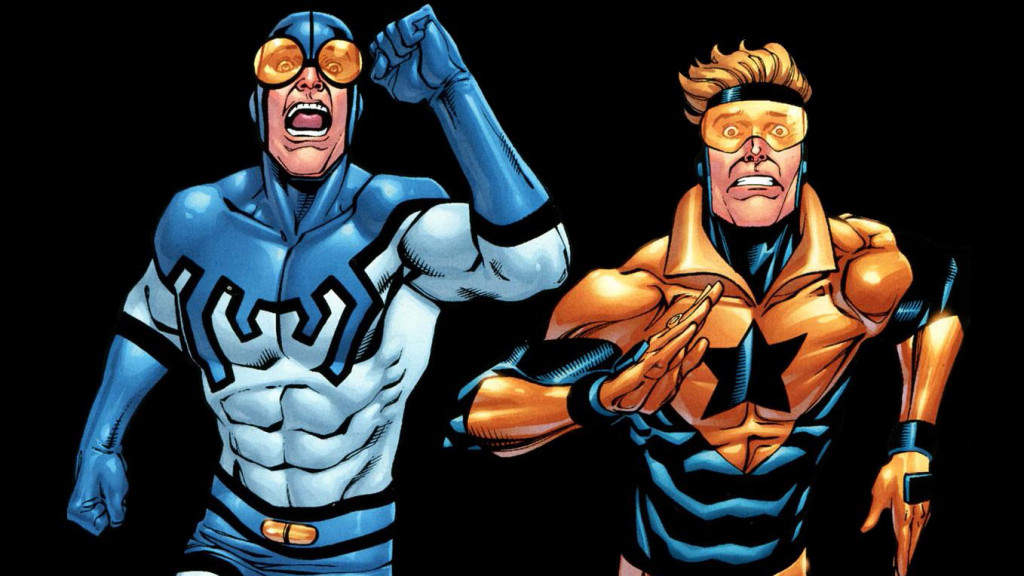 Collects: #6
All three versions of Blue Beetle feature in this Booster Gold story.
Collects: #21 To #25, #28 To #29
Jaime Reyes shows up as a backup feature with Booster Gold.
Blue Beetle (2011) Vol. 1: Metamorphosis
Collects: #1 To #6
New 52 Blue Beetle! In a testament to the success of Giffen and Rogers' work, Jaime Reyes remains Blue Beetle in the rebooted DC New 52!
Blue Beetle (2011) Vol. 2: Blue Diamond
Collects: #7 To #16
Collects: #1 To #8, Green Lantern: New Guardians Annual #1
Keith Giffen wastes no time incorporating Jaime into his cosmic Green Lantern adventure. A good example of the cosmic roots Jaime's version brings to the character.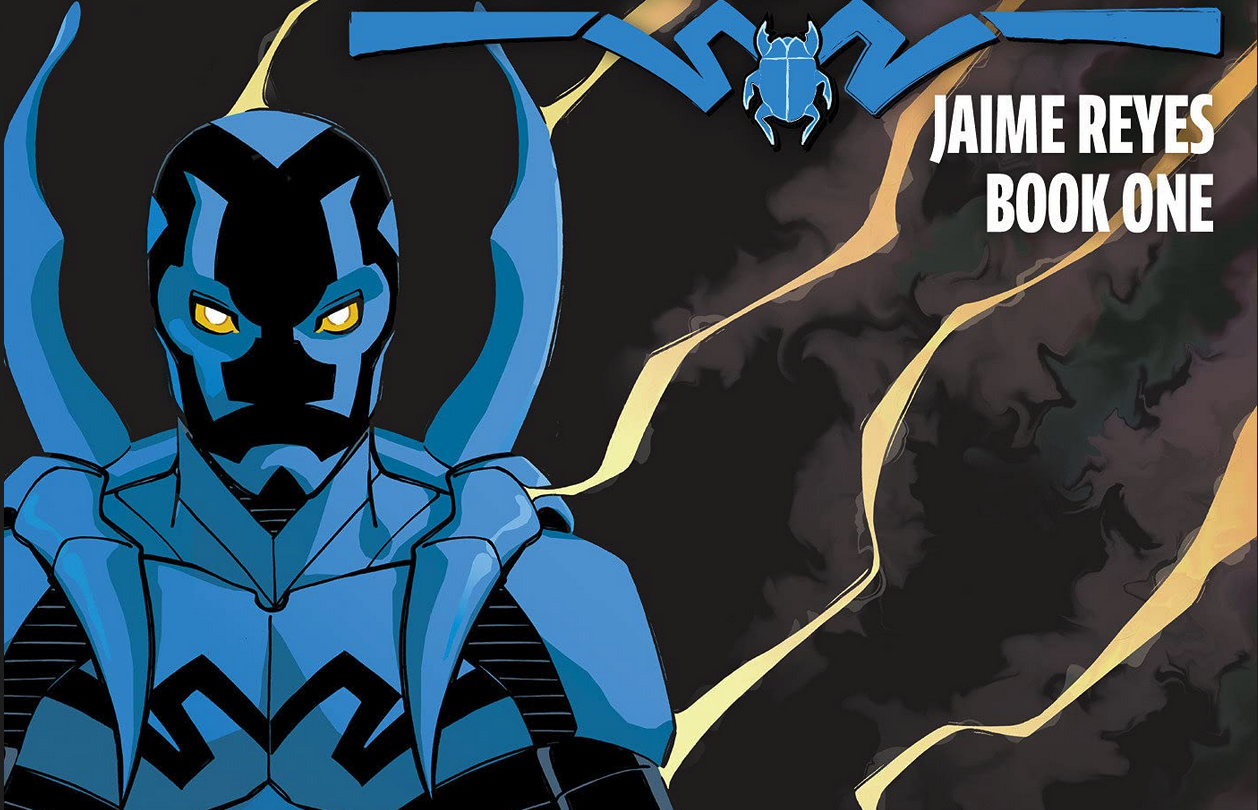 Blue Beetle (2016) Vol. 1: The More Things Change
Collects: Blue Beetle: Rebirth #1, Blue Beetle #1 To #5
DC Rebirth Blue Beetle! For DC Rebirth, Giffen takes over Blue Beetle and commits to a shared world between both Jaime Reyes and a now-breathing Ted Kord. It's a nice use of legacy and mentor roles, a la Batman Beyond.
Blue Beetle (2016) Vol. 2: Hard Choices
Collects: Blue Beetle #6 To #12
Blue Beetle (2016) Vol. 3: Road to Nowhere
Collects: Blue Beetle #13 To #18
Collects: #1 To #8
Blue Beetle (2022): Graduation Day
Collects: #1 To #6
It is not a "Blue Beetle" book, but Tom King and Greg Smallwood's excellent Human Target 12 issue noir is a love letter to the Giffen/DeMatteis/Maguire Justice League International, including good ol' Ted Kord.