The early '90s were a wild time for comics, and it's no exaggeration to say that seismic shake-ups were happening all across the medium. Nowhere was that more true than at Marvel, where creative teams of many years were being ousted in favor of new directions brought in by "fresh new artists" like Rob Liefeld, Jim Lee, Todd MacFarlane, and a handful of others. Stylism over substance took the industry by storm, and the effects of that, both positive and negative, are still felt to this day.
Amid the changing creative teams and the industry-wide trends that would ultimately define the era, there is Marvel's Acts of Vengeance crossover. A core group of elite supervillains including William Fisk, Magneto, the Red Skull, and the Wizard (among others) recruited dozens of villains to attack different superheroes than they normally would under the premise that fighting slightly changing up the heroes' rogue galleries would leave them permanently defeated. This… didn't… work, mostly because there was zero strategy behind it. This razor-thin plot is typical of the time period: highly disjointed, and still completely badass, because it allowed months of page space dedicated to big, pointless brawls that didn't really have to adhere to any kind of a coherent overarching plot outside of the ongoing stories within each individual book.
Collects: AMAZING SPIDER-MAN (1963) #326-329, SPECTACULAR SPIDER-MAN (1976) #158-160, WEB OF SPIDER-MAN (1985) #59-61 and #64-65, WOLVERINE (1988) #19-20, ALPHA FLIGHT (1983) #79-80, NEW MUTANTS (1983) #86, UNCANNY X-MEN (1981) #256-258 and material from X-FACTOR (1986) #50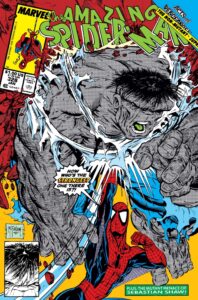 Related:
Acts of Vengeance reading order
Look at '90s Peter Parker Go!
Spider-Man and X-Men were massive sellers during this time and had occasional run-ins with one another. That said, this collection is curated mostly based on the need to break this rambling crossover down into smaller blocks rather than some greater design. If this is the only one you're interested in, you won't miss much by not seeking out the other books in this series (though the Captain America issue where Magneto beats the heck out of Red Skull is the true star of this whole crossover). The connective plot pages of the trade are some of the weakest due to being generally unnecessary. Likewise, the lack of compelling character beats among the villains is one of the most glaring missed opportunities of Acts of Vengeance overall.
Support For Comic Book Herald:
Comic Book Herald is reader-supported. When you buy through links on our site, we may earn a qualifying affiliate commission.
Comic Book Herald's reading orders and guides are also made possible by reader support on Patreon, and generous reader donations.
Any size contribution will help keep CBH alive and full of new comics guides and content. Support CBH on Patreon for exclusive rewards, or Donate here! Thank you for reading!
Pre-"Clone Saga" '90s Spider-Man featured a Peter Parker who had recently married our fave, Mary Jane Watson. This is my preferred era because it's when Parker's concerns mostly revolved around Spider-Man's negative public image, doing right by his neighborhood, and being an absolute wife guy for MJ. Peter has changed wildly over the years, and though he's still angst-ridden, watching him step up to be MJ's true partner is nothing short of heartwarming.
The Amazing Spider-Man stories feature truly fantastic artwork, with #326 penciled by Colleen Doran, #327 by Erik Larsen, and #328 by Todd McFarlane. Naturally, Larsen and McFarlane's presence in Spider-Man's mythos looms large, but that's all the more reason that Colleen Doran stands out here. Brilliant costume design, expressive characters, and dynamic fight scenes that seem to jump right off the page only go to show that Doran is an underrated genius who was doing work that stands easily alongside some of the greatest Spider-Man artists of all time.
He's Still Going
In Amazing #326, Parker fights against Avengers villain Graviton. He saves the people who nearly die due to Graviton's attacks, but he himself is knocked into the water and would drown if not rescued by first responders. Parker feels like a loser, but when he goes home, finds that MJ has cooked a romantic dinner for him and his mood lifts right away.
The story continues in Spectacular Spider-Man #158, where he's up against the Trapster. This proves to be a mostly forgettable fight, but the various subplots of the era keeps the story moving. In Web of Spider-Man #59, we see the delightful Titania, freshly escaped from the Vault, tricked by Doctor Doom into going after Spider-Man. Titania is a lot of fun, and the wild card third character of Puma adds a lot to the fight at the Daily Bugle between her and Spider-Man. Somewhat less enjoyable is that Doctor Doom intentionally controlled Titania's actions and forced her into this situation, which doesn't ever get addressed. Let's face it: Titania has a temper, but she generally has a pretty great reason to be mad.
Not all of these Spider-Man comics are the instant classics I want them to be. In Amazing #327, it's a wildly mismatched fight against a Magneto who is leaning hard into his Silver Age, mustache-twirling-villain vibe. Spectacular #159 and Web #60 both feature mostly forgettable fights, one with the Brothers Grimm and the next with the Erik Josten version of Goliath.
Meanwhile, Amazing #328 sports one of the most famous Todd McFarlane covers of the era, with an overcharged Spider-Man punching the Grey Hulk into the sky, yelling, "NOW who's the strongest one there is?!" This story is kind of hilarious because Grey Hulk is truly an opportunist, so when Sebastian Shaw helicopters in to his Nevada base and offers him a bunch of money, he takes the job. After Hulk attacks him, Spider-Man asks, "You came here just to fight me? Why?!" Hulk responds, "Best reason in the world, Web-Head! BUCKS!" Truly, a moment of powerful meta-commentary on the capitalist market that allowed this crossover to begin with. This era had Spider-Man reeling from a new set of powers that would very soon disappear again, but he has them long enough to take out the Hulk by shooting him with eye beams.
At this point, they kind of run out of ideas, so they start just throwing random villains at this guy and his convenient new powers that repeatedly save his life. The Dragon Man fight from Web #61 is pretty incredible, but once it turns into TESS-one, some random Sentinels, and then most of the villains from before (only all at the same time), this already tentative idea starts rapidly losing steam.
The highlight of these Spider-Man stories is the way MJ and Peter connect and lean on each other, and the way that MJ never fails to lift her husband up when he feels down. Given Parker's tendency to brood, it's no small task, but MJ is just that kind of person. The reason they work is because she's just as heroic as he is, and she pulls it off with a lot less of his baggage. Their acceptance and partnership just makes it all the more frustrating that they would soon be separated by editorial demand.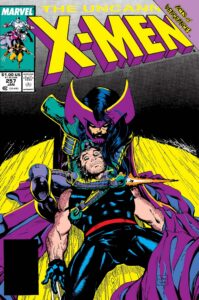 The X-Men vs. The Mandarin, I Guess!
The Uncanny X-Men parts of Acts of Vengeance are famous for reasons that have nothing to do with the crossover. Betsy Braddock had recently gone through the Siege Perilous, and emerges here as Lady Mandarin. Eventually we discover that she "body swapped" with a woman named Kwannon, who would rapidly die from the Legacy Virus. Here, she works in alliance with Matsuo and the Mandarin, apparently brainwashed. She attacks her old friend Wolverine, in his Patch "disguise," and tortures him with psychic images from his past. Ultimately, we discover that the mind control was all a ruse as Betsy, Jubilee, and Wolverine team up to defeat Matsuo and the Mandarin.
This short arc is not the easiest to parse. It features many Asian characters overall and is illustrated by a Korean American artist, but it's a case of "at what cost representation" for a lot of fans. There's no question that the Betsy/Kwannon "body swap" would go on to be one of the more bafflingly problematic sagas of X-Men history from just about any angle. Indeed, it's difficult to detach the story from what was to come over the next few decades. Jay & Miles X-Plain the X-Men interviewed Heroine Complex author Sarah Kuhn about these issues, and her take remains an important reflection on the complexities of the story.
As for where it fits into Acts of Vengeance, it doesn't! Again, this is not a crossover with a clear goal in mind.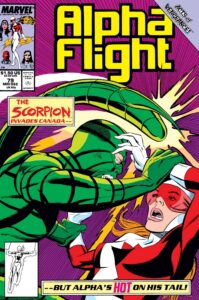 Alpha Flight's Here Too, I Guess!
Well, here we are, wrapping up this one leg of the many-legged radioactive spider that is this crossover. Alpha Flight of this time period was kind of great, featuring a generally flustered Heather McNeil trying to hold together a strange lineup of people going through major life changes. Heather gets into a one-on-one with professional bad person Nekra, while Diamond Lil squares off against the Scorpion. Lil is sent via mystical whirlwind to escort the Scorpion back across the Canadian border and out of their hair. When she arrives, she shouts, "Are you gonna be civilized or are we gonna have to get down and party?" Frankly, I love her.
Nekra's powers rely on her keeping herself in a rage, so she jumps off a tall building, crashing through the roof of a car, just to make herself angrier. The Scorpion hurls a series of sexist insults and engages in some outright harassment towards Lil, but she continues to punch his face and it's pretty satisfying. This story, like so many in Acts of Vengeance, more or less just throws new characters into the fight until it becomes a senseless brawl and more or less disperses.
Finally, in New Mutants #86, while some of the team is still off in Asgard, Rusty and Skids are left alone to square off against the Vulture. Rusty and Skids are a couple that always seemed to get screwed over by the story, and that's exactly what happens here. Despite putting their lives on the line to stop the Vulture, they are framed as "evil mutants" by Freedom Force and taken away. This is a tragic moment because their friends are never able to save them after this—they would next show up brainwashing, bouncing from one villain super-group to the next until Rusty was brutally murdered during the destruction of Asteroid M and Skids was left to deal with the trauma they incurred during their time together all alone.
Also, X-Factor is briefly in here, but don't worry about it because it's right in the middle of their Judgement War arc and it's all just a bit too much. Loki fans will be delighted, but again, it barely plays into this story and is a part of its own complicated saga.
Here we are at the end, and while I didn't learn anything, there were some things I loved. Some of the comic book world's top talents worked on these stories, and from a technical standpoint, people truly brought their A game—this is a gorgeous book. Most of the fights are high-impact while managing to lean into the humor inherent in this concept. There are a ton of great character beats across the board. It doesn't connect great from issue to issue, but it doesn't have to. In the end, if a lack of consistency and direction isn't a dealbreaker for you (it clearly isn't for me!) then you might find a lot to love in this trade. There's plenty of reading to do, and it's a nice little capsule of the Spider-Man and X-Men sides of the Marvel Universe during this very specific moment in time.