About John Constatine
History:
There was a time where every famous wizard was a member of the aristocracy, from Merlin on Arthur's court to Prospero being an archduke in the Tempest.
Then came Alan Moore, who wanted to throw a brick through the windows of Camelot. Moore created John Constantine in The Saga of Swamp Thing #37 as an act of class warfare. Constantine was a working class magician, a grifter barely getting by in Thatcher's England.
The Character Himself:
The first and only thing that you need to know about John Constantine is that he is a con man. It is critical that you know that John Constantine will trick you, personally. Worse yet, knowing he'll do that only makes it easier for him to do so. Hell, he does it to his creative teams.
This makes Constantine hard to do right. People get tangled up in his trademark coat, cockney swagger, and cigarette smoke. Or else they get charmed by his magic, criminality, and sexual promiscuity. But these are just cons, tricking people into playing "Spot the Red Queen," all the while John's behind them picking their pockets. Even Brian Azzarello, one of my favorite authors at the time, got his pants pulled down on that title.
This makes him a hard hero to start reading. Which is why we've gathered up the perfect places to start, no matter if you're brand new to the character or an old salt looking start at the beginning.
Support For Comic Book Herald:
Comic Book Herald is reader-supported. When you buy through links on our site, we may earn a qualifying affiliate commission.
Comic Book Herald's reading orders and guides are also made possible by reader support on Patreon, and generous reader donations.
Any size contribution will help keep CBH alive and full of new comics guides and content. Support CBH on Patreon for exclusive rewards, or Donate here! Thank you for reading!
Who is this for:
The brand new reader who's unsure if they'll like it.
Why this book is recommended:
It's self-contained.
All His Engines is a great, pocket story that doesn't require a lick of continuity or context. It does a beautiful job of introducing John, Chas (John's friend and series regular), and a host of new villains to first-time readers.
From there, it's a fast-paced story about a demon who's infecting scores of humans, including Chas' daughter. It's exciting, intriguing, and tense with a few moments of terror and body horror thrown in for good measure.
The conflict is equal parts magic and pulpy intrigue, both of which blend beautifully with Leonardo Manco's moody artwork, and both story and art blend to perfectly encapsulate John's role as con man and magician.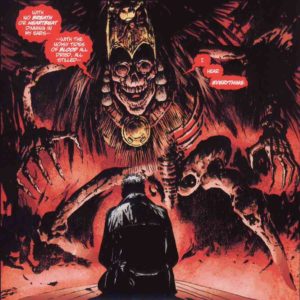 Last but not least, the book's title and many of its interior pages make clear, easy reference to Milton's Paradise Lost. Hellblazer is filled with literary references, so I feel this book is a great primer for anyone not accustomed to referencing outside works for added context.
Downsides:
Long-time fans will quibble about the book taking place outside of London and the way Chas is written in the second half of the story. And to be clear, I agree with those points.
But if you're starting from scratch, those kinds of things don't matter. Particularly since All His Engines is such an easy, satisfying read.
Original Sins (and all of Jamie Delano's run)
Who it's for:
The purist who wants to start at the beginning.
Why this is recommended
:
It's the proper start of things.
Alan Moore may have created John Constantine, but it was Jamie Delano's solo book that turned him into a three-dimensional character.
Delano really pushed the "everyman" angle of Constantine, making him look and acts like a man during the Thatcher recession: a fragile veneer of charm and pride stretched over desperation, fear, and a dangerous anger at every symbol of authority. That recession casts a shadow everywhere in the book, haunting almost every human face and turning every demon or servant of hell into the picture of greed.
It also serves as an explanation for how things can go so bad. Constantine and his friends are living in a world of rampant drug use, crime, and hunger. So when they raise a demon from Hell in order to save a little girl, it almost makes sense. When life on Earth is this bad, what's one more devil, right? But then it all goes wrong… and that sets a precedent for the rest of John Constantine's life.
Downsides: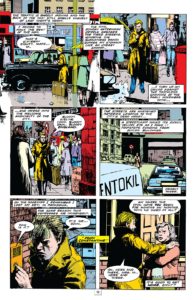 It's very 80s.
Modern comics are planned and organized, creating nice, tidy arcs. But this was not at all the case in the 80s. Readers at the time preferred a kind of soap opera structure where stories evolved organically with less planning. This means these early installments of Hellblazer often feel like John got blackout drunk between issues, with unknown amounts of time (and story) happening between.
Personally, I love this about the early issues. I think it adds to the character and the world. But it's certainly not fashionable now.
Who it's for:
Readers who want to start "where it gets good."
Why this is recommended
:
This is Constantine at his badass peak.
Garth Ennis' run on Hellblazer is an absolute classic, not merely for the title but for comics in general. Ennis wrangled the book into defined arcs, in the process delivering bigger stories that were easier to follow. This allowed for a brand new wrinkle: making Constantine stop hiding in the world of monsters and demons and stop avoiding human interaction.
Which brings us to Deadly Habits. John Constantine has fought Hell itself, saved humanity, and survived to laugh about it. But a lifetime of smoking has caught up with him.
John Constantine has cancer.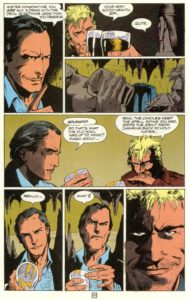 Ennis leverages the orderly pace of his arc-style storytelling to devastating effect. He'd made John stop running away from his problems, which slowed him down. He made him set down roots, leaving him vulnerable. He turned John into a common mortal man, and then used mortality against him.
But this close to death is where John really shines, and Ennis makes that setup sing in one last punk rock sneer. (While still making time for a surprisingly touching friendship.)
Downsides:
Dangerous Habits is the big, emotional payoff for the first 45 issues of Hellblazer. I still think it works great for new readers — in fact, the story is clear enough that anyone could read it and follow along — but I do think that the book loses something when readers don't have an established connection to the character and world going in. Unfortunately, Ennis doesn't provide much context which leaves some parts a little unclear (particularly when John meets an angel.) And I think this is especially true with the climax and resolution, which might read as "punk arrogance" to new readers instead of "cathartic victory."
Out of Season (and all of Mike Carey's run)
Who it's for:
Readers who want a more modern place to start
Why this is recommended
:
So how in Satan's name did Mike Carey, an English teacher. have a run to rivals the legendary Ennis or Delano arcs? Simple: Carey tricked John into giving up his magic voluntarily.
The "depowered hero" start is an almost embarrassing cliche, but Carey subverts it here by having John clean up his act in a way that's almost parallel to his inability to give up smoking. The man who swindled every dark lord there is, try desperately to go straight. And like all addicts, you see his lovers, mates, and enemies try to pull him back into addiction. Then they put him through hell for quitting in the first place.
And that character insight is devastating here. John is constantly being dragged through Hell, a phrase that becomes literal when he must travel there to kill his demonic children. But that comes later.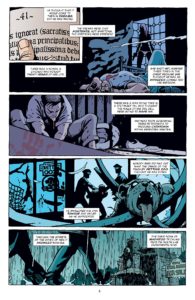 In Out of Season, Constantine must face off against the Beast of the Apocalypse which is destroying the minds of everything on Earth. Humans, Swamp Thing, even Lucifer are all affected and powerless to help Constantine.
This makes Out of Season both a brilliant homage to Yeats' "Second Coming"  and the start of John's race to hit bottom.
Downsides:
Plenty of fans will insist that new readers cannot start here. That starting anywhere other than with Delano or Ennis is either against the law or should be. And while I can appreciate the sentiment of starting at the beginning, I'm also here to tell you that it's nonsense.
Carey's reintroduction of Constantine in The Wild Card is more than enough to get anyone started, and the rest comes through context provided along the way. (Note: The Wild Card comes first, but I recommend starting with Out of Season as it has better bang for the buck.)
Final Thoughts
In the right hands, John Constantine can be a provoking character, driven by rich contradictions. Cocky and terrified, selfish and self-sacrificing, grand magus and street hustler. So why do fans love him?
The easy answer:
People love stories about sinners. We love true crime podcasts, watch films about bank heists, and vote for politicians.
So in that regard, I think fans love Constantine because he reminds us of ourselves, and yet his book never asks its readers to pass a final judgment on him. The title exists in a moral grey area, where John's triumphs are never fully lauded and his failures are never entirely condemned. Like us, Constantine exists in a world where all anyone can expect to do is make it through the day. 
These are conditions we can identify with, met by a character with admirable charm and relatable shortcomings.
The hard answer:
There's this oft-quoted part of the Divine Comedy where Dante says that the damned invite their punishment and that those who die without purpose are doomed to never find one. That without purpose, they could be saved or damned, but can't even choose those monikers.
Constantine exemplifies both of these ideas.
On the one hand, he's proud of his dealings with Hell, eagerly selling and leveraging his soul. On the other hand, he fights for good… ish. Yet his almost dogmatic hatred of authority prevents him from joining sides and being truly good or evil. He's eagerly shouting blasphemies while chasing a banner.
I think this is his enduring appeal. John Constantine is the epitome of rugged individuality and self-sufficiency. But he's also the loneliness that comes from pushing those ideals too far. John's inability to give up even a shred of his autonomy leaves him incapable of any kind of meaningful connection for most of his 300 issues. And when he loses those connections,  he invites demons into his life just so he has someone. Because choosing to living "a good life" is too hard a choice and it's easier just to get what's coming to him.
And to some of us, this feels painfully familiar. The book is filled with empathy. So we root for our John, and hope he doesn't ask for a favor.