We're still a few months away from the release of Star Wars Episode IX: The Rise of Skywalker and while official sneak-peek details have been thus far relatively sparse, it goes without saying that speculation throughout fandom is at an all-time high. 
As the concluding chapter to one of pop culture's watershed sagas, so much is riding on how this movie unfolds. Sure, there's been the fist-pumping teaser trailer and action figure reveals such as the mysteriously red-uniformed Sith Troopers, but really it's still mostly wide-open curiosity as to where these breadcrumbs go. As such, here's some suggestions from Marvel's catalog of canonical Star Wars titles to serve as some "pre-game" fan fuel, hopefully informing the flavor and enriching the background of the upcoming film…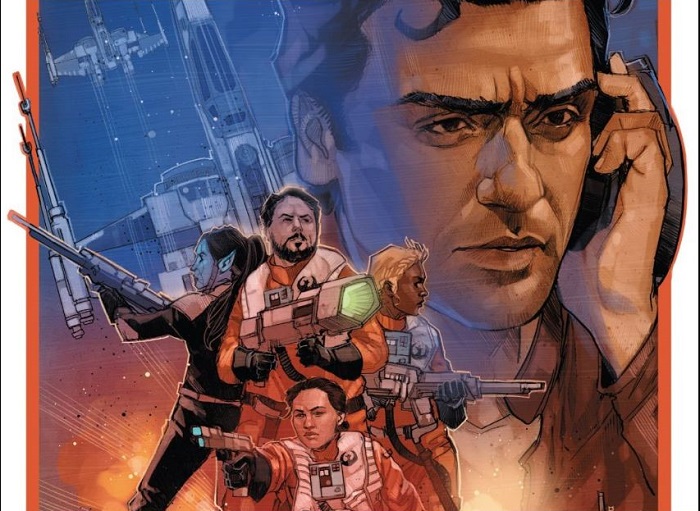 The final arc of writer Charles Soule and company's series functions not only as satisfying deleted scene bonus material from Episode VIII: The Last Jedi but also epilogues with allusions to the Resistance's next move. 
For everyone saying to themselves while watching TLJ: "Hey, where's Poe's fighter pilot team? Did they get blown up with sad, unmentioned off-camera deaths? What??", this story handily puts all of that to bed.
It's revealed that Snap Wexley and the rest of Poe's Black Squadron are sent ahead of the decimated Resistance fleet to gather new allies against the First Order. Needless to say, things don't exactly go well for the squad. It drives home the direness in the film, particularly when no one heeds the call of General Leia's personal request for some galactic back-up on the red and white salty planet of Crait.
Support For Comic Book Herald:
Comic Book Herald is reader-supported. When you buy through links on our site, we may earn a qualifying affiliate commission.
Comic Book Herald's reading orders and guides are also made possible by reader support on Patreon, and generous reader donations.
Any size contribution will help keep CBH alive and full of new comics guides and content. Support CBH on Patreon for exclusive rewards, or Donate here! Thank you for reading!
This adventure isn't all about existing as an "also ran" to the film either, as there's a payoff for fans of Marvel's current line of SW titles. Without giving too much away in that regard, it will be interesting to see if a character created within the comic pages and mentioned as a recent "strange bedfellows" ally will make a leap onto the big screen in the next offering. (And it will have to be a big screen…)
/ Star Wars: Age of Resistance – Villains
These two collections work hand-in-hand offering extended character insight to a variety of the main players in the Sequel Trilogy. Written predominantly by Tom Taylor (All-New Wolverine, X-Men: Red) with lead artists Ramon Rosanas (Astonishing Ant-Man) and Leonard Kirk (Han Solo – Imperial Cadet), these tales are set circa the era of the new movies but aren't necessarily there to move any larger plot further.
Sure, you get deeper into personal motivations and explore personality traits with the likes of Finn and Captain Phasma but you also get segments of pure fun for its own sake like the return of Chris Eliopoulos on a BB-8 story, a whimsically refreshing callback to the writer/artist's earlier all-ages efforts such as Droids Unplugged
.
As of this writing, these stories are still being currently released in floppy format as a series of one-shots. They will undoubtedly be available as the aforementioned collections well in advance of the movie's debut.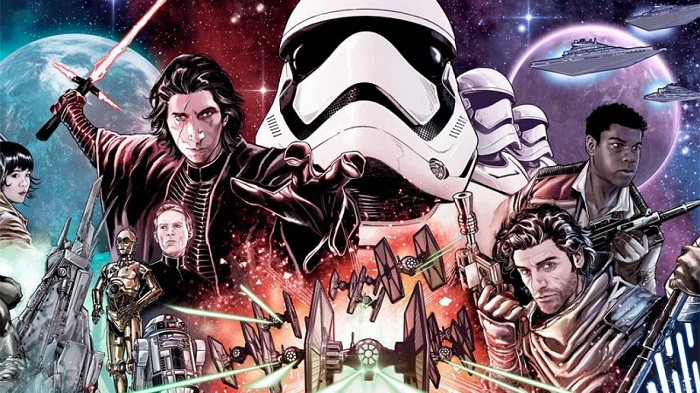 Although technically not hitting comic shops until October 2019, this four-part weekly series by creators Ethan Sacks and Luke Ross is very much designed as a fast-track prologue to Rise.
According to upcoming solicit material from Marvel and inferences from the subtitle, the search for worthwhile friends against the First Order persists. Leia, Poe and the gang appear to still be quite backed into the metaphoric corner and it seems the bonds of trust and solidarity continue to be tested. How much any of this will directly play into the movie is, of course, still anybody's guess but you'll get a cool interlocking poster design by cover artist Marco Checcetto when you collect all four issues…
One of the most memorable, if not most ominous, moments of Rise's teaser trailer is certainly the presence of Emperor Palpatine's evil laugh. What is its significance?
Well, aside from being the real main bad guy of six of the nine films, ol' Sheev Palpatine is kinda obsessed with immortality. He pretty much turns all the cards of his origin story over to young, impressionable Anakin Skywalker during the ballet scene of Revenge of the Sith.
In addition to this, it is established in Star Wars lore that artifacts can be imbued with a certain "Force residue" by a sensitive wielder such as a Sith or Jedi. It's actually how the Sith corrupt lightsabers to "bleed" red and overall it's a plot point incidental that arises quite often.
All of this is to say, back in the days when Vader was still getting his whole caped cyborg silent enforcer schtick together, Emperor Palpatine gifts his right-hand man not only the choicest of locations to build a getaway home (the molten lava planet Mustafar) but also the possessed mask of Momin, an ancient Sith Lord!
Momin proves as cruel as he is crucial in the architecture and construction of the infamous Fortress Vader. However, Momin has ulterior motives of his own and utilizing a series of possessed host bodies, the ancient being attempts a power grab and, tapping into Mustafar's inherent Dark Side energy, pierces the veil between life and death. Feeling the ensuing chaos is even too rich for his blood, the only one capable of holding this all back is Darth Vader. Ironic.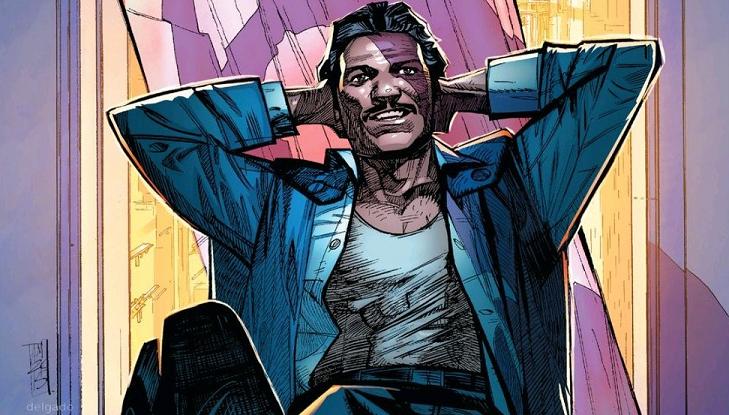 In one of those weird little bits of continuity "chicken and the egg", writer Charles Soule actually debuts the mask of Momin here in this 2015 five-part mini before its appearance in the aforementioned 2017 Darth Vader series (even though the DV story is chronologically meant to take place years before hand).
In order to make good on some debts, the galaxy's smoothest gambler agrees to assemble a crew to steal a pleasure cruiser belonging to some indeterminate Imperial bigwig. Little does Lando realize that the space yacht actually belongs to the Emperor himself!
Hilarity really ensues when the mask of Momin is revealed to be among a trove of Sith artifacts on board and begins to possess Lando's crew, turning them on each other!
Continuing in the theme of "Force ghost as evil monkey's paw" is a gem containing the consciousness of Eternal Rur, another ancient wielder. Rogue archaeologist Chelli Aphra doesn't care about unlocking the unruly spirit's secrets so much as she knows she's found something rare and valuable- meaning someone is bound to pay a Hutt-ton of credits for it! And so she arranges a black market auction of galactic crime syndicates. It's such a good idea until it goes oh so horribly sideways.
If you ever wondered what it'd be like if Indiana Jones actually existed in the Star Wars Universe but was, you know, actually a bit more dirtbaggy like Han Solo, but then also a lady, this is the book for you!
Bonus points for this story as Vader again has to step in as the adult voice of reason and shut all this noise down.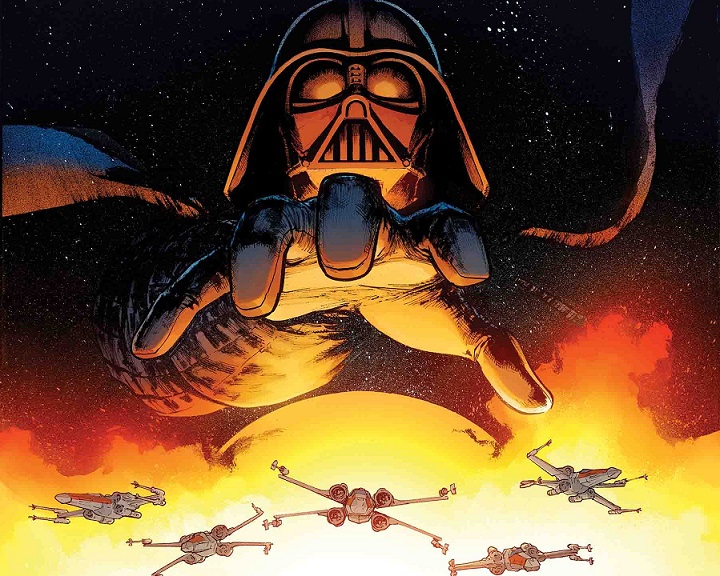 If there's one thing the Star Wars franchise excels at it's motif. Really, the entire Skywalker Saga is kinda nothing more than this one family reliving the same or similar scenarios over the course of generations and influencing an entire galaxy in the process. As such, the Resistance's current decimation isn't exactly news to Leia.
Set during the Original Trilogy, this volume readily demonstrates how the Rebellion went from a seeming victorious uptick after the destruction of the first Death Star to huddling in a remote frozen cave in Empire Strikes Back. It also explains where all those reinforcements come from in Return of the Jedi as you get to witness the scattering of Admiral Ackbar's Rebel Fleet.
A direct continuation from the previous volume, this follows the adventures of Leia and the gang after the scattering of the Rebel Fleet. It's certainly a slower-paced story after the hectic go-go-ness of the last arc but that's not a bad thing.
Of greatest note here would be the first overt "will they or won't they" advances of the Han-Leia romance (certainly important for the mere existence of Kylo Ren if nothing else). However, Luke also encounters descendants of a former Jedi and has a bit of an illuminating "one to grow on" experience of his own.
Disclaimer: The arc immediately following this story, "The Scourging of Shu-Torun
" is also a recommendation, as it also directly ties back into the events of "Hope Dies" as writer Kieron Gillen's finale on the franchise but it's more for the completionist than it has anything to do with setting up Rise…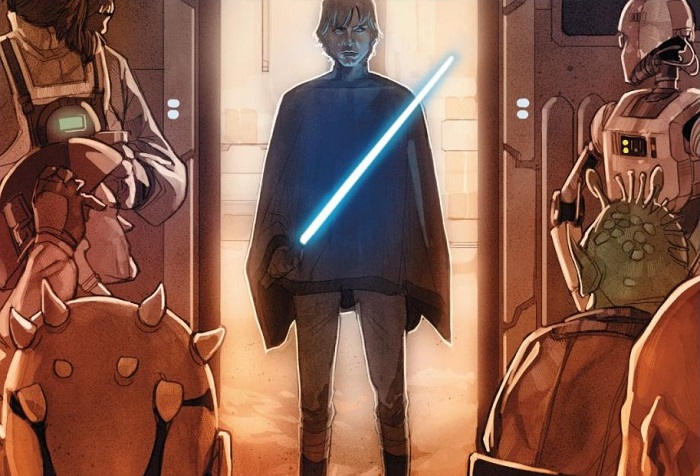 Still set in the Original Trilogy, the gang is out doing compartmentalized missions for the Rebellion. The Han-Leia tension gets cranked up when they encounter Leia's ex while incognito as (wait for it) a newlywed couple. (Is it getting hot in here? *nervously adjusting shirt collar…*)
Luke has a run-in with a Force-sensitive young lady thief named Warba. She doesn't really identify as Jedi or Sith but apparently still knows a thing or two more than everyone's favorite space farmboy. There's also a certain "Rey" vibe to the character but that just may have more to do with artist Phil Noto's renderings (and again, maybe just a healthy dose of that hopeful speculation).
You also get a nice, light-hearted odd couple team-up of C-3PO and Chewbacca occurring before the whole "spare parts shoved into a backpack" debacle during Empire, so there is that in the mix as well.
As of this writing, this story is still currently being released so it will be interesting to see where this all lands in conjunction to the Rise of Skywalker…