I'm sitting upright in bed, quietly crying, hoping my wife doesn't notice.
For most of my adult life, I have 1 part joked, 3 parts bragged that I only cry when old wizards die (You know the ones), or when Ben Grimm and Johnny Storm are dramatically separated (Waid/Wieringo Fantastic Four or Hickman's "Three"
). In Junior High, the first date I ever went on was spent gulping a clearly empty giant-sized coke to stem back the tears of Gandalf's apparent demise. She would go back to school and tell the cool 7th graders that the time was spent in all sorts of hot make out sessions, but I will remember that mostly I was trying to make out those rascally little Hobbits through the tears. Nonetheless, my reputation grows. My first conspiracy theory.
Here I am, nearly twenty years later, and the unassailable nerdiness of my stunted tearducts hasn't changed much, but the content of The Department of Truth
#3 is decidedly void of bearded magic makers. The comic by James Tynion IV, Martin Simmonds, Aditya Bidikar, and Steve Foxe continues one of the most captivating Image Comics premises in years with a dig inside the conspiracy universes of false flags and school shootings. In The Department of Truth, sufficient belief in a conspiracy can drive that fiction to manifest in reality, and the third issue focuses on a mother's attempts to cope with the loss of her son in a school shooting. On the bottomless well of evil and inhuman agendas that insist her loss is a fiction. On the psychological and emotional trauma these conspiracies unleash. On the spiral of grief-stricken escape that could lead a woman to welcome this unreality over her own truth.
And while my wife is more than the ideal listener and confidant, I don't want to talk about it. I don't want to explain myself. I just want to cry.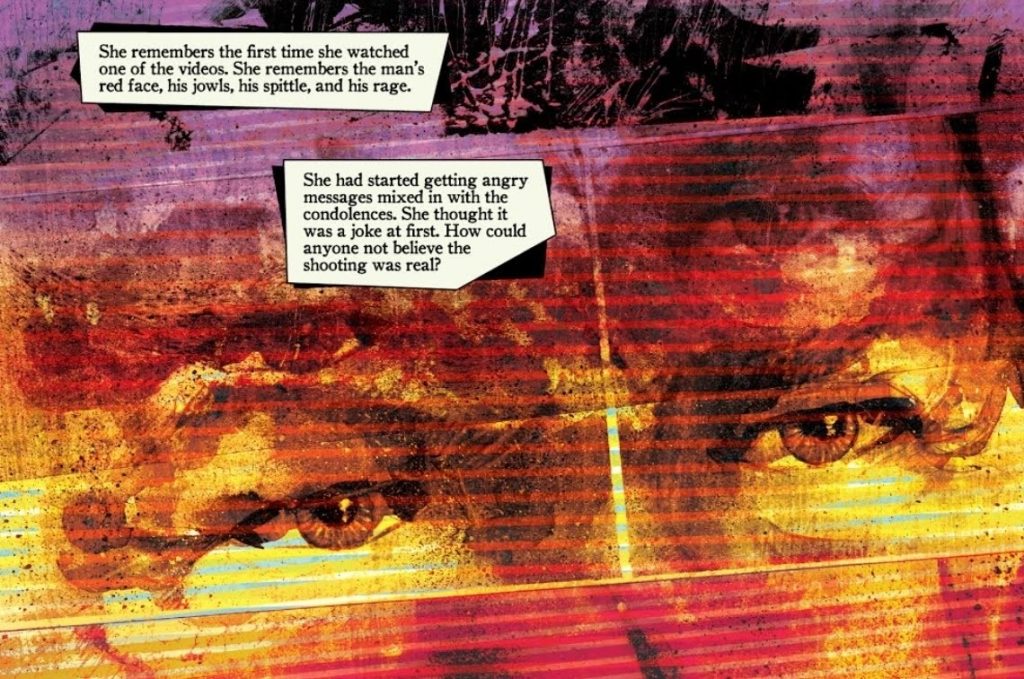 Related:
Comic Book Herald's favorite comics of 2021
Support For Comic Book Herald:
Comic Book Herald is reader-supported. When you buy through links on our site, we may earn a qualifying affiliate commission.
Comic Book Herald's reading orders and guides are also made possible by reader support on Patreon, and generous reader donations.
Any size contribution will help keep CBH alive and full of new comics guides and content. Support CBH on Patreon for exclusive rewards, or Donate here! Thank you for reading!
*****
The Department of Truth is not primarily set on heartbreak. In fact, the far-ranging conspiracies, the secret histories and governmental factions, these all bring to mind the likes of Men in Black or Planetary
sooner than any art really set out to shake you to your core. The series opens with Cole Turner, our protagonist, stumbling upon a secret society channeling right-wing conspiracy enthusiasts into Kubrick's cut of the man on the moon, and helicopter rides to the literal edge of the flat world. The titular Department is a government agency, led by none other than Lee Harvey Oswald, with the role of keeping these conspiracies in line, and preventing their development in the real world.
The brilliance of this set-up is that it allows Tynion IV, Simmonds and team to weave in and out of various conspiracies through the ages, while broadly tackling the complexity and creeping power of "alternate facts" in our times. The range of contemporary conspiracy has escalated from the couch detective innocence of long-running JFK assassination theories to the warped foundationless desperation of "Pizzagate." Growing up, I remember a certain goofy charm to the likes of "Area 51" or JFK, frequent topics of pop culture voices like Bill Simmons and Chuck Klosterman. In recent years it's become increasingly clear that the perceived innocence of this kind of speculation has been replaced by QAnon infections, and real harm to real people in the real world.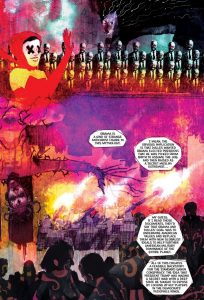 The Department of Truth is somewhat miraculously scoped and scaled to deal with all of this. Conspiracy is something I've talked about with other comics creators, as the dark side of reckless theory requires storytellers to approach with care. The degree of difficulty in telling a modern story about the pervasive influence of conspiracy is extraordinary. In my interview with Vali Chandrasekaran and Jun-Pierre Shiozawa about their webcomic Genius Animals?, and in my interview with Nick Roche about his recent IDW series Scarenthood
(another of my 2021 favorites!), all creators talked about the challenges of baking conspiracy theory obsessions into their narratives. And in both of these instances, without casting any aspersions (because, again, these comics are great!), the approach is centered around avoiding the darkest corners of these worlds. They are unseemly, unwieldy corners, and I don't blame them.
The Department of Truth avoids nothing. The creative team leans into the scariest, most concerning, most present webs of conspiracy in our world, and acknowledges their presence, place and persistence. While the passage of time can make some of these feel comparatively quaint (80's Satanic Panic, take a bow), school shooting deniers is devastatingly relevant.
Which brings us back to The Department of Truth #3.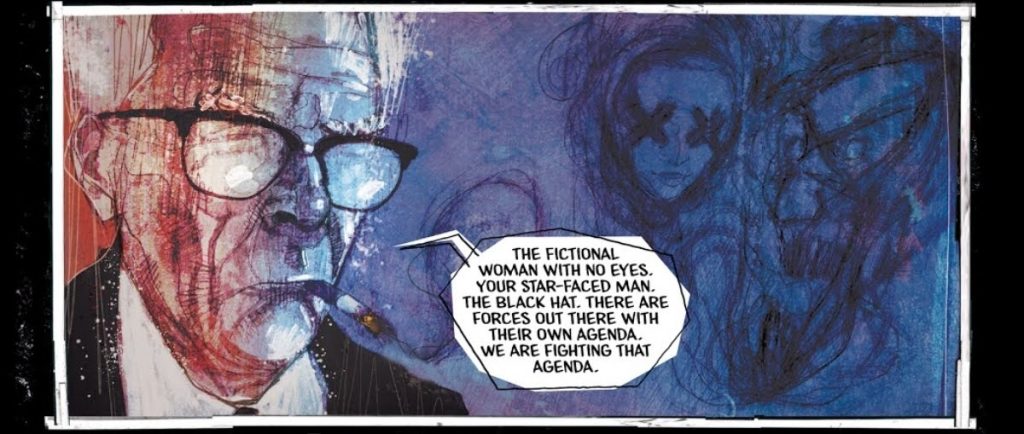 *****
While gun violence and school shootings have always nauseated me, and remain in my opinion one of the top two or three issues I care about when voting, after having kids of my own, that threat just hits different. That there are parents in this world that have lost children to school shootings, and have then had to manage and process the black hole of hate, threats, and deranged conviction that accompany false flag believers? I don't even know how to deal with that without curling up in a ball for the rest of forever.
Tynion, Simmonds and Bidikar tackle the subject with care, empathy, and gripping momentum. It's one thing to showcase the storytelling ambition that says "We're going to stand up, unflinching, to all the nastiest webs of lies in the world." It's another thing entirely to pull that off with drama, effortlessly letting us see how this battered victim fits into the competing shadow forces looking to define the world's truth.
In the midst of this compelling battle for the soul of veracity, there's the dark truth that the Department of Truth itself isn't pretending any claims to heroism or righteousness. Truth be told, there's no saving the mother in The Department of Truth #3, there's only making sure her coping mechanisms – in this case, buying into the lies and living deep inside the alternate fiction herself – don't spread. The Department doesn't trade in happy endings, only crisis aversion. So when Tynion writes the grieving mother "Screamed in her empty home, unsure if she was making any noise. Nobody heard her," it's with the full weight of that hollow knowledge. It's almost nicer to let her have the corrupted conspiracy. That's simply the truth of it.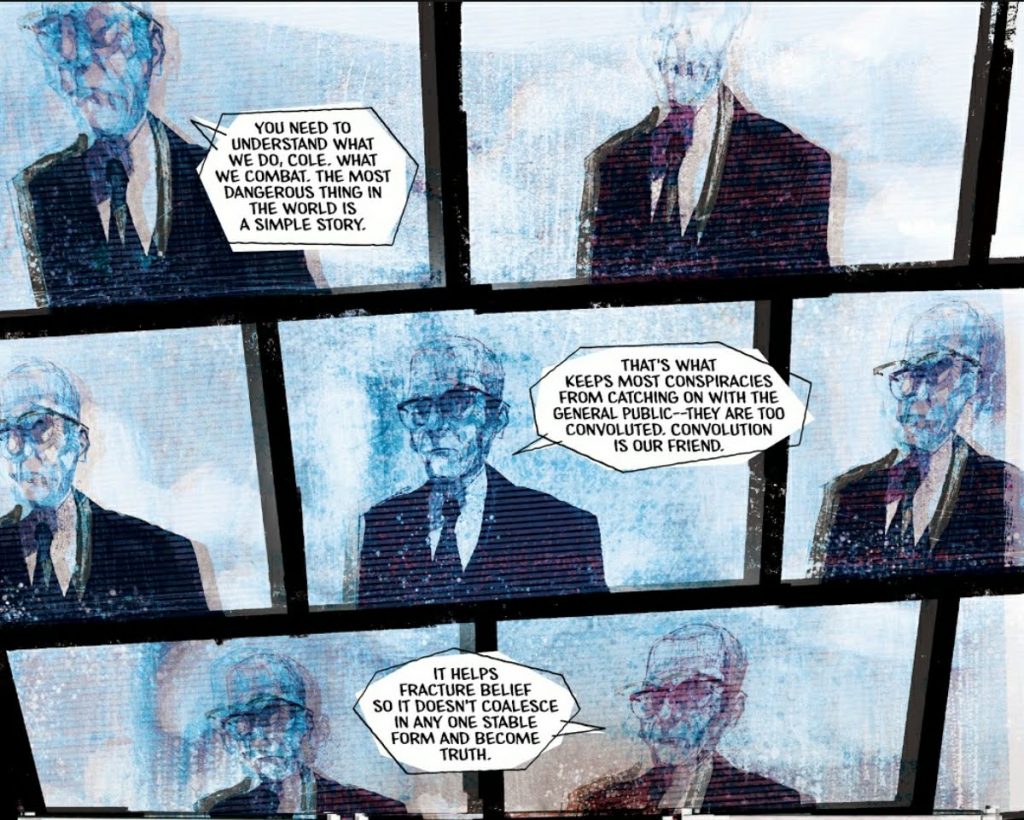 *****
I've been a fan of James Tynion IV's writing for a number of years now, but nothing he's done – from work across DC's Batman to Boom's Something Is Killing the Children
 – has grabbed me as thoroughly or as quickly as The Department of Truth. In addition to the conceptual hooks, a huge part of that is due to the creative collaborators, with Martin Simmonds and Aditya Bidikar elevating the work to some of the absolute heights of 2021.
Martin Simmonds artwork and storytelling fits alongside the likes of Anand RK's recent showstopping turn on Blue in Green
, in a wave of talented visual stylists I think of as The Children of Sienkiewicz. Simmonds makes great use of amorphous, near incomprehensible line and shape to lend mystery and shadow to the horror of The Department of Truth, yet crucially never losing the narrative flow or beat by beat rhythms of the work. Every page turn offers the possibility of an explosive collage, a distorted monster, or shifting human forms that never settle long enough to truly know their shape.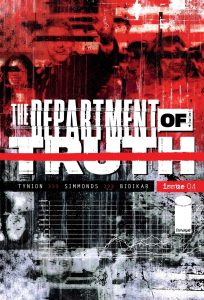 Bill Sienkiewicz comps are probably as present in comics reviews as Pavement references in indie rock, but I'd be lying if I didn't see Elektra: Assassin
 all over these five issues. The layered facial portraits, the hastily sketched out eyes, the way a character smiling instantly sets off alarm bells, it's all implemented gorgeously. Better yet, the ethos permeates the work from the cover to the final page, with Simmonds commanding the style throughout, and designer Dylan Todd complementing the look and feel of the entire package. Admittedly, it wasn't until Tom Mueller's work across House of X / Powers of X that I really began to process the impact of design on a comics reading experience, and Todd's a fantastic fit here, weaving in redacted truths and the lurking presence of government secrets with every turn.
Whether the influence is more parts Sienkiewicz, Dave McKean, or others altogether, the aesthetic ties to the plot and the thrills of never knowing what the next page will look like are merged in a blissful pair. For his part, letterer Aditya Bidikar is increasingly a master at his craft, aligned to a concerningly high number of all my favorite comics this year! It's easy to overlook how challenging it could be to fit narrative caption or dialog over Simmonds splashier works, too, finding that balance of spatial positioning and narrative flow that allows the highly inventive art detail to shine through. Unsurprisingly, Bidikar finds the balance every time.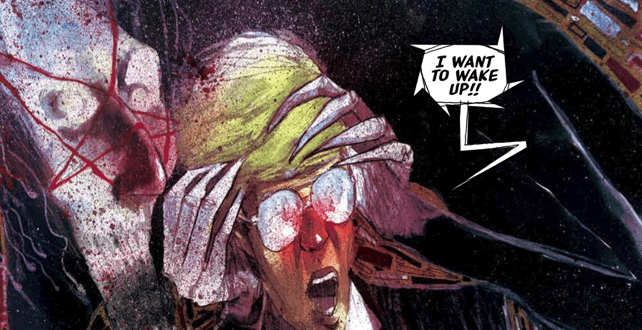 *****
Five issues, and a single trade collection into the run, and I feel absurdly confident in declaring The Department of Truth is destined for greatness. If Tynion, Simmonds, and Bidikar want to commit to a lengthy run, there's little doubt in my mind that we're in for an all-timer.
Speaking of, I plan to conclude each "Best new comic' entry with an update: Where does it fit on the Comic Book Herald all time list of favorites?
I'm ranking The Department of Truth as the new number 259 on my 500 favorite comics of all time, after Farmhand and before Rucka and Southworth's Stumptown and Iron Man: Extremis.
Anything close to my top 250 is actually quite high, and positioning The Department of Truth this high on the list is a reflection of how much the comic has impressed me through one collected volume, and the fact that I anticipate it's status and stature will only grow as the series continues.