Welcome to Comic Book Herald's countdown of the best comic books of the decade! Throughout the remainder of 2019, Dave and John will be picking the best 70 books of the 2010's, and writing a few thoughts on their picks.
As you'd expect, many of these will come from Comic Book Herald's 500 best comics of all time, of course editing for those that have been released in the past 10 years. The list will inevitably leave out plenty of very exciting comics, so let us know what would make it onto your list in the comments!
Previously:
Support For Comic Book Herald:
Comic Book Herald is reader-supported. When you buy through links on our site, we may earn a qualifying affiliate commission.
Comic Book Herald's reading orders and guides are also made possible by reader support on Patreon, and generous reader donations.
Any size contribution will help keep CBH alive and full of new comics guides and content. Support CBH on Patreon for exclusive rewards, or Donate here! Thank you for reading!
20) Morning Glories by Nick Spencer & Joe Eisma
When crafting "best of" lists, I'm very up front about the fact that my picks are based on my experience, perspectives, and tastes. I'd be lying, though, if I pretended some sort of indefatigable resistance to cultural and reader response. I do not rank books high on the list because I imagine others will expect me to, but it certainly crosses my mind whether or not others expect me to. Sometimes, I revel in defying expectations, and other times I think "Yeah, Maus should probably outrank Punk Rock Jesus."
With Morning Glories I have the least awareness around where this book should rank, so I am left entirely to my own devices. And as the top 20 placement suggests, I loved reading Morning Glories. Spencer and Eisma's mysterious school for gifted (?) youngsters is oozing with all the enigmatic and perhaps unanswerable questions that made LOST so fascinating early on. I still don't know what was really happening in this book, but between the time travel, sinister societies, and mayhem, the adventure is more than worth some unresolved threads that probably couldn't satisfyingly pay off anyway.
So no, I don't really know if it's "weird" to include Morning Glories inside the top flippin' 20 books of the decade. All I know it was one of the hardest books to put down of anything else on this list!
19) Sweet Tooth by Jeff Lemire, Matt Kindt
John Galati: The apocalypse is a pretty well-covered topic for comics.  The scope, violence, and import of Armageddon form a kind of gravity well around which the comics industry seems to orbit annually.
But Sweet Tooth tells the story of a very different sort of end of the world and a unique kind of hero. Gus (or "Sweet Tooth"), a young man who has been born into a post-apocalyptic world ravaged by a mysterious plague called "the Sick." A disease that might have something to do with Gus being an animal-human hybrid with antlers. A condition that might make him and his afflicted kind out to be a holy abomination and/or cause of the end times themselves.
And it's this conflict that makes Sweet Tooth so different. It's not split along the lines of good or bad, heroes or villains, love and hate. No, it's something so much more relatable and deadly: ambiguity. Sweet Tooth is about frightened people, each of whom feels forced to "fix" the world. This isn't a conflict to be solved with super strength or ice breath. Instead, it's up to Gus' compassion (and the bravery of his traveling companion Jepperd), and while this book has tons of excitement, it's ultimately the emotions that pull the readers through.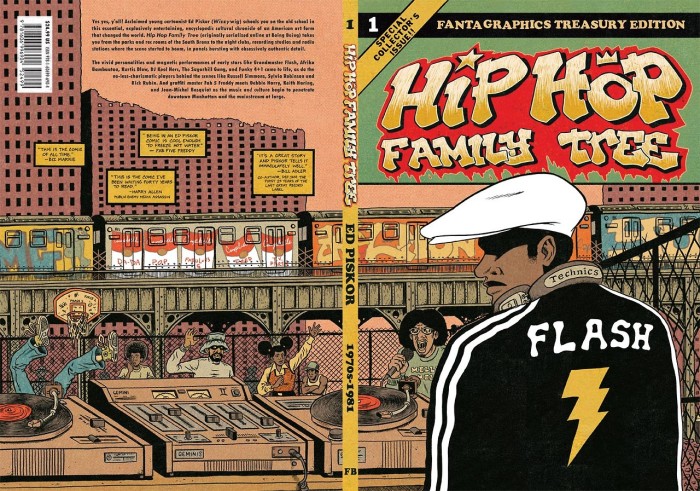 John Galati: America's best, truest history is oral history. The dazzling, self-mythologizing fears and bombast of a people will tell you more about a culture or an age than a thousand carefully edited thesis. This is because nations advance and fall on the stories they tell themselves. Not the ex post factos of historians. Breslin and Hammil knew this.  So did Kurtis Blow and Grand Master Flash. And Ed Piskor does too.
Hip Hop Family Tree tells the complete story of one of America's most successful artforms as a mixture of received wisdom, legend, and free-form remembrance. This isn't so much a documentary as it is a story. One that's organized around passions. A tale free to move through time like a casual conversation. Piskor's masterful cartooning style — a mixture of 60s outsider comics, 70s Hannah Barbera cartoons, and Marvel's funk period — gives the book a feel both modern and period-appropriate.
Most of all, Hip Hop Family Tree stands as a shining example of how fans love to collect and organize their passions. And that passion is infectious.
17) Vision by Tom King & Gabriel Hernandez Walta
John Galati: Vision is the sort of book where no matter how much I write about it, I always find something more to say.
King and Walta do a phenomenal job of capturing the sad, cruel, and funny irony of the Android Avenger's existentialist struggle. His fight with his dual natures — robot body and human sense of identity; which is the creator and which the destroyer —  might be the kind of thing creators could overthink or oversell, but this pair keeps writing and artwork beautifully clean and unencumbered. The book is direct and precise, with plenty of room for me as a reader to fully consider the situation without creators forcing me towards their understanding. This also makes for a book that is skillfully executed yet does not interrupt my reading with demands of praise.
It makes me feel proud of myself for seeing parallels between Vision's struggles with PTSD and his desperate and threatening attempt to present himself and his life as beyond normal. Or the possible allusion to Pinocchio, the mechanical boy who wished to be something else. A puppet to a more powerful being who wished for true agency. The doll who recognized humanity's defining characteristic as "lying," and thus to become human was to deceive. An act that became more obvious the more he did it.
King and Walta were confident enough in themselves and their audience to allow room to explore, and I absolutely cherish this book for that show of respect.
16) Daytripper by Fabio Moon & Gabriel Ba
It's perhaps a bit on the nose, but the first time I read Daytripper I felt like I was going to die. I was stuck in a hotel room, on a business trip, having just given the Jordan's Flu Game of boring client presentations. And I pulled up Daytripper and I thought about the value of a life, and all its possibilities.
Now my life-or-death scenario was of course playing up some drama (surely, no man has survived any more harrowing trial), but it's that amazing life-affirming power of Daytripper that makes the work so potent. Each story is one version of one man's life, culminating in his death, watching possibilities unfold over 12 distinct chapters. Although it's playing less with time travel and science fiction than their ilk, there's certainly modern similarities in structure to current favorites like The First Fifteen Lives of Harry August and House of X. Top it all off with amazing technical prowess from Moon and Ba, and Daytripper is a must read.
I've never felt more confident giving graphic novels as a gift than I do handing friends and family copies of 4 Kids Walk Into a Bank. The Rosenberg and Boss production from Black Mask Studios is an astonishingly funny, self-assured take on the classic gang of kids mixed up in a crime way over their heads.
The premise is right there in the name, but that undersells the hilarity and heart behind Rosenberg's writing. This is the comic that convinced me Rosenberg is one of the best young writers in comics, and no matter how much I may fall out with his contemporary Marvel work, I'll always give him the 4 Kids Walk Into a Bank benefit of the doubt. Likewise, Boss drops mind-blowing layout after layout showcasing a level of craft that elevates the series among the greats. The art simultaneously helps make a case for studio executives throwing their purses at the property, and that the inevitable adaptation will never live up to the original!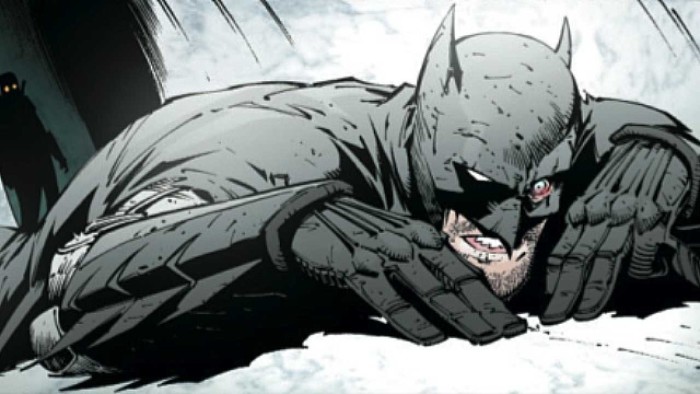 John Galati: I'm an enormous Batman fan. The talent on various Bat-books, the characters, the rogue's gallery, the storylines, and even Gotham itself feel second to none in all of comics. Each item has been developed, tested, and expanded over the decades, giving the world a rich, deep, mythological feeling. But this also fills me with dread each time a new writer comes on, causing me to worry that the winning streak could end. I felt this way in 2011 when Snyder took over for Morrison. And gloriously, I was wrong.
Snyder and Capullo turned Batman into a horror book, filled with secret societies, monsters, and a Joker who'd been reborn as a nearly supernatural boogeyman. All of these threats then targeted Batman's greatest vulnerability: his family. The book goes right after members of the Bat-family, even going so far as perverting the very concept of love and devotion. The nightmare kept ramping up until the entire world fell to the Dark Universe and its embodiments of Batman's worst aspects, each of which would consume everyone Batman ever knew. Scott's ideas were limitless, and each captured perfectly by Greg Capullo's style which morphed between Mike Mignola gothic terror and Frank Frazetta metal mayhem.
13) Infinite Kung Fu
 by Kagan McLeod
I'm not a Kung Fu aficionado by any measure. You could straight up replicate the plot of any classic of the genre in the pages of Master of Kung-Fu and I'd completely buy it was an original Shang-Chi story. Nonetheless, I appreciate the heck out of the genre's quirks from the view of an outsider, and nothing quite accentuates the vast potential of the action vehicle quite like Kagan McLeod's Infinite Kung Fu.
This remarkable black-and-white work is the idea of Kung Fu in all its incarnations super smashed bro'd into a saga of action and bravery. Even without the background I can tell McLeod loves the form and its vast potential for a storytelling epic.
12) East of West by Jonathan Hickman and Nick Dragotta
John Galati: True to form, Jonathan Hickman has created a meticulously planned Armageddon. There was a Civil War that never ended. What was America is now a supercontinent of seven nations, each belonging to an aggrieved people. The effect is an entire landmass that feels stuck in the 19th century, holding bitterly to the past even as they run out of future. The logical order of this creates a lot of the terror of this book. It provides a filing system for the archaic affectations, bigotries, and grudges that dominate the world. A clarity that makes it easy to see the contradiction between the cultural antiquity of their hated and the unfulfilled promise of the world's sci-fi advancements. Add to this the ordering structure of The Message, the prophecy driving the story, and this might be the most comprehensible of end times.
At least until the conflict sets in. Death, the fabled horseman of the apocalypse, attempts to give up his role in the end of the world, sending Armageddon into disorder. Hickman's ability to capture the nuance and poetry in Death through his connections is intensely satisfying, while Dragotta's art captures great nuance right alongside a sort of beautiful violence. The combined effect show the terror in a well-considered doomsday, and how fearful it is to care when your world is ending.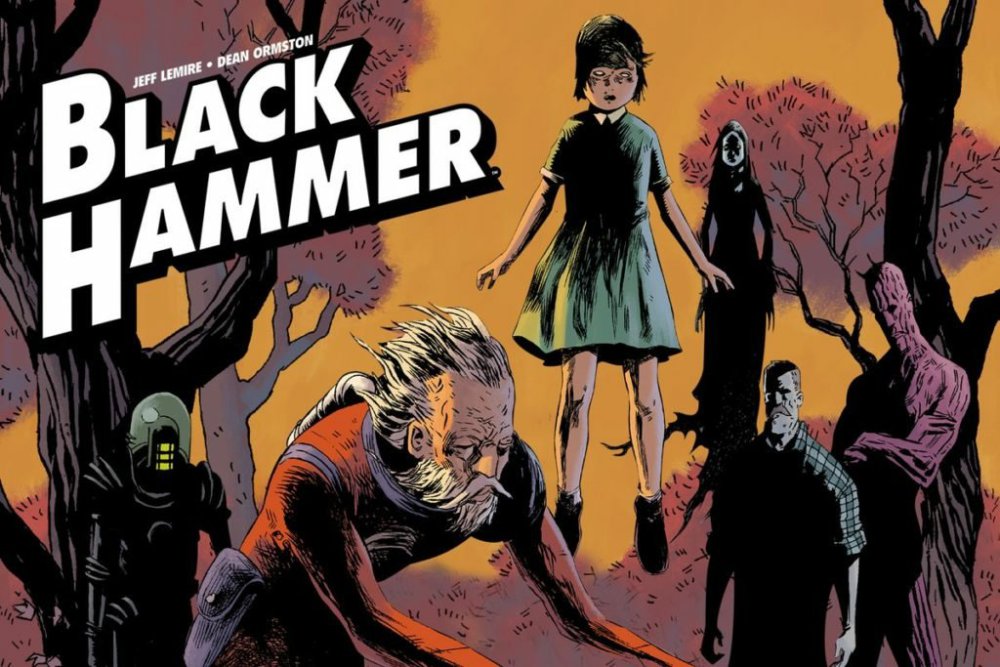 11) Black Hammer by Jeff Lemire, Dean Ormston, et al
I've said this to John a number of times in our various podcast conversations, but creating a new superhero universe in the late 2010's is genuinely outlandish. As good as it can be, the lesson of 2010's Valiant, Lion Forge, and various others all point me to a grim acceptance: The superhero universe market is saturated with Marvel & DC. There's no more room in the inn!
Enter Black Hammer, the brain child of Jeff Lemire and Dean Ormston, and my single favorite development in superhero comics of the 2010s. Black Hammer could have remained content with a brilliant exploration of superhero psychology and easter-egg analogs trapped on a mysterious farm. Honestly the first story by Lemire and Ormston alone would have been more than enough to get Black Hammer at least into the top 50 comics of the decade.
When you mix in the expansion of the universe through titles like Sherlock Frankenstein, Quantum Age, and Doctor Star and The Kingdom of Lost Tomorrows, it's a whole burgeoning universe that I hope sticks around showing the big guys how it's done for years to come.
Next: #10 to #1