The first step I take when I have a glut of comics to rank is to order them amongst themselves.
This is hard enough by itself, before I even get to the core list.
For example, I found myself trying to pit DC's 52 against Black Hammer and nearly had an aneurysm.
Doctor: "How long's he been sitting here motionless?"
Witness: "He… Doc, he tried to rank Vision vs. Black Hammer."
Doctor: "I see," presses speed dial on cell, "We're going to need more doctors, stat."
At the end of the day, though, some lunatic trying to rank every comic he reads has to do it. I've also started loosening my restrictions about ranking Marvel comics on this best of list. As I make my way through Marvel reads, I'll begin adding them to the "Best of all time" guide as well.
Support For Comic Book Herald:
Comic Book Herald is reader-supported. When you buy through links on our site, we may earn a qualifying affiliate commission.
Comic Book Herald's reading orders and guides are also made possible by reader support on Patreon, and generous reader donations.
Any size contribution will help keep CBH alive and full of new comics guides and content. Support CBH on Patreon for exclusive rewards, or Donate here! Thank you for reading!
Note that Patreon supporters get first dibs at recommended comics for me to read and rank.
Below you'll find all the new additions to the best of list so far this year. Starting from the bottom of the list and working our way up to the greats:
THE BOTTOM TIER —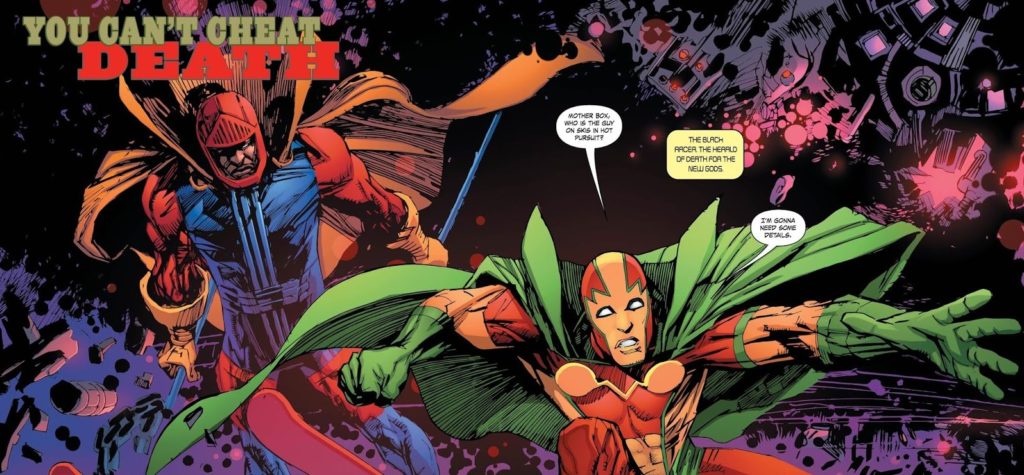 Enters the list behind "The Death of Superman." While this Peter Milligan joint introduces the Witchhunter Batman and Barbatos concepts that Grant Morrison played with in "Return of Bruce Wayne," and Scott Snyder and Greg Capullo are currently playing with in DC Metal, it doesn't hold up very well as a Batman story today. Definitely worth while if you want to see late 80's / early 90's influence on "dark" Riddler, a concept the Arkham video game series would improve upon within the past decade.
The 2017 Kirby 100 issues (in honor of what would have been Jack Kirby's 100th birthday) suffer from the type of inconsistency common among anthologies. A handful of the issues (Shilo Norman, Mister Miracle by Reginald Hudlin and Denys Cowan chief among them) are a ton of fun. And then there are those (Newsboy Legion… it's always Newsboy Legion) that are simply by the numbers odes to Kirby.
Kirby 100 comes in just after Batman: Knightquest, another series with a mixed pallate of comic book joy and what feels like homework.
Behind the big wild Geoff Johns' Infinite Crisis and Flashpoint for me, although I could see this ranking changing if I ever catch up on the complete Johns / Goyer / Robinson era on JSA.
The first volume of Peter Milligan's Vertigo classic Shade the Changing Man was a disappointment for me, and comes in a clean 100 spots lower than Young Animal's current Shade the Changing Girl.
There are a whole bunch of Vertigo kids who swear by Shade, and I can definitely see a series I might have loved if read at a different point in my life.
GOOD STUFF —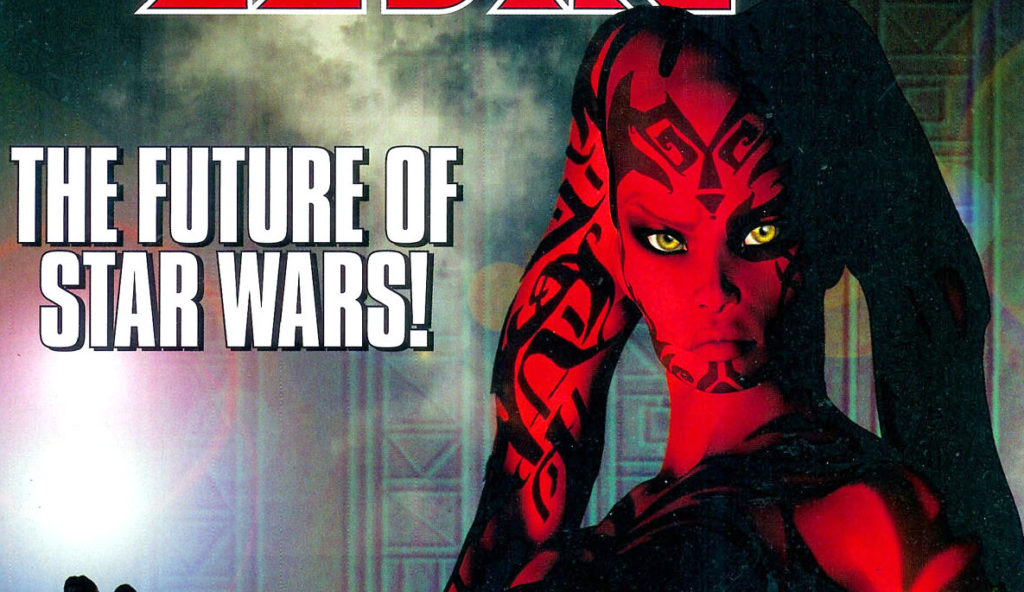 Comes in right below Action Comics (Rebirth) and Final Crisis. DC's Kamandi Challenge was my favorite of the Kirby honorifics in 2017. Despite a lack of knowledge around Kirby's own Kamandi mythos, the challenge (with a new set of top tier creators every issue) is very easy to jump into, and just clean non-sensical comic book fun.
Don't let the comparatively low placement on this stacked list fool you – I ranked Kamandi Challenge as one of my favorite DC Comics of 2017.
Right after Final Crisis. The first volume of Hawkman written by Geoff Johns is a companion piece to the previously mentioned JSA: Return of Hawkman.
Very early in the lifespan of this all ages gem from Boom Studios, Greg Pak, and Takeshi Miyazawa.
As it stands, I placed it just below Dial H for Hero, which remains an underrated short-lived New 52 series. Mech Cadet Yu is one of the better all ages books I read in 2017, and will almost certainly improve in the rankings as more of the story is released.
Just under Batman: Knightfall and Gotham City Sirens. Not my favorite Hickman joint, although my reading issues a couple years after issue #1 debuted helped. In a lot of ways, this series mostly made me want to re-read Hickman's "Last Ride of the Howling Commandos" in Secret Warriors.
Literally one spot up, Giant Days just outranks The Dying and the Dead. This is another series that I ancipate will benefit when I find the time to do a mega read. As it stands, this is an undeniably funny slice of college life from creator John Allison.
Morrison's "Return of Bruce Wayne" is enormously influential on DC Metal, my favorite comic book event since Secret Wars. That said, it's not as good as Batman Inc.
The next couple books on the list forced some reconsideration on my part. I realized I didn't want to place any comics ahead of the Valerian / Emperor Doom wall I'd built but DID feel comfortable ranking comics like Grass Kings ahead of books like "Divinity."
The end result was both Valerian (the 1st complete collection) and Emperor Doom moved right under Jamie Delano's first Hellblazer story arc ("Original Sins") and ahead of Kevin Smith's work on Green Arrow "Quiver."
Although Tyler Jenkin's painted art took some time to get used to, I like "Grass Kings" as an original Matt Kindt project more than his Valiant Comics work like Divinity or Unity. Issues have been free on Hoopla Digital for some time; I recommend checking it out!
I'm convinced that John Ostrander remains one of the most underrated comic book writers of all time. Recent interest in Suicide Squad has helped his case, but he stll doesn't get the recognition you'd expect.
Star Wars Legacy slots between Greg Rucka's Queen & Country Vol. 1 and Greg Rucka's work on the DC Rebirth Wonder Woman "Year One" story arc.
Jumping way up the list, it's the first volume of the JM Dematteis and Keith Giffen JLI. I fully expect this series to climb the ranks as I read more, but at a minimum volume one delivers a lifelong hatred of Guy Gardner, "One punch!", and Mister Miracle and Big Barda's homelife.
"The Button" didn't have to be nearly as good as it is. I ranked it above a triumvirate of extremely strong opening story arcs between Descender, Deadly Class, and Queen & Country. That said, it doesn't triumph over Scott Snyder and Jock's horrifying Wytches.
I imagine all three of those creator-owned critical darlings will fare better than "The Button" once I complete more of their story. As it stands, that minute countdown issue by Tom King and company stands too fresh in my mind to rank any lower.
I like John Jackson Miller's work on KOTOR more than the beloved Darth Vader series by Kieron Gillen and Salvador Larroca, especially once Dustinr Weaver joins Miller on art.
Knights of the Old Republic is my highest rated Star Wars entry on the list, and slots between Darth Vader and Alan Moore and Brian Bolland's controversial "The Killing Joke."
HOLY GUACAMOLE —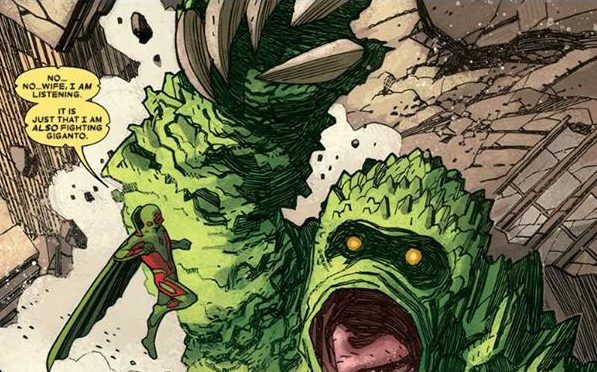 The beginnings of my rare Marvel adds!
Nighthawk slots in right after X-Men: God Loves, Man Kills which feels relatively similar to me in terms of intelligently dissecting social dilemmas in the context of a good superhero comic.
I grabbed a copy of Archie Goodwin and Walt Simonson's work on Manhunter (originally published as short Batman backup stories) based on my love for Simonson's work on Thor and Orion. The series ranks between New 52 Midnighter and Grant Morrison's opening Batman chapter "Batman and Son," two additional series high on action and thrilling ideas.
I love Southern Cross, the new-ish Image series from Becky Cloonan and Andy Belanger.
I couldn't talk myself into Southern Cross ahead of Midnighter (holding strong!), instead placing it JUST ahead of Manhunter. Although the narratives are quite different, the adventerous art elevates the promise of each series.
Ranking anything inside the top 100 is like pulling teeth out of a rhinocerous for me these days (boy does Rocky the Rhino hate when I do that), but DC's post Infinite Crisis weekly 52 series was a DOOZY.
The biggest problem I kept hitting: I couldn't place 52 above another Grant Morrison joint, Multiversity. That said, I absolutely CAN see recommending 52 in its entirity over a series like The Fade Out. SO… Multiversity is moving on up!
I wound up moving Multiversity just after JLA by Morrison and Howard Porter, and frankly, I need to give it a reread to see just how I want to place it. Every time I think about the highs of Multiversity I want to rank it extremely high, but I wonder if I'm forgetting the lows of the Gentry or the more forgettable one-offs within the synchronized song cycle.
As for 52, which is simply a remarkable accomplishment, the weekly triumph lands comfortably inside the top 100 just after Dr. Strange and Doctor Doom: Triumph and Torment.
Entering the list, my highest ranked Jeff Lemire project was Vertigo's Sweet Tooth, ranking in the early 30's. As much as I love Black Hammer, I don't think it quite measures up to the achievement of Sweet Tooth. Conceptually I'm way more on board with Black Hammer (diving deep into the emotions and psychology of superhero analogs, let's go), but it's still early in its creation. Given that there's more to come, I can't place it above Sweet Tooth just yet.
The next Lemire comic in the top 100 is "Essex County," and I DO like Black Hammer more than that excellent book. The question is how much more.
The block I keep hitting ranking Black Hammer comes in the form of The Omega Men and Rat Queens vol. 1. I love the Omega Men, and have to think it offers a more sumptious re-read, but if I'm grabbing one set of issues for a trip… which do I pick? Here recency bias actually hurts Black Hammer: it's Omega Men, since I need to give that a fresh set of eyes.
Black Hammer lands near the top 50, between Omega Men and Locke & Key.
Books in my top 50 that compare to Vision for me would be titles like Daytripper, which is just a perfect miniseries, with a clear run time. Alan Moore's work on Supreme: Story of the Year is in the same boat, with another near perfect limited set of issues.
Vision's comparative brevity actually helps the series. While I instinctively like East of West and Saga more, these are still ongoing series without a conclusive narrative arc. Emotional as it is, Vision on the other hand benefits from a gutwrenching ending. Does this mean Vision can rank above these amazing long running story arcs?
For my money, the answer is no. I talked myself into a placement as high as between East of West and Fables, and as low as Daytripper and Alias. Ultimately I choose the lower end of the spectrum for a couple reasons 1) Vision is new and shiny and I don't want to overvalue it as a result and 2) Daytripper made me grateful to be alive in a way Vision simply can't. Still, not a bad showing for the higest ranked Marvel superhero book on my list to date!