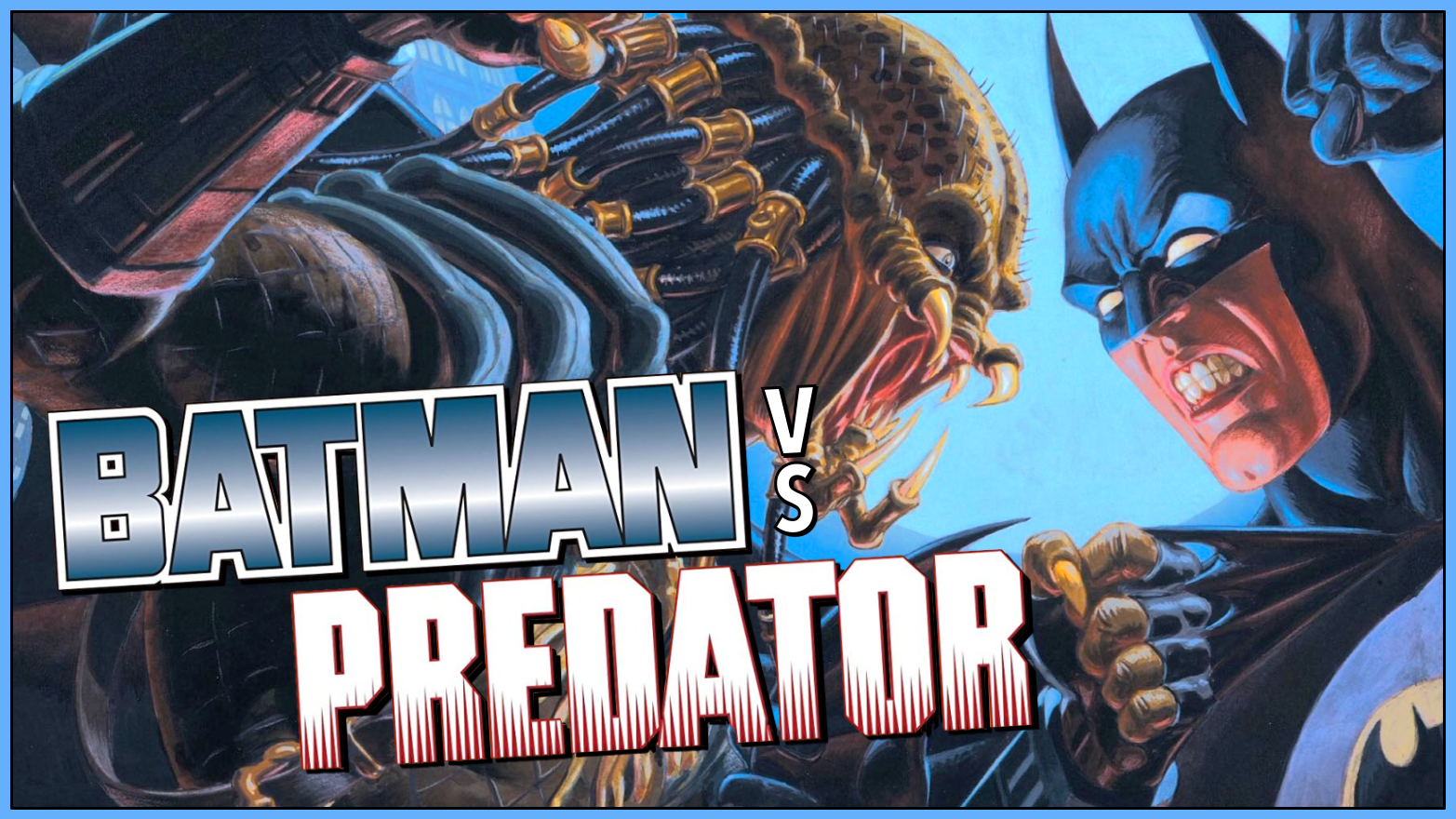 It's a hot night in Gotham City. The kind of night that brings out the darker side in a dark city. But there's something out there that puts even the most dangerous Gotham citizens to shame.
It's not Batman. It's something much worse.
Published from 1991 through 1992 in 3 issues, Batman vs Predator
saw Dark Horse and DC Comics come together for the first time for a story that sees Fox Studios' alien hunter arrive in Gotham, pursuing dangerous game throughout the city until it encounters the most dangerous prize – The Dark Knight. With Batman trying to solve who is behind a string of grisly murders in his city, his search leads him directly to the Predator, only to be badly beaten and nearly killed in his first encounter. Now with Bruce Wayne physically broken and the Predator tearing through Gotham, Batman will have to find a way to beat an enemy unlike any he's faced before for the sake of his city.
On the surface, a comic centered on slamming together two popular but dissimilar characters seems like a quick cash grab, and while Batman vs Predator is very much a blockbuster comic, it's a crossover blockbuster comic done right. One that shows the potential of the high concept. It's a silly idea. A fanboy dream match played to its full extent and given a dramatic heft that makes you buy into its conflict.
And what's great about Batman vs Predator is that Batman fights the Predator in it. This is a scientific advantage over almost all other comic books.
Support For Comic Book Herald:
Comic Book Herald is reader-supported. When you buy through links on our site, we may earn a qualifying affiliate commission.
Comic Book Herald's reading orders and guides are also made possible by reader support on Patreon, and generous reader donations.
Any size contribution will help keep CBH alive and full of new comics guides and content. Support CBH on Patreon for exclusive rewards, or Donate here! Thank you for reading!
From the stop and start history of inter-company crossovers to the thrills of a story created by Dave Gibbons, Andy Kubert, Adam Kubert, and Sherilyn Van Valkenburgh that weaponizes the concept of "Batman with prep time," to its contribution to the crossover boom that followed, I simply have no other option than to declare Batman vs Predator as humanity's greatest creation. Or at least the greatest comic book crossover ever.
Crossover and Predator History
John McTiernan's Predator in 1987 is almost a small miracle – a film set back by constant rewrites, a troubled production, and a complete overhaul to its titular monster, only to be a box office hit that leverages the concept of an Arnold Schwarzenegger action fest to smuggle in a second act sci-fi slasher twist.
The beauty of Predator is that it's both a full-throated testosterone-fueled action extravaganza, and a critique of the He-Man archetypes it depicts, rendering them useless and weak in the face of an unknowable hunter. And as we all know, Predator is the second greatest movie of all time (after Evil Dead II). But I won't get too deep into Predator the film, let's save that for the franchise retrospective.
What's important here is that Predator would quickly inspire ongoing sequels, video games, books, and, most importantly here, comic books, weapon using the instant iconography and mystique of its sci-fi slasher to put new spins on a simple central tenet – the baddest people in the world have just been targeted by the baddest creature in the universe, and they have no idea.
Inter-company crossovers between comic book titles are nothing new, helping to build the shared universe of a publisher for decades. But comic book crossovers between companies are a lot more rare and especially tricky due to rights holding, profit sharing, and the often contentious relationships between rival publishers.
Really, the first major crossover came in 1976 with Superman vs. The Amazing Spider-Man, and while the production of the issue wasn't easy, it was really writer Gerry Conway and artist Ross Andru, who had both worked on Superman and Spider-Man, that made it possible. The success of the comic led to more Marvel and DC team ups, but not nearly as many as you'd think. Another Superman and Spider-Man team up in 1981, Batman vs The Incredible Hulk also in 1981, and The Uncanny X-Men and The New Teen Titans in 1982. Afterward, Marvel and DC would not publish together again until 1996's DC vs Marvel. And really, the biggest success of this first crossover age was Marvel's Godzilla: King of the Monsters, which put The King in the Marvel Universe for 24 issues.
Afterward, most crossover comics would be between smaller publishers, often in the hopes of increasing their exposure in an industry dominated by the big two.
One of the most popular indie publishers that began its rise in this era was Dark Horse Comics, founded by Mike Richardson in 1986. And while Dark Horse's early days saw the debut of some great and influential indie comics like Paul Chadwick's Concrete, it was Dark Horse buying the publishing rights to several major movie IPs that brought it true success. Dark Horse would start publishing Godzilla comics in 1987, Alien and Predator comics in 1989, and Star Wars comics in 1991. And in particular, Dark Horse's Aliens and Predator comics not only brought greater life to the two existing franchises, but began weaponizing the crossover for greater success.
An Aliens vs Predator short story published in the pages of Dark Horse Presents #34-36 in 1989 and the Aliens vs Predator miniseries in 1990, written by Randy Stradley and penciled by Phill Norwood and Chris Warner, brings the franchises together for the first time in a story that sees a group of humans caught in an increasingly dangerous war between the Yautja and Xenomorphs on an alien planet.
The freshness of the crossover not only helped sell tons of issues, but sparked the interest of Fox executives, with a Xenomorph skull added as an easter egg in Predator 2. The success of the comic and the general resurgence of love for both Alien and Predator led to Dark Horse publishing tons of Aliens, Predator, and AvP comics in the 90s, but Dark Horse's clout in the industry led to their most unconventional and ambitious crossover yet.
It was Dark Horse publisher Mike Richardson who suggested that Batman and Predator crossover, and with approval by both publishers, Dark Horse and DC hired on Dave Gibbons, already mega famous for penciling Watchmen, as well as doing work on a lot of comics that proved his fit for the role, including writing the DC crossover miniseries World's Finest in 1990. The comic would be co-edited by Diana Schutz at Dark Horse and Dennis O'Neil at DC.
Reflecting on what led to the comic happening after so many years of inter-company crossovers being stopped, Gibbons said, "That's the trouble with fights – someone has to be the loser. And no one wants it to be their guy. Unless, of course, their guy has made his career out of being so nasty that people will pay money to see him lose. You know, like if he was a diabolically ugly mass murderer from another planet, for instance."
What Makes The Story Great
Batman vs Predator opens with a championship boxing match, immediately setting the stage for a more brutal version of the battle to come. And while tensions are high in the Gotham underworld, the sudden arrival of a Predator quickly leads to complete chaos – dead gangsters, dead boxers, dead politicians, and a target on Batman's head. Soon, the Dark Knight is on the trail of this so-called "see-through slasher" and beginning to understand the type of brutal sportsmanship that informs its code of honor.
Everybody likes to talk about how Batman could beat anybody with enough prep time, and whatever you might think about that, BvP is a story all about Batman being unable to prepare for his enemy. And in that, it has so much in common with the first two Predator films. This isn't quite the classic "plot of a movie happens and then a Predator shows up" because the Predator arrives so early in the first issue, but really, the comic book medium doesn't have the luxury of giving us time to wait around.
Gibbons quickly builds an on-going gang war that doesn't depend on pre-existing stories and then topples the status quo with the violent arrival of the Predator. This could take place in canon, or it could not. There's a timelessness to the status quo that lets us get to the reason we're here – Batman fighting Predator. The hero I've loved ever since I was a kid hooked on the animated series vs the monster that scared me ever since my parents were too lax with my TV time.
And with Batman unable to prepare, the Predator beats him no problem – slicing, stabbing, and temporarily blinding him, with Batman only saved by his automated Batmobile. And really, no one poses a challenge to the Predator – vicious killers, pro fighters, groups of dozens of gangsters – the Predator absolutely packs and smokes these dudes.
With the hero near death, Gibbons adds another ticking clock to Batman's story here, as the escalating violence and fear in Gotham turns the city into a powder keg, capped off with the murder of the mayor. With nothing working, SWAT teams and the National Guard are set to sweep through the city street by street in search of the Predator if Batman doesn't defeat him by morning. And there can be nothing good that can come from that.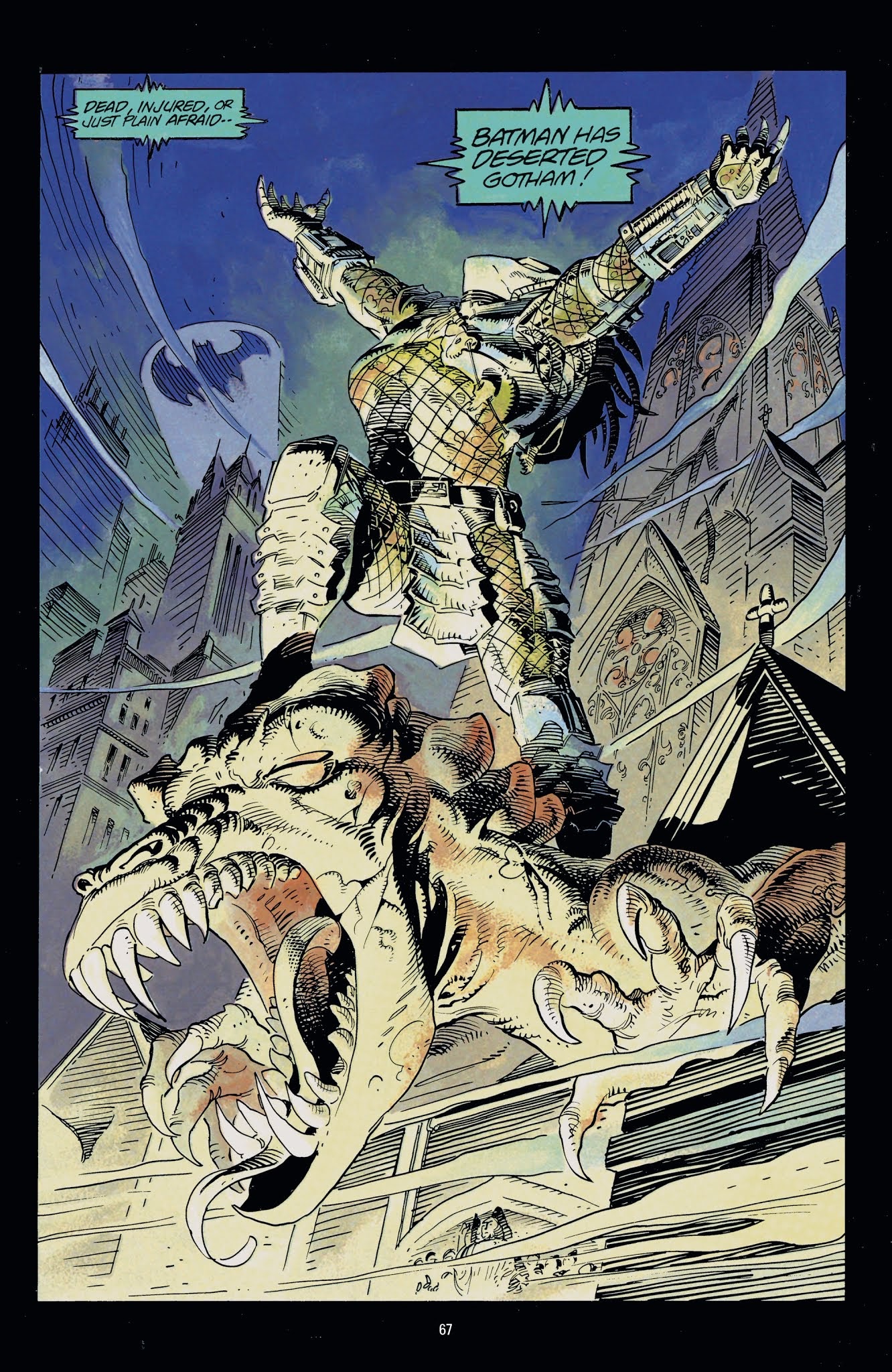 The timeline that Batman vs Predator takes place in is ambiguous, all you really need to know is that Batman is an established presence with a working partnership with Commissioner Gordon and Alfred as his loyal butler. BvP sequels would ground their stories in a more specific time within Batman's publication history, but Gibbons and his artistic collaborators create a Gotham and Batman that feels like a modern distillation of a timeless hero and city.
Penciller Andy Kubert with his brother Adam Kubert on inks have the perfect blend of brawny superhero physiques with a modern gothic architecture. The end result is a story that creates a ton of blockbuster superhero thrills while also maintaining a horror edge to everything. The Predator could be anywhere and DC lets Kubert let loose with tons of blood, splashing from victims and dripping from the hunter wherever he goes. As for the Predator himself, Kubert takes his character model from Stan Winston's original design from the 1987 original. In fact, it's basically a one-to-one copy. And while Predator 2 from 1990 had already introduced the idea of the different spins on the design, this is iconography we're dealing with here. Platonic-ideal Predator against what I consider to be a platonic-ideal of Batman.
Adam Kubert's inks, which won an Eisner Award, preserve a lot of Andy's pencil work, keeping thin lines and sharp points on both facial contours and blades, which creating a real brooding nature to the nighttime hunt, while his lettering gives the Predator's otherworldly speech imitation an alien menace. Alongside him, colorist Sherilyn Van Valkenburgh paints Gotham in subdued, often secondary colors. The effect is that Gotham feels sickly, washed out, and covered in darkness. It works really well for a Gotham that's often explored in darkness, prowled by a killer that can't be seen, and only able to be saved by a hero that embodies that darkness.
Issue #2 is largely taken up by Gordon's desperate search for answers and the Predator continuing its rampage, all the while, we catch glimpses of Bruce's near death experience, saved by Alfred and recuperating in an almost comically massive amount of bandages. It's only then that an incapacitated Bruce discovers the Predator's rules of the hunt. These issues have been filled with radio and TV broadcasts filled with cops, criminals, politicians, and fighters alike either declaring themselves the best in the world or declaring their war on the Predator. Like those opening pages, this has all been one big, fatal championship fight, with the Predator crowning himself champion and ready to wipe out the competition.
Cue Batman pulling out an absolutely badass new armor to take on his enemy, complete with a thick helmet that covers his wounded eyes, multiple layers of shoulder pads, a beefy, shiny armored look that feels like the Michael Keaton Batsuit taken to the next level, and a sick cape.
And listen, I love it when Batman busts out a new armor for an enemy that's beyond his capabilities. The armor of Dark Knight Returns, The Thrasher Suit for Court of Owls, the Hellbat Armor in particular is one of my favorites. And the Anti-Predator Armor here is that perfect blend of life support and offensive capabilities. If Batman has any chance of stopping the Predator before it's too late, he has to circumvent his own injuries and fight without being able to truly recuperate.
After two issues of mystery, investigation, and slasher mayhem, Gibbons' final issue is the main event.
A battle on the GCPD rooftop, a wild ride through Gotham, a trap rigged at Wayne Manor, the final confrontation is all about a well-prepared Batman's best laid plans still not being enough for the danger of the Predator, with the creature's wrist-mounted bomb forcing Batman to short circuit it and undo all his plans. But really, what it comes down to is that Alfred shoots the Predator with a big-ass elephant gun and Bruce becomes the most literal version of a Bat-Man and that's art at its finest.
After two films at this point, the Predator had already been solidified as an iconic modern movie monster, with the slow reveals of the character in the original solidified by Predator 2's return to the essential elements with new twists on the formula. A BvP reader doesn't need any preexisting familiarity with these films to enjoy the comic, but knowing the nature of the creature, understanding its hunting capabilities, anticipating its use of weaponry like the bomb and smart disk, and knowing that there's an entire civilization watching and waiting in the wings provides the reader with a sense of dramatic irony that would otherwise not be there. Without familiarity, these reveals are as much of a surprise to the audience as they are to Batman. In either case, this is the story of a hero that encapsulates the peak of human capability and a villain designed to find and prey on that strength.
Really, BvP is a condensed, really fun version of Knightfall, with The Dark Knight being caught off guard and badly physically beaten by a new opponent, the city thrown into chaos in the wake of his absence and a brutal usurper running wild, and a new armored version of Batman returning to best his opponent. Just without all those dozens of issues spent waiting for Azrael to get his dang ass out of here.
Best of all, Batman vs Predator predates Knightfall by several years, proving the freshness of the concept at the time of its publication. Batman has, of course, had stories of being physically bested and pushed beyond his perceived limits before, but I really love how much of this story is focused on that physical destruction and recovery, with almost all of issue #2 serving as the dark middle act of this story before Batman's triumphant return.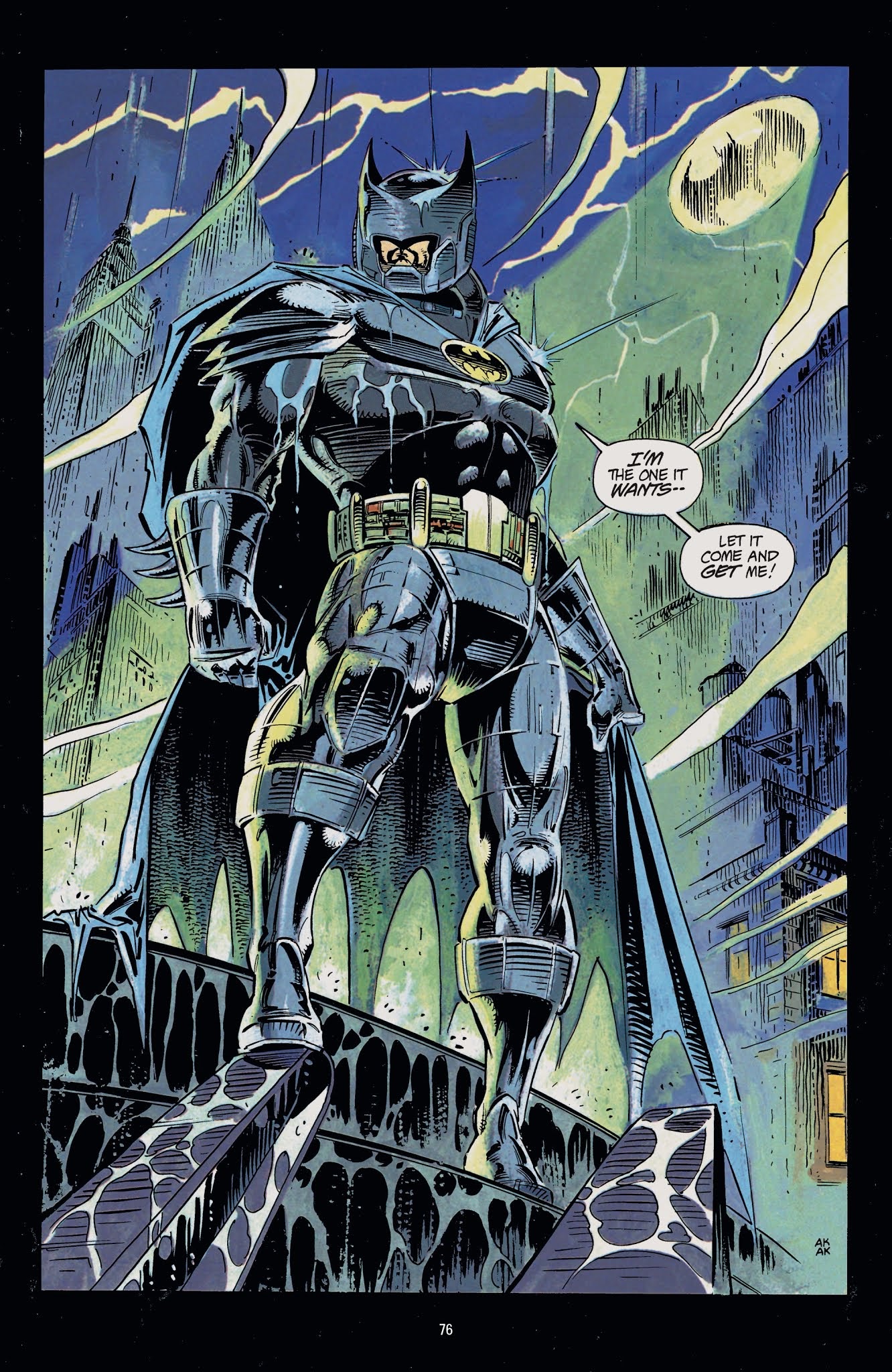 The Influence of BvP
After years of being passe, Batman vs Predator proved the commercial and artistic viability of the inter-company crossover. And the 90s were filled with rival publishers opening their doors for the chance at a previously impossible success. Some hold up well on reread decades later, others have little going for them beyond their novelty.
Dark Horse would capitalize on BvP with two more Batman vs Predator stories – Batman vs Predator II: Bloodmatch by Doug Moench and Paul Gulacy in 1993, and Batman vs Predator III: Blood Ties by Chuck Dixon and Rodolfo Damaggio in 1997. Each of these return to the central premise of a Predator or Predators coming to Gotham City, only this time specifically targeting Batman after he'd become known to their species, and with added twists and an expanded roster of characters in each. BvP II brings in The Huntress as an uneasy ally to Bruce while Batman is targeted by a group of assassins all pursuing a bounty on his head. BvP III has Robin Tim Drake aid Batman in the fight against a father and son Predator, with Mr Freeze and Catwoman making appearances.
Outside of this trilogy, Dark Horse would co-publish two Batman/Aliens, two Superman/Aliens, Superman vs Predator, Tarzan vs Predator, Predator vs Judge Dredd, Judge Dredd vs Aliens, Superman & Batman versus Aliens & Predator, and quite a few other mix and match comics that saw different degrees of success. But what these almost all lack is the sense of freshness and the perfect pairing between Batman and Predator. The unknown nature of the enemy is what makes Batman vulnerable in the original story and it's what makes the comic the most similar to the original Predator. Once Batman knows what the Predator is and can both anticipate and prepare for his enemy, the comic loses its appeal and begins to move away from the central tenets of great Predator movies. Each BvP sequel is a case of diminishing returns, even if they're still entertaining.
So I guess despite my belief that a Predator should be in every movie and comic with the characters asking "where's Predator?" whenever he's off-screen, it's actually best to keep these encounters limited.
Even after the major boom of Predator and Alien crossovers with other companies was done, and two pretty bad AvP movies were finally made, Dark Horse continued on with their shared sci-fi Fox universe, with Fire & Stone in 2014 being their most ambitious story of the bunch.
But with Disney's purchase of Fox in 2019, Dark Horse's Aliens and Predator comics came to an end and along with them the chance for future inter-company crossovers. At the time of this video's publication, Alien has been published for some time at Marvel, but Predator is only just now getting its own comic, with legal rights issues delaying the book. While Marvel has teased the two IPs crossing over with Marvel superheroes through variant covers, no plans have been revealed yet.
The potential of Predator fighting characters like Spider-Man or Captain America or Iron Man is exciting, but I think there's a lesson to be learned from Batman vs Predator.
A great Predator story is about the balance between the hero and villain. We have to be rooting for someone that's as dangerous as our alien hunter, they have to suddenly be in over their heads when the killer arrives, there has to be a real sense of danger, and there has to be a sense of the unknown disrupting the world our protagonists feel they can control. But the more you do these crossovers, the less special they become. True danger is difficult to achieve when you're dealing with superpowered characters whose longevity relies on the fact that they'll never die, but with the right character and the right story, it could work, so long as they build up anticipation and don't over-saturate the market. You know, the opposite of what Disney's done with Star Wars.
But whatever other publishers might do with the legacy of this comic, Batman vs Predator will always be incredibly, awesomely badass.
https://www.marvel.com/articles/comics/predator-1-galaxys-deadliest-hunter-comes-to-marvel-comics
https://dc.fandom.com/wiki/Batman_versus_Predator_Vol_1_1
https://avp.fandom.com/wiki/Aliens_vs._Predator_(comic_series)
https://avp.fandom.com/wiki/Aliens_vs._Predator_(1989_short_story)
https://www.cbr.com/the-predator-hunted-batman-before-marvel/
https://www.polygon.com/2020/7/22/21332580/best-batman-vs-predator-comic-dc-dark-horse