Batman is everywhere. Batman is everyone. But what becomes of Bruce Wayne when his most personal enemy yet targets everything he holds dear? And what will become of a son who can never escape his father's shadow?
Grant Morrison's Batman saga is the experience of one hero facing the greatest evil imaginable and winning by conquering both time and death, asserting his own eternal nature. And when Bruce Wayne returns to conquer the devil after being sent hurtling through time by Darkseid, he's compelled to become a greater version of Batman than the world has ever known. But with a worldwide Batman comes a worldwide threat.
Related:
As we've discussed in our previous two parts, Morrison's time on Batman from 2006 through 2013 can be broken down into three separate acts that tell their own stories, but also echo one another and weave together a larger portrait. Here, we'll explore Act 3
, which encompasses the one shot Batman: The Return, the nine issues of Batman, Incorporated
Volume 1, and the 13 issues of Batman: Incorporated Volume 2
Support For Comic Book Herald:
Comic Book Herald is reader-supported. When you buy through links on our site, we may earn a qualifying affiliate commission.
Comic Book Herald's reading orders and guides are also made possible by reader support on Patreon, and generous reader donations.
Any size contribution will help keep CBH alive and full of new comics guides and content. Support CBH on Patreon for exclusive rewards, or Donate here! Thank you for reading!
, which bring Morrison's seven-year run to a grand, tragic close.
The setup of Batman, Inc. is that Bruce Wayne has reached a kind of enlightenment in his trip past time and death, realizing a way to spread the gospel of Batman around the world. But its execution is far different than its setup. It's easy to see a version of Batman, Inc. that would have Batman and associates fighting small crime around the world and showcasing the brilliance of Batman as an idea. But Morrison chooses to push their story immediately into its major conflict, which instead is intensely focused on the fallibility of Bruce Wayne.
Batman, Inc., while probably the fastest, brightest, and most adventurous of Morrison's trilogy, is about the ultimate failure of Batman. Both as a father and as a piece of fiction. This is, to some extent, a tragedy. And while that may seem to go against Morrison's take on superheroes as living ideas that embolden the best parts of ourselves as people, the fundamental flaws and limitations of Batman should be seen as an inspiration.
Here, to better understand this globetrotting Batman adventure, we'll explore how Morrison uses this third and final part of their 7-year-long trilogy to create the most personal antagonist for Batman yet, what the ultimate fate of Damian Wayne means within the larger mythos of Batman, and how the never-ending ouroboros of Batman makes tragedy out of heroism and vice versa in this final statement on what The Dark Knight means within the hands of Grant Morrison.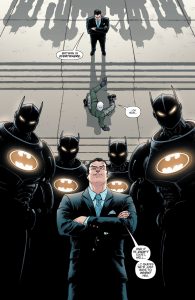 The Eye of The Gorgon
Batman, Inc. builds directly on everything that came before. Most specifically, that includes The Batmen of All Nations introduced in "The Island of Mister Mayhew," the apocalyptic vision of Batman 666, and the broken family made of Bruce Wayne, Talia Al Ghul, and Damian Wayne.
Batman, Inc. is set up in the final pages of "Batman and Robin," with Bruce Wayne declaring that Wayne Enterprises will officially be funding this new, global incarnation of Batman. Of course, we know that Wayne's money is already the reason behind Batman, but by making Batman into a public corporation, Morrison uses real world branding and the global popularity of Batman the character within the text of the hero. And Morrison wastes no time in getting right to it, with the one shot "Batman: The Return" seeing Bruce set his plan into motion with the entire Bat Family. But it also sets up the mysterious threat of Leviathan and the villain known only as The Heretic. Their identities will play as the central mystery of Batman, Inc. Volume 1 and their reveal leads to Volume 2's unrelenting final battle.
Unlike the slowly unraveling mystery of Act 1 or the hyper-dense meta nature of Act 2, Act 3 of Morrison's Batman run is far more straightforward. Because as Morrison has opened up the world of Batman, it's lost some of its mind-bending mystery in exchange for a more human examination of its central hero. It's also mostly composed of easier to comprehend adventures, with Morrison citing Mission: Impossible, the Adam West series, and The Brave and The Bold animated series as major influences on Act 3. And each story in Vol 1 has several international guest stars accompanying Batman along the way.
Volume 1 is equal parts the formation of Batman, Incorporated and the uncovering of who and what Leviathan truly is. Like both their initial "Batman" run and "Batman and Robin," Morrison has the story of Batman, Inc. play out for an extended period of time before revealing the mastermind behind the criminal plot driving the entire arc. At first, we believe that Leviathan is run by the evil Dr. Dedalus, a Nazi scientist looking to control the world and whose Alzhiemers' Disease has trapped him within a loop of his own mind. Then, it seems as if Jezebel Jet, love interest of Bruce and member of The Black Glove in Act 1, is the true power. And finally, we see that it's Talia Al Ghul, daughter of Ra's Al Ghul, mother of Damian, and former lover of Bruce, who is the true head of Leviathan. Her ultimate plan is the destruction of Batman and his superhero life out of spite for his cold rejection of the life they could have had together.
This shift in focus also denotes a shift in art. Vol.1 is drawn by several different artists to emphasize the roaming eye of the series, but Vol. 2 is entirely drawn by Chris Burnham. And Burnham brings a wrinkled, fleshy take that evokes frequent Morrison collaborator Frank Quitely, but with beefier, even bloodier heroes. His work is crunching fists, troubled brows, and fractured panel layouts that feel shaken by the action happening within each. The work lends a more human physicality to mythic heroes and humanizes the superheroic. For a story all about Batman and company being broken down mentally and physically, illustrating the toll of the war on each person, Burnham's art works as a great way to bring that toll to life.
Talia is another dark mirror of Batman, much like what Morrison played with in The Three Ghosts of Batman, Dr. Hurt, Darkseid's army of fake Batmen, and the many official and unauthorized contenders to the mantle. But here, the mirror is as a dark mother rather than a dark father, playing on the death of Martha Wayne instead of Thomas.
Talia plays the role of dark mother in several ways. First, of course, being as mother to Damian, giving birth to him as a means of eternal life for her own father and then eventually as a means to conquer the world. Here in Batman, Inc., she becomes callous to the life of Damian, putting out a hit on him and working to destroy everything he fights for. Talia also acts as a type of dark mother, the unloving and cold "wire mommy," to all who serve Leviathan, with the biologically engineered hulking clone of Damian known only as The Heretic encapsulating her dark motherhood the most.
Talia is a child born while Neptune is in Capricorn, meaning that she is by nature dissatisfied with the world and desires to remake it in her image. This can also be applied to the two other main villains of Morrison's Batman run, Dr. Hurt and Darkseid, but then again, it can also apply to Batman's global operation. While Morrison never makes Batman out to be a villain, they do expose fatal flaws about him in a way that mimics a supervillain whose reach has exceeded his grasp.
As a superhero, Batman must inevitably stop evil and save the world. This is, after all, what heroes do. But by becoming a father, Bruce has more responsibilities than his life as Batman. The tragedy is that Bruce Wayne will always be called to be The Dark Knight first and foremost and everything else must fall to the wayside. This means we can both cheer on and criticize the hero because his greatest achievement inevitably leads to his greatest failing. The death of Bruce's parents left a hole inside him that compels his heroism, but also makes him a cold, detached father and lover. And that coldness has finally turned Talia cruel toward him.
Talia's nature is also directly linked to the myth of Medusa and the Perseus constellation, with Algol, The Demon Star, being a binary winking eye of the Gorgon's head. Its dual nature means that both she and Ra's are The Demon's Head, with Talia taking on the role of Medusa – a beautiful woman turned into a monster due to the gods' spite and then destroyed by a man. In a way, we can see Batman as Perseus, a hero destroying the life of a woman. But now, this demon's head can have her revenge on both her lover and her son.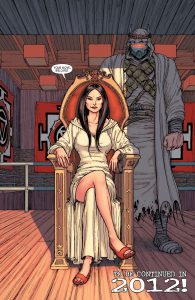 The Fate of The Demon's Heir
While Morrison's Batman run shifts its focus many, many times, Damian is ultimately the central focus.
It's Damian who propels Batman's motivation on this wide-ranging quest and it's ultimately Damian who breaks apart our hero. In Morrison's eyes, Damian is akin to the mythic lightning bolt seen at the genesis of countless superheroes.
"I think Damian's the bolt," said Morrison. "Damian's the thin end of the wedge that cracked open Batman. The idea that he could have a son and not lose his integrity and not be like somebody's dad–that opened up a lot of possibilities."
While Bruce has grown throughout Morrison's run, it's incremental. Moving from the Optimum Man to the Bat-God. Damian's character arc is much, much larger. When he was first introduced in "Batman & Son," Morrison portrayed Damian as a snotty, entitled brat who viewed killing as his right. The end of that arc gives the young character some growth before his near-death experience, but it's really his time as Robin alongside Dick Grayson's Batman that matures him into a more level-headed hero. Still dark and brooding, of course. And here in Batman, Inc., we see a fully heroic Damian, trying to be better for his newly returned father and willing to do anything to save the world. He's once again forced to kill to save his dad, but his guilt over the action illustrates how much he's changed.
But it's the return of Bruce Wayne that illustrates Morrison's larger allegory of Damian as the child of divorce, torn between two warring parents who can't seem to look past their own issues to see his needs. And really, how much do Bruce and Damian interact throughout the entirety of Morrison's series? Peter Tomasi and Patrick Gleason's concurrently running "Batman & Robin" is dedicated to their relationship, but has no effect on Morrison's story.
"Really, the adults are playing out this big drama, and the tragedy of the drama is that Batman wants little of this woman and she wants little of him," said Morrison. "And just like my mom and dad, and everybody else's mom and dad who ever split up, people can really grow to hate one another, and I wanted the drama to show that.
I was aware of the fact that my mom and dad were always people I looked up to. When you're a kid, your parents are basically the king and queen, the god and goddess. And to see them falling apart was quite horrible and you couldn't stop it, and also you're always blaming yourself as a kid for anything like that."
The fight between Talia and Bruce leads to the ultimate tragedy for Damian who, in one final heroic stand, dies fighting The Heretic, with neither his mother or father present for his death at the hands of his monstrous clone. The fact that The Heretic is a broken reflection of Batman further highlights the irrevocable role his father plays in his death.
"In many ways this has been Damian's story as much as it has been the story of Bruce Wayne," said Morrison. "And it's a story that had its end planned a long time ago – for what son could ever hope to replace a father like Batman, who never dies?"
And what of the future apocalyptic Damian we saw in Batman 666, Time and The Batman, and Asylum? It's really the last piece of story that Morrison must reconcile with his all-in-canon approach to Batman and here we find out that it's all been a vision that Bruce saw on his return through time. A vision of Gotham on fire and of two graves. If Damian becomes Batman, everything falls apart. But while the death of Damian may prevent this future, it also creates further tragedies in the present.
It's the death of his parents that propelled Bruce to become Batman. To be a hero that would prevent such a tragedy from happening to anyone like him again. But in becoming a father himself, Bruce has ultimately failed to prevent the one thing he swore to stop. Yes, there's bombast and excitement throughout Bruce's adventures in Batman, Inc. and it's a thrilling prospect to see a corporation truly committed to the betterment of the world. But this journey has led Bruce to become an absent father.
Where is Bruce when his son needs him most? Escaping from a death trap that once thrilled us in "Batman RIP," but now distracts from the life of his son. In this moment, we have to agree with Talia to some extent – Bruce's focus on mysteries, puzzles, and heroism is childish, especially when it keeps him from being a father.
Everything returns with Damian's death. The black and red checkerboard, the triumph of one man over impossible odds, the eventual, inevitable victory of Batman over evil. But what we're really left with in the end is a deep black hole that no act of heroism can ever fill.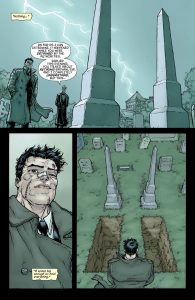 The Return of The Hole in Things
Every hero must eventually return to the status quo that enabled their popularity in the first place to continue the eternal publishing schedule of comic books.
Morrison is all too familiar with this necessity and, as such, makes the meta need of the eternal status quo into an essential element of their story. Rather than pretend like the progress and change that has been made over the course of the run will last forever, Morrison purposefully puts the toys back in the toybox one by one before the story is over. And to accompany this notion of eternal returns is cyclical imagery repeated throughout Act 3.
The entirety of Morrison's run has been propelled by Batman's struggle with "The Hole In Things" – a term we've applied to several different cyphers over these three arcs. First, it was Dr. Simon Hurt – both the Devil and The Father, but never fully explainable. Next, it was Darkseid, the living embodiment of evil entropy in the universe. Then, it was time itself, which Batman was thrown through by The Omega Sanction. But really, The Hole in Things has always been the death of Thomas and Martha Wayne, a senseless act of murder that stripped all sense from young Bruce Wayne's world. And Bruce has struggled to fill that eternal hole ever since, most pointedly by being Batman. But The Hole in Things can never truly be filled because if it ever was, then Batman would cease to exist and Batman, in both the timeline of DC Comics and the real world as a money-making fictional character, is eternal. The Hole is bottomless and it is also a circle – an endless loop without a beginning or an end.
This circle is the ouroboros – the ancient Greek symbol of a snake eating its own tail to symbolize eternal renewal and an image that comes to define this third act of Morrison's Batman. The ouroboros is both phallic and yonic, so it's only appropriate that the end of Morrison's cycle finally works in ideas of motherhood. The ouroboros is seen in Martha Wayne's pearl necklace, the mysterious spy organization of Spyral, and, most textually, the Oroboro weapon of Otto Netz – a never fully-defined string of metabombs encircling the world like a necklace of death and the macguffin that propels the conflict.
The structure of this story itself is also a cycle, returning to where Morrison's run first began and even starting Volume 2 at its end and then showing us how it got there.
In the pages of Batman, Inc., Talia Al Ghul becomes the ultimate enemy, not only presenting herself as the final, most disastrous challenge that Batman must face, but also intertwined with everything that came before. Talia and Damian were, after all, the focus of Morrison's first story in this run (where Morrison originally meant Damian to die) and Morrison retroactively shows Talia to have been involved in The Black Glove and likely the cause of Professor Pyg's creation, tying her into the threat of Dr. Hurt that spurred on the central conflicts of both "Batman" and "Batman & Robin." Is that cheap? Maybe. Does it work? Kinda.
As was the case explicitly spelled out in Part 1 and carried on through Part 2, the third part of Morrison's trilogy continues under the notion that everything in Batman's history is in continuity, even when DC's line-wide reboot of The New 52 wiped everything that Morrison was playing with out of its baggy existence.
Here, we see some of the final unexplored corners of that canon finally come into play. There's Lord Death Man from Jiro Kuwata's "Bat-Manga" stories from the 1960s, the secret identity of Matches Malone, a digital art issue that homages the 1990 Digital Justice graphic novel (mostly by looking like ass), the full breadth of the Bat-Family, and most importantly, the Kathy Kane Batwoman.
But Kane is a piece that can never fully, truly fit, especially within the continuity-axing conundrum of The New 52. The character in her final full appearance here even comments on her own deleted meta existence with a curt, "I don't exist," after killing Talia with a bullet in the head. In this climactic confrontation, Batman is rendered powerless because he cannot kill. He must ultimately be saved by someone else and returned to the sandbox of Gotham.
Because Batman's search for meaning is a grasping at a definition made undefinable by comics' ever-changing historical status quo. "Empty is thy hand" and so forth.
Appropriately, the term "apophenia" has played a role throughout all of Morrison's Batman run. Apophenia is the tendency to perceive meaningful connections between unrelated things and is both the tendency of readers when trying to fully decode a Morrison story as well as a critique of Batman's attempt to draw greater meaning from the mysteries he throws himself into. In this way, Morrison is both criticizing The Dark Knight and taking the air out of their own stories. And this is ultimately fulfilled in the plans of Talia Al Ghul, with the villainess revealing at the very end that the choice of Leviathan imagery was arbitrary. A seemingly meaningful and strange metaphor meant to entice Batman's apophenia, but ultimately chosen because it would be the only thing that could grab The Dark Knight's attention.
Because this is the story of spurned love and a family destroyed because of one man's inability to become vulnerable and loving in the ways a father should be and a woman's dark turn as a result. If Morrison's story is of a zen Batman reaching his full potential by the end of its second act, its third is the reveal that his enlightenment, as shown in Talia co-opting the parable of the goat herder, must be temporary.
"Batman, Inc." is the story of Bruce Wayne attempting to fulfill the utmost potential found within the idea of Batman, exploding his heroism until it encapsulates the world, but becoming his most human, fallible self in the process. It's a story that's one part adventure, one part tragedy, and fully defined by the limitations of a character that is eternal.
To some degree, the end of Batman, Inc. is the refutation of "Time and The Batman's" literalization of Batman's never-ending relevancy. Instead of the idea of Batman continuing on forever through new generations, the forced eternity of Bruce in the role provides a tragic nature to his crusade and everyone in it. Bruce must always be Batman, therefore limiting his potential for growth and change as a character and preventing the continued growth of a child like Damian.
It's only appropriate that Batman, Inc's story ends with the empty graves of both Damian and Talia – a new Hole in Things for Batman to be both tortured and propelled by. Because Batman is an inspiration – a hero who takes tragedy and makes something good out of it. But he's also a victim of his own nature. Bruce, who momentarily quits being Batman, must become it again because the battle is never over. And both Talia and Damian eventually return to life in the pages of other books because of the wants of DC Comics and its writers. Not that any of them know what to do with these characters now.
"Batman's mission is really almost a never-ending one and there's a kind of terror to that I think that people may not necessarily want to see," said Morrison. "They might not want to understand that The Batman's mission never ends. There's a kind of hope in that Batman will ultimately win and I guess what the story is saying, really … is it's taking a long-running franchise where this guy is going to be revamped forever. But for him there's a kind of horror in that. What if the Batman story never ends? What if you felt that for just a moment?"
The story of Grant Morrison's Batman is of one man who transcends physical and even spiritual limitations, even if it's for a brief time, but must lose everything to remain propelled by tragedy.
But this is the inspiration that comes from the inherent tragedy of Batman, Inc. Because he is a product of a never-ending story cycle, Batman can never truly, permanently grow as a person. But we, as people, only have one life to live. One with a definitive beginning and definitive ending. But we can permanently, positively grow in the time in between. Batman may outlive us all, but as dynamic, finite people, we can grow to be better than Batman. People who learn from our mistakes, who always remember our history, who allow the next generation to take up the mantle and be better than us.
Morrison's superhero stories are meant to elevate the idea of fictional heroism, but their meaning is found in how these ideas are inherently within us as people. Batman turns tragedy into victory because people can turn tragedy into victory.
The world is much messier and stranger than Gotham City could ever be. And people are more damaged and difficult than Bruce Wayne could ever become. But we're also capable of growth and fulfillment in ways that are impossible for a fictional character.
Batman will forever be trapped within the ouroboros of tragedy and heroism. But he'll also always be there for us when we need him.
Sources:
https://sites.google.com/a/deepspacetransmissions.com/site/annotations/batman-incorporated
https://comicsalliance.com/eye-of-the-gorgon-batman-incorporated-2-annotations/
https://www.comicbookherald.com/grant-morrison-batman-reading-order/
https://comicsalliance.com/grant-morrison-batman-review-dc/
https://www.dccomics.com/blog/2013/02/25/grant-morrison-on-his-legendary-batman-run
https://io9.gizmodo.com/grant-morrison-tells-all-about-batman-and-robin-5301435
https://www.guidingstar.com/NeptuneInCap.html
https://techland.time.com/2010/05/07/exclusive-interview-grant-morrison-on-batman-times-three/
https://comicsalliance.com/grant-morrison-interview-batman-inc-alan-moore/
https://comicsalliance.com/grant-morrison-talks-about-action-comics-his-batman-mega-story/
https://www.cbr.com/morrison-goes-corporate-in-batman-inc/
https://www.ryanechamm.com/filter/batman/Interview-Grant-Morrison
https://aux.avclub.com/batman-incorporated-13-concludes-grant-morrison-s-7-ye-1798240392
https://www.huffpost.com/entry/an-interview-with-grant-m_b_2929005
https://io9.gizmodo.com/grant-morrison-tells-all-about-batman-and-robin-5301435
https://www.wired.com/2010/11/grant-morrison-batman-inc/
http://rikdad.blogspot.com/2016/09/retro-review-grant-morrisons-batman-run.html
https://www.usatoday.com/story/life/2013/03/31/grant-morrison-batman-death-of-robin-comic-book/2037669/