Continuing the recent trend of stealth-releasing chapters of Jonathan Hickman's epic, this week's Avengers has the added distinction of being the most speculated installment yet. Curiously featuring the repurposed cover to 2002's Ultimates 1, there is actually very little interior content that could otherwise prepare the reader for what's in store without ruining massive surprises. Narratively, it's a bit of a sidestep from the usual splintered dysfunction of Earth's Mightiest, focusing instead on other aspects just as integral to the bigger picture of the upcoming Secret Wars.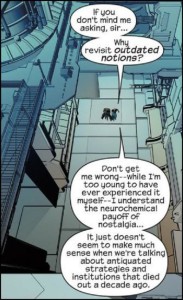 Purists may argue if this portion is indeed even properly classified, as no Avengers  appear, save for a brief callback to events from the larger-than-normal issue 40. However, like it or not, a great deal of information comes to light and it is best handled here in an upfront manner rather than clumsily shoehorned at some point down the road. Without revealing too much, about half of the pages do in fact transpire within the Ultimate Universe (Earth-1610).
However, beyond their representation on the cover, the Avengers of that world (the bygone "Ultimates") don't factor but current breakout star, Miles Morales, the Ultimate Spider-Man makes a page one swing-by cameo. It's superfluous but this bit of scenery setting is enough to merit him his own circle on the often-overwhelming "Cast" page.
Ultimate Nick Fury somewhat serves as de facto narrator, delivering vast quantities of "as you know" expository dialogue in the book's introductory sequence. This is essential and much appreciated background filler to anyone who is not as well-versed in Marvel's other main timeline.

Although not a direct hand-off, the "crash-course guided tour" baton passes from Fury to a far more sinister denizen, underscoring the vast differences in the parallel Earths. It also suggests that a culprit may at long last stand revealed for the inciting incident of the Multiversal Incursions. And if this individual is not the inciting culprit per se, they are clearly identified as a villainous party of increasing central significance. This is a point that is in no small way highlighted, bolded and punctuated with about a billion exclamation marks by the reveal on the closing pages. In short, it also makes the anticipation for the Secret Wars collision that much greater as some real interesting allegiances are afoot.
Support For Comic Book Herald:
Comic Book Herald is reader-supported. When you buy through links on our site, we may earn a qualifying affiliate commission.
Comic Book Herald's reading orders and guides are also made possible by reader support on Patreon, and generous reader donations.
Any size contribution will help keep CBH alive and full of new comics guides and content. Support CBH on Patreon for exclusive rewards, or Donate here! Thank you for reading!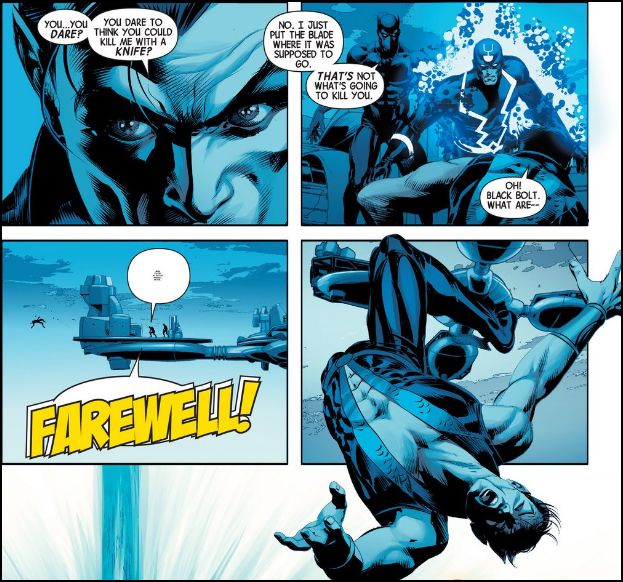 Artwise, Mike Deodato handles the issue with his usual top-shelf equanimity, ably accompanied by mainstay color artist, Frank Martin. Of particular note, though, are the panels referencing and supplementing action from issue 40. In the first sequence, Deodato does a steroid-infused interpretation of Stefano Casselli's original art. Shifting angles and layouts, he decisively re-envisions the drama with such commanding presence that it actually eclipses the initial work.
However, as events continue to reframe, there is a glaring omission that persists. Without being too spoiler-heavy, suffice to say there is talk of a certain puncture wound yet no visual representation. Healing factors could be in play, sure, but physical evidence should manifest as well. Especially when the offending artifact got all that "big deal" build-up last time.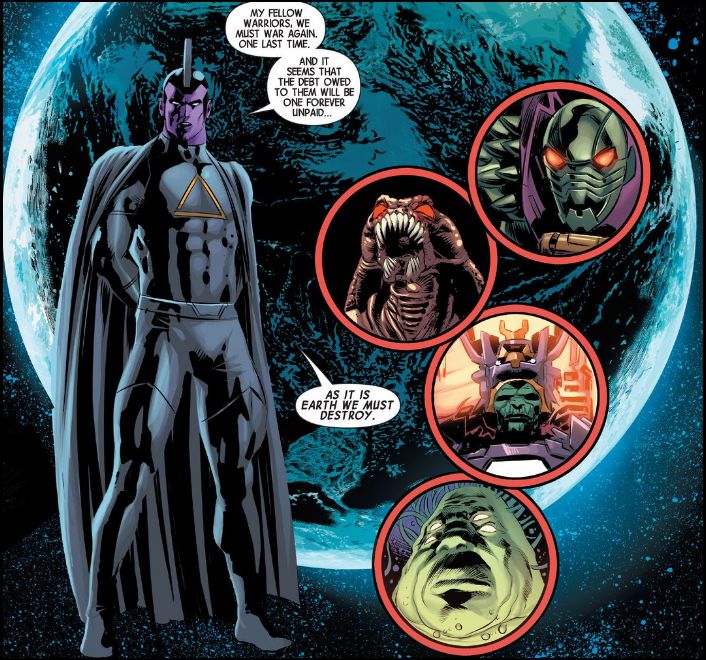 So, with the most inscrutable chapter now in the rear-view, the remaining prelude episodes now number in the single digits. As evident from the last few issues, key components are now coming fast and furious from obscure and unlikely places. It seems like a breadcrumb trail was always there but few, if any, would have connected all of the dots and certainly not in this manner. This issue may not have been the linear continuation expected but it did enrich as an invaluable educational tool. Rather than viewing it as "wheel spinning", it's a shockingly necessary examination of the metaphoric (and literal) "equal and opposite". This will make this inevitable clash all the more compelling and maybe make you wish there's some way to fast-forward through the next three months.