America's Best Comics (ABC) was a comic title that originally ran from 1940-49 and featured such golden age and pulp heroes as The Black Terror, Captain Future, Doc Strange, and the Fighting Yank. Sadly, Standard/Better/Nedor, parent company to ABC, folded in 1956, during the crash in comic book sales brought on by the Cold War.
Then, in 1999, Alan Moore resurrected both the name and even placed its characters in supporting roles. And to be clear, Moore's rebirth is, in many ways, tremendously faithful. There is a lot of Golden Age and pulp elements, ranging from Doc Savage look-alikes (with equally silly names) to talking animals that solve crimes. But rather than collapse into nostalgia, the elements add to the painstakingly researched comic and real world history, making the whole thing feel cohesive. All of this is pointed at telling readers about the (then) present. New heroes and ideas seem brighter here. Magic seems deeper and somehow natural.
Taken as a whole, Moore's America's Best Comics is a contemplation on the nature of story, heroics, and the supernatural. Both as literary elements and as cultural forces. That it manages to do this while also providing martian death rays, huge sword battles, and gruff anti-heroes is a testament to the genius talent pool the label had.
This is probably why, pound for pound, ABC is one of the most award winning superhero publishers around. Proportionally, they've won more industry awards than either Marvel of DC comics.
There are many ways to organize these books — from cultural reference to magic vs science– but I think it's best we keep things simple for now and sort things by in-universe chronology.
Support For Comic Book Herald:
Comic Book Herald is reader-supported. When you buy through links on our site, we may earn a qualifying affiliate commission.
Comic Book Herald's reading orders and guides are also made possible by reader support on Patreon, and generous reader donations.
Any size contribution will help keep CBH alive and full of new comics guides and content. Support CBH on Patreon for exclusive rewards, or Donate here! Thank you for reading!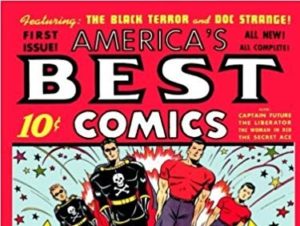 1940-1948
America's Best Comics (various)
Collects: America'S Best Comics #1-31
I must confess, I've read no more than one full comic in this run. This is in part because they just don't add much to Moore's run, and also because the vintage writing does not age well. Still, if you're keen on knowing everything, Visual Editions, Inc has reproductions on Amazon for about $15-20 an issue.
Since these are golden era books, the stories don't interconnect in a concrete timeline. So reading the issues in order should suffice.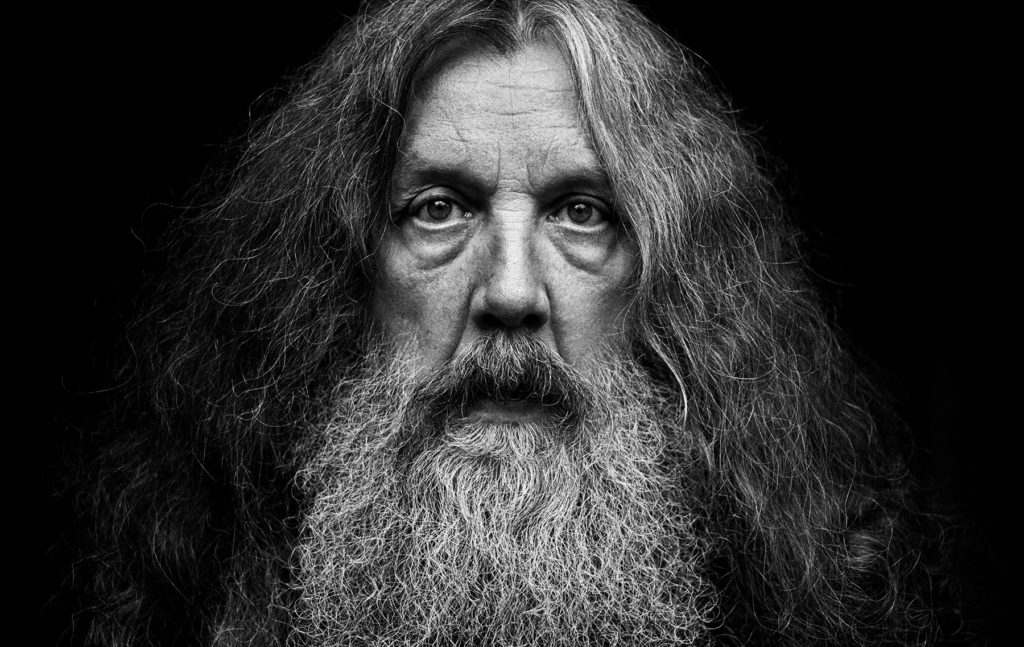 Alan Moore's Interconnected ABC Universe
1949
Collects: OGN
The first of three pillars in the main ABC universe, Top 10 focuses on Neopolis, the city built to house superhumans. It's a police procedural, political thriller, and direct commentary on how comics impacted the war effort in WWII.
Chronologically, the Forty-Niners takes place right after the end of the original ABC universe. The story focuses on the construction of Neopolis as seen through the eyes of Steve "Jetlad" Traynor, ace pilot from the European theater… and his arch nemesis, Leni "Sky Witch" Muller.
1999
Collects: Tom Strong #1-7
Tom Strong is Moore's analog for Doc Savage and other classic science heroes of the pulp era. Tom and the rest of the Strong family find themselves battling across different times, planets, and realms.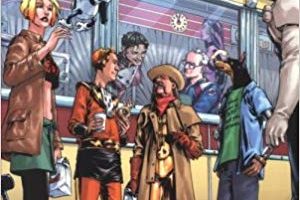 Top 10, Book One
Collects: Top 10 #1-7
What does a serial killer who targets superheroes look like? We're introduced to Robyn "Toybox" Slinger, the newest police of Precinct Ten, and the poor, unlucky hero who needs to catch the Libra killer.
I remember being bowled over by the way Moore mixed classic and modern aesthetics here. This is mostly just an intro story, and yet aesthetics lock into place from the get go. There are gruesome, terrible murders, drugs, and sex workers beyond even what you'd expect from Image, Vertigo, or Marvel Knights. There's also a talking dog that could have just walked out of a Binder/Swan Superman comic.
Collects: Top 10 #8-12
Part Two of the Libra Killer storyline.
This book is a huge leap forward from the last. The story solidifies. It's economical, yet every character gets their moment. I can't give any more of a synopsis without spoiling things.
Collects: Tomorrow Stories #1-6
This is a collection of mostly comedic short stories that were meant to achieve two things:
1.) Provide a light hearted pause
2.) Feel like the goofy jokes kids tell about super- and pulp heroes
It's by no means Moore's best work. It's not even the best book in this list. Still, some of the gags are great even now, and some of the barbs at the expense of capes and detectives are spot-on.
All told, if you go in looking for more Top 10 or 'Gentlemen, you're going to be let down.. But it makes for a great read between serious books… which was the whole point of it.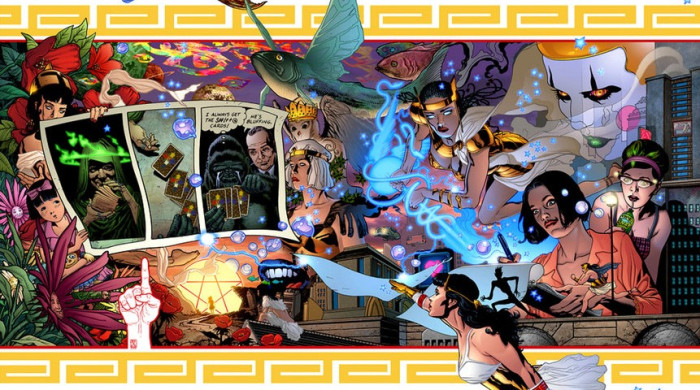 Collects: Promethea #1-6
Promethea is the second pillar in the main universe and it serves as Moore's pulpit for talking about magic. Again, the research here is fascinating as he pulls from "real world" magic of history, legend, and folklore, and applies it to the brand of magic that's unique to comics.
The story follows college student Sophie Bangs who's in a futuristic NYC, studying the history of mythic warrior "Promethea." Shadowy forces try to violently drive Sophie away from her studies. This chain of events leads Sophie to transform into the warrior she sought.
Once again, we see an introductory book. And like before, it's shockingly good. Promethea is passionate, imaginative, and deeply personal. It also really shines with Moore's greatest strength: making the reader feel they're sharing something intensely intimate. Something just for them.
Collects: Promethea #7-12
Like all fantasy books, Promethea needs a little more wind-up. Book two is the classic "hero learns their history and their powers" chapter of myth.
This means the story can't get too crazy as there's more establishing to be done. But Sophie does get to fight a horde of demons and a secret cult named The Temple.. So it's not all exposition. Steady on.
2000
Collects: Smax #1-5
Jeff Smax, is a gigantic, semi-immortal demi-orge cop. Smax partners up with Toybox from Top 10 in this series.
It's got sword sorcery, cybernetic gunplay, and a real questionable relationship between Smax and his sister. If you can get past that last part, it's a bunch of fun.
Collects: Tom Strong #8-14
Volcanoes! Time travel! A family trip in deep space!
Collects: Tomorrow Stories #1-6
A second helping of the anthology series.
Collects: Promethea #13-18
Promethea/Barbara leave on a cosmic road trip, taking them through Heaven, Hell, and visions from prophets of the past
Collects: Promethea #19-25
Part two and conclusion of the cosmic trip
2001
Tom Strong's Terrific Tales, Book One
Collects: Tom Strong'S Terrific Tales #1-6
Another anthology book, this time cataloging adventures from across Tom's century of adventures. Even though this exists across multiple times, it should be read here as it introduces some characters that become important in Tom Strong, Book Three
Collects: Tom Strong #15-19
Tom's daughter Tesla is kidnapped. Coleman Grey enlists Tom's help on a new "super project"
2002
Collects: Greyshirt: Indigo Sunset #1-6
Johnny Apollo is Greyshirt, the mob-busting hero of Indigo City. But what will happen when he he has to take down his childhood friend and former partner in crime.
2003
Collects: Terra Obscura #1-6
Terra Obscura is the superteam of Moore's ABC comics. Here, Moore seamlessly integrates classic heroes from the 1940s in with his modern day creations.
Alan Moore's America's Best Comics
Collects: America'S Best Comics Sketchbook #1, America's Best Comics Special #1, The Many Worlds Of Tesla Strong #1
Collects: Promethea #26-32
The final volume and the final days of the Apocalypse.
2004
Tom Strong's Terrific Tales, Book Two
Collects: Tom Strong's Terrific Tales #7-12
Collects: Tom Strong #20-25
Parallel timelines bring new revelations about Tom's past are made and a new member of the Strong family
Collects: Tom Strong #26-30
Tom enters the dream realm through the help of a girl who is a living black hole
Terra Obscura: S.M.A.S.H. of Two Worlds
Collects: Terra Obscura V1 #1-6, V2 #1-6
S.M.A.S.H. was a superteam belonging to the original America's Best Comics! They predate both the JLA and the Avengers by about 20 years, but they haven't been seen in print since 1949. Moore explains this abscence by saying they've been in suspended animation all this time. But now, S.M.A.S.H. must square off against Tom Strong and Terra Obscura, ABC's newest superteam.
2005
Top 10: Beyond the Farthest Precinct
Collects: Top 10: Beyond The Farthest Precinct #1-5
This is a pretty rote story by Paul Di Filippo and Jerry Ordway, and probably the weakest book in the imprint. Feel free to skip, I think.
Collects: Tom Strong #31-36
This book connects and overlaps with Promethea, Book Five, now showing us Tom's view from the end of the world.
2009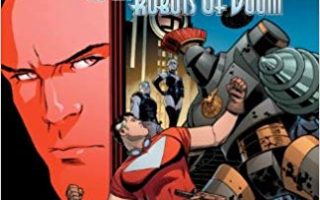 Tom Strong and the Robots of Doom
Collects: Tom Strong And The Robots Of Doom #1-6
The Family Strong is back and now must fight a world conquered by Nazis. Nazis lead by a member of the family.
2010
Tom Strong and the Planet of Peril
Collects: Tom Strong And The Planet Of Peril #1-6
Tom and Val Var Garm must travel to the far side of the galaxy in order to save Tesla and her unborn child. All the way to the hidden planet… of Terra Obscura.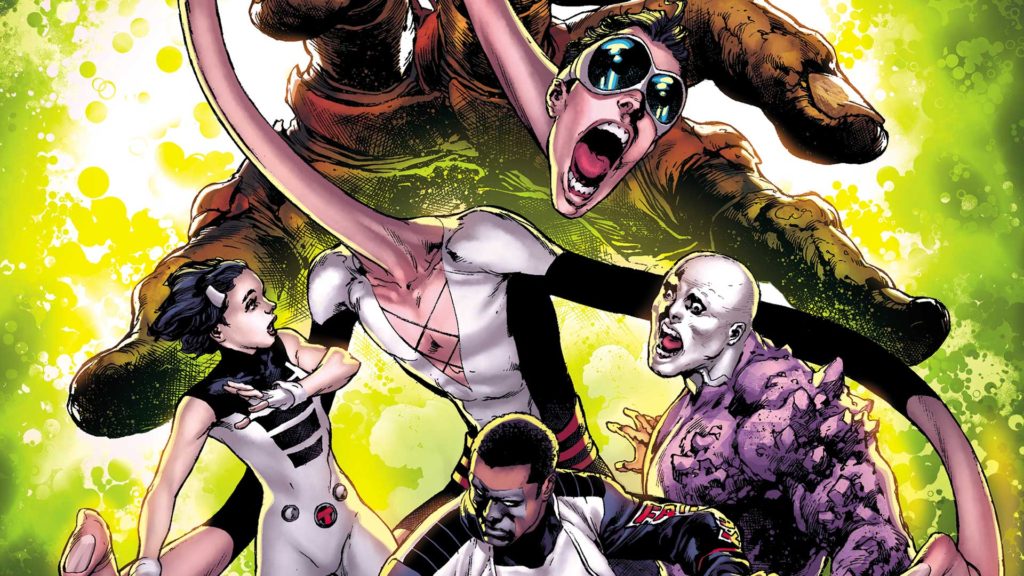 America's Best Comics / DC Comics Crossovers
Justice League of America, vol.5: Deadly Fable
Collects: Justice League Of America #22-29
The Adjudicator, a being from beyond the Multiverse, has kidnapped Batman and Black Canary. Meanwhile, the Queen of Fables has come and Justice League will need help… from Promethea!
The Terrifics: Meet the Terrifics
Collects: The Terrifics #1-6
DC's cheeky version of the Fantastic Four are here, and they're tackling the multiverse… with a little help from Tom Strong!
The Terrifics: Tom Strong and the Terrifics
Collects: The Terrifics #7-12
Strong's lab in Millennium City has been destroyed. Pneman, his AI Butler, is in pieces. And to make matters worse, everyone gets thrown to the far end of the universe… by a cosmic tree.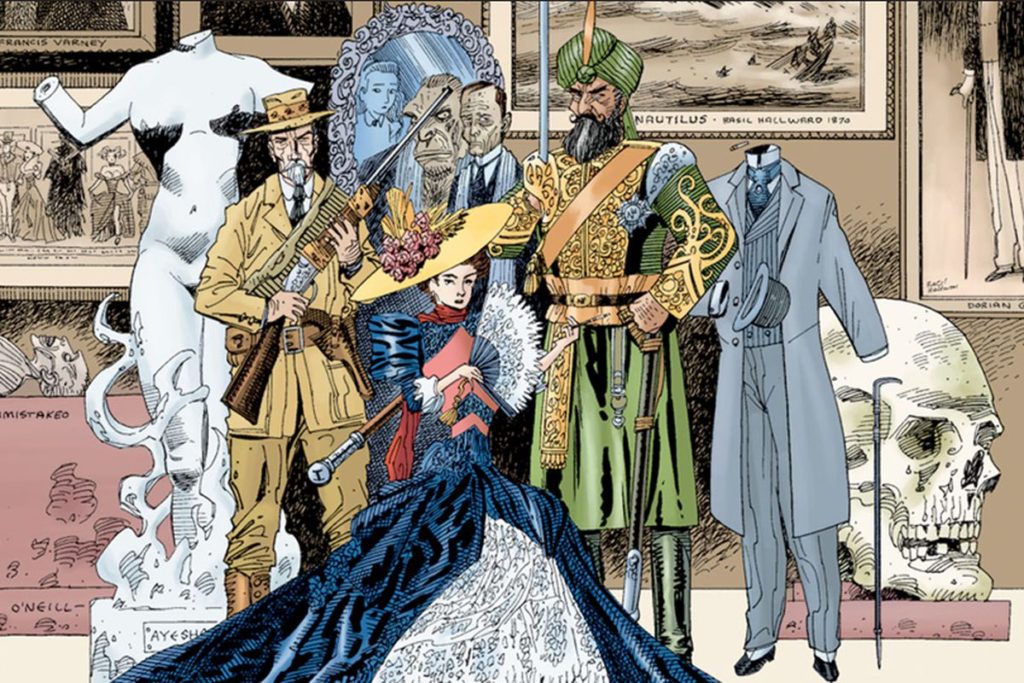 The League of Extraordinary Gentlemen-Verse
The League of Extraordinary Gentlemen, Vol. 1
Collects: OGN
Canonically, 'League' takes place in its own parallel timeline, independent from ABC Comic's main 'verse. So read these whenever.
The League of Extraordinary Gentlemen, Volume 2
Collects: OGN
Set with most of the same cast of and taking place shortly after Volume 1. Only this time, they face off against the martians.
The League of Extraordinary Gentlemen Vol. 3: Century
Collects: OGN
The old gang is back in adventures set 1910, 1969, and 2009. The only other thing I'll say is this is the book with Harry Potter in it.
Collects: OGN
Janni Nemo, daughter of the original Nemo and new captain of the Nautilus, has decided to give up high-seas piracy to explore Antarctica. But what she finds is Lovecraft's Mountains of Madness!
This story takes place between the first and second time period of Volume 3: Century
Collects: OGN
It's been 16 years since Janni scaled the Mountains of Madness. Now, her eldest daughter and the rest of the Nemo family are being held hostage by the idiot-dictator of the German-Tomanian empire, Adenold Hynkel and his Twilight Heroes (a dark version of The League)
This story takes place between the first and second time period of Volume 3: Century
League of Extraordinary Gentlemen: The Black Dossier
Collects: OGN
Set in 1950s England, and occurs between the first and second time period of Volume 3: Century. Alan Quartermain and Mina Murray must find answers from the Black Dossier, a book hidden deep within their own headquarters. Get the physical edition of this book because it has awesome 3D glasses!
Collects: OGN
It's 1975. Janni is 80 years old and her faculties are beginning to fail. But she still has one last voyage in her. This time, to Yu-Attanchi, and the horrors the fallen city has kept hidden for decades.
The League of Extraordinary Gentlemen Vol. 4: The Tempest
Collects: OGN
Set in 2996, on a destroyed Earth. British Intelligence has finally found the lost African City of Kor
This is the alleged end of the series. And it feels it, because it feels like Moore and O'Neill are having the time of their lives blowing everything up. Good on 'em.