With issues more often than not intentionally structured as components of a greater whole, Brian Michael Bendis's distinct writing style often cut both ways. The latest issue of All-New X-Men is a great example of this, offering twenty pages of bridge with very little landing as Jean Grey teams up with Ultimate Spider-Man Miles Morales… and Jean Grey.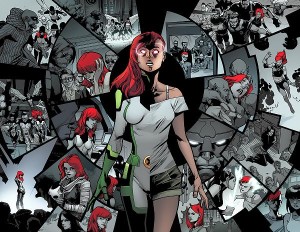 Well, it's not so much of a team-up… yet. For now, readers will have to take heroes awkwardly sitting around the Ultimate X-Men's kitchen table in silence as the next best thing. In fact, outside of this all-star "brand merger" serving as the issue's opening and closing framing sequences, the intervening pages are spent checking in on the other dimensionally displaced mutant teens scattered across the alternate Earth. For good or ill, a majority is spent with Iceman. Under Bendis, Bobby (in all his various incarnations) is a consistent "scenery chewer". Never truly one to ever be the protagonist, Drake is often caught up in comedic antics on the peripheral of any comic panel. Forced into a disorienting solo situation, he really cuts loose in a fashion not far removed from Macauley Culkin in the Home Alone movies. Like the 90s franchise, it's entertaining fare to watch a kid run around screaming and losing his mind for a while but overall, the experience leaves one not much further along. Sure, Bobby now knows he's stuck on a parallel world thanks to some unfriendly police intervention but nobody expects the perennial kid brother to act on this information in any way. Particularly when he's isolated out in "Hotlanta" with so many other- more germaine- locales to look in upon and serve as the focal point of this arc.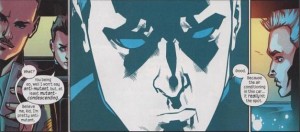 To which, the shorter side-stories certainly do more to inform the general tenor of where this tale is going than Iceman's exhaustively wacky hijinks. Angel and Laura Kinney (X-23) investigate what should be their home-reality headquarters along with Ultimate Universe native Jimmy Hudson (son of also-deceased Ultimate Wolverine). Picking up on their discussion from last issue, the trio compare the vastly different origins of the mutant species on their respective worlds. Again, while nothing of great import happens, this two-page interlude is full of great subtlety in terms of characterization and facial expressions. Laura's survival instincts pull her into a semi-rhetorical detective state where she posits out the scope of what's happened. As Angel strains to keep up, their conversation takes them on a flippant recap of their exploits. The quizzical look on Hudson's face is priceless as the off-worlders talk so matter-of-factly, really driving home a fundamental difference between the more scientifically-grounded, "real world"-y Ultimate U and the fantastical leanings of classic "616" Marvel.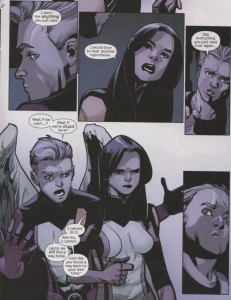 Rounding out the subplots is Hank McCoy aka The Beast, attending a dinner interrogation, er.. invitation, by Ultimate Dr. Doom. Granted, they are one and the same as the food is drugged with truth serum. For those who may also be following Jonathan Hickman's Avengers ramp-up to Secret Wars, what's noteworthy here is that this scenario now opens the potential of yet another Dr. Doom venturing into the multiversal arena. What's also great about this passage in the immediate is its play into the "awkward table exchange" motif as Doom's truth-roofie proves too much for ol' Hank.
By far, the best part of this issue is artist Mahmud Asrar and color art team, Marte Garcia and Marcelo Maiolo. Stylistically evolving in quantum steps over the past five years, it's a pleasure to have Asrar on-hand and consistently delivering the goods on an A-list monthly. Following up one of the most iconic art teams of the past decade is certainly no small feat but qualitatively, the changing of the guard is still relatively unnoticeable. That's not say Stuart Immonen and Wade von Grawbadger (Immobadger?) artistically set "THE" bar for this series but Asrar, as a relative up-and-comer, is performing at the same level as a one-man show. Marte Garcia's continued presence may be the blend element here. The visuals all come together many times during this issue, making what could've been a half-hearted fluff piece shine. There's several double page spreads, offering everyone ample opportunity to show off their chops. During the Beast and Doom pages, the colors even take the lead, providing a high-contrast red/green montage infused with pop art sensibilities.
Support For Comic Book Herald:
Comic Book Herald is reader-supported. When you buy through links on our site, we may earn a qualifying affiliate commission.
Comic Book Herald's reading orders and guides are also made possible by reader support on Patreon, and generous reader donations.
Any size contribution will help keep CBH alive and full of new comics guides and content. Support CBH on Patreon for exclusive rewards, or Donate here! Thank you for reading!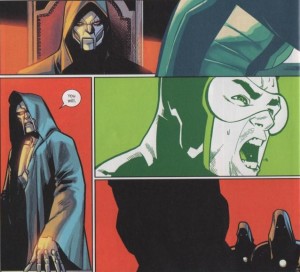 Indeed, points won for this issue go to visual prowess despite not having a tremendous amount of story "meat" to dig into. As stated, Bendis writes for the trade but damn if it's not frustrating on a month-to-month level sometimes when an issue like this hits. The last page's unsatisfying combo of questionable action with abrupt "non-cliffhanger" ending doesn't so much hinge on the "To Be Continued…" in the final panel as it does inelegantly crash into it. With only two installments left to go on this adventure, next issue better come out of the gate swinging.
CBH Score: 3 out of 5
[schema type="review" rev_name="All-New X-Men 34″ user_review="3.0″ min_review="0.0″ max_review="5.0″ ]