So before I begin, let's get this out of the way. No, this has absolutely nothing to do with those god awful Nicholas Cage movies. In fact those movies might be a major reason why Marvel is introducing a new Ghost Rider (or even why they introduced the last new Ghost Rider). Also, this book is not titled Ghost Driver because you know no one would even glance at this book if it was titled Ghost Driver. So with that off my chest, now with the trade.

When Marvel announced they would be launching a new Ghost Rider title staring a new character, I was skeptical. It wasn't the fact that the new character would be Hispanic, younger, or even that he would be a different being, but it was the car. While riding around on a flaming motorcycle can be rather goofy in its own right, how would a car possibly be of any use other than transportation (more on that latter). I also was not familiar with writer Felipe Smith. However, I was familiar with Tradd Moore's artwork which definitely peeked my interest. After hearing some good things about this title, I picked up the trade to give this odd little book a chance. So how does volume one of this new series pan out?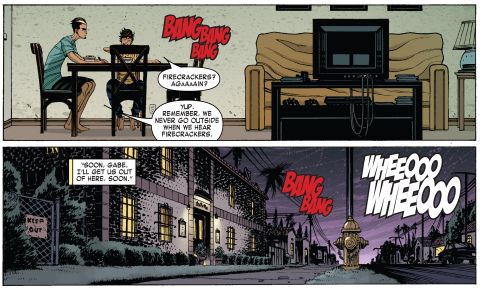 The trade opens up introducing the audience to Robbie Reyes, the new hero of this title. Right at the beginning of the first issue we get to see that Robbie has a distrust of those around him when he carefully counts his recent payment, notices he's short, then dismisses the insistence of his boss that it was an accident. This becomes important throughout this arc, and most likely will play a larger role throughout the series. We also get to meet Robbie's younger brother Gabe, who is mentally handicapped and has to use a wheelchair. After being unable to prevent a group of thugs from stealing his brother's wheelchair, Robbie is finally at his wits end and now is whiling to put it all on the line for a shot at a better life for his brother and himself. That is when everything changes for our young hero.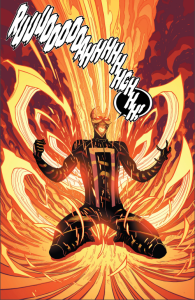 Robbie takes a mysterious car he was working on in the auto shop and enters a street race that is offering big money for the winner. In an incredibly well drawn series of panels, Robbie quickly takes the lead and it appears that he is going to succeed in his goals of getting his brother out of the hellhole they're living in, when the cops show up. After a long chase between Robbie's muscle car and a pursuing helicopter, he accidently takes a wrong turn and gets cornered. Absolutely devastated that he just screwed up not only his own life, but especially that of his brother's, Robbie prepares to be arrested. His despair quickly becomes horror as he's is gunned down by the men who were chasing him. These men turn out not to be police, but heavily armed soldiers who quickly go to the car and extract half a dozen bags filled with pink pills. After they completed their mission, they set the car on fire. After the soldiers depart, a spark from the fire touches Robbie which causes his skin to melt, and Ghost Rider finally makes his appearance in this book. All this plot is given to the reader in the first issue of this trade. While this appears to be rather crammed, the first issue moves very fast. While some might be disappointed that Ghost Rider doesn't appear until the end of the first issue, the trade makes up for it in spades later on.

Once we finally get to see the new Ghost Rider and get a taste of his power, the next couple issues serve to introduce the rest of the cast (both good and bad). This includes Daniel Wakeford, a substitute teacher in Robbie's class that turns out to be the moral compass for our hero; a local drug dealer who becomes something of a miniboss for this arc; our main villain(s), Dr. Zabo and Mr. Hyde; and of course Eli, the new spirit of vengeance (kind of). We don't really get introduced to Eli until the third issue, when Robbie finally has a face-to-face with the spirit that has inhabited his body. Thankfully, Eli is a very enjoyable character. He's not the usual omnipotent character that claims to not have human emotions, this character has plenty of emotions, and not just crude humor like similar characters tend to be. A really nice scene involving Eli is a conversation between him and Robbie about Gabe, ending with Eli stating that he really likes Gabe. However, Eli's main goal is playing on Robbie's distrust and hatred of those in his town to push him to the extreme in regards to cleaning up the streets. This comes to a climax when Eli tells Robbie to burn the town down to ignite change.
Support For Comic Book Herald:
Comic Book Herald is reader-supported. When you buy through links on our site, we may earn a qualifying affiliate commission.
Comic Book Herald's reading orders and guides are also made possible by reader support on Patreon, and generous reader donations.
Any size contribution will help keep CBH alive and full of new comics guides and content. Support CBH on Patreon for exclusive rewards, or Donate here! Thank you for reading!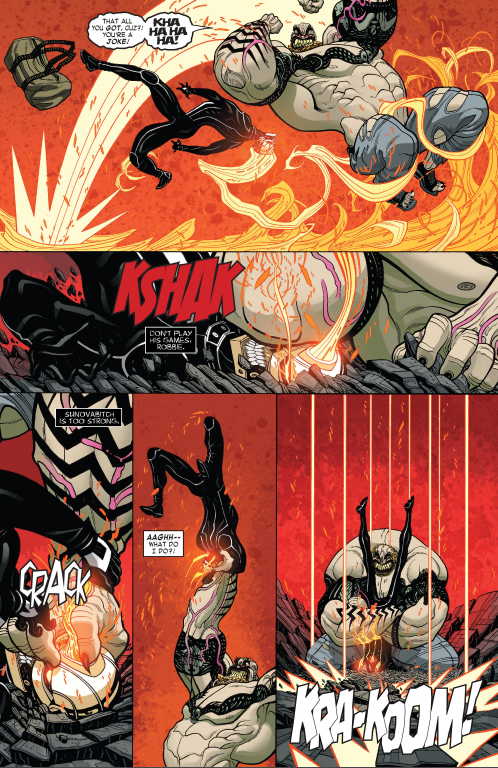 Of course this trade doesn't consist solely of a brother trying to make a better life for his brother, or a debate on whether the people in their town is worth saving, but this includes some great and varied action scenes. The first action scene involving Ghost Rider is a high speed chase scene where he goes up against the soldiers from the beginning who are firing machine guns and rocket launchers at his seemingly indestructible car. There are also some beat-downs where Ghost Rider completely overpowers regular humans which are always fun to watch. Of course the highlights in the action department are the throw-downs between Ghost Rider and some giant mutated monsters. Despite their size, these things are surprising agile which leads to a very entertaining fight scene where one of these creatures fight moves consisted of professional wrestling moves. Ghost Rider himself is also extremely agile, and his chain weapons offer some impressive visuals.
Speaking of action, as I mentioned earlier I was skeptical exactly how they could integrate a car into superhero action without seeming forced or just plain stupid. Turns out I was completely wrong in this regards. The car is integrated perfectly into combat. This is due to this character's ability to phase through his car. The most common way Ghost Rider uses this ability is during grapples, he drives the car through himself and rams the car into his opponent. But even without this ability, the car is used as either a surprise ace in the card or a weapon to keep his opponent down (read the comic, it makes more sense visually than explaining it).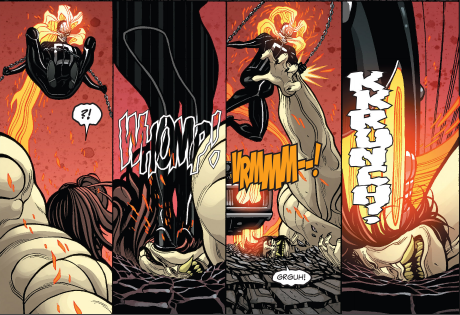 Overall, this is a great start for this new title. Good emotion, characterization, and excellent action scenes make this story very enjoyable from start to finish. On top of this, the trade contains the first five issues (each of which costs $3.99) and is priced at $15.99, so you're getting a pretty good deal here. If you don't have much interest getting into a new ongoing title, this trade is a pretty standalone book, so you be left wanting after reading this trade. Unfortunately, it appears that Tradd Moore won't be doing anymore artwork after these five issues, but for me the characters were strong enough that I am willing to continue reading this title. If there are negatives to this book, one would be the villains. While visually intimidating, they're not particularly memorable here, just evil scientists or gangster thugs. Also it would have been nice if Eli was introduced (or at least further explained) a little earlier than the third issue. These qualms aside, this trade is well worth your time.
CBH Score: 4.5 out of 5
[schema type="review" rev_name="All-new Ghost Rider Vol 1″ user_review="4.5″ min_review="0.0″ max_review="5.0″ ]