We all saw this coming. With the news that Steve Rogers, now devoid of his super-soldier serum, would be giving the mantle of Captain America to his long-time pal The Falcon, it was only a matter of time before the comic book series rebooted yet again to a number 1 issue.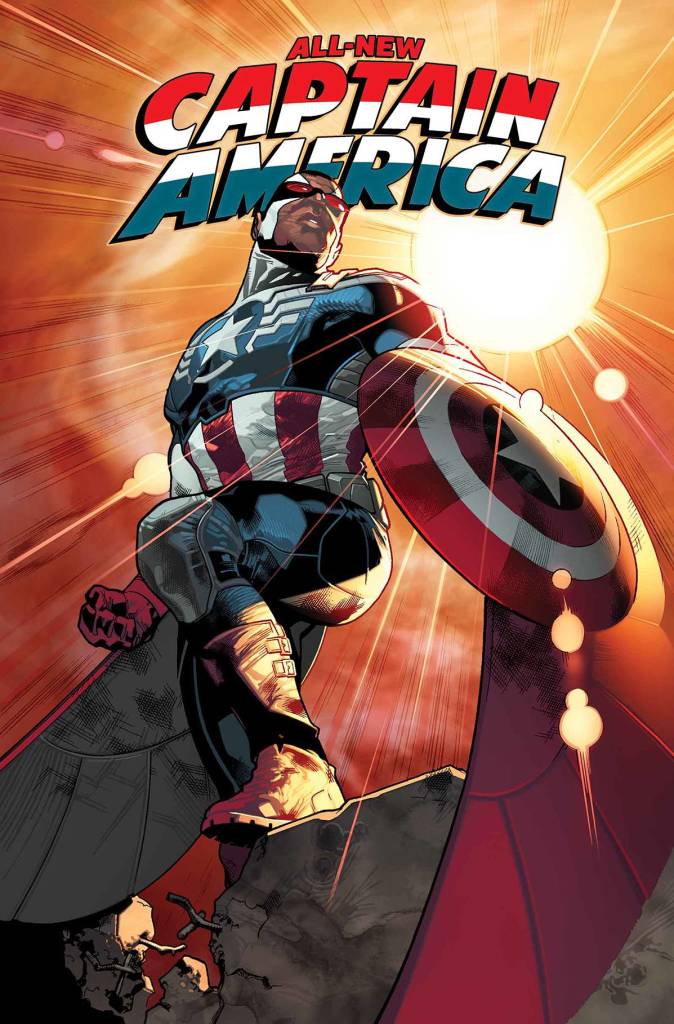 Rick Remender continues to write for this book, as he was the one who took Steve's powers away in the first place, with the now infamous Dimension Z story arc. Meanwhile, Stuart Immonen helms the art for the interior and the regular cover, with his broad strokes and command over light and dark. It is one of those creative teams that you long for in comics, each working off each other very nicely.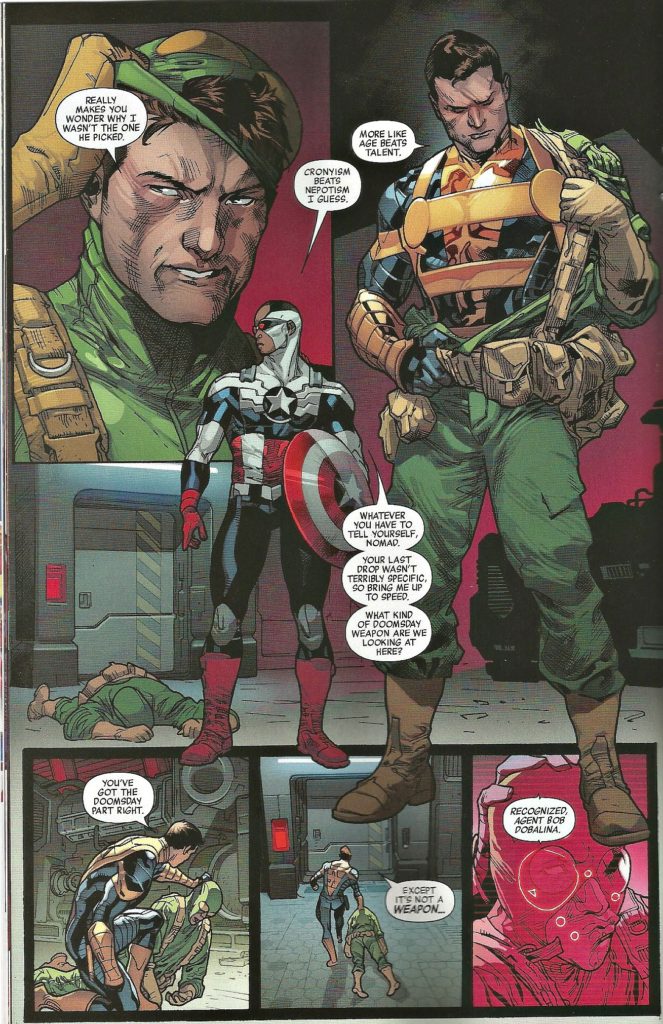 Bringing you up to speed, Captain America (Steve Rogers) was stuck in Dimension Z for over a decade, and cared for Arnim Zola's son Ian like his own. Raising him to do what's right and to also wield the shield, he was by his side when the final battle began. Both Ian and Sharon Carter, Steve's love interest and Agent 13 of SHIELD were left behind when Steve eventually defeated Zola and returned to our dimension. Later in Remender's book, both Ian and Sharon are found to be alive, albeit a little older, and return to this dimension as well when Zola plans to take it over. Now, Steve and Sharon are running the show so to speak, as top spies, and Ian has taken the mantle of Nomad. The three of them with Falcon-Cap, make for quite the super spy team.
This book has everything a fan of Captain America would come to expect from a true #1 issue. It opens wil Falcon-Cap trying out his new shield and costume against a den of Hydra agents. Steve wants him to just get in, get what they are looking for and blow up the base, but Falcon wants to razzle dazzle the bad guys a little, which allows the reader to see him in action for the first time. Over at the AXIS event, Falcon-Cap is much different, having being affected by the morality whammy that Doctor Doom and Scarlet Witch performed on heroes and villains alike while fighting the Red Onslaught. (Confused? You should be!) It is definitely nice to see him in the pages of this book being heroic and very Captian America-like.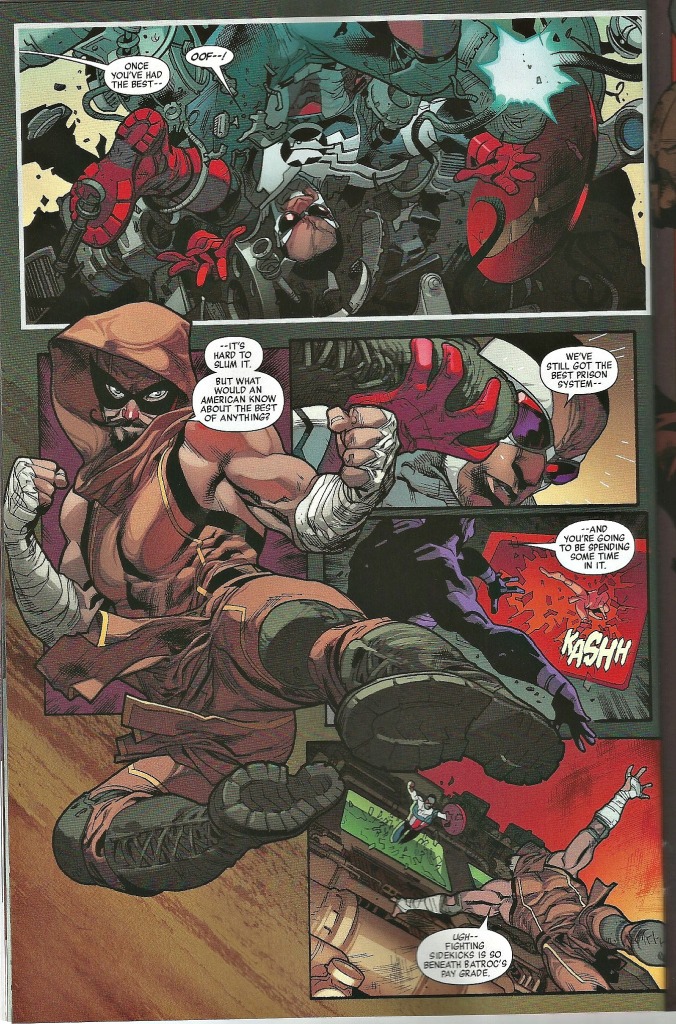 Upon infiltrating the lair, he meets up with the man inside, Nomad. A fun exchange between the two, and a nod to Hydra Bob of Deadpool fame makes for a cool read. Then the heavy hitter is introduced, and it's Batroc the Leaper to absolutely no one surprise. Seriously, every single time they decide to start over with a Captain America, it seems Batroc is the first to know and literally leaps at the chance to be in the first issue. Some good fighting happens between Batroc and Falcon-Cap and Nomad, with a disturbing turn at the end. Finally the book takes it's action sequences to the inevitable close of a big bad reveal, namely Baron Zemo and some other shady characters. (Crossbones!)
Support For Comic Book Herald:
Comic Book Herald is reader-supported. When you buy through links on our site, we may earn a qualifying affiliate commission.
Comic Book Herald's reading orders and guides are also made possible by reader support on Patreon, and generous reader donations.
Any size contribution will help keep CBH alive and full of new comics guides and content. Support CBH on Patreon for exclusive rewards, or Donate here! Thank you for reading!
The "Best There Is":
The exchange between Steve, and Falcon -Cap, and Nomad are all fun and done really well. The action sequences are very tight because of Immonen's artistic prowess, and translate wonderfully on the page. There is just enough of a mystery of the reason why Nomad and Falcon-Cap are in that base and what they came for to want to pick up the second issue.
The "Isn't Very Nice":
The story, though well written, is very played out. I saw Batroc and Baron Zemo coming a mile away, and the only twist is the way Nomad and Falcon interact and eventually defeat Batroc. I was hoping for more of a fresh start on the book, but it felt a lot like a story I have read a million times before in the pages of Captain America.
CBH Score: 4 out of 5. Better than I thought it would be, but still kinda knew what was coming. Interested enough to pick up the next issue.