With all the Marvel Event news still swirling around Twitter and comic book fandom, there was a tantamount excitement approaching last night's Agents of SHIELD that is rarely present. The announced movie slate for Marvel sounds fantastic (except, you know, without the Four), and hype for Avengers 2 is reaching a fever pitch, with exclusive bonus footage promised at the end of Agents of SHIELD's seventh episode. So how did good old AoS do with all the increased excitement?
Things started reasonably enough, with Colonel Talbot addressing the United Nations about the dangers of SHIELD in a speech that brought everything full circle from 2012's Avengers to now. This was actually an interesting look at SHIELD's place in the Marvel Cinematic Universe. It's never entirely clear who put SHIELD in charge, or who's watching the watchmen in those early Marvel movies. It's only in Avengers that we start to get a sense of the World Security Council that plays such a large role in Captain America 2. Talbot addresses this unwavering faith placed in such a shadowy organization, acknowledging that after the alien invasion of Avengers, the world was all too ready to turn to SHIELD no questions asked. Obviously that backfired when it was revealed HYDRA had infiltrated SHIELD at every level.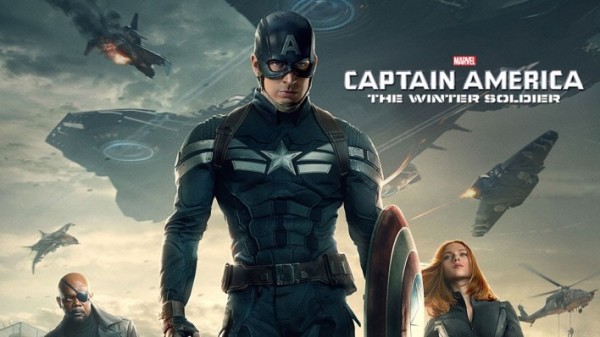 Talbot's speech is interrupted by HYDRA agents pretending to be SHIELD who kill six United Nations members using "splinter disc" technology, which is essentially a totally sick Frisbee that turns you to dust (or transports your body to molecules in the speed force, I might be mixing my Flash here). The cutaway scene ends with a disc flying straight towards Colonel Talbot, who reappears later in the episode with a sling around his arm. You know, standard medical procedure for injuries procured while being transformed to dust.
The remainder of the episode then spirals in to the Ward focused drama that we all knew was coming, but definitely never wanted to see. Agents of SHIELD does up the ante by revealing Ward's brother as Senator Christian Ward (probably shouldn't have been a surprise to anyone within SHIELD?) who is on a crusade to hunt down the remaining vestiges of SHIELD. Which I'd like to take a moment to point out is a totally reasonable thing to do. If I told you that a shadowy military cell had caused untold damage on United States soil and was now operating in secret claiming to "protect," you wouldn't be like "Oh yeah, cool, let them keep doing that." SHIELD legitimately needs some governmental support; they aren't Spider-Man. It's part of what has made this second season so much more interesting.
Or at least, it's part of what had made season two interesting. The episode ends with Christian Ward delivering an impassioned speech to the American people about the differences between HYDRA and SHIELD (apparently this – literally two party dichotomy – was too challenging for the average citizen previously), and also the revelation that his younger brother Grant Ward is HYDRA. As part of the "get off my back, yo" plea bargain, Director Coulson transfers Grant Ward into the custody of his brother, who may or may not be equally as manipulative and diabolical.
Support For Comic Book Herald:
Comic Book Herald is reader-supported. When you buy through links on our site, we may earn a qualifying affiliate commission.
Comic Book Herald's reading orders and guides are also made possible by reader support on Patreon, and generous reader donations.
Any size contribution will help keep CBH alive and full of new comics guides and content. Support CBH on Patreon for exclusive rewards, or Donate here! Thank you for reading!
The part that remains unclear so far is whether or not this really means SHIELD is welcomed back in to society with open arms following this moment. If that's the case, and we're suddenly just back from the aftermath of Captain America 2, it will feel like an enormous cop-out and way too easy of a resolution. I have some faith that won't be the case, but it will be interesting to see. One of the aspects I've most liked about Coulson's directorial reign is just how hard it is for him to actually rebuild SHIELD. This episode highlights how few agents are at his disposal, and anything that miraculously updates that status quo will feel like some serious back-pedaling from all the forward progress the show has made.
5 Things I Want to See From Agents of SHIELD
1) Justify Agents of SHIELD in the Avengers
The obvious highlight of last night's Agents of SHIELD was the teaser for Avengers 2: Age of Ultron. I don't expect Agents of SHIELD to play at that level, but the show should be suggesting that the Agents of TV are worthy of appearing Avengers 2. The Agents were conspicuously absent from Captain America 2 (a movie basically about SHIELD… weird), but remember Coulson is supposed to be the catalyst for The Avengers. Can't you already see a scene where Robert Downey Jr is looking incredously at a still kicking Coulson before Director Phil hits him with a smug "You look like you've seen a ghost?" Right now I'm not really rooting for that, but I feel like I should want to.
2) Dr. Zabo & Mr. Hyde
The more I think about it, the more I want Skye's Dad to be Mr. Hyde.
3) Kraken Helmet
I'm going to ask for the Kraken helmet on Daniel Whitehall every week until it happens.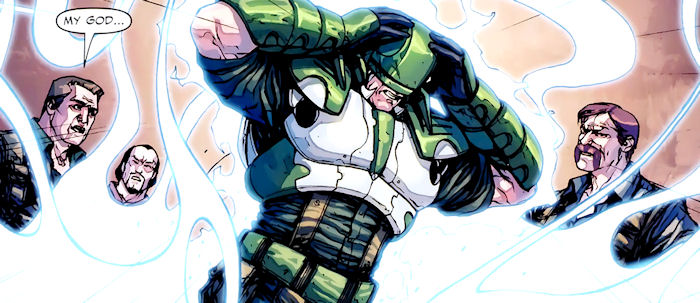 4) More Mockingbird
I wrote about 200 words here that basically amounted to "she looks like an angel!" before I realized I was drafting my own restraining order. Nonetheless, the scenes with Hunter, Bobbi, and May were by far the stand outs last night, with fantastic action and chemistry. Keep it coming!
5) Easter Eggs
Would Agent Walters actually turning out to be Jen Walters, aka She-Hulk, have hurt anyone? I continue to be dumbfounded by all the Marvel movie comic book excitement swirling around this show completely untapped. Holy moly are they cagey with comic book connections!