I'm fond of Kyle MacLachlan. I'll just come right out and say it, whenever I see him little serene bass notes play in my head and I can't stop shouting "COOOOOOOPPPP" every time he's on screen. So man was it satisfying, on so many levels, to finally see MacLachlan get some screen time as Skye's dad! Throw in the addition of Bobbi Morse (Mockingbird), Coulson calling Raina's bluff like he's Sammy Farja, and Fitz's comments on Mack looking like he found Ray Lewis' antler spray, and you have the best episode of Agents of SHIELD so far this season.
This was a really strong episode, and I think that's largely thanks to the focus on the show's increasingly interesting villains. Much like Season one, Agents of SHIELD works best when the team of vigilante governmental workers (they're basically rogue mailmen) has a serious, consistent threat to manage. In the absence of full crisis, they literally don't seem to know what to do ("you guys want to fly to Norway for a bit? Maybe find a staff or something?").
Episode five leads the first part of that threat with a naval wedding toast (not to be confused with a naval-gazing wedding toast) turning into a Hydra slaughter as they experiment with the deathly properties of the obelisk. There are some survivors, meaning HYDRA will have to report this "failure" to Daniel Whitehall, still operating as if he doesn't want to be wearing a totally baller Kraken helmet at all times.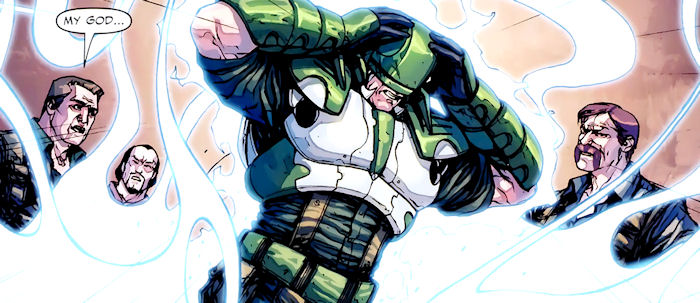 And then you've got Coop. After Whitehall threatened Raina's life at the end of episode 4 in return for the obelisk, she turns to Coop, apparently a doctor and operating on some sort of criminal. This seems to explain the blood-soaked reveal we got at the end of season one, as the man is a surgeon, and not a serial killer inhuman as I kind of (not so secretly) hoped.
Not only that, but we actually get to see Coop explain his motivations, and showcase his character's fear of turning into a raging monster. It's a very Hulk-like fear for a character in the Marvel Universe, although there's no indication yet that Coop physically transforms into anything. Initially I had suspicions that he might be the Marvel U's Mr. Hyde, but that feels way too on the nose, and also would require more CGI than we've seen Agents of SHIELD willing to implement. For now, we'll have to settle with Coop's enjoyably cheesy "man or monster" soliloquies and shattering of expensive tablets. We can only assume he was YouTubing this moments earlier:
Support For Comic Book Herald:
Comic Book Herald is reader-supported. When you buy through links on our site, we may earn a qualifying affiliate commission.
Comic Book Herald's reading orders and guides are also made possible by reader support on Patreon, and generous reader donations.
Any size contribution will help keep CBH alive and full of new comics guides and content. Support CBH on Patreon for exclusive rewards, or Donate here! Thank you for reading!
Meanwhile, the actual Agents actually share the screen this week, and it works wonders. Simmons finds herself in the midst of a full HYDRA traitor crackdown, only to have her double agent status revealed by Raina (basically on Coulson's orders!). This leads to one of the coolest moments of season two, with Bobbi Morse revealing that she too was a double agent working inside HYDRA and using sweet bowstaff and twirling skills to take down a facility full of HYDRA Bobs. The spin moves she does after her first take down of attackers, literally a clean minute after both assailers have been assailed, is a masterclass in unnecessarily looking awesome. A ten out of ten.
All in all, this is easily the most satisfied I've been with Agents of SHIELD this season, and it's starting to justify all the support it has gotten with its renewed focus and energy. The permanent addition of Mockingbird to the team should help tremendously; they suddenly look like a team of adult agents!
[schema type="review" rev_name="Agents of SHIELD Episode 5 (Season Two)" user_review="4.2″ min_review="0.0″ max_review="5.0″ ]