Another week of Agents of SHIELD, another review where all I want to do is talk about The Flash. Over on the CW (Comics Winners), The Flash is featuring a new meta human (character with super powers) every week. Agents of SHIELD, on the other hand, has been notoriously cagey with powers, slow-playing reveals of Blizzard and Graviton (still M.I.A.) until leading season two with the Absorbing Man. So here's this week's theme: Can comic book TV survive like that?
In a lot of ways, I'm asking a question that has been asked a million times and has caused me no end of frustration. Fox announces "Gotham," everyone's first question is "With Batman?!" and then when the answer is no everyone pontificates "You can't have a Gotham show without Batman. That's just stupid."

Comics have proven to us that such a statement simply isn't true. Gotham Central, the 40 issue deep dive into the GCPD by Ed Brubaker, Greg Rucka, and Michael Lark is an entirely excellent template for stories set in the world of the Bat, sans Crusader. Likewise, Brian Michael Bendis and Michael Avon Oeming's Powers finds brilliant story-telling in the heart of a police station within a super-powered universe. I'm firmly of the mindset that our comic book TV doesn't need to feature Iron Man or Batman to make for great television.
Agents of SHIELD was supposed to help prove this. It hasn't.
Despite claims of "a new and improved" Agents of SHIELD, and praise for its "darker tone" (I guess microwaved Clockwork Orange still works all these years later), Agents of SHIELD has yet to really launch. There are absolutely moments that suggest we're heading in the right direction – the "it was a dark time" quinoa riff was vintage Whedon and a fresh reminder that this show carried Joss Whedon's name once upon a time – but largely Agents of SHIELD is somber and tedious. Every week I tune in trying to be positive, and it feels like a chore, like I'm trying to have a good attitude about scooping cat litter.
Support For Comic Book Herald:
Comic Book Herald is reader-supported. When you buy through links on our site, we may earn a qualifying affiliate commission.
Comic Book Herald's reading orders and guides are also made possible by reader support on Patreon, and generous reader donations.
Any size contribution will help keep CBH alive and full of new comics guides and content. Support CBH on Patreon for exclusive rewards, or Donate here! Thank you for reading!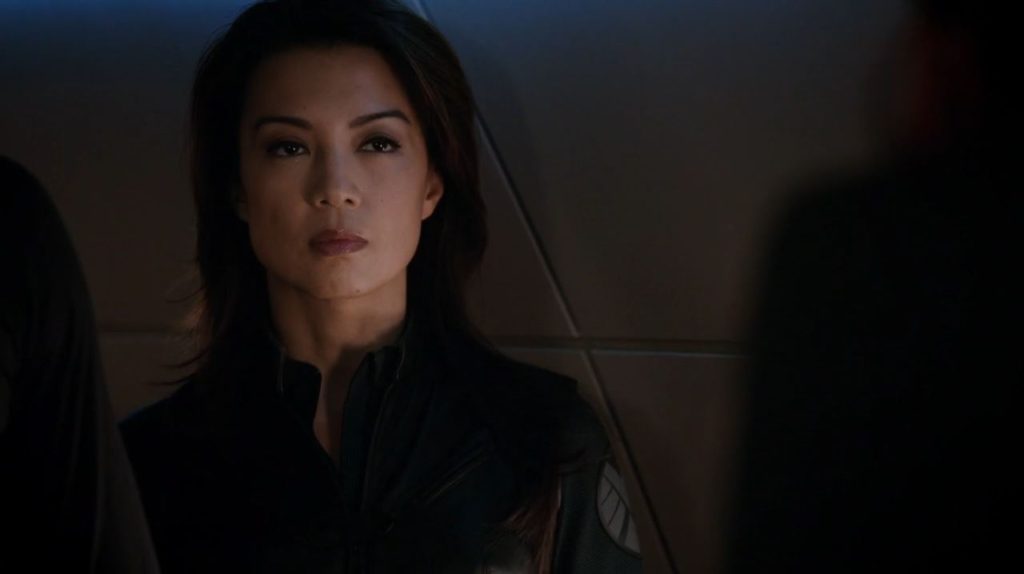 Then there's The Flash, joining Arrow over on CW as the second DC show to get comic book TV right (I haven't crossed off Gotham, but it's not there yet). The first two episodes of season one have felt like Barry Allen's origin movie, the film Sam Raimi would have directed in an alternate universe year 2000 instead of Spider-Man. Barry is streaking around the city in his Flash costume, learning how to save lives, and all of it is enjoyable and visually captivating. It's stunning to me that the CW is churning out Flash lightning fights every 15 minutes and Agents of SHIELD took the time to insert one slow-motion Absorbing Man bullet deflection and have since abandoned any visual flourish. (The Ming Na-Wen Civil War fights will undoubtedly get a lot of praise this week, and while they were lengthy and clearly choreographed, Agent May's slow-mo head smash appeared to showcase May missing her opponent during the slam. Good unintentional comedy, not the second-coming of The Raid.)
Most importantly, this week Barry faces off against another meta human affected by the Star Labs particle accelerator, Multiplex. It would seem that the approach for Flash will be a new powered villain every week, although at some point Flash is going to run out of Rogues. Nonetheless, this offers an even deeper dive into the DC Universe than Arrow, which had the luxury of letting Ollie off the corrupt wealth of his city instead of pumping out a Deadshot every episode in season one.
With a show like The Flash swinging for the fences like that with honest-to-goodness DC comic book villains on the screen every week, how are we supposed to get excited about the bad spies who dress in green outfits and get punched by Captain America on his way to the fight we're actually excited about?
That's a little unfair of me because HYDRA is actually the highlight of Agents of SHIELD, and their sinister presence really takes the show to a new gear. Nonetheless, I'm fading back out on AoS, and I really wish I wasn't. Obviously the answer for Agents of SHIELD won't be more super powers all the time, and that's fine. But the show does need to recognize the meta humans are out there – it's time to change what it means to be human because right now it's merely pedestrian.
5 Things I Want to See From Agents of SHIELD Moving Forward
1) Hickman's SHIELD – I almost never mention Jonathan Hickman's SHIELD solo series when discussing suggested comic book reading for Agents of SHIELD. It's a bonkers book starring Leonardo Da Vinci, Isaac Newton, Galileo and possibly time traveling ancestors of Peter Parker and Reed Richards. Fun reads, but not something I saw closely connected to Nick Fury and the world of SHIELD in the Marvel cinematic universe. I'm starting to think I'm wrong about that. The alien symbols on the back of an ancient religious painting got me thinking that this could be connecting to Hickman's SHIELD in a completely improbable turn of events. I'm all for it, especially if we spice things up with a little time travel.
2) More Hydra – As much as I want new plotlines and change of pace for this show, we're going to have to double down on HYDRA. Every time HYDRA shows up it's instantly the best moment of an episode.
3) Something meaningful could happen? – Slowly moving the needle is just not working for this show. The cries of "be patient" are completely absurd to ask of a television audience. Read interviews with the creators and there's a lot of nudge-nudge-wink-wink that the audience just needed to be patient to see the glory of Agents of SHIELD develop. Even if that were true (it's not), a show like Orphan Black or The Blacklist doesn't cry "be patient." It delivers fascinating and complex revelations reasonably quickly and THEN slow plays the mystery. Agents of SHIELD has the formula backwards, and they're doing it again with the alien symbols and Skye's Dad. I'm getting cranky. We're going to need to wrap this up.
4) Director Coulson – Ok, after repeatedly asking for it, I got my Coulson episode, except he's fulfilling exactly the same leadership role we saw in season one. I really like the job Clark Gregg has done with this character, but I'm not seeing the progression to Director that I expected. To be fair, a collapsed SHIELD is a whole new ballgame.
5) Speaking of a Collapsed SHIELD – What happened to getting SHIELD back together? Episode four was one part painting heist, and one part… cool attractive people drinking beers? Don't they have a task-force to assemble? Powered vigilantes to woo? I'm all for procrastinating, but I'm still looking for some kind of mission objective that isn't "don't get killed by HYDRA who appears to be a millions steps ahead of us at everything."
What do you think? Am I too down on Agents of SHIELD second season? Do what feels right to you in the comments.
[schema type="review" rev_name="Agents of SHIELD Episode 4 (Season Two)" user_review="2.5″ min_review="0.0″ max_review="5.0″ ]