The quote in the headline is one of Loki's from Avengers, but it aptly fits the new Agent Carter miniseries that aired its first two episodes earlier this week. Despite its cinematic dominance, Marvel's live action TV game has been inconsistent at best. Agent Carter offers Marvel's first opportunity since Agents of SHIELD launched in the wake of Avengers to take the live action comic book TV crown from DC Comics.
Through two episodes, I'm pleased to say that Agent Carter is fulfilling all its potential. Like so many other Captain America fans, I've been excited about the possibility of a full Agent Carter series since it was announced, and was excited to find that Hayley Atwell's Peggy Carter is just as captivating and well-rounded a character as the lead of her own show as she was as Captain America's liason (and yes, love interest) in Captain America: The First Avenger.
Agent Carter is burdened with glorious purpose on a handful of levels. For starters, she's here to save Marvel TV from itself, and prove Marvel can produce television that exceeds expectations. This is deceptively important just a few short months before Marvel launches Daredevil on Netflix and really starts to flood the market with Marvel comic book TV. There's already enough backlash against comic book movies, and that's with nearly every Marvel movie firing on all cylinders. While fan support of Agents of SHIELD is fantastic in many ways (it shows the MCU has generated immense enthusiasm for the Marvel Universe), the inconsistent product has too many fans confusing love of the Marvel U for one of their favorite shows. Agent Carter bridges that gap, and gives us all – so far – a great story to enjoy within the MCU. Agent Carter is proving that live action comic book TV has a place.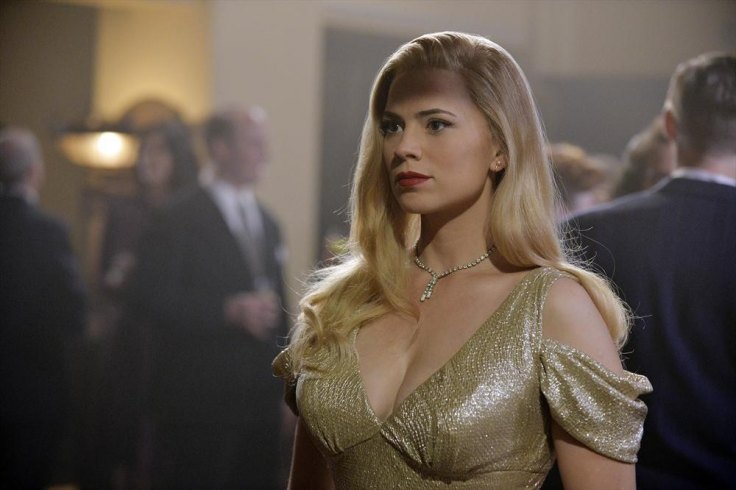 Of course, proving your place is something Peggy Carter is all too familiar with in this series, with rampant 1950's Mad Men sexism dominating the early themes. I'll admit I was weary as ABC egregiously hammered home the sloppy and strangely regressive "Sometimes the best man for the job… is a woman!" tagline, but now that the actual show is here, man is it refreshing to have a strong female lead assert herself in an MCU story. Peggy Carter is completely bad ass, and the type of femme fatale Ed Brubaker and Sean Philips have been popularizing in comics for nearly a decade now. It's clear she's the best detective and Agent around, and yet the inherent systemic misogyny of America has her treated as the men's secretary, getting coffee and filing papers. If this feels tired or forced to you, know that this is a very real issue today, and that highlighting the absurdity of the situation in the late 1940's and 1950's is an important role in pop culture.
Even if the show itself was a dud, introducing Marvel's first solo female star would be a big step forward. Fortunately, Agent Carter is off to a great start, as Peggy Carter works with the real life Jarvis (!!!) to prove Howard Stark is innocent of treason. If you're an Iron Man fan, the series is very much Armor Wars set in the immediate aftermath of World War Two, but with a whole lot of Secret Warriors espionage and intrigue mixed in.
Support For Comic Book Herald:
Comic Book Herald is reader-supported. When you buy through links on our site, we may earn a qualifying affiliate commission.
Comic Book Herald's reading orders and guides are also made possible by reader support on Patreon, and generous reader donations.
Any size contribution will help keep CBH alive and full of new comics guides and content. Support CBH on Patreon for exclusive rewards, or Donate here! Thank you for reading!
I'm excited about Agent Carter and am greatly looking forward to how this first season plays out. It's the best entry in the live action Marvel TV canon before that hopefully becomes a very competitive field with the Netflix deluge.
5 Things I Want to See in Agent Carter Moving Forward
Leviathan – This was undoubtedly the comic book reference I was most excited about, as Leviathan is a reference to Secret Warriors and the most interesting SHIELD story told in the last decade. I'm hoping Agent Carter uncovers the mystery at an accelerating pace, and with only 8 episodes in the series, I can't imagine otherwise.
Zodiac – In the Agent Carter one-shot, Peggy uncovers a mysterious operation led by an extremely powerful man code-named Zodiac. In the comics, Zodiac means all sorts of espionage and superpowered mystery, and I'm hoping that plays a role in this series as well.
1950's Cap and Bucky – The 1950's were a weird period in comics. In modern Marvel, the writers in charge of Captain America have essentially said that "Yes, Captain America was frozen in ice after WWII. The Captain America running around during the 1950's was not Steve Rogers." With that in mind – how about a run-in with this new, fill-in Cap and Bucky team? Agent Carter's reaction would be fascinating to say the least.
Red Skull – Ok, I don't actually expect the Red Skull here, but I'd go nuts for some sort of signal or clue that he's still alive. I peg this at maybe a 2% chance of happening, but I'll still throw it out there.
More Characters From the Wire Standing in as Not Altogether Sleazy Nightclub Owners – Bubs!!!