For over 80 years and a thousand issues, Superman has held a titanic legacy in fiction, using his incredible powers to fight a never-ending battle for truth and justice. He's been a champion of the oppressed, a reporter, an alien, an immigrant; countless forms that have coalesced over the years into an image that's practically synonymous with the American myth itself. But what happens when someone takes this icon and its countless forms, and breaks it down to its base elements? And how do those base elements change when they collide with other conflicting plans?
In 2011, DC Comics announced The New 52, a publisher-wide initiative that reset its ongoing continuity and relaunched every title set in the fictional DC Universe. Spearheaded by then-Chief-Creative-Officer Geoff Johns and Co-Publishers Jim Lee and Dan DiDio, the initiative was meant to both streamline the company's superhero line for new readers and give a roster of all-star creatives the opportunity to reshape and modernize the characters as they saw fit. It was here that superstar writer Grant Morrison–fresh off a 7-year run on Batman–and artist Rags Morales would collaborate to bring this new version of Superman to life, crafting a story that celebrates the character's place in fiction while introducing a more modern, conflicted take on the hero. While the run was widely regarded as a misfire, characterized by the many production and creative struggles that would define the rest of The New 52, it's also a coda to all of Morrison's thoughts on Superman, pulling from every iteration of the character to forge an all-new future for the Man of Tomorrow.
THE OLD, MADE NEW
Like many of the new origins told in The New 52, Action Comics
starts 5 years before the present day, treating readers to a Superman still finding his footing in the world. In sharp contrast to their previous works on the character, like the incorruptible figure of All Star Superman, Morrison introduces the hero in Action Comics as a rougher, more conflicted figure, isolated from his friends at The Daily Planet as well as the memories of Ma and Pa Kent. As a result, the story's first issues depict a Superman who's closer to Batman in terms of personality: stern, fiercely dedicated to his cause, and uncompromising in his methods.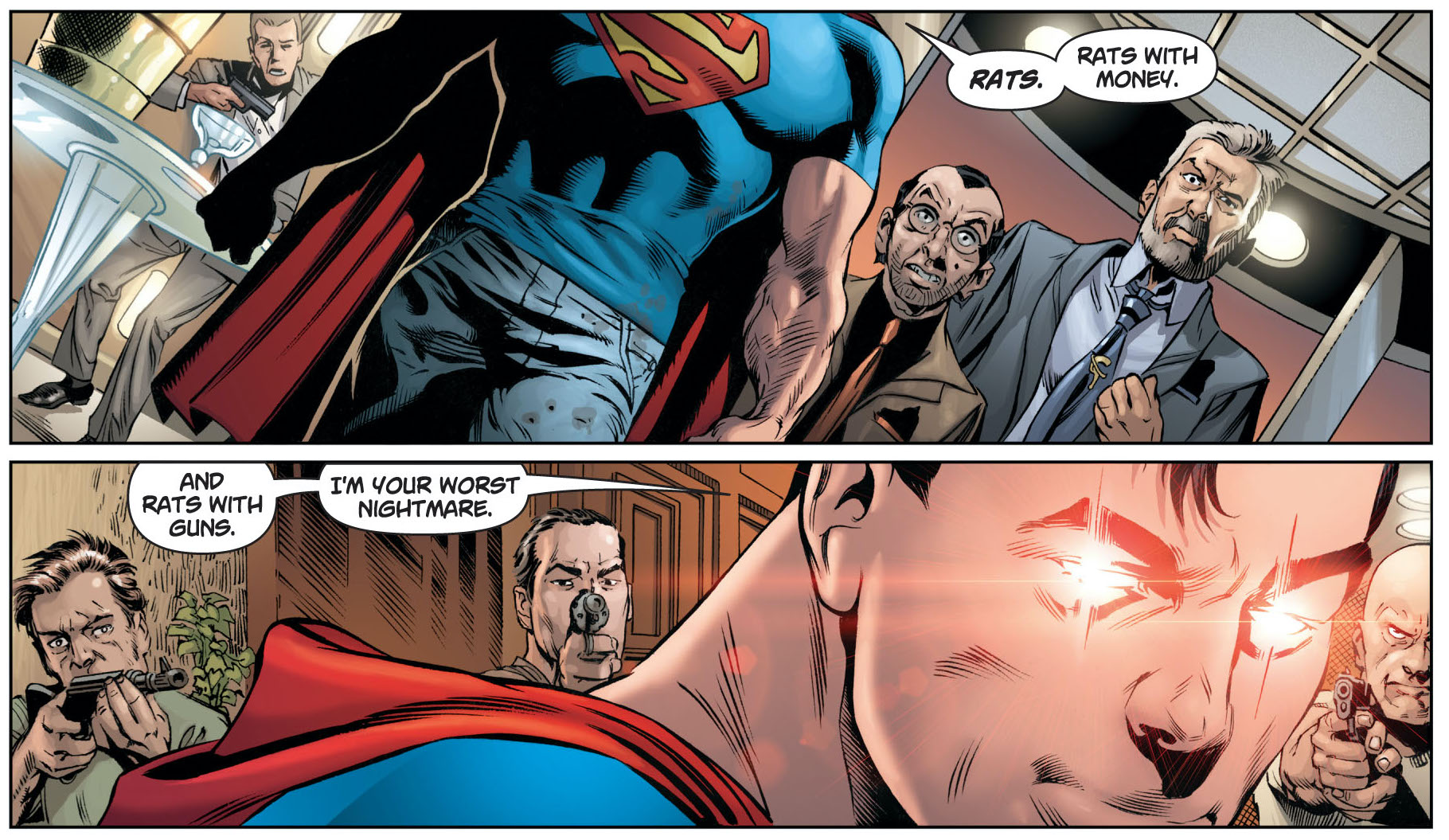 (From Action Comics #1 by Grant Morrison and Rags Morales)
While their previous stories focused on the transcendent nature of the character, often using the hero as a reference point for what humankind can become, Morrison uses Action Comics to explore the failings of a Superman untethered to his home on Earth. The character's actions in early chapters may harken back to his staunch Golden-Age socialist roots, but they also "other" him from the people of Metropolis, leading to other characters like John Corben sacrificing their own humanity in an attempt to stop the "alien menace." The hero's dual heritage has been a constant source of debate over the years, with creators and readers alike questioning whether the hero is defined more by his human or alien connections. While Morrison builds much of Superman's arc around finding his place on Earth and among the people of Metropolis, they also give a more balanced answer to the question, showing the hero developing his understanding of Earth and Krypton side by side, and allowing readers to see this combination give rise to the definitive version of Superman, a figure who is equal parts man and inspirational myth.
Support For Comic Book Herald:
Comic Book Herald is reader-supported. When you buy through links on our site, we may earn a qualifying affiliate commission.
Comic Book Herald's reading orders and guides are also made possible by reader support on Patreon, and generous reader donations.
Any size contribution will help keep CBH alive and full of new comics guides and content. Support CBH on Patreon for exclusive rewards, or Donate here! Thank you for reading!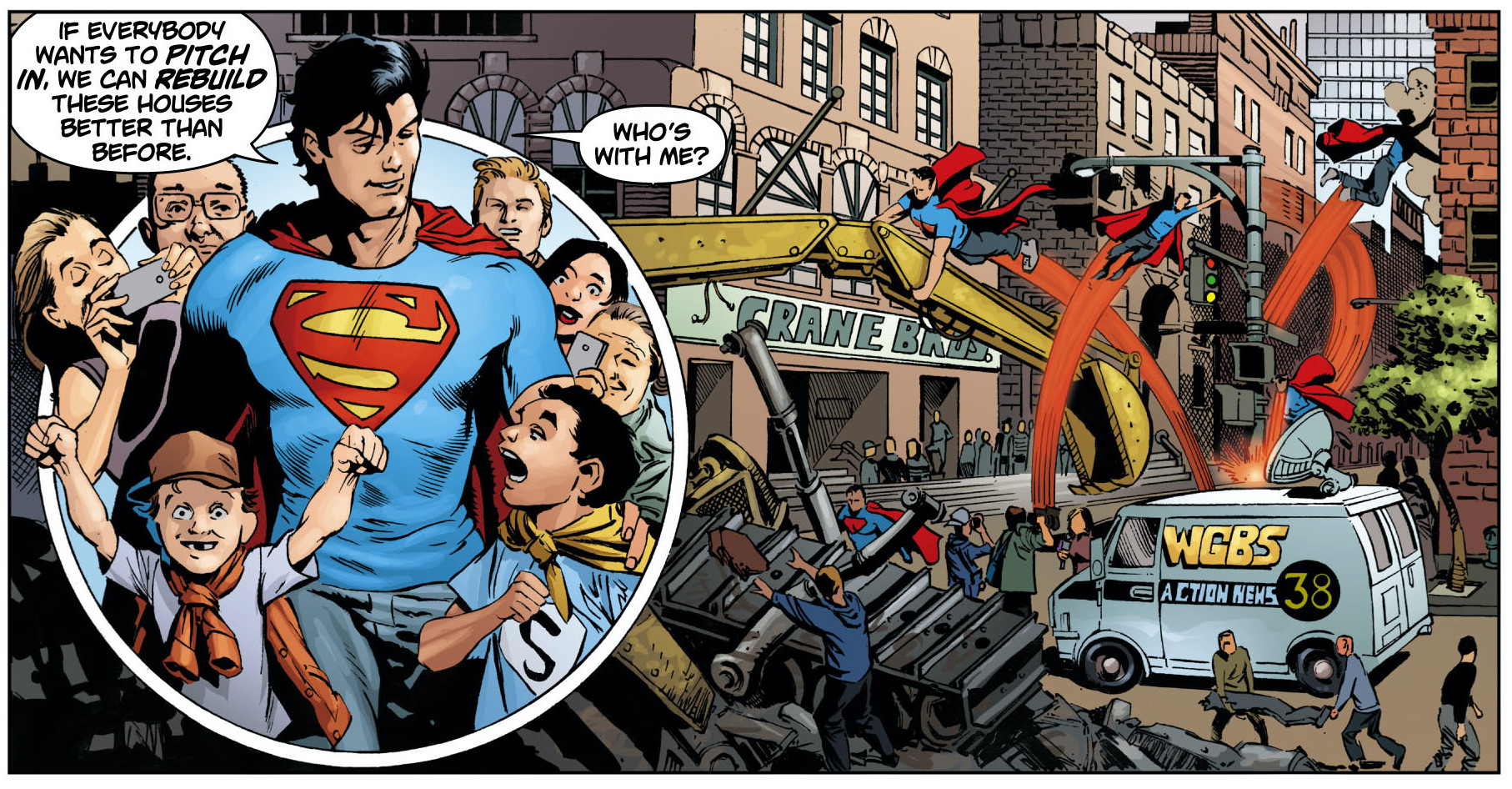 (From Action Comics #11 by Grant Morrison and Rags Morales)
This arc from outsider to icon acts as a microcosm of Superman's early publication history, with the hero's more grounded, Golden Age persona giving way to the brighter, more hopeful figure of the Silver Age, standing clad in Jim Lee's modernized costume. But even with this new origin dominating the first 8 issues of the series, Morrison seeds the ideas of something bigger across the series: a journey deep into the very concept of Superman.
THE LOST YEARS
Since rising to popularity in the 1930's Superhero stories have been in a constant state of reboots and reinventions, with characters' histories either modified through retcons (short for retroactive continuity) or complete reinventions through publisher-wide reboots. Superman in particular has had his own series of transformations with events like DC's Crisis on Infinite Earths and Flashpoint clearing the stage for all-new depictions of the character. While these resets are key to streamlining continuity and on-boarding new readers, Morrison's Action Comics asks: what if all of this actually happened?
As much as the story serves as a fresh take on the Man of Steel, the writer makes Superman's continuity one of the focal points of their run, weaving in countless references from across the character's history. A young Clark Kent has an encounter with the Legion of Superheroes that's straight out of the Silver Age, the hero discovers accounts of Superman sightings that don't line up with the current timeline, and even the absence of characters like the Kents and Krypto the Super-Dog are tied into a larger plot by a violent 5th-dimensional imp. Confused? If so, well…that's kind of the point.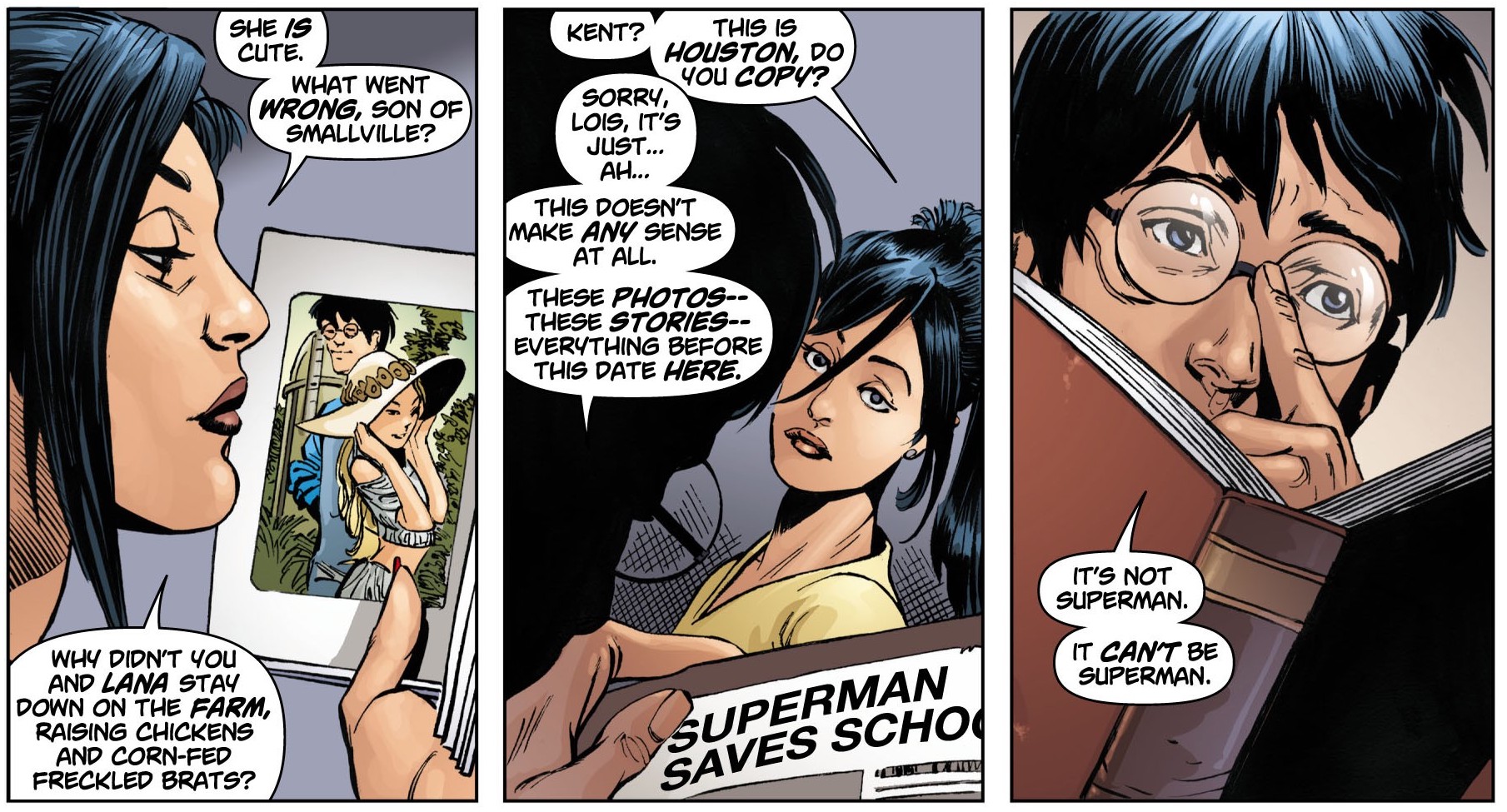 (From Action Comics #10 by Grant Morrison and Rags Morales)
By making Superman's continuity the battleground for their series, Morrison effectively turns the run into a meta-commentary on the state of the character post-reboot. While the changes introduced by The New 52 streamlined Superman, they've also ripped away years of history and fractured the character, something Morrison expands upon over the course of the run. In place of the hero seen before the reboot, Morrison breaks Superman into an archetype scattered across different dimensions, including a Captain Comet who serves as a forgotten "proto-Superman," Calvin Ellis of Earth-23, and a hulking monster bent on serving dystopian corporations. This fragmentation is ultimately revealed as a plot to weaken the Man of Steel, with a growing "anti-Superman army" observing these multiversal events from the shadows. The run's finale can even be seen as Morrison's attempt to bridge the classic and modern versions of the hero together: Superman's old history is gone, but his real strength comes from his power as an idea and the shared belief in our ability to achieve the impossible. After pulling apart the character's history to look at it from a "fifth-dimensional perspective," the run ends on a triumphant, yet bittersweet note, for both Superman and Morrison: the idea endures, but things will never quite be the same again.
A DEATH AND A RETURN
Arriving at a major pivot point for DC comics, Action Comics acts as both a homecoming and conclusion to Grant Morrison's time on Superman. One that, unfortunately, suffers from a tension that would define most of The New 52: the pull between ambitious ideas and DC's larger corporate mandates. The evolution of Morrison's original six-issue pitch into an eighteen-issue series is pretty telling, as is the meta-commentary present throughout the run. In place of the transcendent figure from All-Star, Morrison depicts a Superman beset on all sides by figures trying to shape him into their idealized vision, with the Collector presented as fans obsessed with preserving their characters' status quo, and the imp Vyndktvx representing the wholesale meddling of DC editorial. It's no mistake either that the series' climax sees Superman fighting a version of himself that's been warped into an oppressive corporate symbol. Morrison's run took place in the shadow of a lawsuit between DC and the estates of Jerry Siegel and Joe Shuster, with the original check paying $130 for the character surfacing in public just after the release of the series' first issue. Morrison would reflect on their growing anxieties about the character further in their book Supergods, stating:
"When a god elects to come to Earth, he has to make a few sacrifices. In order to be born, Superman was called upon to surrender a few of his principles…the son of Jor-El was compelled to make a terrible bargain with the complex, twisty forces of this material world. That S is a serpent, too, and carries its own curse. And so it came to pass that our socialist, utopian, humanist hero was slowly transformed into a marketing tool, a patriotic stooge, and, worse; the betrayer of his own creators. Leaving his fathers behind on the doomed planet Poverty, the Superman, with his immediate need to be real, flew into the hands of anyone who could afford to hire him."
Morrison's ambivalence for the character was only furthered by the numerous production problems their series suffered, caused by the rigid shipping schedule mandated by The New 52. This led to a number of fill-in artists including Andy Kubert, Cafu, Brad Walker, and more working on the book instead of a steady collaboration between Morrison and artist Rags Morales. The story was able to repurpose some of these shifts through its multiversal narrative, but many saw the shifting styles and tones as evidence of a book that was at war with itself, something that Morrison likely took note of. While the writer remained on good terms with DC Comics, they would step away from the publisher in 2013, fully committing to creator-owned works and leaving the world of superheroes behind.
To many, Action Comics felt as much an ending as it was a beginning, with the utopian optimism of Superman and his creators giving way to a darker, more cynical approach. But even in spite of the direction established through the New 52, Morrison's ideal of Superman would return again and again through their work, first through their series Klaus, then the character's restoration through DC's Rebirth initiative, and finally Morrison's return through Superman and The Authority which saw the Man of Steel work to redeem a newer, more embittered generation of superheroes. To the writer, this arc that began with Action Comics was more than just a nostalgic return to form: it was an affirmation of the character's eternal ability to inspire.
"As you get older, you have different views on everything and you also have your previous views so you can assign them to different characters. With Superman, I always keep in mind that he represents the best of who we are and that's what makes it work. He's always going to be…looking at things we experience and finding ways to…make them useful and worthwhile. For me, it's always been thinking up to that notion of what if he does exist, this good guy that doesn't have all those shadows. That's my keystone for Superman, he's us at our best."
In its day, Action Comics was seen as a polarizing take on Superman, torn between DC's ongoing plans and Morrison's own ambitious ideas. However, in the decade since its release, the story has become one of the writer's most interesting looks into the man of steel and his legacy as both character and living idea. The nature of his stories may change, but Superman will always stay true to his roots as a champion of the downtrodden, returning again and again to fight for truth, justice, and a better tomorrow.
(From Action Comics #18 by Grant Morrison and Rags Morales)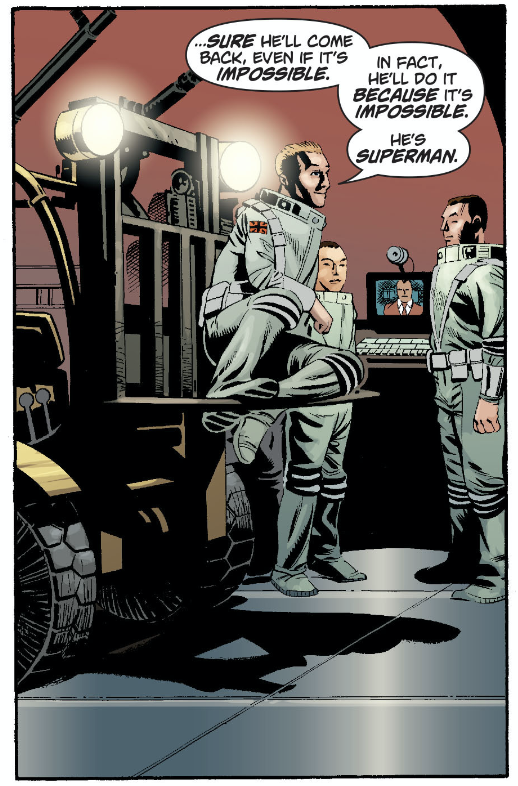 Sources:
https://www.comicbookherald.com/the-old-52-action-comics-the-birthplace-of-modern-morrison/
https://www.cbr.com/superman-and-the-authority-issue-4-finale-grant-morrison-interview/
https://www.authorsguild.org/industry-advocacy/end-of-the-road-for-siegel-and-shuster-heirs-superman-battle-a-cautionary-tale/