The Punisher turns 45 this year and is celebrating with a second season of his Netflix show. But if you're curious about Marvel's favorite murderer, there's at least four other incarnations that are every bit as awesome as Jon Bernthal, with some of them even bigger and badder than our paltry reality could ever allow. Let's take a look at the best of the Punisher.

Frank Castle the pulp novel
Punisher may have first been seen in Amazing Spider-Man #129 in 1963, but as far as I'm concerned, he didn't come into existence until Steven Grant and Mike Zeck gave birth to him here, in the first ever Punisher miniseries.
Mike Zeck is an under-appreciated artist these days, which is a shame, as his work on Batman, 1980s Secret Wars events, Kraven's Last Hunt, and even Master of Kung Fu is fantastic. But his run on Punisher is what he's most famous for, and rightly so. He created the entire visual language of the character.
Speaking of "language," Frank was originally based on the Mack Bolan series of books written by Don Pendleton. Goofy, "soldier of Fortune" type books that usually feature a bazooka on the cover whether they needed to or not. Steven Grant's Punisher really plays that up with sharks, gun play, and almost noir kind of narration that suffuses every page with schlocky pulp goodness.
It's a simple story of mobsters being mowed down by a vigilante. There are darker Punisher books, grittier ones with more blood and higher body counts. But this book is the reason you've heard of Frank Castle.
Support For Comic Book Herald:
Comic Book Herald is reader-supported. When you buy through links on our site, we may earn a qualifying affiliate commission.
Comic Book Herald's reading orders and guides are also made possible by reader support on Patreon, and generous reader donations.
Any size contribution will help keep CBH alive and full of new comics guides and content. Support CBH on Patreon for exclusive rewards, or Donate here! Thank you for reading!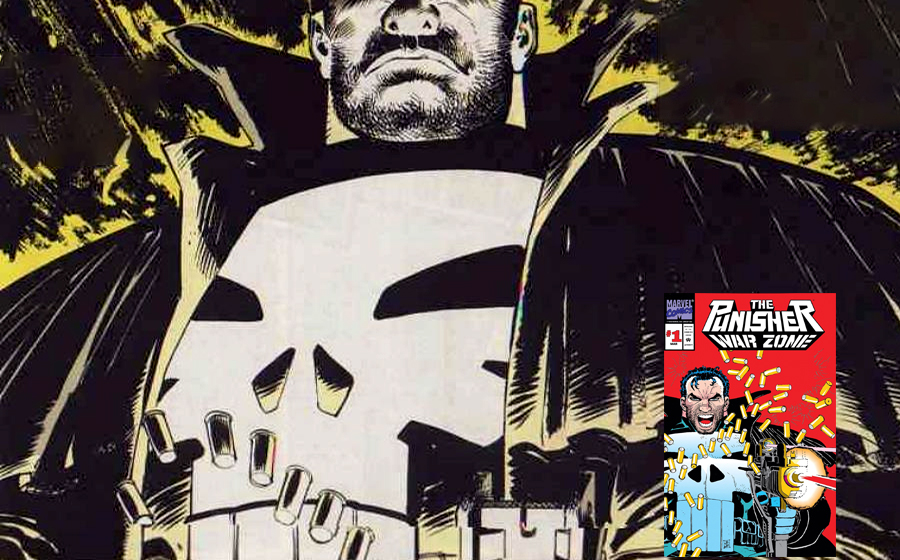 Frank Castle the 90s Anti-Hero
John Romita and Klaus Janson's run on War Journal is absolutely legendary. Romita's pencils give a Frank Castle who looks strong and solid, who stands confidently in a posture that could almost pass for parade rest… if it weren't for his hands resting dangerously out of sight. Janson takes this granite monster and lights him cinematically, bringing alive every last ounce of mood and menace, making that perpetual five o'clock shadow rasp over your eyes and ensuring every muzzle flash casts a knife-edged shadow.
These two bring you 90's balls-to-the-wall action at its finest. These two are the creative team that made Frank into the hit he was during the decade.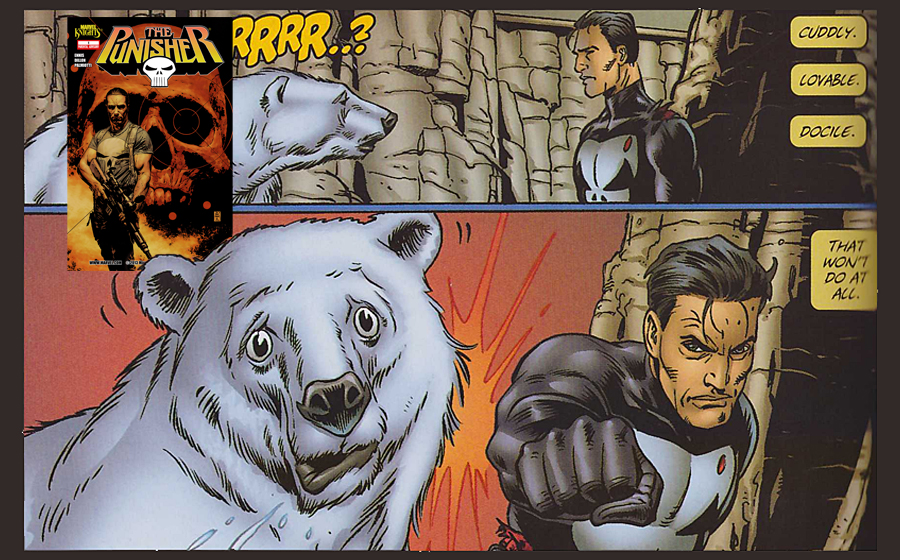 Frank Castle goes Commando
The 90s didn't just kill Frank, they killed the books entirely. He went from having three on-going titles to multiple stretches where no books came out under the Punisher masthead, sometimes for nearly two years!
But all that changed with Garth Ennis and Steve Dillon.
These two mad geniuses were born to work together on this book. Ennis builds action and tension like nobody else, while Dillon's pacing and clear style makes every story beat land.
(Over the years, some have criticized Steve's character designs. And I will grant you that they can take a little getting used to. But there's a reason he's often listed as being up there with Zeck as the best Punisher illustrator; nobody, and I mean nobody, has Steve's timing, framing, or image crafting. The guy could make a single page feel exciting, gross, and hilarious, all at the same time. RIP, Steve Dillion. I hope you're shooting angels in heaven.)
The book starts on familiar ground with Frank gunning for a mob family, before the book veers wildly into uncharted greatness. You see Frank kill a guy with a polar bear. You'll watch as he struggles against a terrifyingly jolly murderer. You will be touched as Frank Castle, the deadliest human in Marvel history, does the impossible: make friends. All this and enough lead and C4 to conquer a small country!
You've no doubt seen Punisher in action, but you'll only see this mixture of black humor and big character payoffs from Garth and Steve.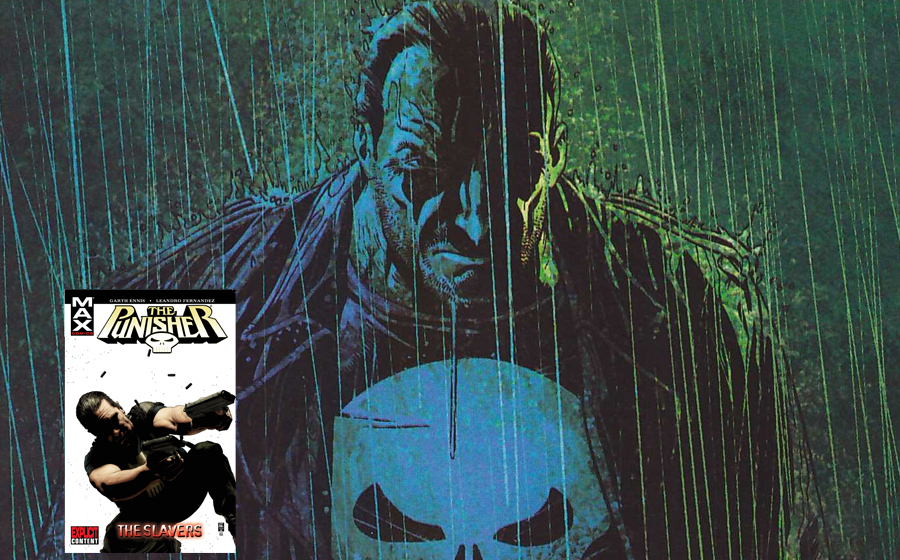 Frank Castle, the nightmare had by monsters
Hey, remember all that fun we had with Welcome Back Frank? That's over now. Punisher Max was Ennis taking Frank and making him confront the evils of the real world. And my God, does this book have evil.
"The Slavers" sees Frank taking down a particularly cruel group of human traffickers in a confrontation where you'll probably be eager for the Punisher's brand of ultra violent justice. And boy, does Frank Castle ever deliver. Still, while reading this book I found myself filled with disgust and dread that the slavers, Castle, or even me as the audience could enjoy these events.
When you make me feel this much conflict, you're doing a great job. Between Ennis' brutal story and Leandro Fernandez's unflinchingly graphic pencils (with some stomach churning inks by Scott Koblish and colors by series regular Dan Brown). This book is about as grim as they come, with a dead-eyed Punisher and images that will stick with you forever.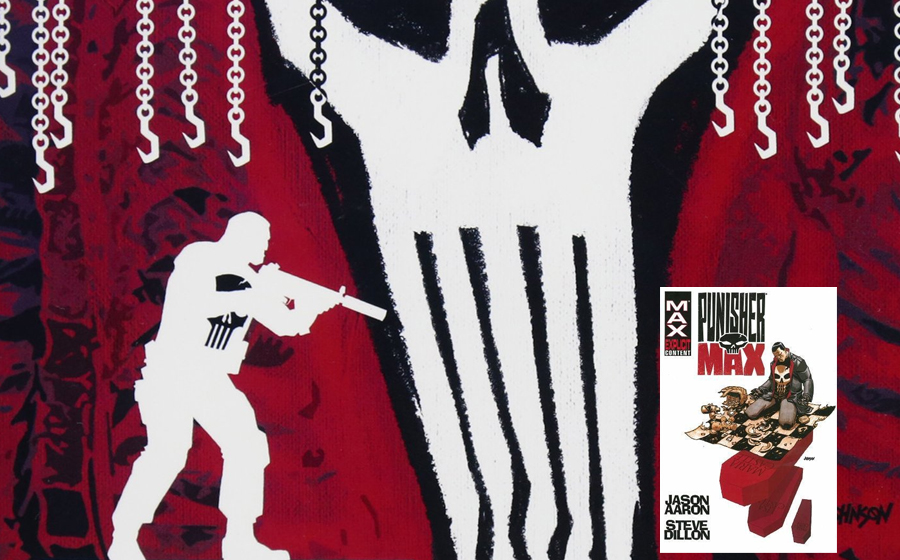 Frank Castle, no matter the cost
The first time that I read this run, it was in single issues. And I didn't see it coming. It wasn't originally solicited as "the End," just as Jason Aaron picking up the mantle. Aaron is known for delivering high-octane action with hidden depth, but this book… I think in interviewing he called it "a conspiracy to kill Frank Castle."
This book feels tragic. There's great bloodshed and genuinely funny jokes and some truly disgusting moments that I was ashamed to enjoy as much as I did. All of that courtesy of Steve Dillion, in one of his final runs on the character.
But when with as fun as all of that is, every panel feels like fate is coming for Frank. He's older here and he's up against both Kingpin and Bullseye, and somewhere in the middle of this 22-issue run, I quickly realized "oh God, he's not going to make it, is he?" Ten issues later, there was a tombstone on the cover.
That dawning moment and my conflicted response to it secure this run as a classic (and Jason Aaron as a top 5 writer in the bullpen).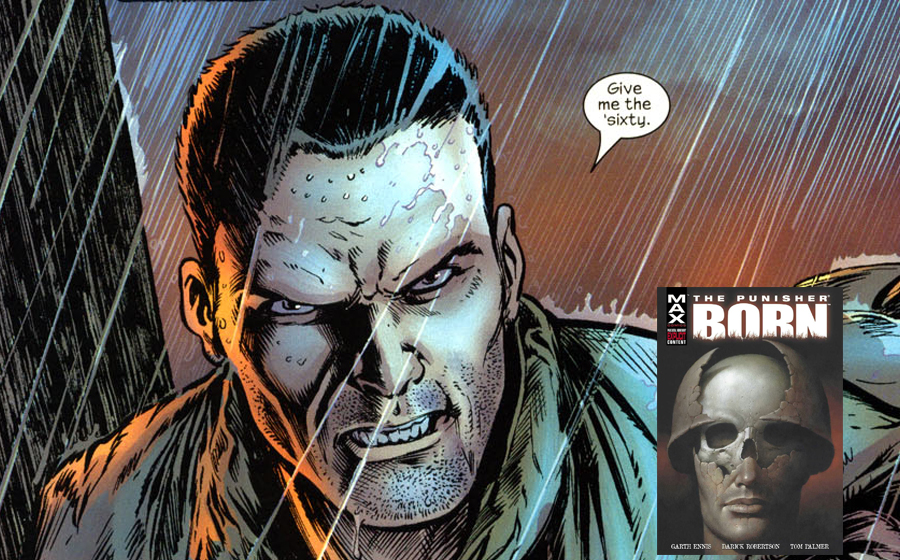 Frank Castle, soldier
Strictly speaking, this isn't a Punisher book. And that's exactly what makes it great.
Garth Ennis is back, penning this tale of Frank's pre-Puniaher days as a marine infantryman in the Viet Nam war. The story has all of the hallmarks you'd expect from Garth's "serious phase," but with something extra. Somehow, the added reality of a real life war brings new highs to Garth and let's him bring in new elements to the Punisher series (without spoiling anything, there is some truly effective surrealism that we can chalk up to the battlefield experience.)
Darick Robertson, Tom Palmer, and Paul Mounts make this book feel just as oppressively hot, damp, and dangerous as that war must have felt. The pencils, inks, and colors make the whole experience like a malarial fever dream.
The death of Frank's family in New York may have been the inciting action for Frank to don his trademark skull, but this book shows how even long before that moment, he wanted, needed to be the Punisher. This book may happen first in the chronology, but you should read it dead last for maximum impact.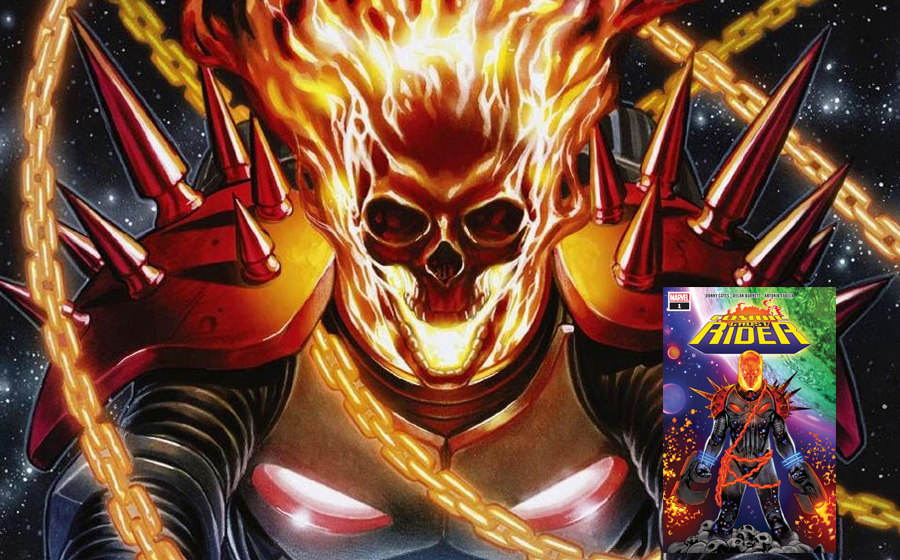 No list is complete without a "weird Punisher"
This book is like a magic trick. It takes the "angelic Punisher" storyline that very nearly killed the whole brand way back in 2000 and makes it relevant.
What separates a good "weird Punisher" story from a bad one is remembering that the Punisher is a simple formula; at his very core, he's a man who lost everything and picked up a gun to become the embodiment of personal justice. Anything a writer or artist does after that should reveal that basic formula, but should never detract.
The angel storyline was a failure because it tried to make Frank the embodiment of divine justice, which is completely at odds with the character as it makes him beholden to someone else's moral code.
Cosmic Ghost Rider works because it makes Frank into a father again. It plays directly into his formula and builds on it in a meaningful way. That his new adopted son is a baby Thanos actually adds to the drama.
Then it gives him a flaming skull, an intergalactic chopper, space sharks, and cosmic fun. The art is wild, but also clever, knowing exactly how to deliver a Technicolored Punisher.
This book is ridiculous fun, through and through, and I'd almost recommend it on that alone. But the fact it understands and adds to the character itself while being so fun is the real reason it belongs on a "best of" list.