Toys and comics have gone hand-in-hand for a long time. This is true up to this very day; I myself have Marvel Legends
figures displayed with my comics, and even hand-picked what characters and issues would go well together. It's great to have such a comforting piece of childhood stretch into my adulthood (now that I have my own money and don't have to beg my parents for nice things!).  But certainly, when I was growing up in the Eighties, comics and toys had a similarly symbiotic relationship—perhaps, even stronger than it is now.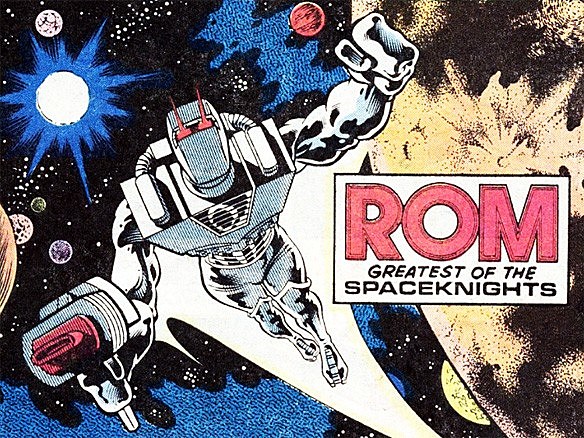 One thing to keep in mind when talking about 80s toys is that often, the toys—or a cartoon—came first, and then a comics publisher licensed the rights to put out a book based on the property. This was the case with ROM
, for instance. The Spaceknight toys were created for Parker Brothers/Hasbro. These electronic toys were a step out of Parker Brothers' comfort zone—when we think of Parker Brothers, we think of board games—but turned into a property that's lasted into the current day. The original ROM comics were created by Bill Mantlo—creator of Rocket Raccoon, among other accomplishments—and drawn by Sal Buscema. There was some crossover between the ROM comics and mainstream Marvel continuity; the Dire Wraiths, significant foes of the Spaceknights, featured prominently in at least one 1980s X-Men storyline. Today, the rights to ROM specifically belong to IDW Publishing (licensing is a tricky thing, and I'm no lawyer!), but Spaceknights have been referenced as recently as Gerry Duggan's Cable #1, where the son of Cyclops finds a Spaceknight's sword. 
The Micronauts
were small, highly-articulated figures from Japanese company Takara, which were in production from 1974 to 1980. In 1976 they were licensed to American manufacturer Mego. Marvel started publishing Micronauts comics in 1979, written primarily by Bill Mantlo, an arrangement that outlasted the production of the toys by a significant amount. It wasn't until 1984 that they crossed over with the X-Men in a four-issue limited series
, helmed by noted X-scribe Chris Claremont and Mantlo. The Marvel line of Micronauts comics lasted until 1986, with subsequent resurrections by Image in 2002 and IDW in 2015. 
Of course, no discussion of 80s toys would be complete without mentioning Transformers
or GI Joe
. You might have made it all the way through the 80s and 90s without touching a Micronaut or a Spaceknight, but the robot and soldier heroes are irrevocably etched in the minds of any child of a certain age. The Transformers were a joint effort by Takara and Hasbro, and have lasted well into the modern era—the most notable symptom of this being the Michael Bay movies. But like any successful franchise, Transformers have inspired a number of comic book lines. Jim Shooter, editor-in-chief of Marvel Comics in the 1980s, along with Dennis O'Neil, got in on the ground floor, being hired by Hasbro to craft storylines for the action figure line from the start. Bob Budiansky (of Sleepwalker and Ghost Rider fame) wrote much of the original run of comics, and created many Transformers. The line inspired cartoons, animated and live action-movies and, as you can imagine, subsequent lines of licensed comics from other publishers. 
Support For Comic Book Herald:
Comic Book Herald is reader-supported. When you buy through links on our site, we may earn a qualifying affiliate commission.
Comic Book Herald's reading orders and guides are also made possible by reader support on Patreon, and generous reader donations.
Any size contribution will help keep CBH alive and full of new comics guides and content. Support CBH on Patreon for exclusive rewards, or Donate here! Thank you for reading!
GI Joe was initially conceived of in the 1960s and is the inspiration for the term action figure. Like many other properties, it, too, had its comic book heyday in the 80s and 90s. The property, in its most popular forms, showcased the constant struggle of highly trained "Real American Heroes," against the forces of the terrorist organization, COBRA. The first Marvel run lasted twelve years and 155 issues, from 1982 to 1994. What's notable about this run for folks who aren't already GI Joe fans is that much of the run was written by Larry Hama (who ended up having a lengthy run on Wolverine), and early issues were drawn by Herb Trimpe (who drew Wolverine's first appearance in Hulk #181). The key to the longevity of the line was the symbiotic relationship between the toy line, the comic, and not one, but two, cartoon series. The comic wasn't cancelled until well after the associated series of toys and television show were, and even that was due to declining sales.
Rounding out our discussion are Team America and Crystar
. Team America was created by Ideal Toys to take the place of their line of Evel Knievel toys when the real-life daredevil pulled six months in jail for battery. The toys were released in 1980-81 and the heroes, motorcycle-riding mutant stuntmen with no powers of their own but with the genetic gift of manifesting a single, black-clad rider called the Marauder when they joined together, debuted in Captain America #269
in 1982. This was followed by a twelve-issue run of their own title—and of course, being mutants, they eventually appeared in an X-Men storyline, that being New Mutants #5-7
. Crystar was a 1983 eleven-issue limited series from Marvel, associated with a toy line released in 1982. It is unique among the properties discussed here in that Marvel designed the characters and toys (with licensing in mind), which were then released by Remco before the publication of the comic books. 
Though some of these toy lines and comics were short-lived—in fact, a three-year run was considered lengthy for a toy-related comics run—some of the properties have survived into today, though not necessarily with Marvel. ROM, Transformers, Micronauts and GI Joe have all gotten new leases on life over the years, with the various characters being licensed most notably by Devil's Due Publishing and IDW Publishing. Movies based on Rom and Micronauts have been discussed at various times, and of course those based on GI Joe and Transformers have already been released, to varying degrees of fanfare. 
In any format—paper, plastic, or film—it's safe to say that while some interpretations are pure nostalgia and others are pure cringe, all of them are indelibly etched in the annals of pop culture, and the Marvel Universe in particular.