In Cable #1 Gerry Duggan and Phil Noto reunite for only the second solo character ongoing in Marvel's Krakoa era of X-Men, with the wildly controversial Teen Cable! It's a fantastic, unexpected first issue to discuss.
Today I'll answer:
+ Who is Cable and what's his history?
+ Will we survive Teen Cable?
+ How is Cable setting the stage for the X of Swords crossover?
Podcast: Play in new window | Download
Spoilers for discussed comics may follow!
Support For Comic Book Herald:
Comic Book Herald is reader-supported. When you buy through links on our site, we may earn a qualifying affiliate commission.
Comic Book Herald's reading orders and guides are also made possible by reader support on Patreon, and generous reader donations.
Any size contribution will help keep CBH alive and full of new comics guides and content. Support CBH on Patreon for exclusive rewards, or Donate here! Thank you for reading!
Cable #1 opens with a day in the life of Teen Cable, beginning with Nate and Wolverine facing off in the Krakoa arena known as the Quarry, just for kicks. It's a nice intro displaying Teen Cable's lust for life, his familial relationship with Wolvy, and perhaps most importantly, Phil Noto's incredible interior art, which is some of my favorite in all of the Dawn of X to date. Just look at the glowing red interpretation of Silver Samurai – so cool!
We've seen two versions of Cable so far in the Dawn of X, one in Fallen Angels and one in X-Men. In Fallen Angels, we get "sad boy" teen Nate Summers, running missions with Psylocke just to feel something, listening to a lot of Sunny Day Real Estate, and possibly developing a romance with Laura Kinney that I'm actually pretty curious if we'll ever see again.
Given Fallen Angels already completely ignored status in the Dawn of X, this can all more or less be completely ignored, but you and I both know it happened!
Meanwhile, in the Hickman written and Leinil Francis Yu penciled X-Men #2, we get "Meatball Cable," making bonehead decisions about live grenades and jokes to himself about time-travel. Admittedly, I prefer this version by approximately 12 million percent because 1) It's just a lot more fun to read but also 2) Teen Cable should behave differently than grizzled war veteran Cable.
Fortunately, Gerry Duggan is taking all of his inspiration from this interpretation as well.
For his part, Duggan and Noto quickly send Cable on a monster hunt to Arakko, where little toddler mutant Fauna has gone missing. It's both a fun adventure that ties back to Cable's trip with Poppa Summers and Sister Rachel in X-Men #2, and builds towards insanely exciting developments that connect to everything from the upcoming Ten of Swords crossover to the entire Marvel Cosmic landscape.
Before I get to all that action, though, let's take a moment to level-set: Who is Cable
For the most part, Cable is known as a militaristic survivor from a future timeline ruled by Apocalypse, all enormous guns, telepathic powers, and metal robot arm. He's a time-traveler and a present-day X-Men player, with roles across New Mutants, founding the original X-Force, and joining everyone from the X-Men to the Uncanny Avengers. If you know anything about Nathan Summers, it's that he's a timey-wimey embodiment of 90's Marvel with a grim outlook and plays a great straight man.
Of course, as his last name implies, Nate is a Summers, the son of Scott Summers and (well technically) Madylene Pryor, and his childhood is real messed up! During 1991's X-Factor #68, Apocalypse infects baby Nathan with a technorganic virus, and in order to save his life and defeat Apocalypse, Jean and Scott have to agree to let Sister Askani take baby Nathan into the distant future where the virus can be kept at bay.
Both Apocalypse and Mister Sinister take a deeply invested interest in baby Nathan, with Sinister of course obsessing over the potential of the Summers and Grey (well, Pryor) bloodline. Indeed, as Sinister's all too happy to remind Cable, he is more or less responsible for Nathan's existence, since Sinister schemes and machinations are so heavily integrated into the lives of Scott Summers and of course Madylene Pryor.
Once he's back from the future, Cable quickly takes to leading teams like the New Mutants and more famously, X-Force.
In the pre House of X Extermination event, familiar Cable is assassinated by Teenage Cable, who blames OG Cable for letting Hank McCoy pull the original teen X-Men from their past to present day Marvel, wreaking all kinds of damage on the timestream (and still not preventing teen Cable's hellish future). Teen Cable views his actions a necessary correction for an OG Cable that wasn't fulfilling his duty of protecting the timestream.
Does any of this make sense? I have no idea. Nonetheless, we're good and stuck with Teen Cable.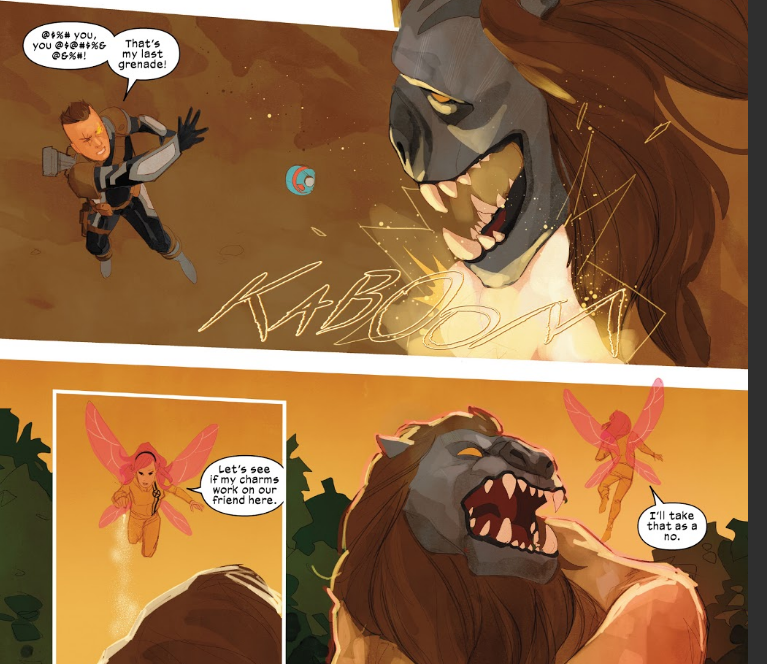 Back in Cable #1, in the course of defending little Fauna from the Arrako monster – with aid from Pixie and Armor – Cable uncovers a giant sword in the beasts foot setting it off and causing its rage.
With the upcoming summer X crossover titled Ten of Swords, this is clearly a Big Deal, and apart from some choicely worded Betsy Braddock dialogue in Excalibur the first very clear set-up for the event.
Even cooler, this isn't just any sword, but as Cable's psychic flashback tells him, it's the former sword of a Galadorian Spaceknight known as Morn! The sword is known as the Light of Galador, and was apparently lost when Morn arrived on Arakko and found himself blindsided by demonic prey.
This connection instantly gives Cable unexpected ties to the Marvel cosmic landscape, and appropriately for the character, ties deep back into the Marvel Universe's past, as the sword has possibly been lost since what Morn describes as "primordial earth."
The discovery of the Light of Galador wakes up Spaceknight armor on display in the Bachgigian Museum of Lost Civilizations (which is a damn fine idea), meaning we are now destined for a Cable vs Spaceknights showdown.
While I won't get too in the weeds on this, the most famous Galadorian is Rom the Spaceknight, who due to toy licensing issues, is now published by IDW (although Rom was a part of the Marvel Universe from 1979 – 1986). The spaceknights remain a part of Marvel, though, and can be found semi-recently in the likes of Annihilation and Annihilators as part of the Dan Abnett / Andy Lanning Marvel cosmic universe.
The final big reveal is that Old Man Cable is going to be a part of this series, so if you need substantially more grizzle in your cereal, Cable will deliver. Old Man Nate is seen bustin' monsters in a hellish landscape, and details in a data page Diary the possible development of a new demonic Inferno on Earth, which of course we've seen teased since we back in Powers of X and "Sinister Secrets."
Rapid Fire Predictions:
+ This issue confirms Cable as one of the 10 core mutants with swords in Ten of Swords. It also has me doubling down on my initial theory that X of Swords will be heavily focused on Apocalypse saving his first horsemen from Arakko!!!
+ I'm willing to bet cold hard cash Old Man Cable is trapped in the realm of Limbo
+ Cable's going to rock Spaceknight armor in X of Swords and it's going to be glorious!
Outstanding questions –
Moira's afraid of precogs – what about time travelers? How does that work on Krakoa?
Is Stryfe welcome on Krakoa?
What's this Cable's reaction to Apocalypse and his status on Krakoa? He's spent his whole life fighting an Apocalypse regime.
——————————————————————————————————-
Music for Best Comics Ever by Anthony Weis. Check out more music at anthonyweis.com.
To learn how you can support Best Comics Ever and receive more exclusive content from Comic Book Herald, check out the Patreon: https://www.patreon.com/comicbookherald
For the Comic Book Herald reading club through every year of Marvel Comics, check out mymarvelousyear.com