God Loves, Man Kills is a well that's hard to return to. This doesn't stop it from happening, however.
The most successful of these returns, 2003's X2: X-Men United
, wasn't even a comic book but a movie.
Even it took liberties with the material, but this is to be expected.
Certainly, posing William Stryker as a military general with ties to Lady Deathstrike and the Weapon X project that created Wolverine streamlines the X-Men mythos for viewing audiences, and plays better on the big screen than would a more closely adapted reverend-and-goons combo. The film, while inexplicably outperformed profit-wise by X3: The Last Stand, did manage to outshine the first film and the Wolverine: Origins movie at the box office, and is generally considered to be the best of the four "original cast era" films.
Ironically enough, the Fox film inspired another attempt at catching lightning in a bottle. This was an
arc of X-Treme X-Men entitled "God Loves, Man Kills Pt.2." It did at least feature writing by the original
volume's author, the legendary Chris Claremont—and it was released in 2003, to coincide with X2. How
good or bad of a read it is depends on whom you ask, but nothing could beat the original graphic novel,
as one might imagine.
To start things off, Claremont connects Deathstrike to Stryker, just like in the movie. Stryker had ONE appearance before 2003, and it's the one we're mainly discussing in this article! The woman who would become Lady Deathstrike appeared one year later, in 1983—in Daredevil, strangely enough—but with no connection to the good reverend, until Claremont retconned his involvement with the Oyama family prior to GLMK. More importantly, God Loves, Man Kills was never really intended as canon, and this arguably ill-advised sequel made it such.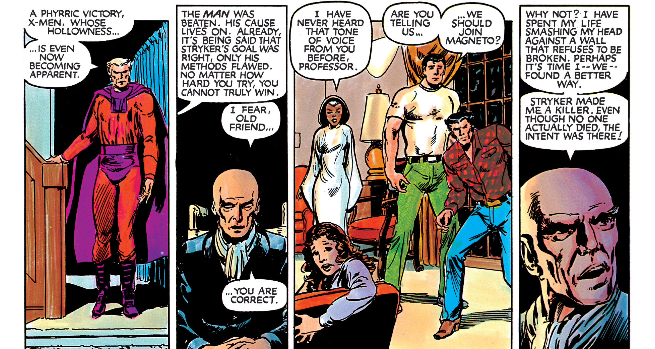 Similarly, the extended version of God Loves, Man Kills
Support For Comic Book Herald:
Comic Book Herald is reader-supported. When you buy through links on our site, we may earn a qualifying affiliate commission.
Comic Book Herald's reading orders and guides are also made possible by reader support on Patreon, and generous reader donations.
Any size contribution will help keep CBH alive and full of new comics guides and content. Support CBH on Patreon for exclusive rewards, or Donate here! Thank you for reading!
released in July and August of 2020 is a trip
to a depleted mine. Salvador Larroca and Phil Noto's covers are great; Larroca was an especially good
choice as a former collaborator with Claremont on X-Treme. Brent Anderson still has the touch in the
framing sequences, for sure. And Chris Claremont on a bad day is still a decent read most of the time.
It's just that nothing needed to be added to GLMK, and there are no possible improvements to be made.
The original work is frequently lauded as something you can hand to new readers and say, "This is the X-
Men." It exists in a vacuum. It pretty much has to happen before Scott leaves the X-Men (again) and
meets Madelyne Pryor in Alaska (Uncanny X-Men #168) but that's not quite confirmed.
The framing segments require an additional comic in order for the reader to have some sort of
reference: Magneto: Black
, also written by Claremont. The Magneto one-shot introduces the girl Kate whom Kitty speaks with in the framing sequences, as well as the Warden who makes an appearance at the end of the Extended Cut's second issue.
Without that, readers could be a bit confused, and it's not a safe bet most readers would have read it—or that the events depicted in it or the added pages of GLMK will be relevant in the future. The new framing segments had to have been written before House and Powers of X in order for Anderson to have time to paint all those lovely pages, and whatever else can be said of the Hickman-helmed X-Men relaunch, it's unarguably been a wiping of the slate in many respects.
Having said that, I'd still give the Extended Cut to a new reader, just as X-Men fans have been doing
with reprints of the original graphic novel for nearly forty years. It's certainly as relevant as it ever was,
with conservative politics, fundamental religion and racial prejudice in the news every day. The
Extended Cut takes nothing away from the original story, for sure—not even the arguably-misguided
racial slur Kitty uses near the beginning of the story. There are two great covers instead of one. If you do
happen to have read Magneto: Black, you'll grok what's going on immediately. And as a Claremont (or
Anderson!) fan, it's never bad to see them doing their thing again. For sure, if you want to introduce a
friend to the X-Men, it's worth supporting your LCS and picking them up a copy.