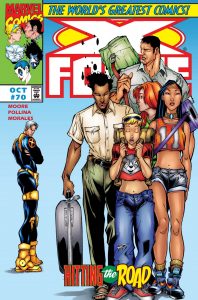 Often referred to as "the road trip era" of X-Force, X-Force: Zero Tolerance recollects the team's relatively minor role in the Zero Tolerance conflict. Perhaps more importantly, it also rounds up the period during which its members quit the team and rode off on a doomed road trip where they made questionable romantic decisions, hitchhiked with the literal Scooby Gang, and got attacked by Selene at Burning Man. All very regular things that many of us do in our twenties when we're trying to figure stuff out.
For better or worse, X-Force was one of the X-Books that defined the '90s, and not just within Marvel. Characters like Cable were at the forefront of mainstream comics, but as the decade wore on, interest (and sales) waned. Writer John Francis Moore spent over thirty issues working on X-Force, and characters that generally didn't get a lot of attention underwent a great deal of growth during his run. The changes they experienced were many, not the least of which was saying goodbye to Cable and figuring out how to be heroes on their own terms. Market fatigue was certainly a major factor for late '90s X-Books, but though sales nearly halved during this run, it holds up surprisingly well today.
Collects: X-Force #67-84 and #-1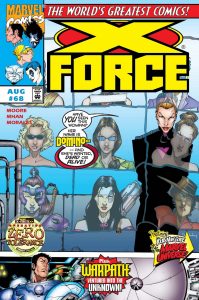 Zero Tolerance
The Zero Tolerance story arc had a major effect on X-Force even if their role in the crossover didn't have much relevance to the overall story. "Zero Tolerance" was a government agenda created by the mysterious Bastion, a combination of Master Mold and Nimrod, whose goal was the destruction of all mutants. The story is generally remembered as the rambling follow-up to the also-rambling Onslaught crossover, but as with Onslaught, there are a few key moments that are so cool that they almost redeem the excruciating build-up.
This story begins with a stand-off at the Wakeman Research Center in Missouri. We see that the radical Mutant Liberation Front have lost any semblance of order with the chaotic Wildside now in command. They boldly walk into a trap set by Bastion's men and enter a deadly hostage situation without a B Plan, or even an A Plan, it seems. After Wildside violently lashes out at his teammate Locus for no reason whatsoever, she teleports away, leaving them stranded.
Support For Comic Book Herald:
Comic Book Herald is reader-supported. When you buy through links on our site, we may earn a qualifying affiliate commission.
Comic Book Herald's reading orders and guides are also made possible by reader support on Patreon, and generous reader donations.
Any size contribution will help keep CBH alive and full of new comics guides and content. Support CBH on Patreon for exclusive rewards, or Donate here! Thank you for reading!
One of the very first things this run accomplishes is the return of Dani Moonstar, who had been largely absent from the X-Books outside of her role as a member of the M.L.F. for many years. Here, we see that she's been working undercover for S.H.I.E.L.D., and in true Dani Moonstar fashion, she flies immediately into damage control mode. As the hostilities rise between the M.L.F. and the Prime Sentinels (Bastion's lackeys), Dani attempts to mediate between Wildside, his hyper-violent girlfriend Dragoness, and the rest of the world.
Meanwhile, some of X-Force waits outside, hiding in a news van. The whole operation ends with many explosions, and with Domino, Meldown, Rictor, and Shatterstar captured by the Prime Sentinels. M.L.F. teammate Forearm is disappointed in Dani for lying to him, and he strikes out on his own, while Dani decides to join back up with X-Force. Her friends are M.I.A., and the first thing on the agenda is to go find them.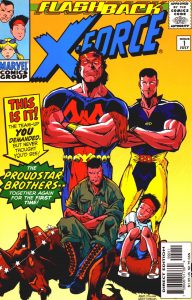 Say "Goodbye"
After the hostage situation at the Wakeman Research Center, with anti-mutant hysteria at an all-time high, the Xavier Institute is compromised. Realizing that they can't go back home and deeply worried about the missing members of X-Force, Sunspot, Dani Moonstar, and Siryn track down their friends with the help of S.H.I.E.L.D. First they recover Meltdown, Rictor, and Shatterstar, and then they find Domino, her head shaved, scar tissue on the back of her head, uncertain of what has happened to her.
While all this has been going on, James Proudstar spends his summer vacation traveling through an interdimensional vortex, led by his childhood pet, a cat named Coyote. He discovers minor X-Men villain the Vanisher entertaining a group of adorable cartoons that quickly turn on James until he starts telling them a story. There is a journey into his past with issue #-1, which shows him and his long-deceased brother John bonding over their shared secrets well before they knew of their mutant status.
When Domino and the others finally return to the Xavier Institute, Caliban has gone, wandering off with Apocalypse lackey Ozymandias despite being under Cable's watch at the time. Apparently under some form of mental manipulation, Cable does not acknowledge his absence, and when questioned, simply states that he is safe. Domino comes to tell Cable that she's leaving the team due to feeling shaky and unsure of herself after the apparent experiments that were done on her. He demands that X-Force take on new secret identities to stay safe, and they unanimously refuse, choosing instead to embrace their identities regardless of where that leads. With no fanfare whatsoever, Cable shrugs and leaves the team.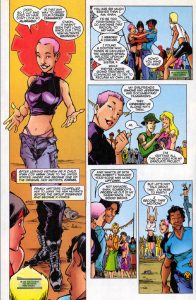 Did You Say X-Force Goes to Burning Man?
X-Force definitely goes to Burning Man! But first, their car breaks down, they catch a ride with Shaggy and Velma, Roberto's credit cards are all suddenly declined, and they become bodyguards for a highly questionable guy named Richie, which allows them to sport matching pinstripe suits for exactly one issue. Meanwhile, Proudstar and Siryn go on a mission that unravels the longstanding mystery of the massacre that saw James's tribe killed (it was Stryfe), and Proudstar dies (temporarily).
So, at Burning Man, this group of scrappy twenty-somethings run into their old friend Xi'an, who is now very much a lesbian. It would take a few years for Karma to come out officially, but this was the first subtext-that-becomes-text confirmation of her queerness as the gang sees her casually hanging out with "girlfriends." Love is in the air, because Meltdown and Sunspot become romantically intertwined just as Meltdown's boyfriend Sam Guthrie takes leave from the X-Men to come visit. This turns into a whole thing, of course. Also, Selene is there. Not much comes of that, but she is there, and that's what matters. This story ends with not one character throwing up after eating too many hallucinogens, however, which leaves one to wonder what was even the point of going.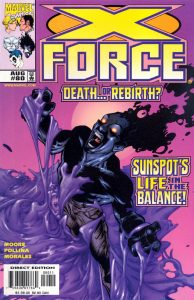 Reignfire X-Plained (Kind Of)
The road trip draws to a fairly anticlimactic end, and the X-Force kids still don't have a great plan for what to do next, so they go to hang out with former New Mutant Skids, whose longtime boyfriend Rusty recently perished in an attack on Asteroid M. Skids is clearly traumatized and trying to break away from the X-Life, but she gets pulled right back in, naturally, by sheer proximity. The villain Reignfire returns to kidnap Sunspot, which may confuse readers because he was up to this point believed to be Sunspot Gone Bad. Here, he ties Roberto to a wall and forces him to listen to his actual origin story, which is that he was a protoplasmic blob that the Eternal Gideon injected with Roberto's DNA. That sounds a lot more romantic than it is. Thankfully, we haven't seen much of Reignfire since.
This run is a little bit zany, and things go off in wildly different directions only to never be fully resolved, but Moore did bring the long-ignored Moonstar and Sunspot back to the fold while exploring the team's dynamics in a new way. Taking a step away from their lives as paramilitary soldiers recruited into a war they never made, we actually get to see what makes these characters tick, and why they make such a great team. These adventures are impossibly strange, but they have a detached, youthful feel that makes them highly entertaining to revisit. Moving away from the X-Treme militaristic feel these characters had under Cable's tutelage was long overdue, and if anything, this is one of the few times when the team felt the most in tune with its New Mutants roots. Resolving Reignfire, returning Dani Moonstar to her team, and ending the mystery that haunted Proudstar since the first issue of the book, Moore's work on X-Force came as a breath of fresh air in what was, at the time, an increasingly stagnant X-Line.