This is it. The be all, end all, last issue of the WOLVERINE title. Going back to 1988 with WOLVERINE number 1, or even farther to the Frank Miller/Chris Claremont mini series from 1982, it has been quite the rollercoaster adventure, chronicling Wolverine's life. It all comes down to this, a double sized issue that is now the bookend to a long and illustrious comic book series.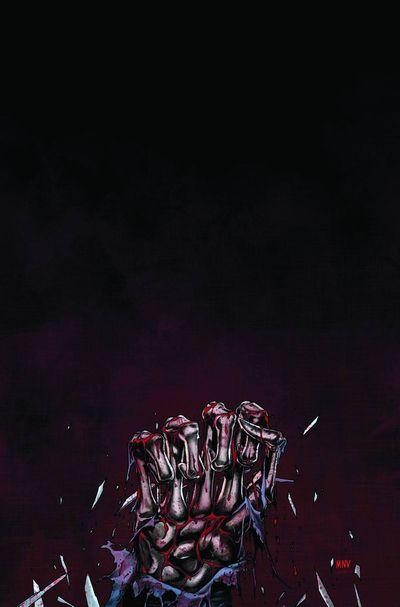 The cover is the final countdown image from Steve McNiven. We have watched as Wolverine's hand has had each of it's claws blown apart as the months go by. Now, with only '1 Month To Die', the claws are gone, and the flesh has been torn away, leaving just the metallic fist with some tatters of costume and shards of adamantium. Beautiful, and stoic, a fitting end cover for the series.
We last left Wolverine in a mall, trying desperately to stop Sabertooth from rewriting reality, and also save a young girl. His new teammates have their own problems, as they are trying to escape from clones of themselves. S.H.I.E.L.D. is also there, along with Thor, and they are trying to provide some support outside by taking out Sabertooth's defenses. This final story has left me, and other readers, wanting a little. It has been clunky, and seems to really want to hammer home the idea that Wolverine is not only mortal, but is facing down his death at every turn. That kind of writing can get heavy handed, and Paul Cornell does his best to reign it in. The storytelling in this issue gets help from it being the last, and also the fact there has to be paydays for a lot of the plot points that have been portrayed.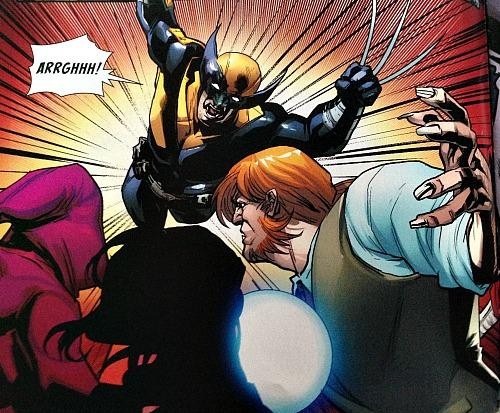 Pete Woods and David Curiel continue to do a great job with their character designs, and really bring the action to a head. I will not use this review as a spoiler parade, but there is a great  fight sequence between Wolverine and Sabertooth (obviously), and it really jumps off the page. The story wraps itself up in a couple of nice ways, and then there is an epilogue of sorts a week later. As much as I was happy to read the recent WOLVERINE Annual 1 with Jubilee, this issue culminates with a conversation between Wolverine and Kitty Pryde, who is just as important, if not more so, to Logan's life. It is a fitting end to the story, and the series, and the last line warmed my heart. (Again, no spoilers!)
Then, there are two extra stories that accompany this issue. The first, titled 'That Which Didn't Happen' tells of what might have happened if Wolverine hadn't made the decision he made waaay back in the fifth volume of this series. Long and short of it, a microscopic sentient virus had taken Wolverine's healing factor. After he defeated the virus, it gave him the choice to let the virus live, and his healing factor would be restored. Wolverine opted to kill it completely, and that is why to this day he still has no healing factor. (Also, he has stupid claws that come from gauntlets on his wrist armor. Ugh). This little side story deals with what would have happened if Wolverine had taken the offer from the virus. Kind of like a small WHAT IF storyline.
Support For Comic Book Herald:
Comic Book Herald is reader-supported. When you buy through links on our site, we may earn a qualifying affiliate commission.
Comic Book Herald's reading orders and guides are also made possible by reader support on Patreon, and generous reader donations.
Any size contribution will help keep CBH alive and full of new comics guides and content. Support CBH on Patreon for exclusive rewards, or Donate here! Thank you for reading!
The second story deals with the bar, Guernica, which became kind of a superhero hangout. It is a fun little look into a more human, man-on-the-street perspective of the superhero world. How heroes, and villains, started coming into the bar, and how it was both good and bad for business. Wolverine is in that story as well, again as a side note character. But it is a lighthearted look at a 'real' place that pops up in the comics from time to time.
The "Best There Is":
The final scene with Kitty is very poignant, considering that we as readers know Wolverine will be dying next month. It is handled really well, and for fans of both characters, it gives closure to their relationship. I will be curious to see reactions from Kitty, and Jubilee, and other people who are close to Logan, once he is finally gone.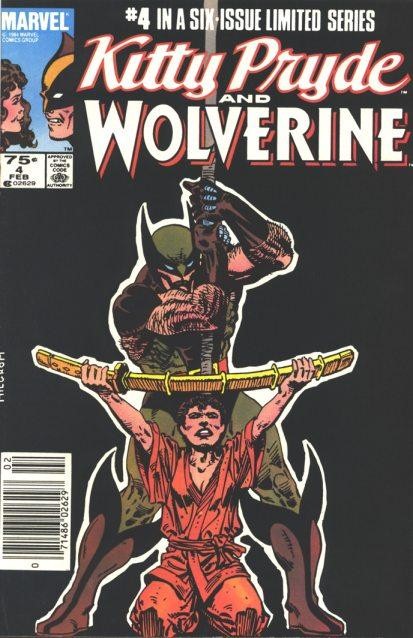 The "Isn't Very Nice":
This is the very last issue of WOLVERINE. Through all the ups and downs of the series, it is a sad day for fans of his everywhere. Once the DEATH OF WOLVERINE mini series is over, it will be very sad to go to my pull list month after month, with no Wolverine title in it.
CBH Score: 5 out of 5. The last stars this line can get. Until they bring him back from the dead……………