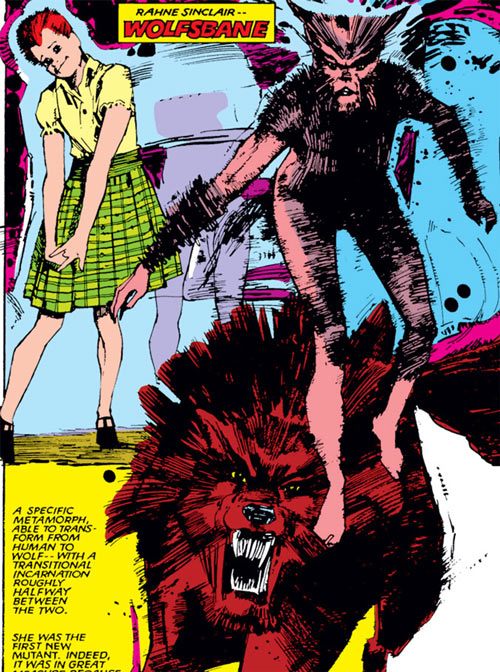 Inside of you, there are two wolves. One loves Rahne Sinclair, and the other has always wanted to learn more about her comics history. This guide is meant for these two wolves and for anyone else who seeks to know more about everyone's favorite hairy mutant whose name starts with a W.
Throughout her Marvel Comics history, Rahne has jumped from mutant team to mutant team, from the New Mutants to X-Factor, Excalibur, X-Force, and the X-Men themselves. Though often relegated to a side character in those teams, far from the center of major stories, Rahne is something of a fan-favorite (particularly in those early issues of Chris Claremont's The New Mutants.) Whether you read her introduction in the Claremont Era or you discovered her in the new Krakoa era of X-Men, or anywhere in-between, this guide will help you track her journey through the Marvel Universe from 1982 to 2021.
So switch to your wolf form, howl at the moon, and let's talk about mutantdom's resident Scottish werewolf!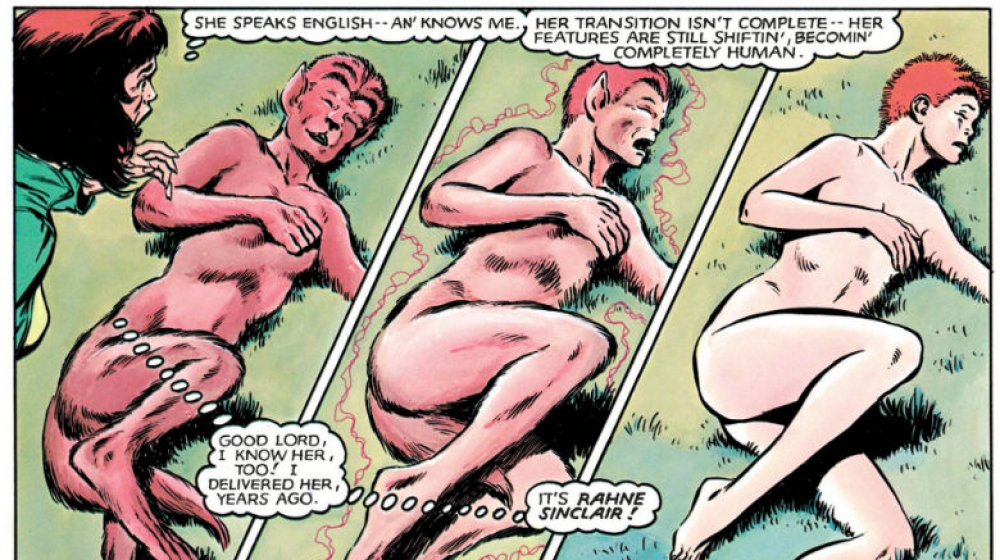 A Wolf in Mutant's Clothing: Growing up with the New Mutants
X-Men: New Mutants Classic, Vol. 1
Collects: Marvel Graphic Novel #4, New Mutants #1-7, Uncanny X-Men #167
Support For Comic Book Herald:
Comic Book Herald is reader-supported. When you buy through links on our site, we may earn a qualifying affiliate commission.
Comic Book Herald's reading orders and guides are also made possible by reader support on Patreon, and generous reader donations.
Any size contribution will help keep CBH alive and full of new comics guides and content. Support CBH on Patreon for exclusive rewards, or Donate here! Thank you for reading!
Rahne's story begins in the pages of the 1982 graphic novel The New Mutants, by Chris Claremont and Bob McLeod. When the X-Men seem to have died in space (as they often do), Professor X and Moira MacTaggert form a brand-new class of 5 teenage mutants from around the world. The first is 14-year-old Rahne Sinclair, who is introduced running away from an angry mob led by the abusive pastor who raised her, Reverend Craig. She is found by Moira, who protects her and ends up adopting her as her foster daughter. From the start, writer Chris Claremont establishes the traits that will define Rahne for the entirety of The New Mutants: her traumatizing religious upbringing and the self-loathing about being a mutant that resulted from it. She is shy and insecure, ashamed of her appearance, and convinced that mutant powers in general—and especially in the cases of Magik, Nightcrawler, and her own—come from the Devil himself.
X-Men: New Mutants Classic, Vol. 2
Collects: New Mutants #8-17
In barely ten issues, the team goes from a lost Roman city in Amazonia to the dimension of Limbo and Emma Frost's Massachusetts Academy. And while this new life of adventuring allows Rahne to finally be surrounded by people who love and care for her (especially Dani Moonstar, with whom she forms an empathic link), living with other mutants only makes her self-loathing stronger. This becomes especially true once Magik joins the team; living and fight side-by-side with a sorceress from a demonic dimension goes against everything Rahne learned from Rev. Craig. In her mind, just being on the same team as Magik means that she too is a child of the Devil. This leads to a heart-to-heart with Cannonball, who, although a Christian himself, was never taught the same stigma.
X-Men: New Mutants Classic, Vol. 3
Collects: New Mutants #18-25 And New Mutants Annual #1
Left alone without the supervision of Professor X and the X-Men (who have disappeared once again because of the events of Secret Wars), the New Mutants enter the storyline that will completely redefine the title: the "Demon Bear Saga." As the book descends into horror territory, Rahne's transformation reflects that change in tone. New series artist Bill Sienkiewicz draws her bestial hybrid form with a wild, almost demonic stare. Whether it's because of the Bear's influence or just a result of her frequent transformations, she also starts feeling a lot more bloodthirsty in her wolf form.
When Warlock joins the team, Rahne is the only one who immediately defends him and wants to save him, whereas the others are at first ready to let him die. Later, she is possessed by Dagger's powers, which cause Rahne to temporarily become her feminine physical ideal she wishes she could be, tall, with long flowing hair, and living in a luxury hotel.
X-Men: New Mutants Classic, Vol. 4
Collects: New Mutants #26-34
Rahne has to face Reverend Craig again when the team goes to Moira's Muir Island Research Center to help Professor X's son, Legion. And fight the Xavier family enemy, the Shadow King. After this, Loki transports the entire team to Asgard as part of some scheme. While there, Rahne meets an immortal Wolf Prince with the same powers as hers, and they apparently fall in love… which, let's not be (Hank Mc)coy, must have been a furry awakening for some readers.
The team comes back to Earth to find that Magneto is now their headmaster (per Professor X's request), but Rahne and the others barely have time to deal with that change before being thrown into the absolute mess that is 1985's Secret Wars II. In this event, the Beyonder comes to the X-Mansion, slaughters everyone he finds, only to resurrect them in the main event as brainwashed drones. Helpless against all that, Magneto sends the New Mutants to the Massachusetts Academy in the hope that Emma Frost might be able to help them with their brain problems, causing Sinclair and the gang to temporarily become part of the Hellions.
The number of successive life-changing events in this short period, as well as Claremont's focus on Magneto as a character, makes it hard for Rahne to have a lot of moments centered around her specifically, but all these events deeply impact the entire team.
X-Men: New Mutants Classic, Vol. 5
Collects: New Mutants Special Edition, Uncanny X-Men Annual #9, New Mutants #35-40
X-Men: New Mutants Classic, Vol. 6
Collects: New Mutants #41-47, New Mutants Annual #2, And Uncanny X-Men Annual #10
Rahne's visit to Moira and Muir Island is cut short when Legion is taken over by his Jack Wayne personality. Afterwhich she faces Reverend Craig once again. This time, he attacks Rahne through the memory of her mother, pushing Rahne beyond her catholic restraint (she suggests Legion burn the whole town to the ground for what Craig and his followers have done to her.) This same anger comes up later when she goes after some bullies responsible for the suicide of a young mutant, fully intending to get vengeance for his death.
During this time, Wolfsbane and the New Mutants also face Mojo, Warlock's father Magus, and the events of the "Mutant Massacre."
X-Men: New Mutants Classic, Vol. 7
Collects: New Mutants #48-54, Annual #3
Trying to escape from the Warlock's evil dad, Magus, the New Mutants are scattered throughout time. Rahne is sent with Bobby, Amara, and Xi'an to a future close to the "Days of Future Past" timeline. Here, adult versions of Sam and Dani, the latter of whom watched her version of Rahne die in her arms years before.
Claremont's run on the title ends with a gala at the Hellfire Club, where the New Mutants and Hellions settle a dispute with a contest between their teams, and Rahne spends time with Catseye, a Hellion with powers similar to hers.
X-Men: Fall of the Mutants – Volume 1
Collects: Uncanny X-Men #220-227, Incredible Hulk #340, New Mutants #55-61
Writer Louise Simonson begins her run on The New Mutants just before the "Fall of the Mutants" event. In her first few issues on the title, Rahne and Doug start crushing on each other, but Doug is killed during that aforementioned event. Not only is Rahne heartbroken, but she also feels extremely guilty, as Doug died taking a bullet that was meant for her.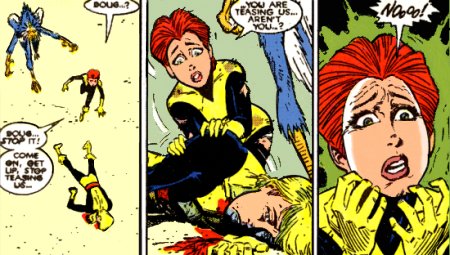 New Mutants Epic Collection: Curse of the Valkyries
Collects: X-Terminators #1-4, New Mutants #71-85
Issues #62–70 aren't collected anywhere, but the remainder of Simonson's run can be found in two Epic Collections, starting with Curse of the Valkyries and the "Inferno" event. The New Mutant's part in the event is mostly about Illyana's transformation, with Rahne pleading with her to come back to them. In the end, Rahne convinces Darchylde, one hell-touched shapeshifter to another, to save the true Illyana from Limbo. In the aftermath of the event, the team (which now includes the former X-Terminators Rictor, Boom-Boom, Rusty, and Skids) goes back to Asgard to try and save Dani (driven mad by Hela). Rahne is temporarily reunited with her Wolf Prince but loses Dani, who decides to stay on Asgard.
New Mutants Epic Collection: Cable
Collects: New Mutants #86-94, New Mutants Annual #5-6, New Mutants Summer Special #1, X-Men Annual #14.

With Rob Liefeld joining the title as series artist comes the introduction of Cable, who quickly becomes the new leader of the team. Moira orders Rahne to leave the team and join her on Muir Island, but Cable convinces her to leave her foster daughter in his custody. During this time, Rahne is also at the center of the graphic novel Wolverine: Rahne of Terra, in which she finds herself the princess of a fantasy world. In the end, Rahne leaves the New Mutants after the events of "X-Tinction Agenda," in which she is brainwashed by the Genegeneer, causing her to have to stay in her wolf form constantly to keep her mind intact. Thus, she becomes a lot more feral and angry, and she decides to stay back on Genosha with Havok to help the Genoshan mutates.
X-Men Milestones: X-Tinction Agenda
Collects: Uncanny X-Men #235-238 and 270-272, New Mutants #95-97, X-Factor #60-62
Teen Wolfsbane: The 90s from X-Factor to Excalibur
X-Factor Epic Collection: All-New, All-Different X-Factor
Collects: X-Factor #71-83, X-Factor Annual #7, Incredible Hulk #390-392
After the events of "The X-Tinction Agenda," Wolfsbane and Havok join the All-New X-Factor team, now a government organization created to replace Freedom Force. These events lead to a character redesign for Rahne, who is now constantly in her hybrid form. On the one hand, she now has sideburns, which looks great on her (did somebody say trans/intersex subtext?). On the other hand, the story also reveals that Rahne's feelings towards Havok result from her brainwashing, which forged a slave/master mental link between the two teammates.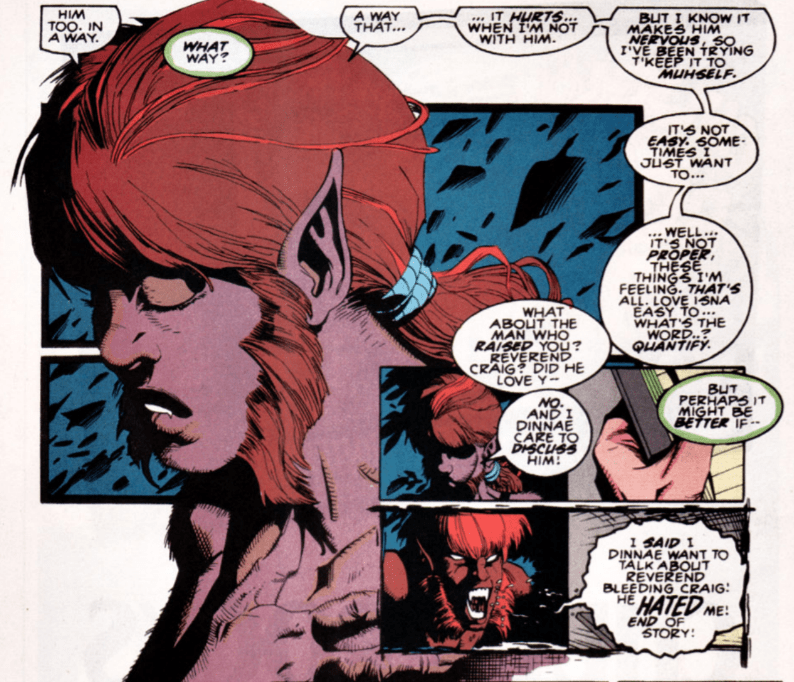 Overall, Rahne's time in X-Factor is about her life without her friends from the New Mutants. Ungrounded, angry, and helpless, she lashes out at a world she feels has taken her life and identity. During her search to find herself, Rahne finally decides to let Moira perform a dangerous operation to (unsuccessfully) put an end to her brainwashing. And while the operation fails, she does end up healed… by the supervillain Haven.
X-Factor Epic Collection: X-Aminations
Collects: X-Factor #84-100, X-Factor Annual #8
Issues #101 to #111 aren't collected, but some of Rahne's story in that time can be found in the pages of "The Phalanx Covenant," in which she reunites with Douglock, the reincarnated fusion of her former teammates Cypher and Warlock. In the same period is also published Wolverine: Knight of Terra, a sequel to Rahne of Terra.
Excalibur Visionaries: Warren Ellis Vol. 2
Collects: Excalibur #91-95, X-Man #12, Starjammers #1-4
Rahne's mother died in childbirth, leaving Moira MacTaggert to become the mutant's foster mother. When McTarggert contracts the Legacy Virus, the two characters are forced to reckon with the cruel irony and occasional hopefulness of life. While she technically joins the title in issue #90, you get everything you need to know by starting with #91 in the second volume of Ellis' run. However, it is hard for me to recommend anything written by Warren Ellis in light of recent events. I invite you to read the testimony of the women who have spoken out against him before deciding for yourself if you want to read these comics or not (sadly, there are no collected editions of issues #104 to #125, which were published after Ellis left the title).
While on Muir Island with Excalibur, Rahne's childhood repeats, this time in the form of a young mutant girl named Bridget Shane, who is being forced to suffer the same torments at the hands of  When she goes to confront Craig, she actually reveals that she knows him to be her biological father, and for the first time, she shows absolutely no sign of being afraid of him. Throughout the title, Rahne and Douglock develop a romance, and Rahne helps Moira in her research to find a cure for the Legacy virus.
Excalibur Visionaries: Warren Ellis Vol. 3
Collects: Excalibur #96-103, Pryde and Wisdom #1-3
After the end of Excalibur with Brian and Meggan's wedding in #125, Rahne temporarily goes back to the X-Mansion in X-Men Unlimited #21. After appearing in the last three issues of the 1999 Warlock mini-series, she can be found in the "Dream's End" crossover, in which her foster mother Moira seems to die. In the same event, Rahne loses her powers after being shot by Mystique with Forge's Neutralizer gun. The original New Mutants team is temporarily reunited in X-Men Unlimited #43, by Chris Claremont and Bill Sienkiewicz.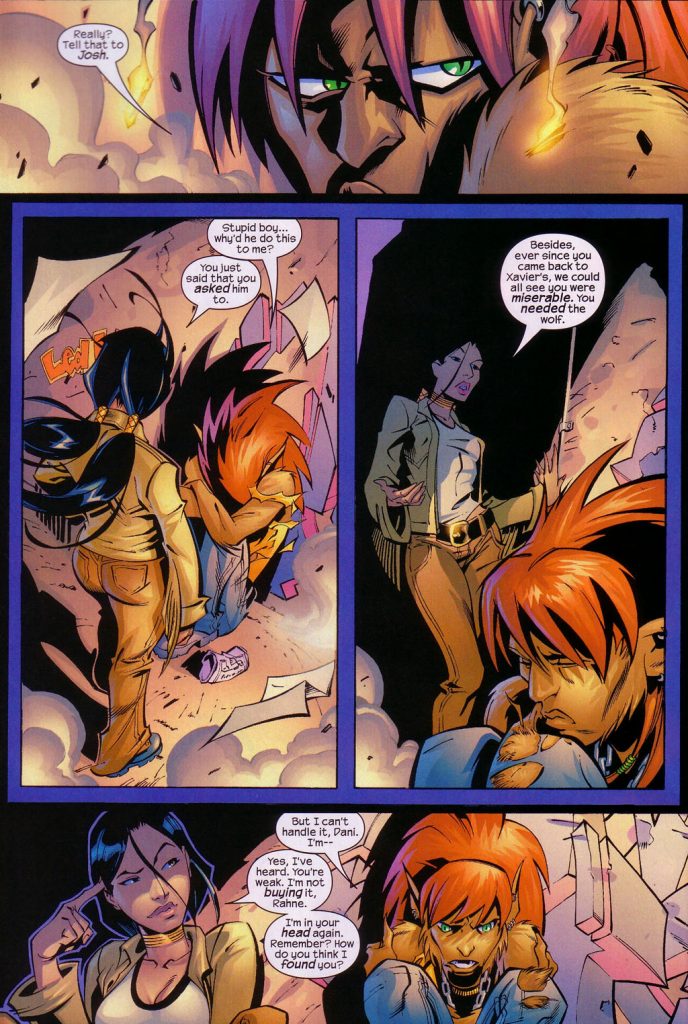 Back to the Pack: Return to the Xavier Institute in the early 2000s
New Mutants: Back To School – The Complete Collection
Collects: New Mutants #1-13
After living alone in the US since Moira's death, Rahne comes back to the Xavier Institute in New Mutants #9, where some of her former teammates (including Dani Moonstar) are now teachers. She gets her powers back thanks to a student named Elixir, but when the two of them kiss, she unintentionally transforms and injures him. Wolfsbane runs away, but Dani goes to reassure her, and their empathic link returns.
New X-Men: Academy X Vol. 1: Choosing Sides
Collects: New X-Men: Academy X #1-6
Rahne and Elixir are now secretly in a relationship, one she wants to break up because of their three year age difference… and she's about to become her boyfriend's teacher (a pretty good reason to break up; an even better reason to never have started dating in the first place). However, their affair doesn't truly end until after Cyclops and Emma Frost discover uncover their scandal, causing Rahne to resign from the school and lose her oldest friend Dani (Elixir's legal guardian at the time.)
Still, Rahne's time at the school has its brighter moments, such as the Madrox mini-series. Peter David's 5-issue story about Multiple Man's detective agency shows a new side of Rahne as she tries to help by accidentally kills someone while on an investigation…
X-Factor: Madrox – Multiple Choice
Collects: Madrox #1-5
New X-Men: Academy X Vol. 2: Haunted
Collects: New X-Men: Academy X #7-12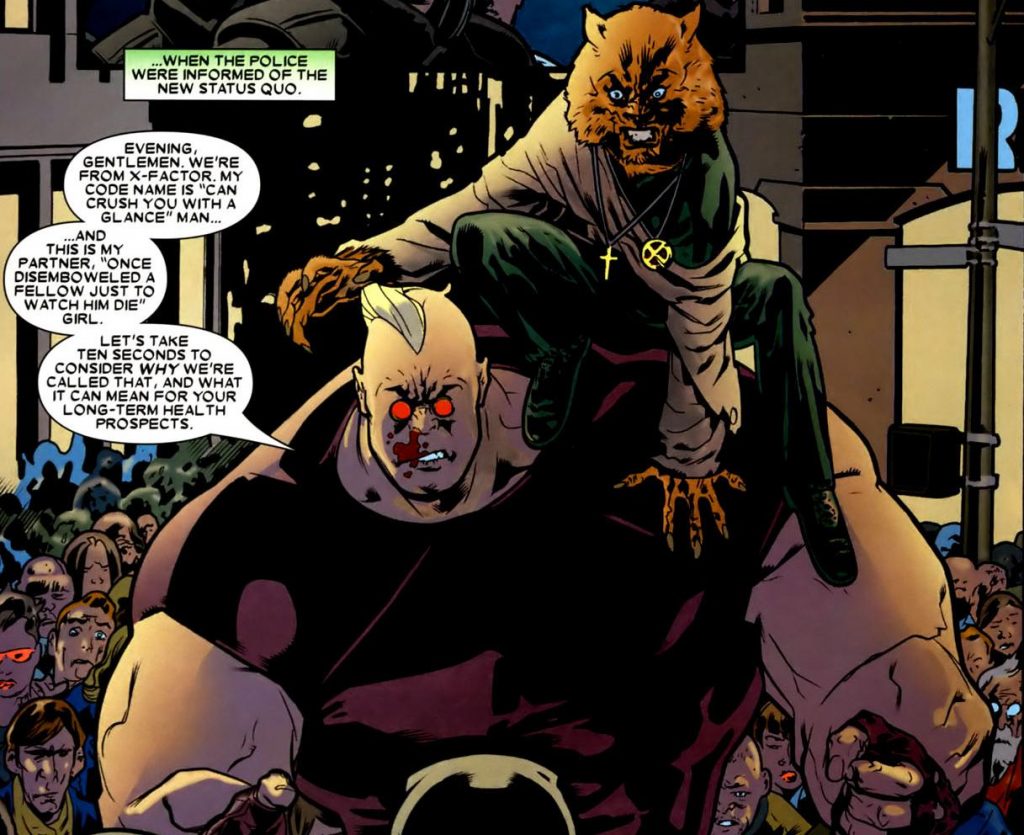 Raised by Wolves: X-Factor Investigations and X-Force
X-Factor Vol. 1: The Longest Night
Collects: X-Factor #1-6
Now working at Multiple Man's X-Factor Investigations, Rahne is often prone to anger and seems to spend a lot more time in her wolf form. She takes a stand with Strong Guy to protect Mutant Town (a mutant neighborhood of Manhattan) from the police. When fighting supervillain Tryp, she gets a vision of a future in which she murders Multiple Man and Butterfly on their wedding day. While on the team, Rahne also begins a short-lived relationship with former New Mutants teammate Rictor.
X-Factor Vol. 2: Life and Death Matters
Collects: X-Factor #7-12
X-Factor Vol. 3: Many Lives of Madrox
Collects: X-Factor #13-17
Collects: X-Factor #18-24
X-Men Milestones: Messiah Complex
Collects: X-Men: Messiah Complex #1, Uncanny X-Men #492-494, X-Men #205-207, New X-Men #44-46, X-Factor #25-27
Wolfsbane is part of Wolverine's X-Force team assembled during the events of "Messiah Complex." During a fight with the Reavers, one of them mentions Reverend Craig to her, implying her father is working with them.
In X-Factor #28, Rahne decides to leave X-Factor Investigations but refuses to say why. She finally opens up to Madrox about her vision but still parts with the rest of the team on an awkward note.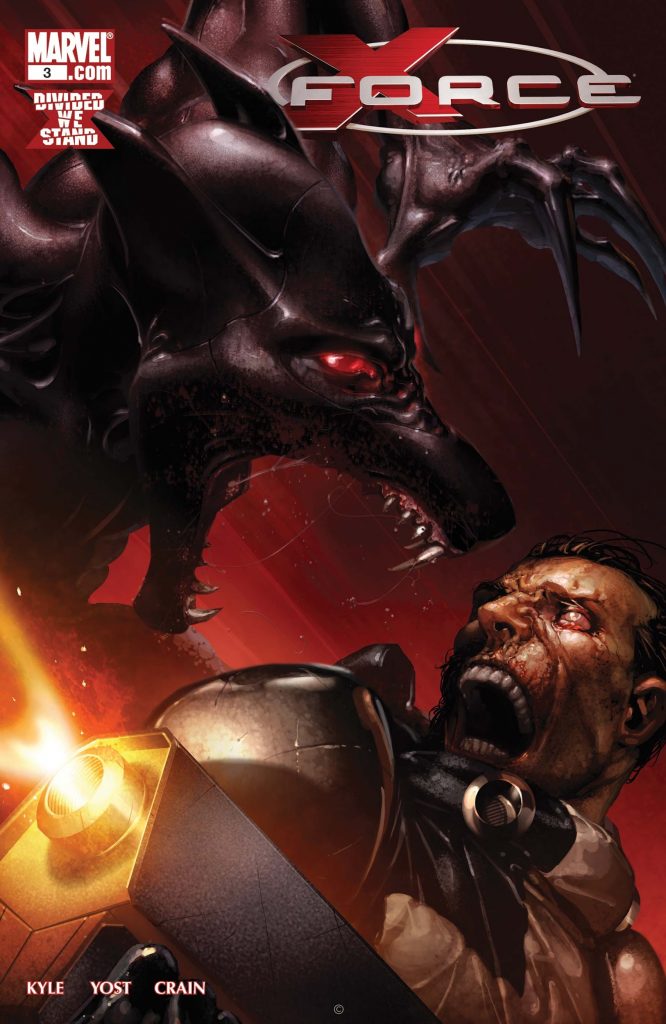 X-Force Vol. 1: Angels & Demons
Collects: X-Force #1-6
Wolfsbane decides to join Wolverine's new X-Force team. Rahne is captured on their very first mission. Naturally, Reverand Craig is there, and, in keeping with tradition, he brainwashes her. This time, things are a bit different. First, because Craig programs Rahne to rip out Angel's wings. Second, because after all that brainwashing, this final violation causes Wolfsbane to snap, kill Craig, and devour him. That's pretty new.
Ultimate, X-Force finds Rahne in a state of shock with no memory of what happened, thus making this cannibalistic revenge totally okay.
Collects: X-Force #7-11
While still recovering from her first mission, Rahne is found by the Wolf Prince Hrimhari, who is still in love with her. They sleep together. This is before being attacked by Frost Giants and undead mutants, but as "Necrosha" begins. Rahne is pregnant, but the unborn child is slowly killing her, and Hrimhari bargains with Hela to exchange his own life against Elixir's so that the young mutant can save Rahne and their unborn child.
Collects: X-Force #12-13, #17-20
Collects: X-Force #21-25, X-Men: Legacy #231-234, X-Necrosha #1, X-Necrosha: The Gathering #1, New Mutants #6-8
X-Factor Vol. 11: Happenings in Vegas
Collects: X-Factor #207-212
After the end of "Necrosha," a pregnant Wolfsbane walks in on Rictor and Shatterstar together. She attacks Shatterstar thinking he mind-controlled Ric into becoming gay (not a great look, Rahne). To make matters worse, she lies and tells Rictor he is the father, but the truth is soon revealed, causing Rictor to get angry at her for lying. However, Layla and Shatterstar convince him to go talk to Wolfsbane, as she's scared and in need of help; and they reconcile after Rahne explains that because of what she was taught to believe, she was afraid that she might be responsible for Rictor being gay, which he finds very funny.
Collects: X-Factor #213-219
Collects: X-Factor #220-224
Shatterstar and Rahne are attacked by various mythological creatures who are after her baby. She manages to escape thanks to Jack Russell, the Werewolf by Night, and runs away with him before being captured by the supervillain Agamemnon. She gives birth chained in his basement, and the baby comes out through her mouth before attacking and killing Agamemnon. Terrified, she rejects the child, leaving him to be raised by Jack Russell.
X-Factor Vol. 14: Super Unnatural
Collects: X-Factor #224.1-228
Having effectively lost her son, Rahne tries to drown her sorrow in ice cream without success. Seeing that she's wallowing in self-pity, Lorna (Polaris) and Theresa (Banshee) take her to see Father John Maddox, a duplicate of Multiple Man who left to live his own life as a priest; and he helps her to get out of her self-destructive mindset. She takes a leave of absence to look for her son, and Rictor and Shatterstar volunteer to accompany her.
X-Factor Vol. 15: They Keep Killing Madrox
Collects: X-Factor #229-232
X-Factor Vol. 16: Together Again For The First Time
Collects: X-Factor #233-236
X-Factor Vol. 17: The Road To Redemption
Collects: X-Factor #237-240
X-Factor Vol. 18: Breaking Points
Collects: X-Factor #241-245
Rahne finally finds her son Tier, who Darwin is chasing. As it turns out, the Hell Lords are after Tier, as whoever manages to kill him would supposedly become King of Hell; and in the end, he is murdered by a soulless Strong Guy, who takes the Throne of Hell. The battle over, Strong Guy sends Rahne to Father Maddox, and she becomes his church's new deacon.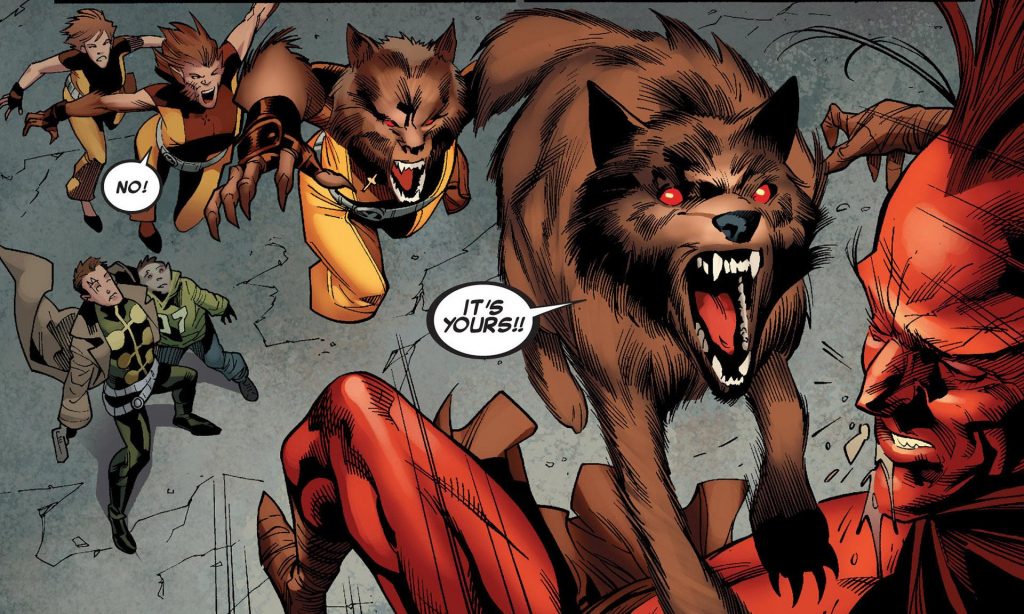 X-Factor Vol. 20: Hell on Earth War
Collects: X-Factor #250-256
X-Factor Vol. 21: The End of X-Factor
Collects: X-Factor #257-262
The Lone Wolf Dies, but the Pack Survives: Death, Resurrection, and the Krakoa Era
During "Secret Empire" (X-Men: Blue #7-9), Wolfsbane lives in the mutant nation of New Tian, led by Xorn and Emma Frost. She now has a secondary mutation that allows her to split into 5 different wolves.
Collects: New Mutants: Dead Souls #1-6
Magik leads a new team of New Mutants, including Wolfsbane and Strong Guy. While in Doctor Strange's Sanctum Sanctorum, they come across a room that shows them their worst nightmares, and Guido's is the memory of killing Tier. Rahne finally forgives him, and the end of the mini-series shows the entire team infected with the Phalanx' "transmode virus."
Uncanny X-Men Vol. 1: Cyclops and Wolverine
Collects: Uncanny X-Men #11-16
Cyclops and Wolverine rescue the infected team, and Rahne appears to have mostly fought off the virus thanks to her shape-shifting powers. During that time, she is visited by Hrimhari and Tier (temporarily out of the Realm of the Dead) in the pages of War of the Realms: Uncanny X-Men. Rahne ends up telling Cyclops and Wolverine that she doesn't want to fight anymore, and she leaves to try and live a normal life. However, she is almost immediately murdered, and issue #17 shows her funeral as well as Wolverine and Kwannon going after her murderers and seeing a vision of what happened: a brutal killing with heavy transphobic subtext. It feels like the very real issue of trans suffering is used to elicit a cheap emotional response from the audience, especially in the context of having zero transgender characters in this or any other X-Men comic.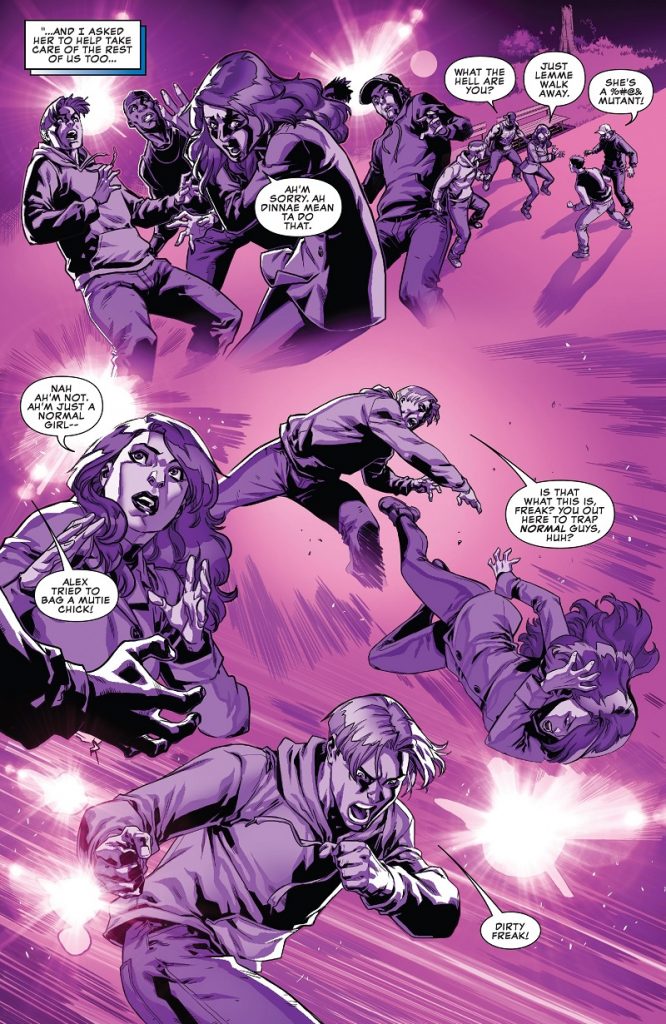 Chris Claremont and Bill Sienkiewicz reunite once again for this flashback issue. Rahne and the New Mutants have to deal with Warlock becoming unhinged after having a nightmare.
New Mutants by Jonathan Hickman Vol. 1
Collects: New Mutants #1-2, 5, 7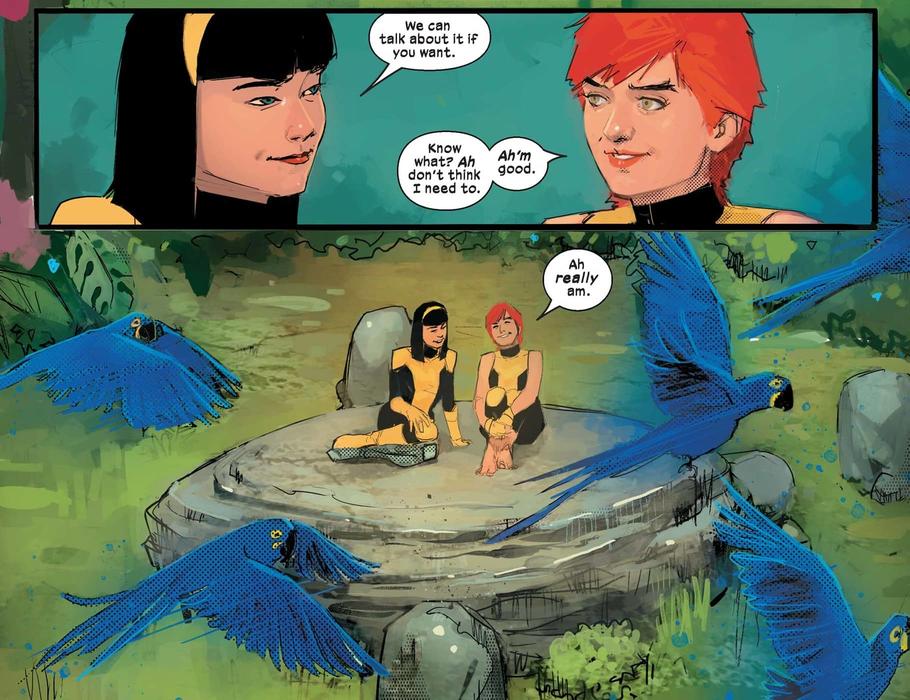 The Krakoa era sees Wolfsbane resurrected and living in the new mutant island nation. She goes to Shi'ar space with the other New Mutants as well as the Starjammers to visit Cannonball and his family and ends up stealing a strange alien egg, which is revealed to be a Brood King Egg in X-Men #8, leading to a Brood invasion of Krakoa. In the Ed Brisson-written issues of the run, Wolfsbane is part of the New Mutants' team that goes to rescue a young mutant named Cosmar in Carnelia.
New Mutants by Ed Brisson Vol. 1
Collects: New Mutants #3-4, 6, 8-12
New Mutants by Vita Ayala Vol. 1
Collects: New Mutants #14-18
In Vita Ayala's current run of New Mutants, Wolfsbane is a mentor for the younger generation of mutants. Thanks to the Five, any mutant who dies can now be resurrected; however, the Quiet Council turns down her demand to resurrect Tier on the grounds that she lacks proof of his death, and she and Dani decide to do whatever they can to fight this and get her son back.