Many of Marvel's most notorious villains have gone through changes that added layers to their personalities, transforming them from mustache-twirling fiends to complex figures in their own right. Be it Doctor Doom's relationship with his mother to Magneto's lost family, superhero comics have given the genre world many of its most nuanced characters with supervillains.
Still, none of Marvel's baddies have quite achieved the antihero status of Loki. Making his first appearance in Journey Into Mystery #85 in 1962, Loki spent several decades experiencing relatively little in the way of depth. Yet in recent years, his movie counterpart and a handful of dedicated comics writers have somewhat helped redeem the irredeemable God of Lies. To find this new, heroic Loki at his very best, we have the Loki: Agent of Asgard complete collection.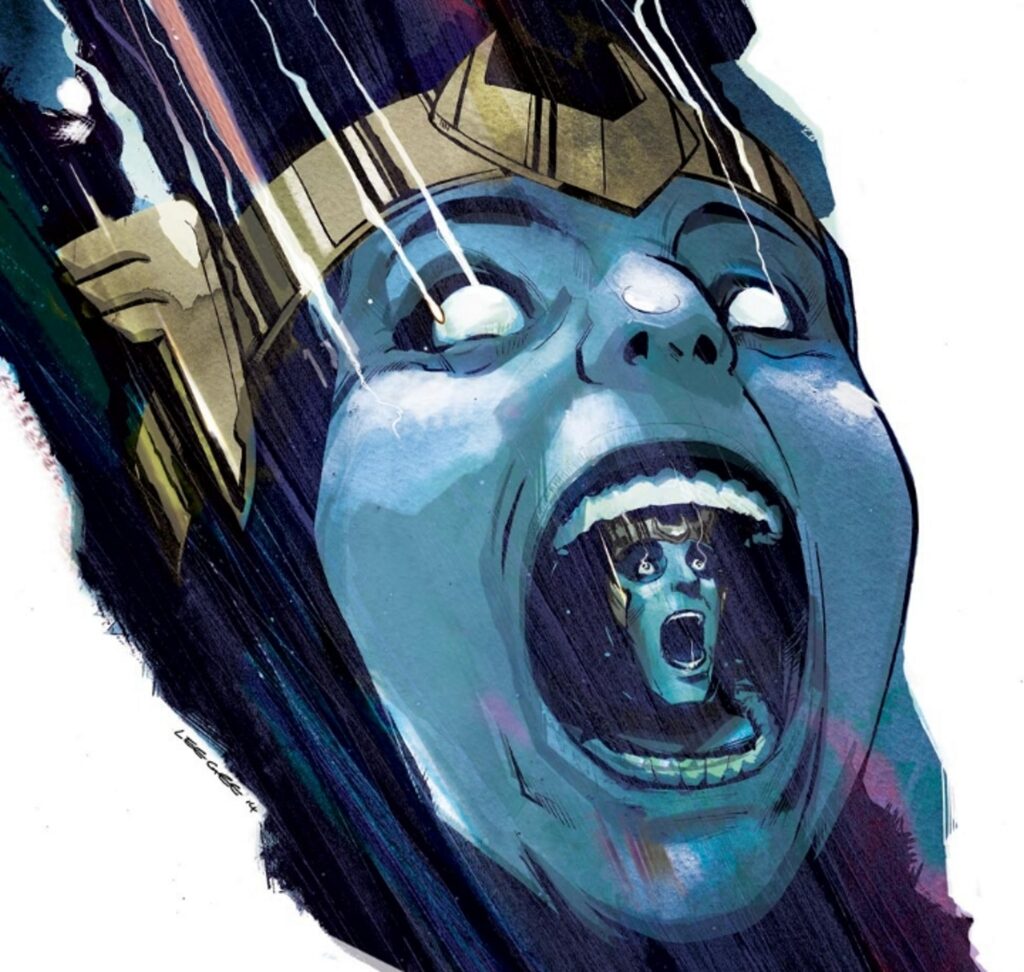 Now, Where Were We?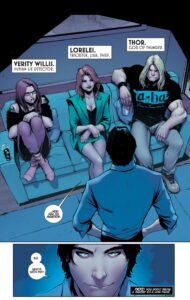 This series started in 2014, after the conclusion of Journey Into Mystery and Young Avengers saw Kid Loki destroyed and aged up, appearing now to be in his late teens or early twenties. It opens on Loki making a mad dash up the side of Avengers Tower and breaking in, distracting the Avengers while he deletes all the files on himself. Due to the mythical nature of the Asgardians, the sheer existence of the files could easily send him spiraling back into villainy. When a surprisingly murderous Thor attempts to attack Loki, Loki stabs him in the back. To everyone's surprise, this breaks a corruption that had found a home in the Odinson after an encounter with Malekith the Accursed, causing him to become increasingly violent and aggressive.
Loki and Thor have a chat about whether or not Thor, or anyone, ever actually changes. Loki admits that most people likely grapple with such questions throughout their lives—not revealing that he is running missions for the All-Mother in hopes that his own sins will be erased, one by one, from the books. He delivers the bottled corruption to the All-Mother, which is opened immediately after he leaves. Crawling out of it, we see an older, more malicious Loki, grinning wide and ready to negotiate.
The first issue of Agent of Asgard sets the tone for the rest of the series. Sleights of hand and comical hijinks are part of any great Loki story, but the central question of this story is a headier subject: "can we truly become better people, or are we destined to repeat the sins of the past?"
Support For Comic Book Herald:
Comic Book Herald is reader-supported. When you buy through links on our site, we may earn a qualifying affiliate commission.
Comic Book Herald's reading orders and guides are also made possible by reader support on Patreon, and generous reader donations.
Any size contribution will help keep CBH alive and full of new comics guides and content. Support CBH on Patreon for exclusive rewards, or Donate here! Thank you for reading!
Well…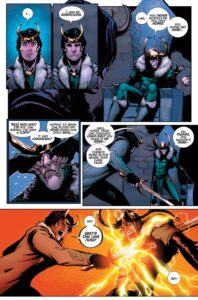 The Fall and Rise of King Loki
We discover that, as Loki's history is erased, it leaves major gaps that opens the door for the older King Loki to use to his advantage. Filling the books with new, self-serving details, King Loki mocks his younger self's romanticism while planning to exploit him for all he's worth.
When Loki runs into King Loki in Asgard, the two of them square off. Loki plunges Gram, the stolen sword of Sigurd, into King Loki's chest, but the latter is unaffected by the blow. He notes that Gram shows hidden truths. It couldn't work on him because he has always known himself to be the villain. Here is where King Loki, correcting the misgiving that he was Loki of the past, reveals that he was actually Loki of the future all along. This shows Loki that regardless of what he does, he will always inevitably become the villain once more.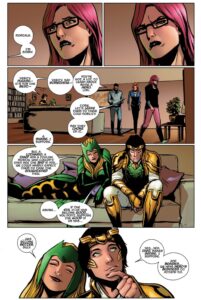 Amora & Lorelei & Verity & Sigurd
The choice of guest stars is one of the things that makes this book as genuinely fun as it is. Characters like Sigurd, Lorelei, and Amora don't get nearly the attention they deserve, and this story treats them with rare kindness. Sigurd's heroism lands him on the wrong side of first Mephisto and then the All-Mother, but when he is kept imprisoned, Loki and the gang go well out of their way to break him out (though this is revealed to be a hoax put on by Loki and Sigurd).
Lorelei first appears in this series as one of the "lost" Asgardians, paired up with the valiant Sigurd, robbing mortal men and pulling off occasional heists. Loki fondly remembers their past as lovers, but they seem to be in the zone of comfortable exes at this point as he begins a slow-burn flirtation with Verity. Still, Loki genuinely likes Lorelei. When Thor expresses misgivings about her involvement in their plan to free Sigurd, Loki waves it off immediately. This take on Lorelei portrays her as a savvy pragmatist who will work on the side of good if it benefits her to do so, and she's easily one of the best parts of the series.
Then, of course, there's Lorelei's sister, the wonderful Amora, who always steals the show regardless of how entertaining the other characters might be. During AXIS, many characters saw their moral compass redirect entirely. For the wicked Amora, that meant becoming genuinely good along with Loki. The two share a short-lived romance, much to Verity's chagrin. Amora haughtily judges Lorelei for her weak ethics, making for some of the funniest moments of the series. This is a take on the character that just works, in part due to its sympathy and respect for Amora, in part for highlighting her flaws. Regardless of who she's playing off of, Amora is always a lot of fun, but Loki and Amora's interactions have classically been extra entertaining.
Verity Willis makes her first appearance in the second issue when Loki, disguised and in the middle of a heist, is surprised to realize that this complete stranger sees through him. Verity is unable to be deceived any lie, she reveals, and it's left her isolated and lonely. Verity's sincerity makes her an excellent counterpart to Loki's mischievous wit, and they learn a lot from each other over the course of this story. At one point, disarmed by Verity's distrust, Loki assures her that there are people in the world that would never lie to her—even if obviously not him. Meanwhile, in the end, when Loki feels himself being sucked back into the spiral of bitterness and evil that dominated so much of his life, Verity is the one that pleads with him to try to see things in a new light. She assures him that he is creating a new reality every day, and need not be held by the chains of his past.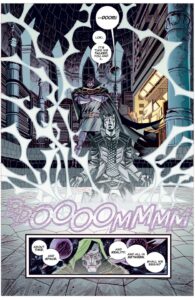 Wherever You Go, There Your Evil Older Self Is
This series took place partially amid the chaos of "March to AXIS," and while the crossover itself might leave a lot to be desired, it gave this book some of its best issues with a delightful, monologue-heavy Doctor Doom guest appearance in which he ends up sentencing Loki to death while they both do some pretty heavy soul searching. Valeria Richards also appears and uses her whip-smart sense of humor and keen observations to stand on par with Doom, making for a lively two-issue jaunt.
As always, Loki and Thor's complicated relationship makes for great storytelling. They go from adversaries to allies and back again several times through these seventeen issues, but their heartbreaking love and loyalty for one another is what makes it all work. Though Thor becomes enraged when he discovers that Loki killed his younger self to be free of the past, he still can't deliver the fatal blow on him because he can't forget swearing to Kid Loki that he would never give up on him.
After Gillen's epic run on Journey Into Mystery, this is the book that gives us heroic Loki at his very best. Allowing his good intentions and playfulness to roam while asking serious questions about the nature of redemption and whether or not free will truly exists, this book is one of the ones where Loki finally found his stride. Dismayed to be boxed in as the God of Lies, Loki reimagined himself as the God of Stories. It's that sense of endless possibility that makes Agent of Asgard the delightful romp that it is.