A hero is only as good as their villains, but what happens when a villain becomes a hero? Superhero comics live and die on the strength of their bad guys – characters whose darkness can thrill readers in ways their morally upright heroes can't. But sometimes, the popularity and longevity of a villain inevitably lead to their heroic turn. Is it permanent? Is it a fakeout? And can any character designed to be evil ever permanently be a force for good?
Let's take a deep dive into the history of supervillains turning good, sometimes for good and sometimes not, character by character in chronological order.
Who will be a force for good? Who will inevitably betray our heroes? And how many times will Venom change his mind about being a bad guy? Let's find out.
Namor
Sub-Mariner Comics #1 (1941)
Maybe the first ever comic book villain to go good, Namor's first appearance in 1939's Marvel Comics #1 had the Submariner as an enemy of the United States, attacking cities and fighting the original android Human Torch. But Namor proved popular with readers and once the U.S. joined World War II, the underwater asshole joined The Invaders as a force for good, with the cover of his first solo issue seeing the now-hero fighting Nazis. And once you fight Nazis, you're doing something right with your life. Ever since, Namor has been depicted as a hero more devoted to his own interests and the interests of his kingdom of Atlantis than as a crusader for justice, leading to a contentious relationship with basically every hero he meets. Throw in a whole lot of horniness for Sue Storm, and you have a true undersea cad with a body made for speedos.
Support For Comic Book Herald:
Comic Book Herald is reader-supported. When you buy through links on our site, we may earn a qualifying affiliate commission.
Comic Book Herald's reading orders and guides are also made possible by reader support on Patreon, and generous reader donations.
Any size contribution will help keep CBH alive and full of new comics guides and content. Support CBH on Patreon for exclusive rewards, or Donate here! Thank you for reading!
Did It Stick? Yeah, Namor has been much more of a hero, or at least an antihero, than a villain for generations. But he's still a dick
Hawkeye
Avengers #16 (1965)
Clint Barton, proficient bowman and coffee addict, debuted as a villain in Tales of Suspense #57 in 1964, but his first three appearances in the publication showed Hawkeye to be a reluctant bad guy. While he teamed up with the then-villainous Black Widow to fight Iron Man, Hawkeye was most often after money. And in Avengers #16, Hawkeye invades Avengers Mansion to join up with the heroic group that was in danger of disbanding. Combined with the then-recently turned Scarlet Witch and Quicksilver, Hawkeye made up one-fourth of Cap's kooky quartet, a massive turnover in the team meant to give its founding members more room for their own titles.
Did It Stick? Hawkeye is a hero through and through, and while his bad guy beginnings give him a little more complexity than your average hero, he's never in danger of completely going bad.
Quicksilver and Scarlet Witch
Uncanny X-Men #11 (1965)
Wanda and Pietro Maximoff were introduced as part of the Brotherhood of Evil Mutants in X-Men #4 and, if the team name didn't give it away, they were villains. But the twin brother and sister were part of Magneto's team more out of a debt they owed for him saving their lives (they didn't know he was their dad yet) then out of pure villainy. So when Magneto was abducted by the uber-powerful Stranger, Wanda and Pietro left the Brotherhood and were soon recruited by Captain America to be part of the previously mentioned new roster of Avengers. While the twins have returned to the pages of X-Men off and on, they're much more Avengers characters as it's that team which gave them the chance to shine.
Did It Stick? Yes and no. And yes. And then no again. These two seem to lose their minds every few years and not always at the same time.
Black Widow
Avengers #32 (1966)
Natasha Romanoff's debut in "Tales of Suspense" #52 saw the Black Widow as a non-costumed Soviet spy and looking WAY different than she does now. Avengers #29 showed her brainwashed by her Russian handlers and eventually breaking free, paving the way for her road to heroism, teaming up with the Avengers to fight the Sons of the Serpent in Avengers #32, and becoming a regular teamup partner to Hawkeye, Spider-Man, and most often, Daredevil, before joining the Avengers. However, Natasha's time before going good has continued to be explored in many different series. Of all the villains gone good in this list, Natasha's time as an assassin and a villain has haunted her and defined her character the most, with the past often coming back when she least expects it.
Did It Stick? Yes, and that's a great thing for the character because Natasha resisting the pull of her old ways while still atoning for hidden sins keeps Black Widow consistently fascinating.
Rogue
Uncanny X-Men #171 (1983)
When Rogue first debuted, she was a member of The Brotherhood of Evil Mutants under her mother figure Mystique. But Rogue's ability to absorb the lifeforce and powers of other people soon led to her mind being overwhelmed by the psychic echoes of her victims, most notably Ms. Marvel. As a result, Rogue turned to Professor X and the X-Men to help her and reform her ways. The troubled Rogue soon became a hero despite the X-Men's distrust of her, specifically with her friendship with Wolverine and her willingness to sacrifice her life to save his, and vice versa, permanently turning her good.
Did It Stick? Absolutely. Rogue is far more well known as an outright hero than for her brief villainous stint. And while most mutant villains have at least allied with the X-Men at some point, Rogue is one of the few whose heroism has stayed intact.
Morbius
Morbius, The Living Vampire (1992)
I mean, what can be said about Morbius that hasn't already been said? Guy loves plasma. Got some big suckers on his hands. Wait, that's just the cartoon? Well, after this pseudo-vampire fought a six-armed Spider-Man (hot!), he made many more appearances as a sympathetic villain before gaining his own solo series as a, you guessed it, edgy antihero in the '90s! Did you know there was this whole Midnight Sons thing then, too? What a decade.
Did It Stick? Mostly yes. Morbius generally shows up as a supporting character in supernatural series and to be a complicated ally to Spider-Man in times of need. But now he's got his own movie and stardom awaits! Maybe. Probably not.
Venom
A Lot of Comics
Venom may have the most complicated heroic history of any villain included here because of the combination of shifting morality and several different characters in control of the Venom symbiote.
But when Eddie Brock debuted as Venom in 1988, he was a pure villain in search of revenge against Spider-Man. Slowly over time, Venom and Spider-Man formed an alliance against bigger threats, specifically in 1993's Maximum Carnage, with Eddie's gray morality eventually turning him into an antihero with a massive run of consecutive miniseries that portray him as a lethal protector. It was the height of '90s comics. Deadly vigilantism was in vogue and Venom was more popular than ever. Eventually, Eddie gave up the symbiote to atone for his sins when dying from cancer. Soon, the symbiote bonded with mob boss son Angelo Fortunato. He sucks, dies. Then former Scorpion Mac Gargan becomes the new, full villain Venom while Brock becomes the heroic Anti-Venom. And then Toxin, but no one cares about that. Meanwhile, friend of Peter Parker and former Marine Flash Thompson takes over as Agent Venom, keeping the symbiote in check as a hero absolutely loved by fans until Marvel made the hilarious mistake of taking the symbiote away and giving it to absolute nothing of a character Lee Price. Marvel soon realized they screwed up, course corrected real fast, and made Brock Venom once again, leading to Donny Cates' currently running cosmic horror-focused run with a purely heroic Venom.
Did It Stick? I mean, yes, I guess?
Deadpool
The Circle Chase (1993)
Much like Venom, Deadpool is a villain whose staggering success with readers basically demanded that he become a hero. His initial debut in the pages of X-Force saw Wade Wilson (a total ripoff of Deathstroke, even if Rob Liefeld won't admit it) as a fairly straightforward villainous mercenary. Continued appearances by Deadpool and a heightening of his comedic side turned the character into an antihero more well known for his dark comedy, with Deadpool given a solo miniseries, The Circle Chase, by co-creator Fabian Nicieza, eventually leading to his own ongoing series by Joe Kelly, who gave Wade his now trademark fourth wall-breaking self awareness. And that's where the Deadpool fans know and love, and the more heroically-aligned Deadpool, was fully formed.
Did It Stick? Yes, but Deadpool is known to slip back into villainy and hate himself for it, giving him a moral complexity far more interesting than his meta jokes.
The Thunderbolts
Thunderbolts (1997)
In the aftermath of most of the Avengers and quite a few other heroes being sucked into an alternate dimension from fighting Onslaught, a new team arose to save the Marvel Universe – The Thunderbolts! This mysterious team of brand new heroes was created by Kurt Busiek and Mark Bagley, but the true hook of this series came with a sudden reveal at the end of issue 1. The Thunderbolts were actually the disguised Master of Evil led by Baron Zemo, who had now positioned themselves to fill the power vacuum. It's an incredible twist that was unspoiled when the series debuted and The Thunderbolts have lived on in many different incarnations since then, with some teams formed by the government as a chance for redemption and some formed for purely evil purposes. In any case, the idea of a group of villains forced to be heroes makes the Thunderbolts a fascinating concept as Marvel's answer to The Suicide Squad.
Did It Stick? Well, it depends on which team you're talking about, but generally, no.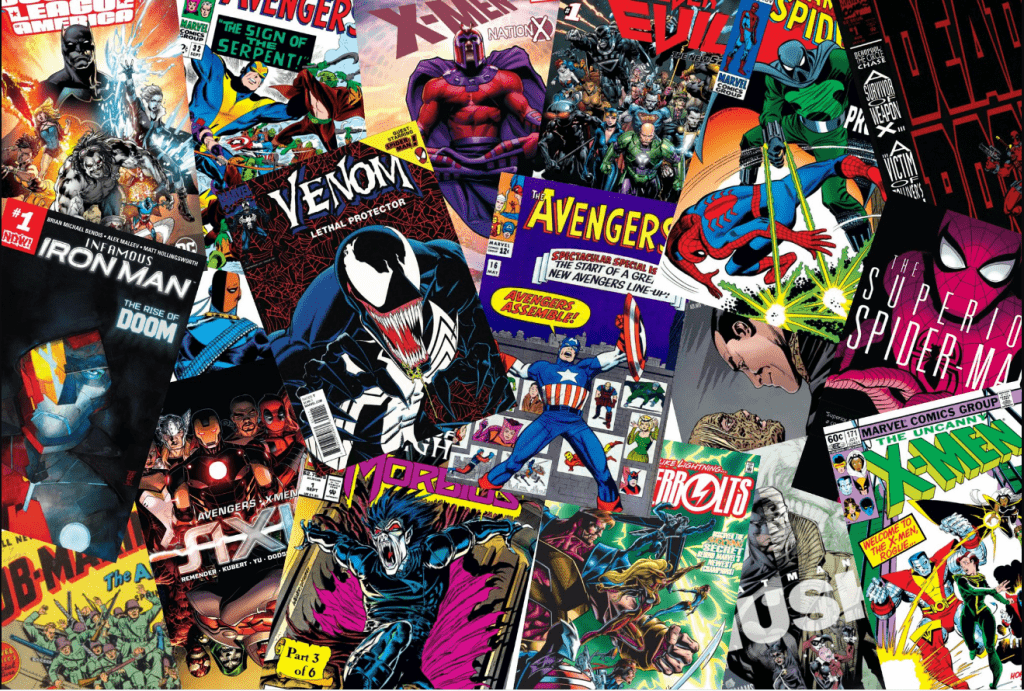 Super-Sized Break!
Here's a rundown of villains who have come close to turning good, but have never truly become heroes.
When Doctor Octopus took over Spider-Man's body in Dan Slott's "Superior Spider-Man," Octavius slowly changed from posing as a hero to being a true hero. However, he had to let Peter take back his body to stop the Green Goblin. While that redeemed Octavius, he eventually returned through a saved backup file of his mind that had never learned this heroic lesson.
Sinestro has flirted with becoming a hero off and on, most notably in Geoff Johns' long-running Green Lantern run, where he forms his own Sinestro Corps, which deals out fear-based justice in the cosmos. You can say that Sinestro is no longer a true villain, but his flip-flopping from one writer to the next keeps him from being an outright hero.
Elektra has always walked a fine line between good and evil, debuting as an assassin and former love of Daredevil whose murder torments the hero. Since her resurrection, Elektra has wavered between a deadly hero saving the world and a villain tempting Matt Murdock to cross the line.
Black Adam is Shazam, or Captain Marvel's, most iconic enemy and stands as the inverted version of the hero, using his power to rule over Khandaq. But Adam's inclusion in the early 2000s JSA title showed him to be a more complicated figure who can never stay on the side of heroes for long.
Deathstroke has never truly turned to the side of the angels, but like any mercenary character, money trumps morality. That usually points him toward villainy, but not always, with Christopher Priest's DC Rebirth series having the character struggle with his guilt over a life of villainy.
Red Hulk was the source of an infuriating Hulk mystery by Jeph Loeb, with the villainous new Hulk's identity remaining a mystery for some time. Spoilers, it was General Thunderbolt Ross and eventually, Rulk became more of a hero. But he's still General Ross, an absolute douche.
Emma Frost
E is for Extinction (2001)
Emma Frost had long been a rival of the X-Men, leading the vicious Hellfire Club and training the Hellions as a rival student group to the New Mutants. The character first began to turn to the light side during Generation X in the '90s, but her murder of her long lost sister as revenge for the death of a student kept her estranged from the X-Men until the start of Grant Morrison's New X-Men run. Here, Frost joined the X-Men, but her psychic affair with Cyclops (who sucks) shows that the former White Queen still looks out for her own interests first.
Did It Stick? Yes. While Emma's morality has swung back and forth, she's stayed with the X-Men aside from a very brief, poorly done villainous turn. Now, she's right at home in the morally grey and EXTREMELY horny mutant island nation of Krakoa.
Two-Face
Hush (2002)
Jeph Loeb and Jim Lee's 12-issue blockbuster "Hush" revolved around Batman being targeted by a mysterious new villain coordinating his entire rogues gallery. Who is Hush? Well, it's not Harvey Dent, aka Two-Face, who just so happens to ALSO wear a full face bandage and big overcoat just like the title villain. After years of villainy, Dent received therapy and facial reconstruction surgery, returning him to his pre-scarring personality. And with Dent back to being a good guy, he's able to help Batman against his new enemy. "Hush" is based on constant twists and turns, but it's Dent's restoration that is probably the best reveal in the entire story. As for Hush's true identity? It's not hard to figure out.
Did It Stick? Absolutely not. While Two-Face stayed good for a little while, the 8-issue arc "Face the Face" from 2006 saw Dent protect Gotham while Batman was absent. But the pressure and a targeted attack caused Dent's mind to snap once again, leading to Two-Face rescarring himself on purpose and returning to villainy.
Catwoman
"Hush" (2002)
Catwoman is easily one of the greatest characters in Batman lore because of her ability to play every type of role – enemy, ally, love interest, Selina Kyle can do it all. Her debut in Batman #1 in 1940 saw her as a villain, but even then she had chemistry with Batman, maybe less so when she wore that giant fake cat head. Throughout the following decades, Catwoman remained an antagonist that flirted with heroism, with her Earth-2 version even marrying and growing old with Batman. Catwoman became the protagonist of her first solo series in 1993, then a second in 2001, but it's really "Hush" where Selina turns into a full hero, helping Batman, learning his true identity, and solidifying a romantic relationship that has become a constant element of the character ever since.
Did It Stick? Mostly yes. "Identity Crisis" in 2004 revealed that her heroism was caused by the JLA mindwiping her but that's the least of that series' problems. Afterward, Selina walked a fine line until eventually marrying Bruce in Tom King's Rebirth Batman series, where the two can't help but constantly call each other "Bat" and "Cat" over and over and over and over.
The Prowler
It's Complicated
The Prowler's redemption arc should be pretty straightforward – Hobie Brown becomes a costumed thief to make money and earn a reputation, only for Spider-Man's interference to cause Hobie to rethink his ways and become a hero. But then two other people took up the identity of Prowler over the decades, usually to commit crimes while Hobie was incapacitated. And then the Ultimate Universe introduced Aaron Davis as Miles Morales' uncle and that universe's own villainous Prowler. But he died. Then he came back in the main 616 Marvel Universe alive and well but now good. Then Hobie got cloned and the clone fought other clones but then they all melted.
Did It Stick? I'm not sure what I'm talking about anymore.
Magneto
Nation X (2009)
Magneto's turn to heroism has been a long and slow arc of redemption, the world proving him right, and the X-Men slowly coming to an understanding with their enemy's way of thinking. And at times, Magento has shifted toward heroism sharply, only to return to his old ways. There's Magneto's allyship with The X-Men during the original Secret Wars. His battle to stop the hateful Reverend William Stryker in "God Loves, Man Kills." His repentance and trial, complete with sweet giant M-bedecked robe in Uncanny X-Men #200. And finally his allyship with Nation X, after temporarily losing his powers and rethinking his way of life, which led to a generally more heroic Magneto, including saving Kitty Pryde from a giant intergalactic bullet. Don't ask.
Did It Stick? Yes. Magneto still represents a contrasting worldview to Professor X, but their allyship after years of fighting has led to a stronger mutant nation in Jonathan Hickman's "Dawn of X."
Lex Luthor
Forever Evil (2013)
Lex Luthor has long been Superman's greatest enemy, but when greater threats put the earth in jeopardy, Luthor has been known to side with heroes, and profit in the process. So when the Injustice League invaded the world in the DC event "Forever Evil" and took out most of the Justice League, it was up to Luthor and a small group of villains to save the planet. This planted the seeds for Luthor slowly becoming a hero, joining the Justice League and fighting against Darkseid. But when the New 52 Superman died (let's not get into it), Luthor took up the Man of Steel's symbol as the hero of Metropolis.
Did It Stick? Nope. There came a point a couple years into rebirth where they just kinda dropped Luthor as a hero and then quickly turned him back into a villain for Scott Snyder's Justice League run.
Sabretooth
AXIS (2014)
Another in a long line of X-Men villains turned good, Sabretooth is easily one of the most vicious and cold blooded killers that the mutants have ever faced. But during the AXIS event, Sabretooth was one of the three characters who remained inverted after heroes were turned villains and villains turned heroes temporarily. After turning good, Sabretooth joined one of the several versions of The Avengers, becoming a hero in place of the (temporarily) dead Wolverine and joining the X-Men. Fun fact, Sabretooth was once forced to join the team while still evil. That was a very bad idea and I don't know why the team thought that would work out.
Did It Stick? No. Sabretooth went full bad guy again several years later. Something about trips to hell and Weapon X and decapitations and going feral. I can't keep track. X-Men comics, why are you like this?
Doctor Doom
Secret Wars (2015)
Doctor Doom is a complicated character – a ruler, a genius, a magician, and an egomaniac. And while he's always been a villain, it's often spurred on by his hatred toward his greatest rival, Mr. Fantastic. But what happens when your greatest enemy saves your soul? That's what happens at the end of Jonathan Hickman's gigantic event series Secret Wars (which honks) as Reed takes Doom's godlike power, restarts the universe, and heal's Doom's disfigured face. And in doing so, Victor Von Doom is given a new lease on life, which he starts out by helping Iron Man.
Did It Stick? Unfortunately, no. While Doom played a heroic supporting role in the post-Secret Wars "Iron Man" comic and a heroic central role in his own title, "Infamous Iron Man," he was eventually re-scarred and returned to being a despot just in time for the Fantastic Four to return to Marvel. A missed opportunity.
Negan
The Whisperer War (2016)
Negan's introduction in The Walking Dead #100 was one of the comic's most shocking and brutal moments, setting up the character as the series' biggest challenge to Rick and company's search for safety. But like anything in The Walking Dead, something worse always comes around. And in this case, it was The Whisperers. Combined with years in prison for his crimes and remorse over everything that he'd done, Negan eventually became an ally to the comic's protagonists with one gruesome decapitation.
Did It Stick? Surprisingly, yes. Negan's redemption and eventual rejection of violence creates a more complicated ending for what was once The Walking Dead's worst villain.
Clayface
Detective Comics #934 (2016)
Wait, which Clayface are we talking about? There have been 9 Clayfaces??? Well, we're talking about Basil Karlo, who just so happens to be the original Clayface. This shapeshifting muddy villain temporarily lost his memory, briefly became good, went bad again, and then teamed up with fellow Batman villains to fight The Joker in Endgame. But it was after this that Batman gave Karlo the chance to truly redeem himself and join the Gotham Knights. Now a hero, Clayface's shape changing and multiplication abilities gave Batman's team a much needed superpowered boost and offered new dimensions to a villain long known for being really icky.
Did It Stick? Kind of. Clayface eventually became infected by monster serum and had to be killed to stop his mindless rampage, which caused a rift in the Gotham Knights. But I guess Karlo is alive after all! For no given reason. Leaving town for a new and hopefully better life.
Lobo
Justice League of America (2017)
Lobo was introduced as a villain in Keith Giffen's Omega Men in 1983 before being brought back in the '90s for his own series, which parodied the unstoppable rampage of gritty antiheroes that were everywhere at the time. But surprise surprise, fans of the comics that Lobo was making fun of loved the character. Lobo soon detoured into edgelord heroism with his New 52 reboot version – a total overhaul of the character that is basically the epitome of everything wrong about the New 52. So when Rebirth came around, DC decided to forget about Nu Lobo and bring back the one true Main Man, who actually joined a splinter Justice League for a time, marking some extended time as an actual hero.
Did It Stick? Kinda? Lobo is always first and foremost a space jackass, heroism and villainy being secondary.
—–
And with that, we've caught up to the present day. And going through this history, I've come to realize that villains turning good is a far slower and more messy process than heroes going bad. But when a villain returns to evil, it's usually sudden and often without a good reason.
Even now, I'm sure there's some villain out there finally on the verge of turning a corner and becoming a hero.
No, not you, Professor X, you'll always suck.
Sources:
https://www.ranker.com/list/comic-villains-turned-superheroes/coy-jandreau
https://www.cbr.com/villains-who-became-heroes/
https://vocal.media/geeks/top-super-villains-turned-superheroes
https://screenrant.com/superheroes-turned-supervillains-evil-went-good/