Check out all of Mark and Stuart's Warhammer 40,000 reviews right here!
Mark Turetsky: Ahoy, Chapter Master! It's been another month, and the skull throne isn't going to skull itself!
Stuart Wellington: Good thing that I've got at least one skull then!
Side note: Games Workshop, the producers of Warhammer 40K are well known for putting skulls on EVERYTHING. They even sell a kit of JUST SKULLS
to add to your already skull-encrusted models.
So, Mark, where did we leave our hero, the Lord Macragge, Chapter Master of the Ultramarines, Marneus Calgar?
Support For Comic Book Herald:
Comic Book Herald is reader-supported. When you buy through links on our site, we may earn a qualifying affiliate commission.
Comic Book Herald's reading orders and guides are also made possible by reader support on Patreon, and generous reader donations.
Any size contribution will help keep CBH alive and full of new comics guides and content. Support CBH on Patreon for exclusive rewards, or Donate here! Thank you for reading!
* Spoilers for discussed comics may follow!*
MT: Marnie is currently visiting his old stomping grounds, The Calgar Estates on Nova Thulium. Of course, the last time he was there, he was a young helot named Tacitan. And the situation on Nova Thulium is rapidly worsening.
SW: Marneus is chatting with Quintus, and we learn that the forces of the Arch Enemy have spread across the planet, making it difficult for the demi-company of Ultramarines to engage them easily.
MT: It's almost as if there's a clever tactician on the other side. Someone to match the strategic brilliance of Marneus Calgar, who has yet to reveal themselves. We see a giant… vehicle of some kind flattening a farming settlement. Some kind of steampunk cathedral on tank treads. Is this is a thing?
SW: I'm guessing that it's just a repurposed piece of farming equipment. Something not common enough to be established in the wider fiction. But of course the agricultural industry of the Warhammer 40K universe would be over-the-top scary.
I want to mention that I like that Marneus is presented with a tactical challenge by his enemies. In the background he isn't known for being just a tough fighter. His real strength comes from his strategic brilliance.
MT: It's interesting because it's something I feel has been missing from the comic before this: for a comic based on a war game, very little attention has been paid to tactics. If you contrast it with one of Kieron Gillen's other comics, Über (an alt-history that starts with the Nazis creating super-soldiers just prior to the fall of Berlin), he really dives into each battle, each fight and lays out precisely the tactics that each supersoldier uses and how each move resolves.
Obviously, Gillen can't do that to the same extent in a 5-issue miniseries (and Uber is an ongoing with 6 volumes to date), but it's interesting to see the writer's thoughts as a war gamer come through in a work that isn't about a war game, while here in the Warhammer 40K universe, he treats it less like a game and more like a lore-heavy universe. Just something I've been thinking about.
SW: You're right. Most of the battles are just examples of the Space Marines attacking with overwhelming force. Like Marneus leading a squad of Primaris Reivers in an assault on the enemy woe machine. Though I do have to say, I love to see the Gauntlets of Ultramar making a mess of these chaos cultists.
MT: It's a great showcase for Burrows' juicy gore. In fact, I want to draw your attention to a panel that Gillen shared on his Twitter feed the other day, where he's rewritten some of the dialogue. Good to see the Leopards Eating People's Faces Party meme in 2020.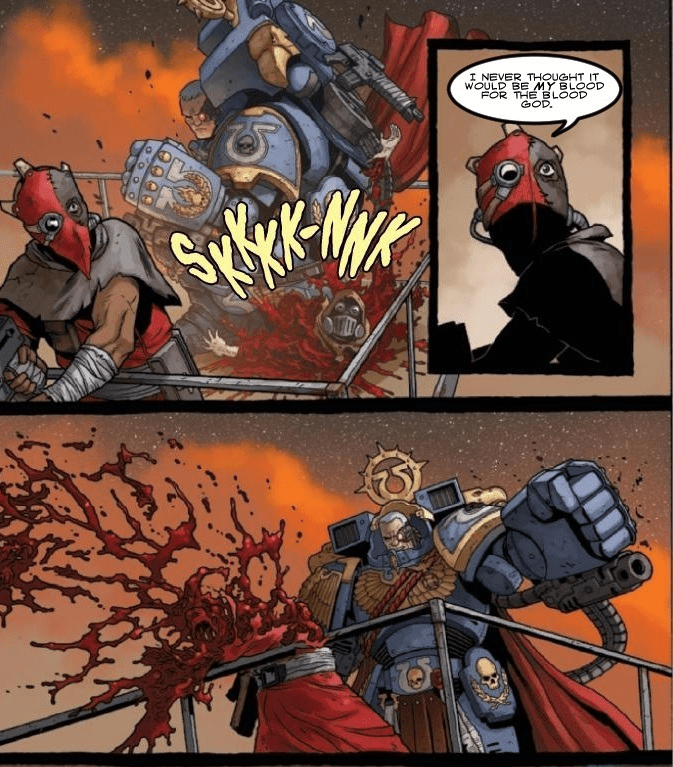 SW: Even Marneus gets in a quip! Responding to the comment that the enemy is resisting, he says "If they ran, we'd have to chase them." Whole sequence really brings home the idea of the Space Marines as a blunt, deadly instrument. LIKE A POWER FIST!
MT: But it turns out that those power fists make you really bad at doing things like pushing a button. Calgar has to call in help to turn off this repurposed mega-harvester.
SW: Another good joke!
MT: And it's kinda become a common theme in Gillen's work. It brought to mind a character he created called The Test from his Peter Cannon: Thunderbolt series, who literally has gatling guns for hands (modeled on first-person shooter heroes) and is terrible at doing normal things like drinking. It's nice that he's at least making a nod toward how inept game characters would be at everyday tasks.
SW: But despite the victory, Quintus is worried that Marneus may have made a tactical error by focusing all of his forces on one small spot, allowing the enemy to regroup and maneuver. MC isn't stressed, though, and jumps back into another installment of Kid Calgar.
MT: … and KC is in a heap of trouble: he's outmanned, he doesn't know the terrain. All he can do is try to Die Hard through the bad guys in these caves and take the heretics out one by one. Burrows does a really cool thing here: the Tacitan we knew before begins to morph into the Calgar we've been seeing in the "present" of the story. It's not just that his hair has grown out, it's that his whole affect has been hardened. Just compare how he looks between issue 1 and issue 3 here.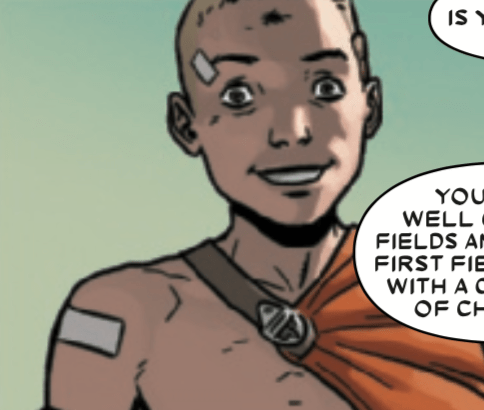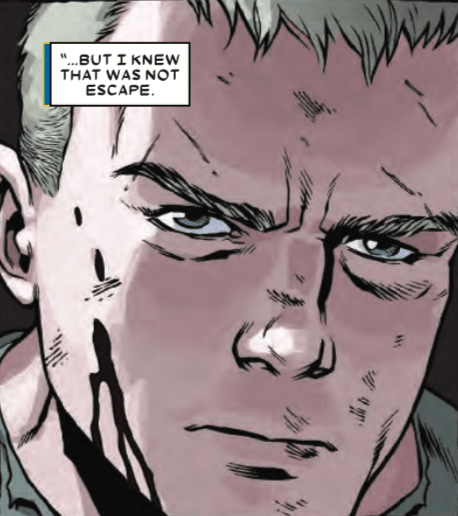 SW: Definitely echoes of both versions of the character are present in that face.
And we also get some stakes established. Crixus tells his charges that they still need one more sacrifice for the Altar of Khorne. What will happen then? Who knows, but probably nothing good.
MT: Can we take a moment to discuss the child haircuts in this comic?
SW: Sure thing. I'd hate for you to waste your background in hair design.
MT: If I had actually gone to barber college, I'd be immeasurably more employable than I am with my theatre degree, that's for sure. First off, original recipe Marneus' haircut just screams: Rich kid whose cabin you definitely should not go spend the weekend at (a lesson Tacitan fails to learn before it's too late)

SW: Totally.
MT: In this issue we get Thanton: mall goth who is absolutely in over his head: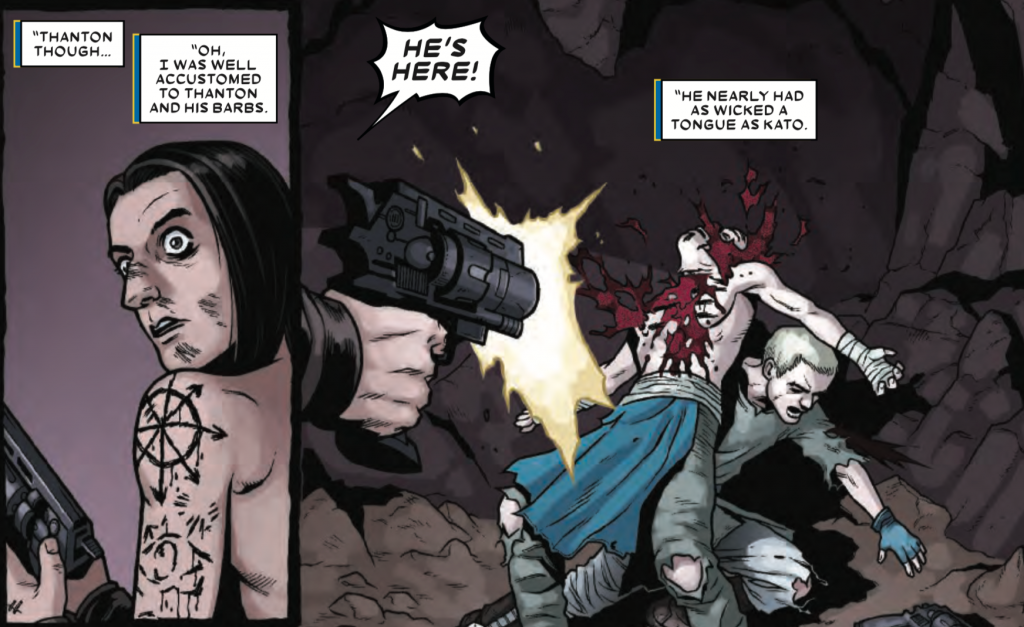 SW: Crixus took one look at Thanton and was like: this kid is gonna be an easy convert.
MT: He probably didn't even have to pretend this was real marine training for Thanton! He said "hey kid, do you hate your parents? What about subsuming your will to a chaos god instead?" and Thanton was all for it.
SW: I get it. Parents are totally annoying. Crixus just drove his Arvus Lighter by the local Hot Topic and Thanton hopped in.
MT: Anyway, tune in next month for more coverage of kid haircuts here at Comic Book Herald dot com.
SW: And Marneus, as he tells the story, is reflecting on the events as a life-long warrior. Talking about them almost like a serial killer talking about his trophies. There's a dispassion to it that further highlights that Marneus Calgar is not REALLY human anymore. He is an instrument of war.
MT: He finds a radio to send out a distress call and sets some explosives up at the shrine, and quotes The Codex Astartes: "Whatever your foe holds precious is a primary target."
SW: What's your favorite quote from the Codex Astartes, Mark?
MT: "Once you have their money… you never give it back.
SW: A memorable snippet of Guilliman wisdom. The mention of the Codex is a nice reminder that, though his instructor may have become a twisted servant of the Lord of Skulls, Marneus has, in some ways, actually begun training to become a Space Marine.
MT: Anyway, Kid Marnie's Home Alone dreams die as Crixus finds him and brings him to the shrine to sacrifice him to Khorne, when a Space Marine shows up at the last moment to save the day. Unbeknownst to Marnie, the marines were already there to do their initiate testing the following day.
I noticed that in issue #2, Marneus refers to them as "The Angels of Death." I was thinking they'd be something else, some other unit type (to bring this back to wargaming), but I'm guessing he just meant the Space Marines?
SW: "Angels of Death" is a nickname for the Space Marines. It shows the religious reverence that the common folk of the Imperium hold for the Adeptus Astartes. This is probably due to their superhuman stature, combined with a common Space Marine battle tactic of a small force arriving from the sky, whether in the belly of a Thunderhawk Gunship or blasted to the earth in a Drop Pod.
MT: Well, a single marine shows up and is more than a match for Crixus. I feel like this image, along with the text is one I've seen many times before, whether it's a knight in armor or young Din Djarin being rescued by armored Mandalorians (on The Mandalorian! Streaming now on Disney+!) but here I feel like it's being done with a self-conscious distance from the cliché, considering that this marine inadvertently completes the blood ritual and is kind of a jerk to Kid Calgar in a few pages.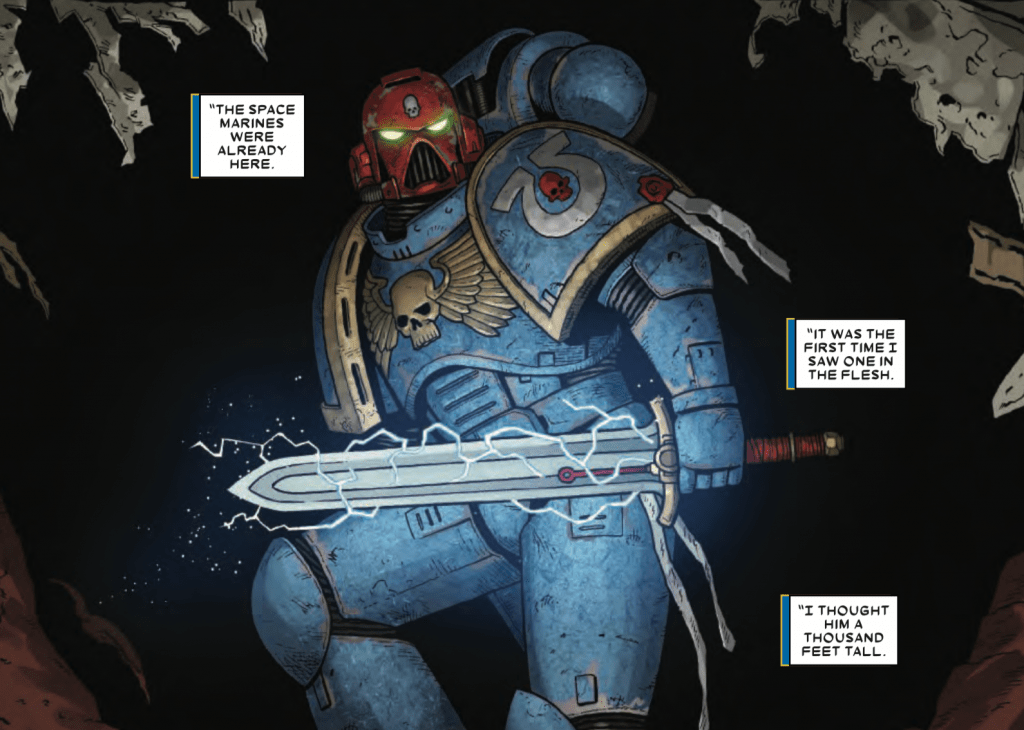 SW: Interesting choice of words "saw one in the flesh." Because, though it is crafted from ceramite, the power armor of a Space Marine is their true face. And based on his helmet color, we know that this particular Marine is a veteran, possibly a sergeant.
MT: Not to mention Crixus is about to try to saw him in the flesh, and fail, miserably.
SW: That chainaxe is no match for a power sword and 4 carefully placed bolt rounds to the chest.
MT: The same type of exploding rounds we saw in the opening moments of issue #1, I believe.
SW: Exactly, and Burrows does a nice two panel pause, where first we see them punch into Crixius' body. Then in the next panel the mass reactive shells erupt, completely obliterating his torso.
MT: He dies doing the thing he loves most: providing blood for Khorne, and it turns out it's just enough blood for the ritual! Kato and Severan get sucked into a… warp. What's the deal with this thing, Stu?
SW: Are you trying to trick me into explaining the mysteries of the Warp, Inquisitor? Honestly? I dunno. Seems like the sacrifices created an unstable rift into the Realm of Chaos. Raw, powerful and uncontrolled.
MT: I knew it! The dwarves delved too greedily and too deep!
SW: Well, luckily the cavern begins to collapse before any Balrogs (or more likely, Bloodthirsters) show up.
MT: We flash back… to the present, where Calgar learns that The Calgar Estates have been captured by the heretics. But it was all part of Calgar's cunning plan!
SW: He pulled a classic move from The Codex Astartes: he used his ancestral home as a honey pot! A target so tempting that all of the heretic forces converged on it. Now that they are all in one place, he can bring the full strength of his demi-company of marines to bear.
MT: And we end on our first full-page spread since issue #1. Calgar has all his dudes backing him up, and they're totally gonna kick ass, right Stu?
SW: Well, based on what we've seen so far, Mark! Just a few of these guys are tough, but with a full army…..let's just say that I hope there aren't any more of those Khorne altars around, because we're gonna see some exploding heretic bodies!
MT: So do you think we're done with Kid Calgar flashbacks from here on out?
SW: At the very end of the issue we get a little bit of a teaser for the next issue. It's an image of a Space Marine going through part of the implantation treatment, cross-sectioned with the same Marine getting his armor fitted.
MT: It's an impressive James Stokoe cover, and I suggest you check out the full resolution version here: https://www.previewsworld.com/SiteImage/MainImage/STL173523.jpg It's beautiful.
SW: So I'm guessing we'll follow Marneus through part of his training and the implantation process. Though that storyline feels like it is wrapping up, while the present day arc is building to a climax. I'd ask my trusty Astropath, but warpstorms are obscuring the Astronomican.
MT: I'm once again thrown by the turns that the flashback story is taking. I figured he might take out Kato and Severan this issue, and maybe Crixus the next, but we are just barreling through this plot. Any predictions on who present-day Calgar will meet on Thulium Minor?
SW: Maybe Kato or Severan, who survived being sucked into the Warp and finished their own training?
MT: Makes sense, since Severan had a prediction that he would stab Marneus Calgar, and that prediction hasn't come true yet. Still, though, I'm gonna put my money down on the heretic forces being led by the reanimated corpse of Marneus Prime.
SW: A bold claim! But so far, Gillen has challenged what we THINK we know about Marneus Calgar. If it is Sevaran, I hope that somehow the Warp has twisted him and Kato together into like a weird waxwork two-man monster!
MT: So how did you feel about this issue overall, Stu?
SW: Well, it didn't have the same twists and turns as the previous issue. But there was some solid action, we get a better sense of Marneus as a character, and I think we have a nice set up for a big two issue conclusion. Are you still on board this Thunderhawk Gunship, Mark?
MT: I am! The flashback narrative has caught me by surprise a few times, despite my guessing the big twist. I think next month we may find out why they didn't declare young Tacitan to be irrevocably tainted by Chaos, as you'd been wondering about last month.
So unless there's something more you'd like to add, we'll see you next month in the year 40,000!