Mark Turetsky: Hail, Blood Bag! I trust the past month has been nothing but battles waged and won for you?
Stuart Wellington: Hold on. Let me put down the miniature that I'm painting for my new Combat Patrol and spin you a tale of my many victories. Actually, well, the last month has been super busy for me. No time for battles. How about you, Mark? Now that you've dipped your toes into the universe of Warhammer 40,000, have you bought a pile of miniatures, action figures, video games, novels, playing cards, etc?
Mark Turetsky: I've pre-purchased some Hearthstone card packs for the next expansion. That's kinda like Warhammer, right? As for minis, all my D&D play has been online lately over a popular videoconferencing software app, which has been a nice respite from this time of isolation.
I did once assemble and paint a Xykon-riding-a-zombie-dragon figurine from the popular webcomic Order of the Stick, so that's miniatures, painting, gaming and comics all rolled into one, and it's comics we're here to discuss today, so shall we get to it?
SW: They left us on a bit of a cliffhanger last time, and plenty of unanswered questions! Who are those spikey fellows who have captured the adepts on Thulium Minor? Will Kid Calgar and his friends survive being chased by the Ambull? What do Space Marines do for fun?!?
Support For Comic Book Herald:
Comic Book Herald is reader-supported. When you buy through links on our site, we may earn a qualifying affiliate commission.
Comic Book Herald's reading orders and guides are also made possible by reader support on Patreon, and generous reader donations.
Any size contribution will help keep CBH alive and full of new comics guides and content. Support CBH on Patreon for exclusive rewards, or Donate here! Thank you for reading!
MT: I think they'd push back on the idea of fun. For them, it's combat, honor, and megapunches with the power fist. We start this issue back on Nova Thulium, with Quintus and Marneus doing some cleanup. Or rather Quintus cowering while Marneus cleans up.
SW: Marneus states again that this attack must have come from within the Imperial defenses, rather than an outside invasion. To fight the enemy, he'll need a new base of operations, and luckily his family estate is nearby. HOUSE PARTY!!!!
MT: The R&R (Restoration of the Imperium and Recitation of sacred oaths) will have to wait, because we cut back to Thulium Minor, where our tech-boys look like they're in trouble; namely, one of them is dead and the other is being held at gunpoint by our monster-voiced mystery marines.
SW: I have my theory on the identity of the leader of the Chaos forces, but I'll save it for later. They…coerce the adept to covering their tracks, then kill him to appease the blood god, Khorne. Their secret maintained, they do a little cheer to defeating the Imperial loyalists.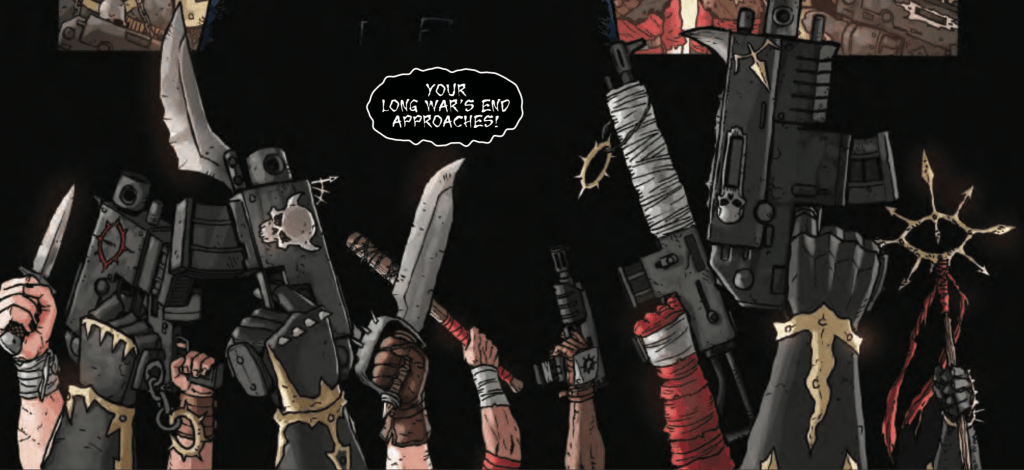 MT: It's all blood for the blood god! So what's Khorne's deal? Is he some manner of inconceivable horror from beyond? An alien? Just an abstract thing?
SW: Khorne is one of the four gods of Chaos. He is the god of warfare, bloodshed, murder, and more bloodshed. His colors are red and brass. His unholy number is eight. He is often depicted as an armor-clad giant with the head of a slavering canine, seated upon a throne of skulls. But he isn't, like, a character or something.
MT: So it's not like The Dwarves delved too greedily and too deep and awakened an elder god or something. Gotcha. So, these renegade marines mention The Long War, and before I can ask you "Stuart, what's The Long War?" Kieron Gillen steps in with our one info page for this issue, a history of the Long War.
What I love about this info page is the joke at the end of it. Just the implication that someone said something about The Long War, was summarily executed for it, their name stricken from history, and yet the quote that got them killed ends up in an official piece of propaganda, because why not? It's a moment of (dark) humor and levity in what I thought was an otherwise grimdark issue.
SW: It's a great way to impart some exposition. Like, "hold on. Stop reading this comic and go check the Chaos Space Marine Codex
for the necessary background. Got it? Good. Now back to the Adventures of Marneus."
MT: We get Marneus and his gang visiting his old stomping grounds, and Quintus starts asking him about his childhood, and so we cut to Marneus' flashback, already in progress. Guess what! They escaped the ambull off panel!
What I find interesting about the flashbacks in this issue is that it goes from purely something Marneus is remembering, to a story that he's recounting, and we get narrative captions, which we haven't had in this comic (bar the first two pages of issue 1).
SW: He shares a lot with Quintus. I had assumed that he was more of a brooding hero, lost in his memories. But he is surprisingly open with this plucky little adept.
The saga of Marneus and his friends' training kicks into high gear. We see snapshots of the various deadly lessons that Crixus puts them through. Burrows gets to do some fun storytelling with these wide panels.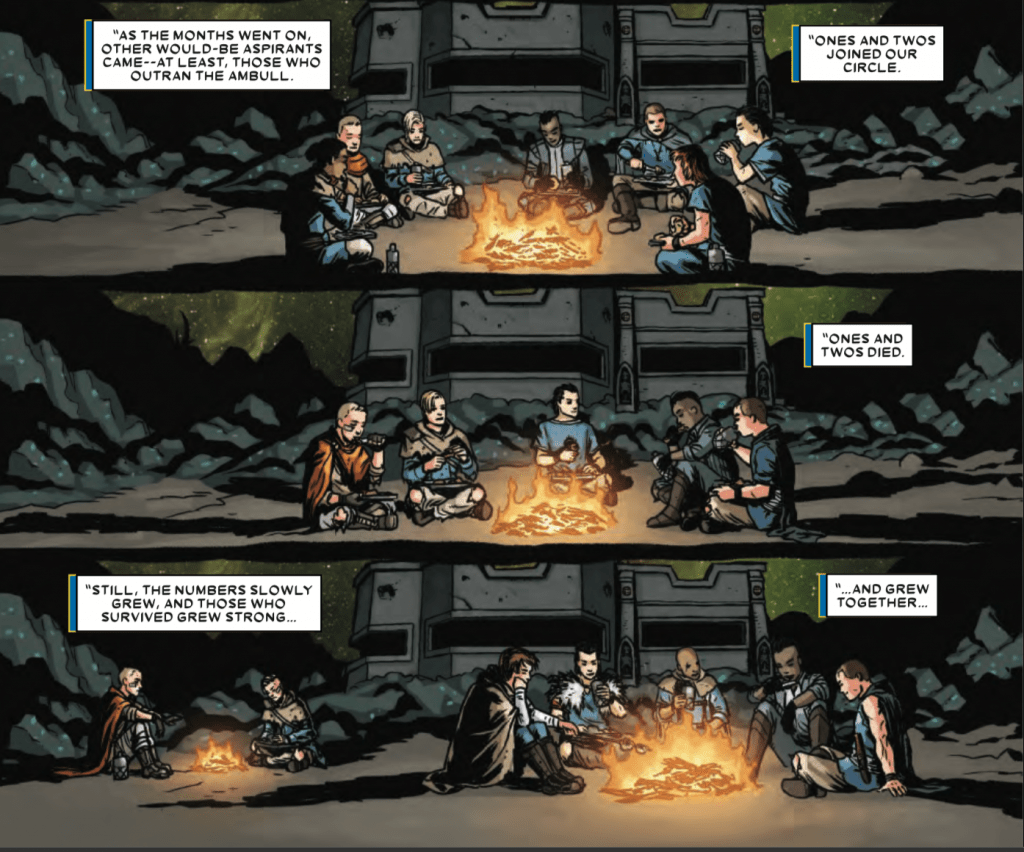 MT: Absolutely! How he stages the campfire nights on Thulium Minor tells a whole story of time passing and relationships changing, with Marneus and Tacitan slowly drifting away from Severan and Kato, as well as new recruits showing up and dying off, with the core four persisting.
SW: Interestingly, Marneus and Tacitan seem to be barely surviving the training, while Severan and Kato are thriving in this new harsh environment. The two more aggressive boys have gotten bigger and stronger, and even gathered a clique of other boys around them. I'd been expecting this to be the time for Marneus to develop his leadership skills, but that isn't the case.
MT: He frames it as the Kato Krew embarking on a journey of physical development, while Marneus and Severan are on a spiritual journey. They develop an esprit de corps that turns them into a team that has each other's back, as opposed to one built on physical intimidation and backstabbing. It's very much in keeping with present-day Marneus and Quintus' discussion of what makes a man space marine material.
SW: I do like that Quintus' take away from Marneus' story is "beep boop, how do we replicate Severan and Kato's battle skills for new recruits.' And Marneus just says "nope."
MT: And of course that's because, surprise, surprise, it turns out Severan and Kato have been secretly indoctrinated into the cult of the Khorne. And it turns out that Crixus has been a heretic all along, serving as their Khorne pop. Apparently he's still bitter that he wasn't chosen to be a marine. Can you imagine someone who just won't acknowledge when they've lost, and then they turn toxic enough to put other people into serious danger? Unreal, right?
SW: Thanks, Mark. I was enjoying my story in a bleak universe filled with blood and bullets, and now you've dragged me, screaming, back to reality.
But yeah, Crixus has either built or found a cool altar of Khorne, deep in a cavern that may be the ruins of a crashed spacecraft. The whole area is littered with dead space marines and traps. Oh, and candles. So many candles. In the absence of skulls, I suppose Khorne accepts candles as tribute.
I really like this section. The narration and art really builds up the tension. It's nice to see Burrows flex his horror comic skills.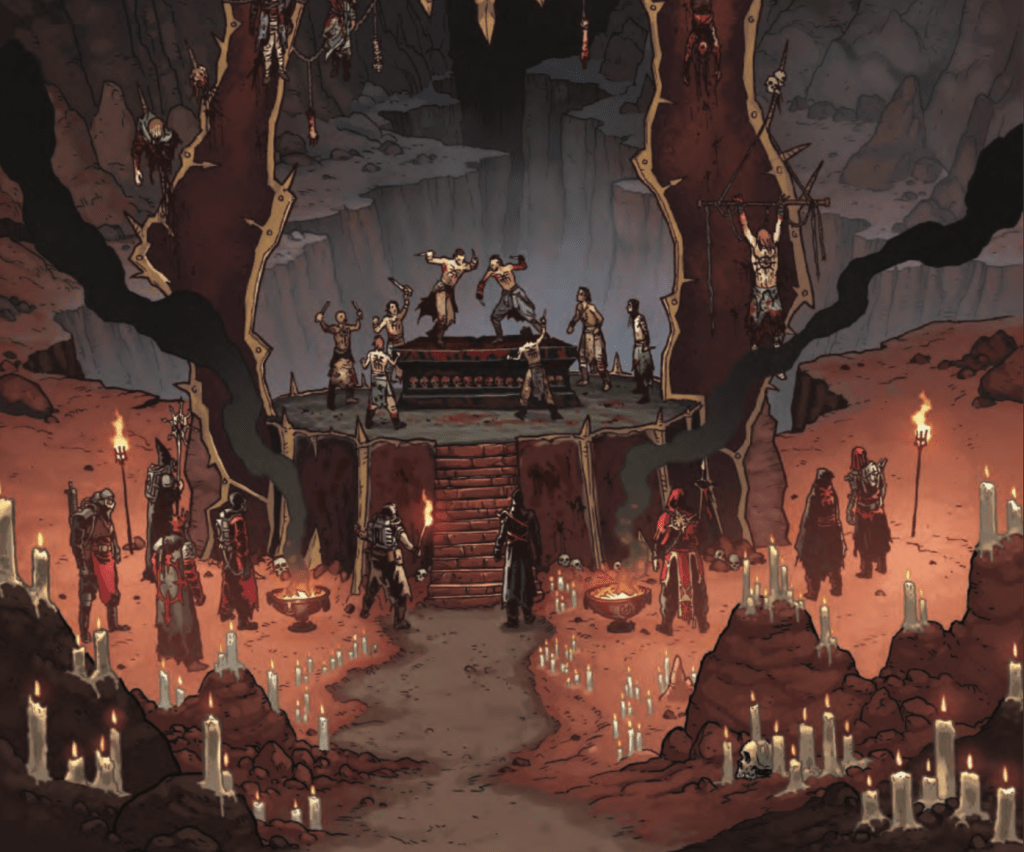 MT: I noticed a symbol that looks like an X with a horizontal line through it. Does this represent the ten (X) space marine legions that split off to worship the Chaos Gods?
SW: Nope! That is a stylized skull that is the symbol of Khorne. BUT I'll give you 1 Victory Point for the effort!
MT: I must have X-Men (Ten-Men) on the mind lately. I also noticed that Crixus has an X-shaped scar in his forehead. That can't be a coincidence, right? Also, "Crixus" sounds a lot like "Crucis," Latin for "cross" which gels well with the X imagery here.
There are a couple of things I want to point out on the page where Crixus knocks out both Marneus and Tacitan.
SW: Like the armed and armored Chaos Cultists and adepts of the Dark Mechanicus that are surrounding the altar of Khorne?
MT: Actually, it's a couple of comics craft things: Look at the center panel, after Crixus has knocked Marneus out, with Tacitan lunging with his knife. Look at the way Burrows draws Tacitan's arm and the edge of his knife. His normally clean lines have adopted a kind of Manga-inspired motion blur that's becoming more and more common in Western comics recently (I'm thinking of artists like Daniel Warren Johnson, or recent work from Chris Samnee and Erica Henderson). It's interesting to see Burrows adapting this technique, as I didn't see any of it in the previous issue.

And there's one more interesting thing I want to note on this page, Stu. Can you guess what it is?
SW: That somehow Crixus managed to get a cool Khorne-branded war knife?
MT: Ooh, still on the previous page: the scene keeps going after Crixus has knocked out Marneus. It only transitions after Tacitan is knocked out… But wait, I thought that Marneus was the one telling the story… curiouser and curiouser, no?
SW: Seems like an odd mistake from the writer. Maybe Tacitan told Marneus the story later? We'll see.
So it looks like our heroes are to be a blood sacrifice to the Lord of Skulls. Crixus explains his motivation, while showing off a very cool war knife. But hope is not lost and, working together, Marneus and Tacitan fight their way free of their former comrades.
MT: But before you can say, "Warhammer, don't hurt him!" Crixus stabs Marneus with that fancy Khorne knife and Tacitan and Marneus fall into a convenient underground body of water. There's a nice little visual flair as Tacitan drags Marneus through the water, as the blood begins to mingle, it almost looks like the adult Marneus' red cape, trailing behind him.
SW: It's a beautiful couple of pages. We watch young Marneus die, full of regret that his short life's goal is left unfulfilled. Tacitan closes his friend's eyes, takes up his knife and more importantly, TAKES HIS NAME.
MT: This is something I suspected might happen from the first flashback in issue #1, where we start the flashback seeing Tacitan running towards his friends. You see a young kid who looks kind of like present-day Marneus, but Gillen has him calling out "Marneus!" which is a nice fake-out, telling you "this is not Marneus." But if it's not Marneus, then why does this flashback focus on him?
SW: You were right, Mark. Next time I see you I guess I owe you a bottle of sacra and a pack of lho-sticks.
MT: Kieron Gillen has written about his concept for first issues of comics, calling it "First Thing, Second Thing." First Thing is basically what sells the comic: This is a Warhammer comic featuring Space Marines and gore. Second Thing is the unexpected thing that they didn't tell you about, the thing is the unrevealed part of the premise of the comic that brings you back next month. Now, I didn't really find a good Second Thing in last month's issue, but here we are, a month later, and I think this definitely counts as this comic's Second Thing. (Apologies to Kieron Gillen, but he's probably doomed himself to every critic applying this analysis to all of his comics from here on out).
SW: It's a clever twist, that is definitely earned. I was actually more surprised by the twist that Crixus, their trainer, was a worshipper of Khorne. I was expecting a more traditional "it's tough to become a Space Marine" narrative, so I appreciated the change. Chaos is insidious, and I am glad to see it represented that way. The enemy within, as well as without.
MT: Yeah, I was taken off guard by the Crixus twist, too. I thought he was just an abusive monster in the socially acceptable (within the world of 40K) way. I thought maybe the Kato Krew would survive on the moon and become the Chaos Marines in the present day, but I didn't think Crixus would be a part of it.
SW: I'm guessing that either they or Crixus is the leader of the Chaos Renegades on present day Thulium Minor. And speaking of present day, we cut back to 'Marneus Calgar' standing at the monument for Marneus Calgar. An Honor Guard Veteran delivers word that there have been more attacks.
MT: And that's basically how the issue ends.
SW: I really like this last panel, where modern day Marneus' expression mimics young Tacitan's expression. Very impressive detail work by Burrows.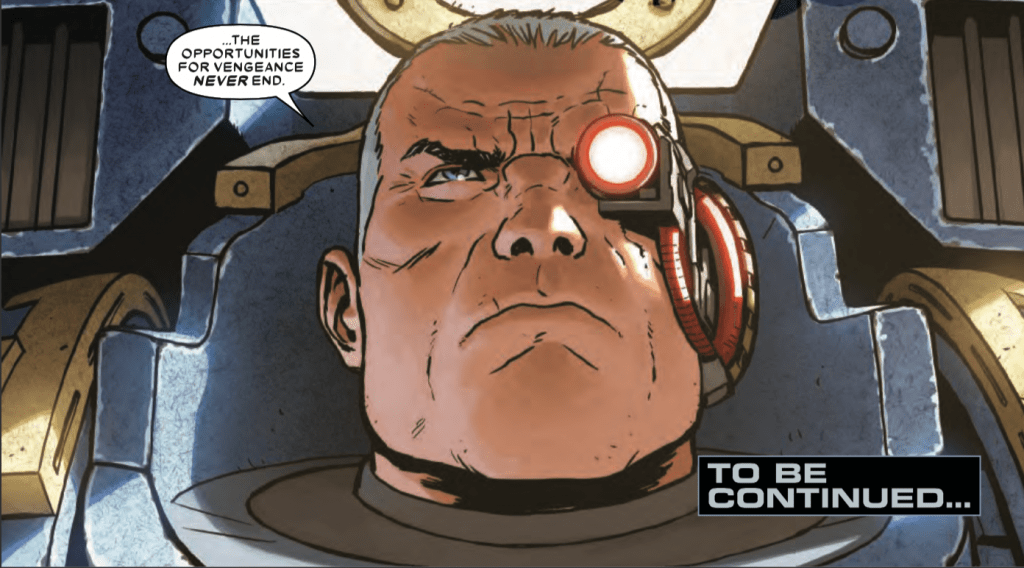 MT: Yeah, we take young "gee-whiz" Tacitan and fill him with resolve. Not sure how that resolve will translate into his getting off of Thulium Minor, much less fighting the Khorne cultists. But you know, it looks like these Khorne guys might buy into the whole classism thing that Young Marneus fought against. They might not consider Tacitan to be a threat, since he's a helot.
SW: We'll have to wait to see next month. So Mark, overall I liked this issue! It built nicely on the setup of the first issue.
MT: I liked it too! It's definitely not as flashy as issue 1; we don't get any full splashes, and only one info page. But then again, there's a ton of ground that needs to be covered in only 20 pages or so. I was surprised they pulled the big twist here instead of in the fourth or fifth issue, but then again, having guessed it, I'd just be waiting for that shoe to drop. Instead, I can't really guess where this is going, which is a better feeling heading into issue 3 than into issue 2.
I'm curious: what does this big revelation mean to your 40K sensibilities? Does it upend how you think about Space Marine society? Do you have new feelings about Marneus Calgar?
SW: Honestly, the reveal of the Marneus we know coming from humble origins feels pretty right. The idea that strength of character is more important than strength of body fits with the definition of a Space Marine.
I find it harder to believe that a Space Marine recruit that had been exposed to a secret Chaos Renegade training program would be accepted into Imperial society after his ordeal. The Inquisition would likely ask some pointed questions of young Marneus, then purge the whole moon. But I've liked the twists so far, and Gillen has demonstrated a solid understanding of the Warhammer 40,000 background, so I'm pretty confident that my concerns will be answered.
MT: So, let me ask you something about Marneus Calgar. Is he welded into that suit? Does he sleep in it? Does he sleep?
SW: Space Marines don't need to sleep much. And that is a suit of armor that he has a team of servitors and adepts put on him whenever he needs to go to battle. Most likely, it is the same armor that the previous Chapter Master of the Ultramarines wore.
MT: Gross. I'm also feeling that Nova Thulium is a bit barren of characters. We've got Calgar, Quintus, and then a bunch of anonymous extras, it feels like. I'm wondering if maybe we'll meet the current occupants of the Calgar Estates. It might be interesting to see Marneus' sense of relation to the people who still live there. I like that upon revisiting this place from his childhood, it all seems smaller to him, the normal adult growth augmented by his biologically enhanced stature.
SW: Up to this point, the flashbacks are a bit more exciting because of the characters and conflict. A few more characters with their own motivations and beliefs would add a lot. And also to separate Marneus and Quintus from the bulk of human society.
MT: Well, shall we call it a month, then?
SW: See you on Nova Thulium, Battle Brother. The Emperor Protects.
MT: May we meet in less grimdark times.