I make no secret that I am a huge fan of Peter J. Tomasi's work. Especially when partnered with Patrick Gleason, but his writing is among the best currently working. I first found his work during DC's New 52 initiative when he, along with Gleason, worked on the Batman and Robin
series, one of the absolute best things to come out of the New 52. Both he and Gleason moved on to an amazing Superman
run during the Rebirth era, and currently Tomasi is writing an equally great run on Detective Comics
. 
To get the best understanding of a writer, particularly one working for the big two, it's perhaps best to look at their independent work. When working for Marvel or DC, creators have to keep to set rules and stay true to the character they are writing. With independent creations, however, writers and artists are free to exercise greater control over their ideas. The two independent creations that spring to mind when looking at Tomasi are the horror title House of Penance
, and the superhero book The Mighty
. Given Tomasi is now very much associated with Superman and Batman, looking at his indie superhero, Alpha One (co-written by Keith Champagne), is a deeply interesting experience.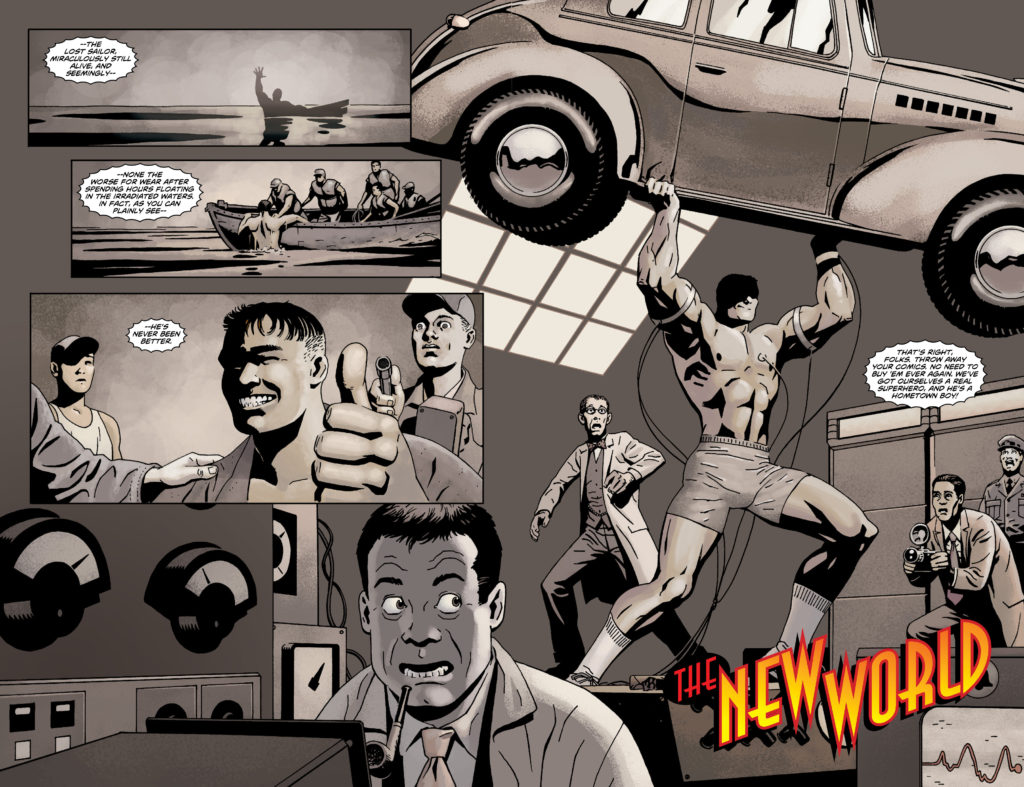 The Superman-esq Alpha One was birthed from an accident in 1952. Thought lost before the Eniwetok Atoll nuclear tests, his shipmates find him safe and sound floating in the irradiated waters, now stronger than ever. "That's right, folks. Throw away your comics. No need to buy 'em ever again. We've got ourselves a real superhero, and he's a hometown boy!" Now in the modern day, Alpha One is the superhero for the world, dedicated to saving as many people as he can. Though he's not quite what he seems.
We see the series primarily through Gabriel Cole, a boy once saved by Alpha One who became known as America's Orphan for how much attention the incident gained. Now all grown up, Cole becomes the Captain of Section Omega responsible for liaising with Alpha One. Something that he desperately wanted, but also feels a burden due to how the world sees him. Seeing the world through Cole's eyes, rather than how Alpha One sees the world, gives the audience a very grounded sense to things. We, and Cole, see Alpha One as this amazing hero, but we also notice the little, inhuman or somewhat cruel qualities to the hero. Through Cole, we see his admiration for the hero but experience the stark reality of fact sink in. 
Support For Comic Book Herald:
Comic Book Herald is reader-supported. When you buy through links on our site, we may earn a qualifying affiliate commission.
Comic Book Herald's reading orders and guides are also made possible by reader support on Patreon, and generous reader donations.
Any size contribution will help keep CBH alive and full of new comics guides and content. Support CBH on Patreon for exclusive rewards, or Donate here! Thank you for reading!
While Superman parallels are drawn very early on, namely the third page showing Alpha One lifting a car in an incredibly similar fashion to the cover of Action Comics #1, when we actually meet him, his demeanor is far from the paragon that is Superman or Clark Kent. Alpha is somewhat brash and cold. Given what we do know about his origin, it's possible to assume that it's due to his unusual beginnings and the time that has elapsed. It's been 50 plus years since the incident and he seems to have remained exactly the same, as the rest of the world changed around him.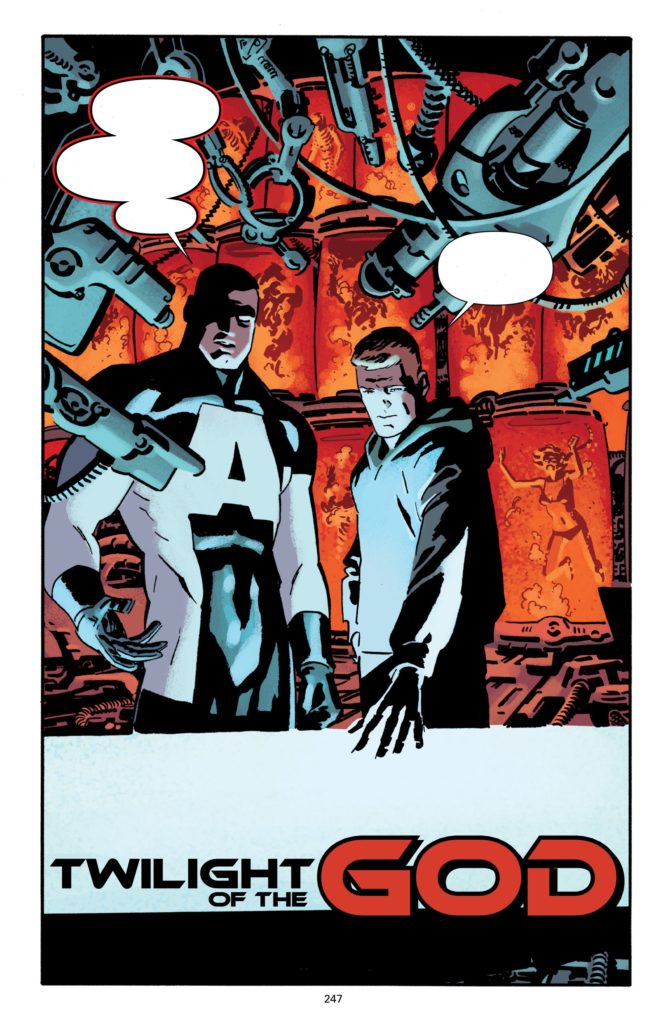 The story as a whole seems to walk the reader through the deconstruction of a Superman. A number of deconstructions begin with mythological norms already thrown on their head, the idea of the kind and patient superman, ready to do anything to save everyone, the superhero as extension of the good-guy policeman archetype. Take Brightburn for example: what we see of Brandon even early on already leans towards the sadistic. The arc of the movie is whether or not he will acknowledge his flaws in thinking. With The Mighty, we do think that Alpha could just be an old hand at the superhero job, becoming a little jaded and it's starting to show. We experience the shattering reality alongside Cole as things do begin to get so much worse.
The art throughout is very striking and gives a very strong impression. The work of both Peter Snejbjerg and Chris Samnee truly shines all the way through. The book is bright and hopeful when it needs to be, with a strong sinister tone when needed. Characters are incredibly easy to distinguish from each other, without being too heavily stylized or cartoony. It truly adds to the story in ways I feel other art styles might not be able to.
Given all of the creator's experience with mainstream superheroes, it's extremely interesting to see them tackle superhero deconstruction in a very liberating environment. There are no worries about having to put everything back to square one for the next writer or having to stick to a house style when it comes to a character's looks. The story ends when they say it ends. There is a solid conclusion of myth, and that's what makes the story so compelling. Anything could happen to these characters as things get so much worse.
The Mighty is truly an amazing read from amazing creators. It has been incredibly overlooked compared to other works from both the last 10 years, and especially compared to the creator's other catalog. It's more than worth going back and giving some attention.