Of all the Marvel NOW! titles to launch in the wake of Avengers vs. X-Men, Uncanny Avengers is undoubtedly the lynchpin. While All-New X-Men embraces the plight of the X-Men following the events of AvX, and Uncanny X-Men continues the struggle of Cyclops and his fellow outlaws, nothing touches on mutant/human relations like Uncanny Avengers. Following the tyrannical (albeit well-intentioned) world takeover from the mutant Phoenix Five, anti-mutant sentiment is at all time high, meaning if the Avengers and X-Men can't come together there will be a riot goin' on.
A Mutant World in Mourning
Rick Remender and John Cassaday bring us Uncanny Avengers, and the first issue presents a direct epilogue to the death of Professor Charles Xavier at the hands of a Dark Phoenix possessed Cyclops in AvX. The issue is easily the most essential continuity connection of the Marvel NOW! relaunch, serving in many ways as an epilogue to the event that cost the founder of the X-Men his life. Wolverine addresses the loss of Professor X in a heartfelt, yet depressing eulogy. As Wolverine concludes, Professor X never lived to see his dream of mutants and humans living together in peace, and they have failed the man.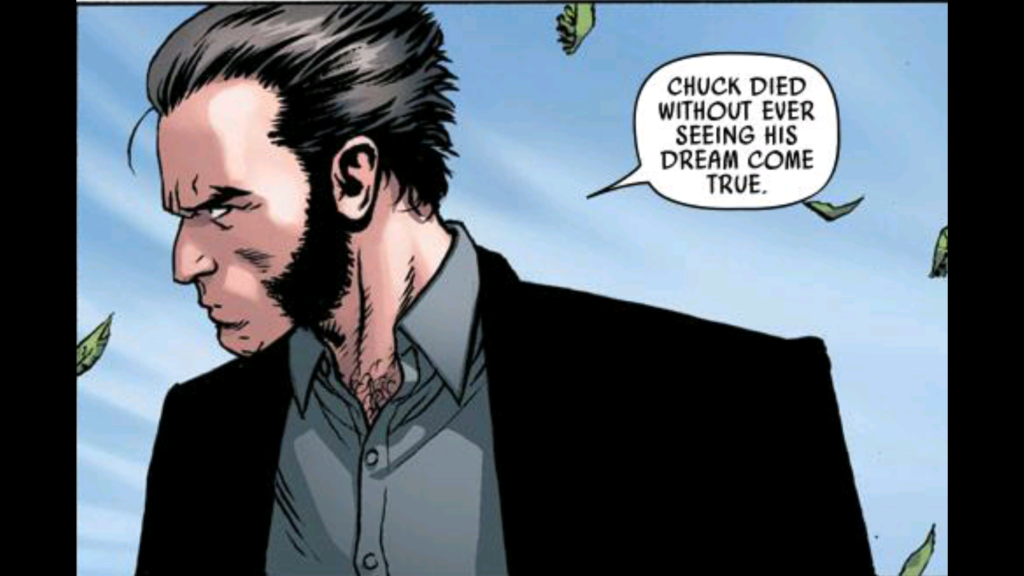 Issue #1 also finds Captain America and Thor determining that rather than attacking or ignoring the "mutant menace" it was high-time they partnered with mutants, and embraced efforts to make a safer world for the mutant population. Havok becomes Captain America's target for the leader of an Avengers Unity initiative, both because of the fact that he is the brother of the foremost mutant terrorist and because of history with Professor X and the X-Men. 
Perhaps most importantly for the ongoing continuity of the Marvel Universe, issue #1 concludes with the shocking revelation that the Red Skull has exhumed the body of Charles Xavier and stolen his brain, granting himself the psychic powers of the world's foremost telepath. Suddenly the question of what would have happened if Professor X had been a villain becomes a startling reality for the Uncanny Avengers.
Professor X Desecrated
In many ways, Uncanny Avengers is a very nice tribute to Professor X, both in terms of establishing the monumental nature of his loss, and by contrasting his presence with that of the Red Skull stealing his powers. Over the course of the 2000s, Professor X has been beaten down and tarnished by creators adding elements of dark and questionable ethical decisions to his character. Joss Whedon revealed that Professor X had been keeping a sentient alient being prisoner inside the danger room for years in Astonishing X-Men, and Ed Brubaker revealed that Professor X was responsible for the death of an entire unknown group of young X-Men before the New X-Men of 1975 entered the mansion. Mix in Xavier's clandestine dealings with Brian Michael Bendis' Illuminati, and you have a kind, loving leader turned into a dark, nefarious manipulator.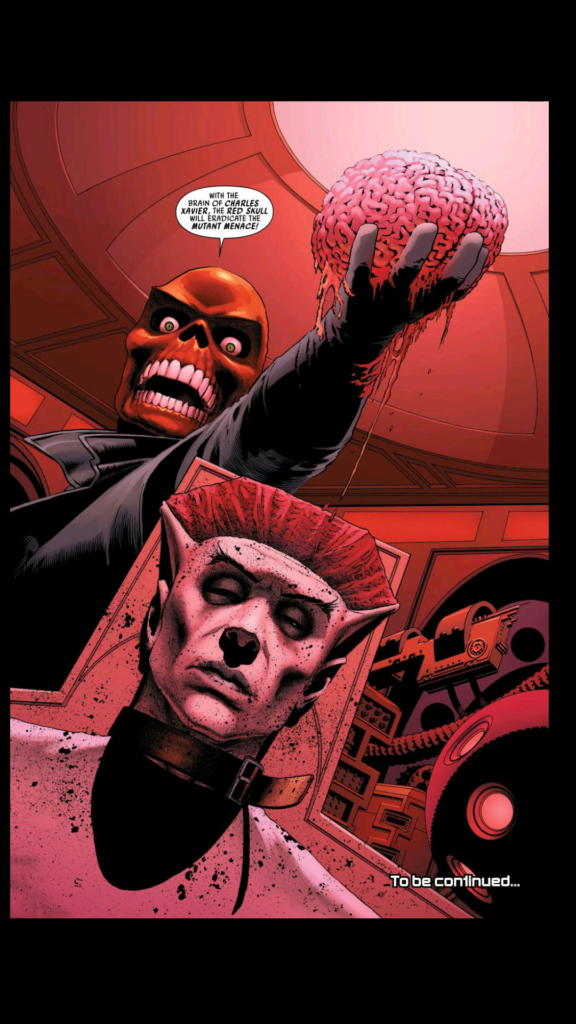 As a fan of the X-Men, it's actually very nice to see the loss of Professor X taken hard by the X-Men, with flashbacks from Rogue and Wolverine revealing how caring and loyal a man he was to his team. The contrast of the Red Skull with the powers of Charles Xavier also makes Professor X look like a SAINT. You thought some of Professor X's decisions were ethically dangerous? Well how about we give those same powers to pure evil incarnate?
Indeed, within these first five issues the Red Skull lobotomizes Avalanche and uses him to kill hundreds in New York by wiping out buildings, and then uses his newfound psychic gifts to incite hatred and rage towards mutants, sparking one of the bloodiest street riots since the mutant massacres. The plot feels very similar to Jack Kirby's "Madbomb," but in the hands of the Red Skull the end results are savage beatings of suspected mutants, and the near death of the newly assembled Uncanny Avengers team.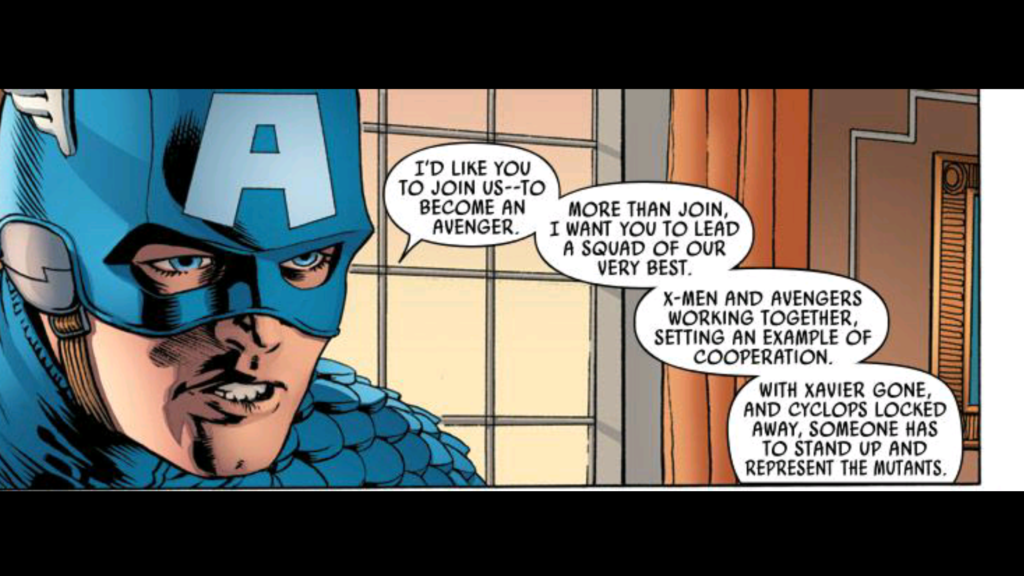 Uncanny Avengers Assembled… Now What? 
Over its first four issues, Uncanny Avengers feels very much like a reasonably familiar "avengers assemble" storyline. And then everything takes a turn. 
Support For Comic Book Herald:
Comic Book Herald's reading orders and guides are made possible by reader support on Patreon, and generous reader donations.
If you like Comic Book Herald reading orders and want exclusive reader rewards, your support on Patreon would be tremendously appreciated! Rewards include:
Custom monthly reading playlists
Priority reading order requests + Q&A
Weekly continuity updates
Reading order update logs
A direct hand in growing CBH!
Any size contribution will help keep CBH alive and full of new comics guides and content. Support CBH on Patreon for exclusive rewards, or Donate here! Thank you for reading!
At the end of issue #4, Rick Remender reveals the true extent of his plans for Uncanny Avengers with the mysterious, time traveling plotting of Kang the Conqueror. Even better, Kang involves himself with the Apocalypse Twins, the children of Archangel (back when he became Apocalypse in Remender's run on Uncanny X-Force) and Pestilence (I'll let you go ahead and picture that for a minute – gross!).
The reveal is absolutely thrilling and will pay off tremendously in the proceeding issues of Uncanny Avengers, but for now the seeds are planted.
CBH Score: 3.8 out of 5
Read on Marvel Unlimited: Uncanny Avengers Vol 1
Writer: Rick Remender
Artist: John Cassaday
Publication: October 2012 – March 2013
The first five issues make for grand Marvel concepts and a lot of quality scene setting, but the real meat of this run is yet to come.
[schema type="review" rev_name="Uncanny Avengers Vol 1" user_review="3.8" min_review="0.0" max_review="5.0" ]