Well, this was certainly a surprise. It's not often a writer asks for something specific only to be given it shortly thereafter, and I find myself in that very position today. In May, in the lead-up to PRIDE, I co-wrote an article on Trans representation at Marvel comics. We discussed the introduction of Jessie Drake, a character widely regarded as Marvel's first Trans character. The book (Marvel Comics Presents #150-151) was fairly lopsided, with parts seeming to be sympathetic and kind to her, while others were iffy to say the least. This can partially be expected given the comic was published in the 90s, however this particular character never appeared again following that two-issue arc.
I mused on what a modern story examining her today would look like. Fast forward a month, and Marvel actually did it! Let's look into this to see what I thought, and, while we're at it, touch on the other stories featuring Trans characters in the issue.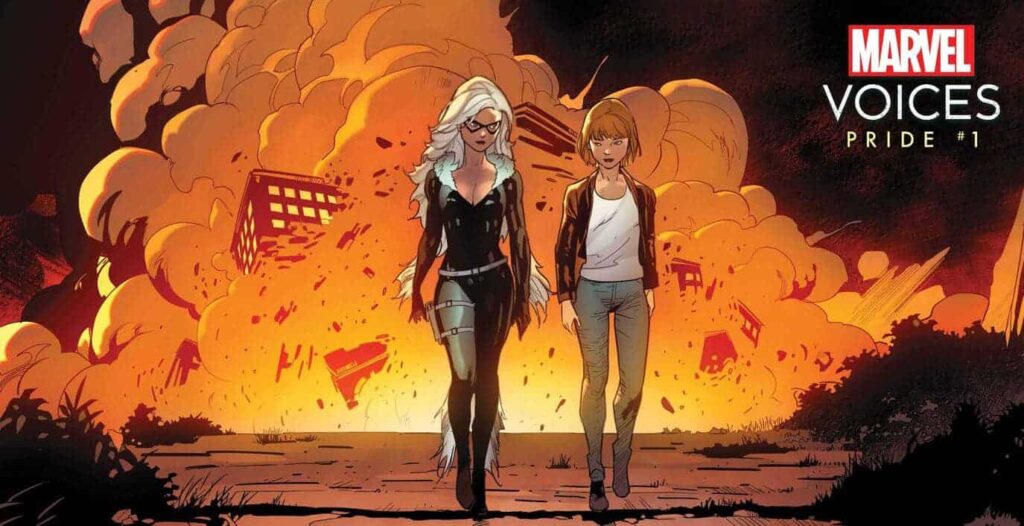 Starting with the Jessie Drake story, it's disappointing that her Trans identity is not mentioned once in the book. A standard response to this is "Why should a Trans character talk about being Trans all the time? Real Trans people talk about other stuff all the time!" and that's correct. Having your LGBTQIA+ character talk about their sexual or gender identity constantly would be tokenizing, but that's not what I'm asking for. You don't have to talk about it all the time, however it should be made clear they are in fact Trans, and for a character who hasn't appeared in any books in around 20 years, a reminder to the audience wouldn't have been out of place. Even if just the narrative caption box that introduced her said "Trans Woman" it would have been nice. After all, this is the PRIDE issue. It's the one place where blunt discussion of a character's LGBTQIA+ identity would not only be acceptable but expected. Every other story heavily discussed the characters' identities in some way.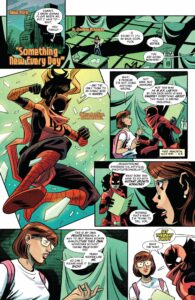 That's a good place to talk about the other trans stories in the book. First there was one featuring Dr. Charlene McGowan from Immortal Hulk
. I have nothing but praise for how she was handled in this issue. McGowan's past included making gray market hormones in a lab, and this issue follows up on that with her going to an old shady warehouse to get supplies. She runs into both some goons trying to raid the place for harder drugs as well as Hell's Kitchen's new protector Elektra Natchios filling in for Matt as Daredevil. The book has direct confirmation of the character's Transness as well as some minor banter including it. I liked that they had Elektra say something insensitive but well-meaning and try to make amends when called out, making it the best story of the issue for me.
The other one is an interesting case as my feelings on it are peppered by the buildup. In the preview images and solicits for the book, we were told to expect a Trans She-Hulk story. Twitter chatter from the writer also hinted this would be a non-canon story, which would be the only way a story could be told about a Trans She-Hulk. Suffice to say, I got a little excited since… frankly, the best examples of Trans representation in comics are always non-powered characters. We don't really have any good Trans superheroes that don't have some iffy element to them, so seeing one of the big Marvel heroes reimagined as Trans was an enticing idea. That's not what we got, though I fully acknowledge that my disappointment here comes from my expectations leading up to the story and not the story itself.
Support For Comic Book Herald:
Comic Book Herald is reader-supported. When you buy through links on our site, we may earn a qualifying affiliate commission.
Comic Book Herald's reading orders and guides are also made possible by reader support on Patreon, and generous reader donations.
Any size contribution will help keep CBH alive and full of new comics guides and content. Support CBH on Patreon for exclusive rewards, or Donate here! Thank you for reading!
The vignette follows She-Hulk eating lunch while making her way through the New York subway as she's attacked by Titania, who has a long-standing grudge against the Jade Giantess. Oddly, Shulkie doesn't fight back and instead seems terrified of Titania, trying her best to escape. This leads to the revelation that this girl is in fact not actually She-Hulk, but a cosplayer on her way to a convention. To her credit, Titania treats the terrified girl to lunch for the mix-up and the two get to talking. This is where the story gets heartwarming, as the girl, who is also named Jennifer, explains her back story. She grew up with body dysphoria and always admired She-Hulk since Shulkie is widely regarded as gorgeous despite having some of the same features Trans women struggle with, such as her height and the like. She even says she chose to name herself Jennifer after She-Hulk for explicitly this reason. The two bond over this and become friends, with Titania promising to have her back.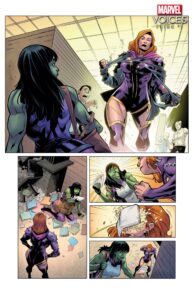 This story hits home, as I am a cosplayer that often struggles with what costumes to pick. What would look good for my body type? What characters can I pull off? And so on. I have cosplayed She-Hulk for exactly the same reasons discussed here, so I've been where this girl in the story is.
My apprehension is purely from the disappointment I feel when it comes to Trans representation in superhero comics in tandem with the pre-release expectations I got from previews of the book. We need more Trans superheroes that exist in the Marvel and even DC universes and the idea of a Trans She-Hulk got me excited. Ignoring those issues, which are admittedly not the fault of the story itself, this story is quite heartwarming. I think any Trans person who reads it will smile at the thought.
Now that we've talked about what the other two stories did right, let's get back to the Jessie Drake story we started with. There isn't much here. Black Cat runs into Jessie while searching for a villain that's been impersonating her named Steel Raven. Jessie's empath powers cause her to mimic Felicia, triggering a misunderstanding that's quickly quelled by Jessie reverting to her regular appearance. After some discussion (and some flirting) the two come to the conclusion they're both looking for the same person as she's partially responsible for the attempted experimentation that happened to Jessie in her debut comic. The pair decide to team up in their search after burning down the building and getting some Italian for dinner. Despite the light content, the story does end with a question mark after "The End," implying we may see more of Jessie in the future. Still, what's here is very scant.
One thing I can praise the issue on is her overall presentation. I still consider it a mistake the story never mentions she's trans, but I will note that a blurb on a later page going over "Big Gay Moments" in the Marvel universe does. This doesn't fix my problem, as the story should be self-contained, but I felt I should mention it. How does it present her if you go into the story knowing she's Trans however? Fairly well, honestly. She only mimics Felicia once to establish her powers, and when she reverts to her default state, it's unmistakably feminine. Unlike the prior story, there seems to be no ambiguity in her gender presentation and nothing that implies she only feels like a girl because of her proximity to a woman (like last time).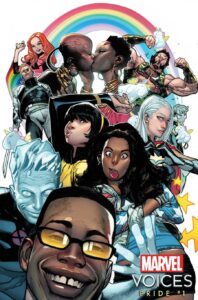 The flirting was also a pleasant surprise. Typically, Trans characters are presented as sexless or as already existing in a committed relationship. It might be writers trying to avoid fetishizing us or trying to avoid the "Trans predator" stereotype (which implies that our gender identities are part of a ruse to "trick" people into dating us). Portraying trans people flirting and dating might be a minefield some writers don't want to touch. In addition to that, we don't see a lot of trans flirting because we don't see a lot of trans characters, in general. Either way, I was surprised at how much I enjoyed that aspect of the story.
Overall, this PRIDE book fills me with a sense of genuine enjoyment as well as some sadness. While parts of the Trans stories were excellent, I still can't help but notice the characters who were chosen. An obscure character nobody's seen for 20 years, a non-powered supporting character, and a non-powered cosplayer we will likely never see again. Sera, Koi Boi, and Jake Young from Avengers Solo all make brief cameos, but nothing of substance. An introductory narration blurb implies that aliens introduced the concept of trans and non-binary identities in the Marvel Universe, which is very yikes in and of itself. It all just leaves me lamenting how far we still have to go for Trans representation in this medium. While I'm hoping for better representation in the future, it's still true that Marvel and DC can and should be doing better in the here and now.