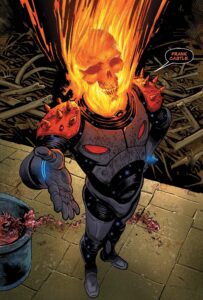 Sometimes comics are poetic, sometimes they're an action-filled romp, and yet other times comics can be the reading equivalent of listening to a particularly epic/absurd metal album. Much of the work brought to us by the creative team behind Cosmic Ghost Rider, Donny Cates and Geoff Shaw, fits in the last category, and nowhere is that more true than this omnibus. Even as we see new creators bring new takes on the character, these stories by their very nature are filled to overflow with theatrical fights, absurd comedy, cosmic threats, and, one imagines, lots of guitar solos.
Cosmic Ghost Rider is said to have taken cues from DC's Lobo: a spacefaring agent of chaos, chomping cigars and traveling through the stars on a space motorcycle. The character likewise bears more than a passing resemblance to Deadpool or Harley Quinn, cracking wise while put into one impossible situation after another. This is all to say that while there might not be a ton of substance, this omnibus is a heck of a lot of fun to read, and the adventures collected here take us all the way through the Marvel Universe and back again.
Collects: Thanos (2016) #13-18, Thanos Annual (2018) #1, Cosmic Ghost Rider (2018) #1-5, Cosmic Ghost Rider Destroys Marvel History (2019) #1-6, Guardians of the Galaxy (2019) #1-6, Avengers (2018) #22-25, Revenge of the Cosmic Ghost Rider (2019) #1-5; material from Thanos Legacy (2018) #1, Wolverine: Black, White & Blood (2020) #3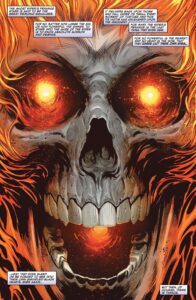 Thanos (Pretty Much Never) Wins
On Earth-TRN666 (yep), Thanos conquered the universe. After he made short work of Earth, Frank Castle was one of many to be sent straight to Hell (guitar riff). In order to take vengeance on Thanos, Castle made a deal with Mephisto, which is always a smart and good thing to do. He became the Spirit of Vengeance in order to return to Earth to take Thanos out. But the planet was nothing but a barren wasteland and Thanos was long gone, leaving Castle to roam a barren Earth alone for countless years. Shocking us all, Mephisto had betrayed Castle, and ultimately started leaving his messages on read.
An injured Galactus hurtled to Earth in hopes of finding assistance against Thanos, and Cosmic Ghost Rider offered to become his herald out of not having much else to do. Though all of this happens more or less in an extended montage, the two become a legendary team-up as they dedicate everything they have to stopping Thanos. Still, Thanos ultimately destroys Galactus and enlists Cosmic Ghost Rider, who has few qualms about switching teams mid-fight.
Support For Comic Book Herald:
Comic Book Herald is reader-supported. When you buy through links on our site, we may earn a qualifying affiliate commission.
Comic Book Herald's reading orders and guides are also made possible by reader support on Patreon, and generous reader donations.
Any size contribution will help keep CBH alive and full of new comics guides and content. Support CBH on Patreon for exclusive rewards, or Donate here! Thank you for reading!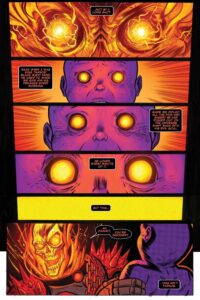 Intergalactic Murder Baby
As Thanos continues on his rampage across the universe, one has continued to elude him: Norrin Radd, the Fallen One. To this end, King Thanos sends Castle back into the past to retrieve a young Thanos so that they might team up, though it turns out that the young Thanos is not intended to kill Radd—rather, King Thanos's plan is for his younger self to kill his older self so that he might finally be with Death. Covered in the black metallic surface seen in Silver Surfer: Black, Radd engages in an epic fight with Castle, smashing him with Mjolnir while the young Thanos works to unmake the reality they've found themselves in.
This should be all she wrote for our friend Cosmic Ghost Rider, but Odin takes pity on him and pulls him into an alternate-reality Valhalla, which Castle quickly asks to leave. Odin agrees, giving Castle the power to go anywhere in the cosmos. Perhaps unsurprisingly, he chooses to go back in time to murder Baby Thanos. But when he comes face-to-face with the little tyke, he can't bring himself to destroy such an adorable child. Taking the child in his arms and deciding that it's them against the world, Cosmic Ghost Rider decides instead that he will raise Baby Thanos right, hoping to avoid his seemingly inevitable heel turn through peaceful means.
Naturally, this puts CGR at odds with the vast majority of the multiverse, as the Cable-led Guardians of the Galaxy comes to destroy Castle and Thanos both, until an adult Thanos, raised by Frank Castle and sporting a "Punisher" t-shirt, shows up. This Thanos initially impresses Castle, but ultimately reveals himself to be a fascist at heart. This disappoints Castle, who returns the child to his own time and goes once more on his way.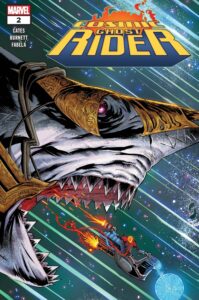 Cosmic Ghost Rider Revenges
Destroys Marvel History is a jaunt through the Marvel Universe from the perspective of Cosmic Ghost Rider as he tells us all the many things he learned while moving the timeline around in an attempt to save his seemingly perpetually doomed family. Cosmic Ghost Rider makes appearances in the Avengers during the Challenge of the Ghost Riders story as well as an arc of Guardians of the Galaxy, but, while entertaining, he doesn't play a huge role in either.
In Revenge of the Cosmic Ghost Rider, Castle has taken once more to roaming the spaceways and punishing the wicked when he is apprehended by the Shi'ar. Besides the skull, Castle's body is disintegrated, but he soon rebuilds off the life forces of others. Leaving one person, Cammi, alive, Castle tries to go along his merry way until Mephisto and Cosmic King cause trouble by endangering her. Feeling responsible towards Cammi, Castle tries desperately to save her by riding right back to Hell.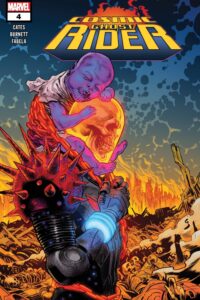 The art throughout the omnibus is awe-inspiring even in its silliest moments, and scenes with giant space sharks, a black metal Silver Surfer, and trips to literal Hell are truly the glue that holds this whole book together. Castle's design is top-notch and the apocalyptic backdrops come to life issue after issue. Fight scenes are undeniably epic, and there's no guarantee CGR will make it out alive. Oftentimes, he doesn't.
Cosmic Ghost Rider is ridiculous, and there are times when reading this omnibus feels like what would happen if a Meatloaf album cover collided with a Hawkwind album cover, and those both collided with the Marvel Universe. If you're among the people that would find that awesome, you will likely enjoy these comics. The world doesn't necessarily need Cosmic Ghost Rider, but if you can learn to stop worrying and love the bomb, then you'll find a lot to love in these pages.