Early fall has always been a time for fresh starts. Schools are back in session and new television shows hit the air. All around, it seems like a good time to get in on the ground floor of just about anything. Likewise, Marvel has relaunched Thor this week with a new number one as part of the "Avengers Now!" branding initiative. However, autumn is also often fraught with ominous symbolism, what with the withering, harvesting and the "winter is coming" of it all. Fittingly, these glooming overtones are well represented within the latest inaugural chapter of writer Jason's Aaron's ongoing saga of everyone's favorite Odinson.
Thor #1 doesn't drive straight into "Frown Town" as artist Russell Dauterman's work plays heavily into the pedigree's more traditional fantasy leanings, effectively conveying comedic interplay between characters and a general lightheartedness that will hopefully serve as a beacon against the impending dusky horizon. While artistically more in line with Aaron's oft-time collaborator, Ron Garney, Dauterman's work also possesses a certain Frazetta/Heavy Metal magazine quality which is somewhat reminiscent of Esad Ribic, the primary artist of the previous series (Thor: God of Thunder). For a relatively new talent, this is a pretty high profile assignment but Dauterman delivers in spades, making for a very worthy and welcome addition to the creative team.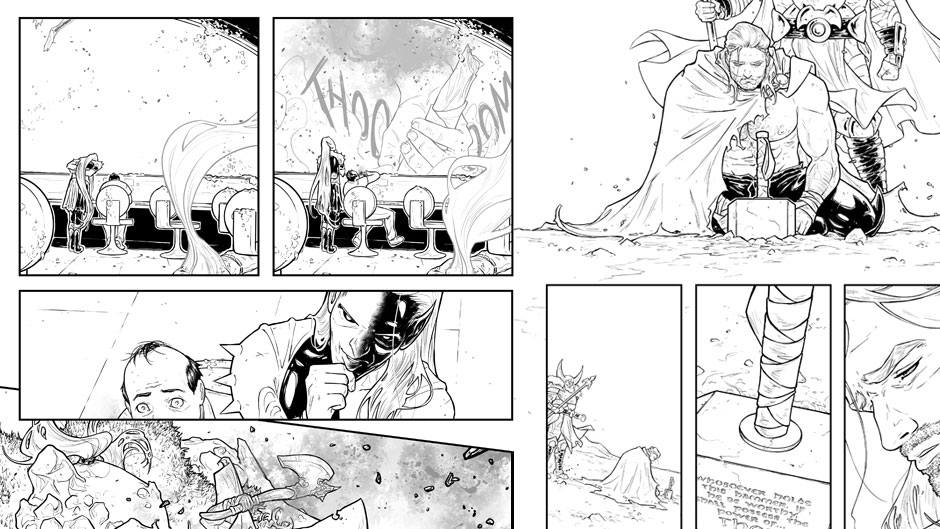 Getting thrown into the mix as well is new color artist, Matthew Wilson, contrasting the stark and slightly washed-out coldness of the T:GoT run with a refreshingly warm and vibrant palette that compliments Dauterman's art quite well. While the pictures pop, Wilson also exhibits great command of mood, employing consistently well-balanced range whether the scenario demands mysterious foreshadowing or viscerally grim action. Rounding out the behind-the-scenes who's who is holdover letterer, Joe Sabino, who doubles on production for the issue. More than editorial oversight, his would be the steady invisible hand keeping this entertainment product in tune with its immediate predecessor.
In terms of pure storytelling mechanics and functionality, the issue operates much as anyone would expect, especially when taking into account the "seasonal" TV model Marvel's comics have adopted lately. What transpires is a rock-solid blend of "what's come before" recap cleverly disguised as dialogue and thrilling forward-motion plate spinning with a few unexpected (and tragic) laughs along the way. In short, all the makings of a pretty good if not somewhat predictable "Season Two" premiere.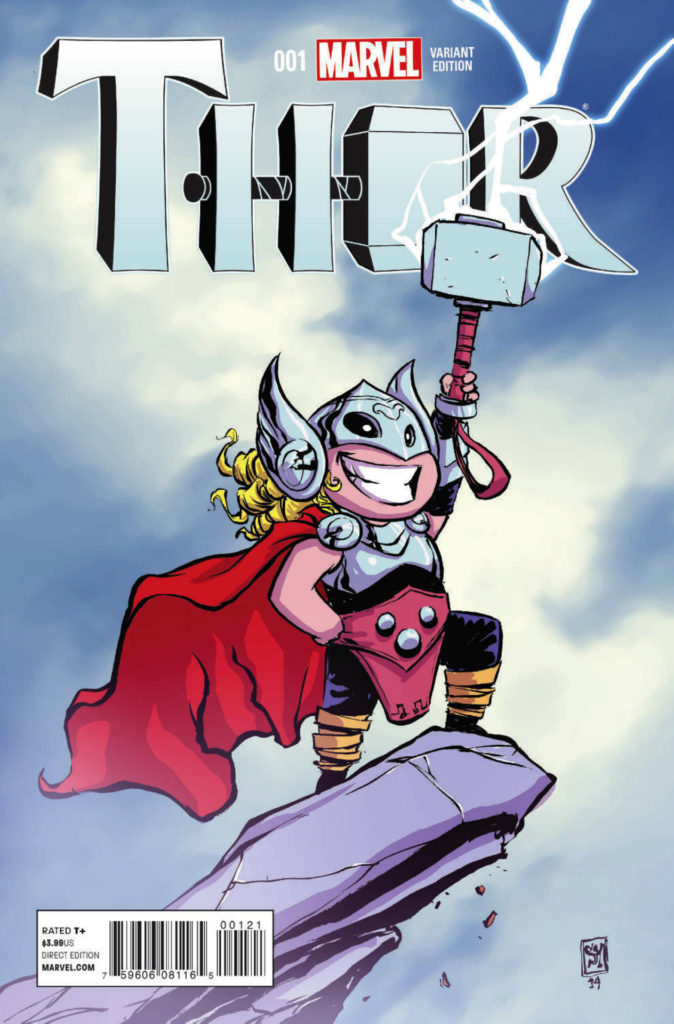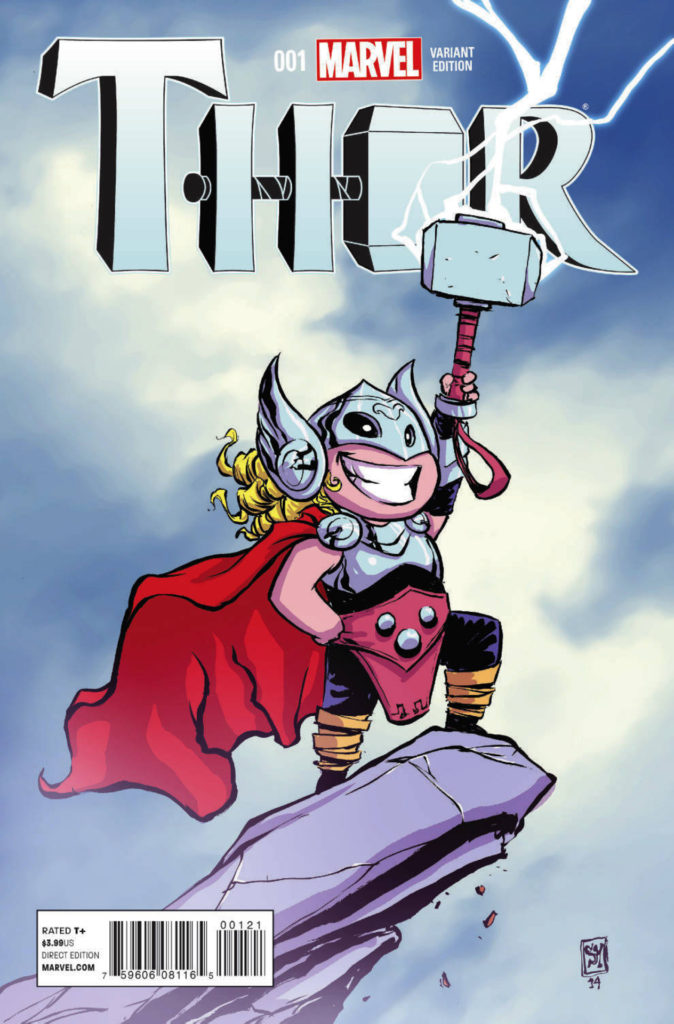 The predictability isn't altogether a bad thing. It's actually like watching a highly entertaining yet unswerving prophecy unfold. However, given information readily available in upcoming solicitations and Jonathan Hickman's "Eight Months Later" Avengers, any true urgency is undone as continuing readers already know how our unworthy protagonist fares. It's doesn't make the tight spots feel any less tighter in the moment, though, as the villains are truly bring their game. Plus, points to Aaron for creative battleground arenas!
Support For Comic Book Herald:
Comic Book Herald is reader-supported. When you buy through links on our site, we may earn a qualifying affiliate commission.
Comic Book Herald's reading orders and guides are also made possible by reader support on Patreon, and generous reader donations.
Any size contribution will help keep CBH alive and full of new comics guides and content. Support CBH on Patreon for exclusive rewards, or Donate here! Thank you for reading!
The other thing that keeps this issue from being great is that it could have benefited from an extended page count. Although ending on a fantastic set of cliffhangers, it's actually something of a shame that more time couldn't have gone to delving into the actual controversial mystery at the reset's crux. As it stands, the most direct addressing of the "stunt" move to have a woman possess the hammer-worthy might of Thor is undertaken by Aaron himself within the letters column, setting the record straight on a thing or two. Another scene or two with Roxxon Seabase and their weaponized Attack Sharks would have been nice too, if nothing more than as a recurring mash-up homage of Adult Swim and Austin Powers.
As a stand-alone issue, this uneven finish is a detraction. I'm sure it'll execute better when revisited in the bigger picture. But for the moment, five weeks until the next issue is far too long of a wait.
CBH Score: 4 out of 5 stars
[schema type="review" rev_name="Thor #1″ user_review="4.0″ min_review="0.0″ max_review="5.0″ ]