Since his debut in 1977's 2000 AD #2 over forty years ago, the grim, fit, and unapologetic Judge Dredd has become both one of comics' most emblematic figures, but also one of its most enigmatic. A "Street Judge"—officer, judge, jury, and executioner in the monolithically dystopic Mega-City One—Dredd is, by all outward appearances, a one-dimensional satire of fascism in his original conception by writer John Wagner and artist Carlos Ezquerra. Indeed, many purists and diehard fans will tell you that Dredd functions best when he is unflinching and morally reprehensible. A reflection of our own struggles with law and justice, living and dying.
But that idea essentially lacks nuance, dismissing the flexibility of Dredd as a figure and the function of his stories. As time progresses in both Mega-City One (literally—the series started in 2079 and as of now takes place in 2143) and the real world, so, too, does Dredd. A legacy character from a vast array of the most recognizable creators in comics, (including Grant Morrison, Garth Ennis, Mark Millar, John Wagner, Dan Abnett, and Pat Mills), Dredd is a vessel for stories with overwhelmingly sardonic takes on law, justice, and the often wholesale inability of politics to synthesize the two. Once lauded, over time these stories were also found to be all too prescient, overlapping with our own grim reality in both telling and narratively trying ways.
So, out of gross necessity, Dredd changed. Law and justice incarnate, saint and sinner, he's better for it. A complex, enigmatic figure, in any given series Dredd can be seen as an uncompromising villain, but also, when needed, a legitimate hero. Violent, unhinged, resolute, kind, caring, contradictory and complex all in one, Dredd is a genuine icon, and one that has been central to some of the best comics stories of all time included below.
Related: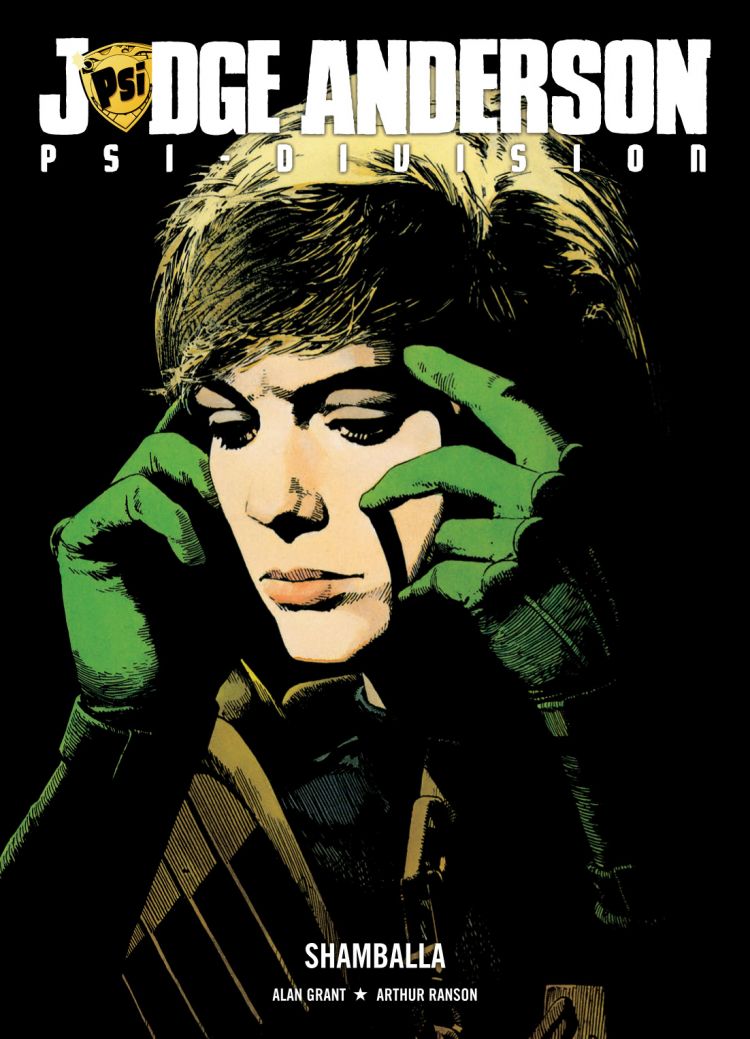 Technically ineligible for this list because Dredd himself isn't central to the story, Shamballa, by author Alan Grant and artists Arthur Ranson and Siku, a vehicle for the frequently appearing Psi Judge Anderson (new fans may recognize her from the 2012 film), is still worthy of praise.
Support For Comic Book Herald:
Comic Book Herald is reader-supported. When you buy through links on our site, we may earn a qualifying affiliate commission.
Comic Book Herald's reading orders and guides are also made possible by reader support on Patreon, and generous reader donations.
Any size contribution will help keep CBH alive and full of new comics guides and content. Support CBH on Patreon for exclusive rewards, or Donate here! Thank you for reading!
Shamballa is a relatively quiet, refined story that follows Anderson through explorations of mysticism and religion that are yes, grossly appropriative, but also nuanced in the wake of her close friends' death by suicide. Grant's narrative uses the opportunity not only to explore religion, the passage of time, and the acceptance of death and loss through the lens of more rawness than Dredd stories usually allow, but also to examine the literal, tangible effects of people living as close as they do in Mega-City One to great effect.
Complimented by the expansive, painterly art that weaves a sensible connective tissue through far reaching elements, Shamballa is essential to understanding Anderson and her specific role in Dredd's world.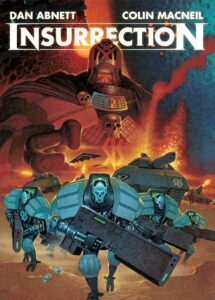 A far-flung sci-fi series meant to emulate author Dan Abnett's Warhammer 40,000 work than any specific Judge Dredd story, Insurrection also succeeds because it shows how inherently malleable and yet prescient the central premise is.
Insurrection follows the story of deep space colonists and Judges alike, at odds with each other as colonial society makes a move to rebuke the Judges' far reaching power and exploitation. The point, of course, being that the Judges refuse to recognize their rule—arguably successful on Earth—as being inappropriate for the new systems and structures essential for colonial life.
Abnett writes both with a directness and with a darkly humorous intent that makes the whole thing work solely for Dredd's world while also being appreciative of and in parallel to Warhammer's, and artist Colin MacNeil's hulking machinery, expansive warfronts, and stark contrasts elevate the already intriguing premise.
Insurrection is a good middle ground for readers interested in Dredd's basic narrative, but not yet sold on its central location or conceits.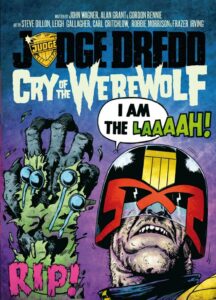 Another non-standard story that won't be found on many other "best of" lists, but one that nonetheless helps accentuate how flexible and surprising Dredd's narratives can be.
Author John Wagner, Alan Grant and artist Steve Dillon's Cry of the Werewolf follows the eponymous Judge into the dark, cavernous and ruin-littered Undercity to fight off an infestation of infection-spreading werewolves. Seriously.
It's a silly, yet still tense and revealing story about structure and how easy it can be upended by the unexpected. Dredd's world would not be what it is without its trademark supernatural edge, and Werewolf is among the very best showcases for it.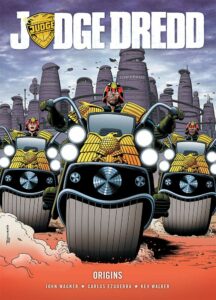 Written thirty years after Dredd's debut, co-creators John Wagner and Carlos Ezquerra set out to reveal the origins of the Cursed Earth, Mega-City One, and the Judges themselves with a sweeping, tightly framed look at how their world became what it is today.
Origins is successful not only because it smartly answers questions that fans have had for literal decades, but also because it reasserts everything that the character's creators intended for him to represent. As Dredd and his colleagues recall the life of the first Chief Judge and his impact on their own, we also get a look at the infancy of fascism, the relative complacency of corruption, and the insidiousness of symbolic justice. Dredd is not merely conditioned, he is complicit.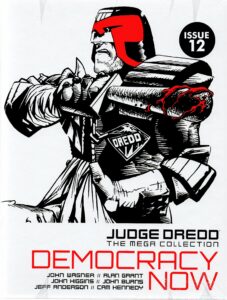 A loosely connected series of stories that perform one essential function: to reaffirm Dredd as fascist. Sparked from the death of a woman named Hester Hyman at the hands of Dredd, Democracy (sometimes collected as Democracy Now!—Dredd stories are often looser than most conventional Western comics) follows the Judges, Dredd himself among them, struggling with and systematically suppressing a growing democratic movement in Mega-City One.
Primary writers John Wagner and Alan Grant, accompanied by regular artist John Higgins, do the grim work of asserting Dredd as a unambiguous villain here. He uses a variety of unlawful, underhanded methods to upset the protesters' grip on the City, including fabricating evidence against them, threatening the lives of their children, and fomenting internal dissent.
Yes, asides and later stories deal directly with Dredd's role in and reconciliation with these horrible events, but the point remains that he is criminal, murderous, a dark mirror of the exact role his office is meant to dissuade. Democracy's intentional frustration and narrative nuance come from the fact that time and time again, the system reaffirms Dredd as moral and just.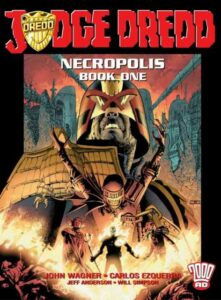 A direct response to and continuation of Democracy, Necropolis follows Dredd as he takes "The Long Walk" and resigns from the Judges' service—a series of events with massive ramifications for both the character and central setting.
Necropolis, from writer John Wagner and artist Carlos Ezequerra, is among the very first series to introduce legitimate nuance to Dredd's depiction: equally disgusted with both his growing sympathies for democracy, and (paradoxically) his own inability to effectively enforce "The Big Lie" that the Judges know what is best for humanity. This story works only because it was preceded by the essential Democracy, further cementing a change in narrative structure and publishing practices for the character whose popularity had in some ways outgrown 2000 AD itself.
Notably, Necropolis also features the Sisters of Death, dark witches who believe in the purity of death in parallel with the legendary Dark Judges making a play for dominance over Mega City-One with the assistance of Kraken, a faux Dredd. Their inclusion is absolutely essential to understanding the delicate balance that Dredd enforces.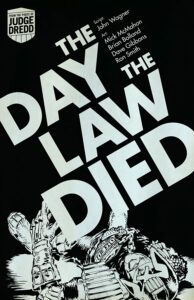 The Day the Law Died is a legendarily sardonic political farce that mirrors the rule of Rome's Caligula with Mega-City One's own pointedly, hilariously tyrannical Judge Cal.
Cal, a singularly focused villain for Dredd, functions as a natural conclusion to the effects that readily available abuse of power can have on a society, from lawmaking to fiscal stewardship and public perception and goodwill. His attempts to discredit and assassinate Dredd with little pushback further encapsulate how ripe for upset and abuse the Judges' power actually is in practice.
Creators John Wagner, Brian Bolland, and Mike McMahon deliver a funny, sickening story that is both very direct and yet far-reaching with few equals, as well as one that speaks to some of the inherent Britishism of Dredd's depictions and cultural touchstones.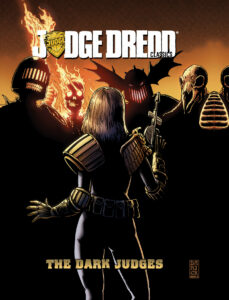 Seen across numerous Dredd stories, Necropolis included, the Dark Judges, and specifically their leader Judge Death, are the quintessential Dredd villains, and also some the best in comics without reservation.
Dark reflections of Dredd from a parallel world—Deadworld, where the "alien super-fiend" Judges Death, Fire, Fear, and Mortis decided that life itself was an impure impulse and  death was the only way to control humanity—the Dark Judges are frequently used as wholly evil counterbalances (alongside the Sisters of Death Phobia and Nausea) to Dredd's and Anderson's more nuanced approaches. But their mere existence is also deployed as a wry condemnation of the systems they enforce in Mega-City One for allowing such an outcome in the first place.
Etching themselves in collective comics history with lines like "You cannot kill what does not live" and "The crime is life, the sentence is… death!", the Dark Judges are both the most important enemies in Dredd's world, and among the most frequently appearing (for good reason) both narratively and visually. Death's look in particular, an emaciated skeleton wrapped in all black leather, discarded bones, and the tainted armor of a Judge, is wholly compelling in and of itself.
Under the authorial direction of John Wagner and Alan Grant, and the artistic direction of Brian Bolland, Brett Ewins, and others, the collection The Dark Judges, which includes "Judge Death," "Judge Death Lives," and "Four Dark Judges," is both the easiest and best introduction to the equally sickening and striking coterie of killers.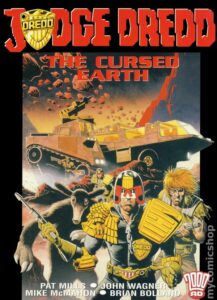 The second ever expanded Dredd story from writers Pat Mills, John Wagner, and Jack Adrian and artists Mike McMahon and Brian Bolland, The Cursed Earth is a quintessential piece of Dredd world building.
An exploration of life and structure outside of scarily familiar Mega-City One, the story follows Dredd and a group of companions including fellow Judges and "Spikes" Harvey Rotten, a notorious outlaw and accomplished motorcyclist on an expedition to deliver vaccines to Mega-City Two. Its twenty-plus issues introducing swarms of mutated rats, mutants, vampires, and wayward corrupt Judges to the wasteland that would later become an essential existential threat, Cursed Earth is the first genuine attempt at expanding the scale and scope of the world Dredd struggles to maintain.
It's also one that successfully renegotiated his place in it, both literally and figuratively, by spurring a lawsuit from McDonald's, Burger King, and Green Giant, who took offense to satirical sendups of their brands and corporate cultures across the "Burger Wars" and "Soul Food" chapters. The outcome led to censorship and print discontinuation, but also to significantly more conversation both in and out of the text about the same kind of corporatism that it meant to unpack.
Dredd is an objective hero here, dragging himself across the irradiated wastes to deliver vaccines (imagery that is echoed even in the likes of Metal Gear Solid), but nevertheless he and the text are also reaffirmed as controversial and enigmatic figures whose meaning and message are highly, pointedly dependent on who is receiving them.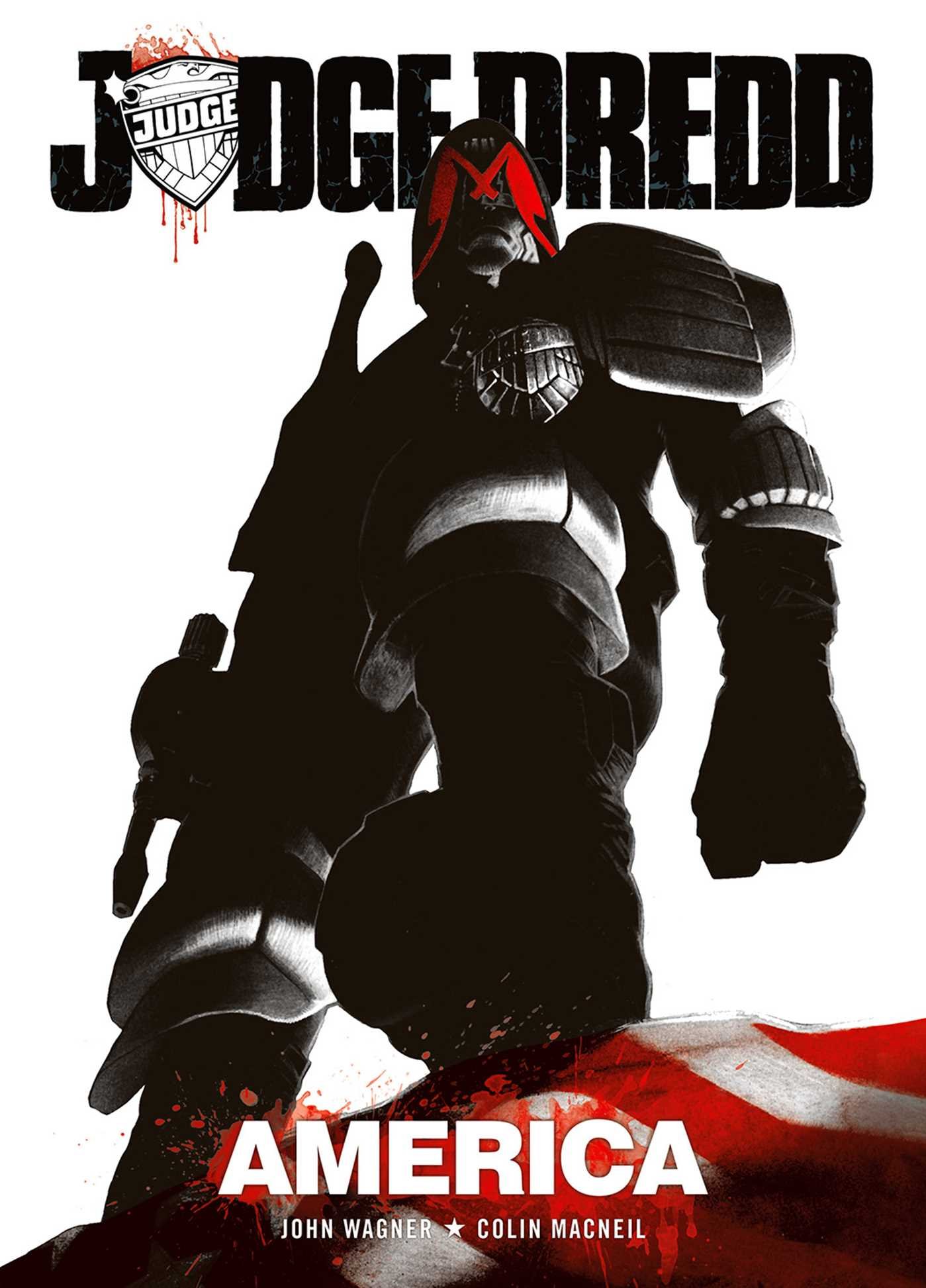 Widely well regarded by both fans and creators alike, America, from writer John Wagner and artist Colin MacNeil, is both the definitive Dredd story, and also one of its most experimental.
A contemplative story that decentralizes Dredd in favor of the perspective of two characters, America Jara (who lost her parents in series high point Block Mania) and Bennett Beeny, who were once close but grew apart under the social and political ravages of Mega City-One and the iron rule of the Judges, America is a stomach-turning, sad, insightful story about allegiance and basic human nature.
Wagner writes with earnestness and sincerity, with an eye for both empathy and cruelty, as Dredd and other series regulars are viewed and recontextualized outside of their usual frames. The writing is complemented by MacNeil, whose painterly qualities and stark contrast act as a visual extrapolation of the inherent messiness, weight, and emotionality of the character interactions.
Too good to spoil here, America is an exceedingly dark but essential look at the realities of social stratification, of the faux balance of law and justice, and of the casual cruelty of law enforcement that has yet to be topped: the quintessential Dredd.