Love or hate, shows like Smallville and The Walking Dead have opened the door for live-action comic book adaptations on television.
With Marvel's Agents of S.H.I.E.L.D we'll finally have the real test for comic book tv: Can a show set within a comic book universe, loosely embedded in comic book continuity, successfully please critics and long-time fans alike?
Not to go all curmudgeon mccrabby on you, but Marvel doesn't exactly have the best track record for live-action tv.
Of course, to be fair, comic books as a whole haven't exactly found their way in the world of the tube. The fact that Arrow is the only comic book tv series available when The Walking Dead seeks shelter (and the only "superhero" tv series at all) speaks volumes to the difficulty comics have had finding their place on our screens.
It's a strange dilemma. Comic books are inherently episodic, seemingly lending a very natural fit to the small screen.
Support For Comic Book Herald:
Comic Book Herald is reader-supported. When you buy through links on our site, we may earn a qualifying affiliate commission.
Comic Book Herald's reading orders and guides are also made possible by reader support on Patreon, and generous reader donations.
Any size contribution will help keep CBH alive and full of new comics guides and content. Support CBH on Patreon for exclusive rewards, or Donate here! Thank you for reading!
And yet, despite repeated claims of Powers, Chew, Alias AKA Jessica Jones, and Wonder Woman about to launch on TV…
All we have is Arrow. (That's neither a positive or negative commentary on the show. Haven't watched a single episode yet. Merely commenting on the volume of superhero TV.)
The Great American Superhero Hope: S.H.I.E.L.D.
With superhero cinema hype hitting an all-time high, Marvel's Agents of S.H.I.E.L.D. features a unique set of factors supporting its long-term success.
Due to the success of The Avengers and now Iron Man 3 the show can enjoy the blessing of the Disney/Marvel/ABC trifecta. Throw in Avengers director Joss Whedon as the showrunner and the expectations could not be higher.
Hey everybody, remember that all-time highest grossing movie called The Avengers? Yeah we're gonna bring that to TV. ~ Sales Pitch.
Personally, I'm pumped for the show. If you haven't seen it, or just want to dissect it again, here's the full trailer for the series. Below I'll be laying out my top 10 hopes and predictions for the show.
10 Ways To Make Me High-Five a Cat During Agents of S.H.I.E.L.D.
#CoulsonLives… But Not Really.
The major revelation to come out of the announcement of a SHIELD show was the inclusion of actor Clark Gregg, aka Phil Coulson. As we all remember from The Avengers, everyone's favorite Agent and Bob Newhart revivalist met an unfortunate end at the hands of Loki.
Now. This is the Marvel Universe. Hardly anyone ever really dies, especially nowadays. But Phil Coulson can't just conveniently be alive for the TV show, not after "His name was Phil!" became a rallying cry for Iron Man and The Avengers.
I expect that Joss Whedon and the writing staff know this full well, and I'm excited to see how they explain his return.
There was quite a bit of speculation following the 30 second trailer released yesterday that Mephisto/Dormammu might play a sinister role in Coulson's return.
The armchair analysis looks pretty preemptive after the full trailer (Coulson seems to be walking towards a hologram of an explosion, a la the tech Tony Stark uses to recreate a bombing in Iron Man 3). Nonetheless, I can get behind a crazy, comic book twist that involves a supernatural force manipulating and twisting a Coulson puppet for their own ends.
What seems more likely is something involving a good old fashioned S.H.I.E.L.D. grade LMD.
Life Model Decoys are all the rage with Nick Fury, essentially preventing the director from ever actually getting hurt. You think you just saw Nick Fury get blown to bits? Psych! LMD suckers!
The same bit of fakeout would pretty easily explain Coulson's existence among the living, and doesn't feel like too much of a cop out. We already know Fury was manipulating the Avengers pretending there was blood on Coulson's Captain America trading cards when he died. I wouldn't put an LMD death past the master of manipulation.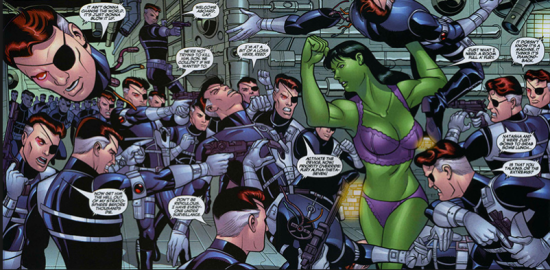 2) That Ain't Luke Cage. 
At this point, I feel like we can pretty safely file the "Luke Cage is in Agents of SHIELD" rumors in the "patently false hype machine" folder.
Ignoring for a moment that all anyone really had to go on was skin color when positing the Luke Cage theory (a potentially super damning reflection of diversity in the Marvel universe), it seems to me very unlikely that Marvel will be casting any instantly identifiable heroes as regulars.
For starters, this just doesn't feel like that type of show. Agents of SHIELD is about the "ordinary" humans in an age of Marvels. Will they interact with superpowered costumes? I sure hope so. But a character like Luke Cage comes with a lot of comic book continuity and fan expectations. Joss Whedon seems like a smart enough showrunner to know better than to take such an unnecessary risk. From Whedon himself:
"The big house is that S.H.I.E.L.D. has to work on its own. It can't be an Easter egg farm. It's got to be a show with characters you care about week to week, that if you've never seen a Marvel movie you can turn into." ~ Joss Whedon
This will be a character driven show, but it will be new character driven. No need for Cage-based backlash the first time the character does something out of character. Like joining SHIELD.
3) But If We Are Including Marvel Heroes…
If that IS Luke Cage, though?
I hope Agents of SHIELD uses heroes sparsely, on an individual episode basis. Essentially, I'd like to see the heroes and fringe Marvel U players making fluctuating cameos.
Maybe one week we have an episode with a brief flash of Daredevil. Maybe a few episodes later we get a fully fleshed out Daredevil.
Or maybe, we just get fringe players like Rage of the New Warriors. Ostensibly, Agents of SHIELD is about a small sector of the task force, so it would make sense that they'd handle the powered individuals like Prowler and Machine Man who rarely cross onto the Avengers radar.
And if it can't be Daredevil… I think we all know we're ready for some D-Man.
4) Mutants! 
This one gets dicey because of contractual issues with Fox, but I'm really hoping the show will include both superpowered individuals and mutants.
We already know Joss Whedon is one of the greatest mutant writers who ever lived (I'm not sure if I'm labeling him with mutant powers, or saying he's good at writing mutants, but I kind of think I agree with both statements). Combine that with recent news about Quicksilver and Scarlet Witch joining Avengers 2, and it seems like it's time to expand S.H.I.E.L.D.'s universe to include the mutant menace.
Again, this doesn't have to be (see also: can't be) Wolverine and Cyclops, but some weirdo C-level mutants like Leech or Puff Adder could fit right in.
5) Whedonverse Whedony Whedonness
Do you have any idea how long it's been since Joss Whedon had a show on television?
I didn't either, but Dollhouse was canceled after two seasons in 2010.
So whatever, it actually hasn't been all that long, but Joss Whedon TV is a welcome return for fans of Buffy, Firefly, and the Lord of all things Whedon.
No matter how pleased we were with Whedon's magic on The Avengers, any long-time fan knows that was just a sliver of the magic he can produce when handed characters over the course of a full television season.
6) NextWave Style SHIELD
I'm hoping Agents of SHIELD actually picks up on the bonkers side-agency feel of Warren Ellis's Nextwave.
Within the Marvel cinematic universe, SHIELD actually has sort of a side-agency feel. Think about The Avengers; SHIELD's role is pretty sparse, and basically the Hellicarrier just gets rocked. So essentially our exposure to the task force is them failing over and over again.
Now consider that Agent Coulson's team will be a smaller, splintered division withing S.H.I.E.L.D. There's plenty of opportunity for a team of agents operating under their own quirky set of rules and poking fun at all the standard tropes that bog down your father's police force.
I know this series can't ever get quite as weird as anything Ellis put to paper in Nextwave, but it can't hurt to try.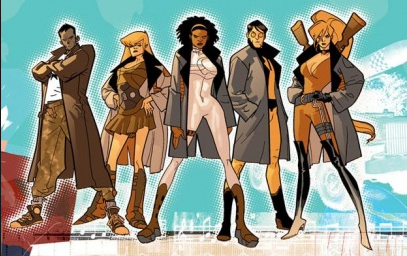 7) The Occasional Nick Fury… Or At Least Howling Commandos
This seems like a challenge. I don't really expect many – if any – Avengers cameos, and the same kind of goes for a Sam Jackson appearance.
I'm guessing Fury is only referenced by name throughout the show, but one TV episode with a fired up Sam Jackson would be one of the biggest steals of all time. Seems unlikely, but introducing this new team of SHIELD agents to the one and only Nick Fury would make for a heck of an episode of TV.
If we can't get Nick Fury, how about Dum Dum Dugan? Seems like a relatively easy inclusion (even if he was semi/sort of/lazily included in Cap) and fulfills some SHIELD wish fulfillment. I know Agent Coulson offers the most clear SHIELD continuity for moviegoers, but for comic book fans some real SHIELD players like Dugan would really solidify the Marvel U aspects.
8) The Punisher
Punisher is frequently mentioned alongside Daredevil as a street-level character that might translate well on TV.
Agents of SHIELD is the best opportunity to test the character out in an interesting setting, with the SHIELD team cleaning up Frank Castle's bloody mess from time to time. I actually would like to see Castle as the most frequently recurring Marvel hero on the show, simply because he will provide such a contrast to the police task force feel of SHIELD.
The prospect of a looming Punisher working behind the scenes is even more exciting when you consider Marvel recently reacquired the film rights to the character, along with Daredevil, Ghost Rider, and Blade.
And speaking of Blade… we wouldn't get to see a Vampire related episode with him would we? Nahhh.
9) End Game Boss + AIM & HYDRA
I'd like to see the occasional super villain strolling across the screen, and AIM and HYDRA are a must as competing spy organizations, but more importantly, I'd like to see a relatively high profile villain plotting behind the scenes to take down Coulson and crew.
This is an animated comic series strategy as old as Fin Fang Foom, but it works for me every time.
Of course picking this mastermind villain for Agents of SHIELD is the true challenge. The Dormammu/Mephisto Coulson theories were intriguing, but those also require a level of supernatural magic that would seem like a reach for a show about SHIELD.
Some options that immediately come to mind: The Tinkerer (frequently plays a behind the scenes role in providing destructive tech), The Mad Thinker (genius level intellect to carry out a season-long plan), and Taskmaster (Would fit in with a lighter-hearted show, but also give the Agents a run for their money in a fight).
10) 4 Seasons and a Movie
Ok, I'm not sure I really even want the movie part of this, but more than anything I want Agents of SHIELD to succeed and last. This is a big show for the future of comic book tv, and if it goes well we could potentially start to see the same break through on television that we've seen in film the past decade.
So what do you think? You looking for a bunch of other stuff come show time? Or think Agents of SHIELD is destined to fail? Do what feels right to you in the comments.