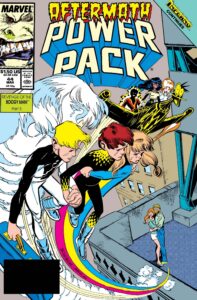 Louise Simonson might be best known as co-creator of seminal X-Characters like Cable and Apocalypse (with Chris Claremont, Rob Liefeld and Jackson Guice), or perhaps as one of the key writers of the "Death of Superman" story, but those accomplishments are still only part of the work she's done in superhero comics. After editing various Marvel books for years, Simonson was inspired to create a new team in the Power Pack, which featured four super-powered siblings (Alex, Julie, Jack, and Katie Power) who gain their superpowers from a horse-like alien (called Kymellians, at war with the Snarks) named Whitey. In collaboration with the great June Brigman, Marvel's first-ever preteen superhero team was formed.
Power Pack Classic Omnibus remains a unique book all these years later, and though it was ostensibly aimed at children, the stories often leaned into fairly adult subject matter. After all, Power Pack #27 saw the children appear in the Mutant Massacre, where they worked to stop Sabertooth's murderous rampage across the Morlock tunnels while witnessing the attempted annihilation of an entire community of mutants. Yet the greatness of Power Pack is in how it mixes incredibly heavy subject matter with the endearing dynamics of a family that truly loves one another. The worse things get, the more the Power kids come through for each other, and that's largely what continues to define the team here in the latter days of their ongoing.
Collects: Power Pack (1984) #37-62, Excalibur (1988) #29, Power Pack Holiday Special #1, Power Pack (2000) #1-4, Fantastic Four (1998) #574, FF (2011) #15, Power Pack (2017) #63, Power Pack: Grow Up! and material from Marvel Super-Heroes (1990) #6 and Marvel Fanfare (1982) #55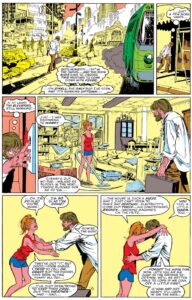 Creative Teams
As noted, Louise Simonson and June Brigman created the Power Pack, and though Brigman left the book fairly early in the original run, she returned in later years to team up with Simonson in stories like Power Pack: Grow Up! and Holiday Special. Artists Jon Bogdanove and Hilary Barta took over after Brigman's departure, and Bogdanove also wrote several fill-in issues including one of the more impressive later arcs with Revenge of the Bogeyman. Simonson does write some of these later issues, but, for the most part, the last half of the original series is written by a series of writers, such as Terry Austin, Howard Mackie, Judy Bogdanove, Dwayne McDuffie, and Julianna Jones. Michael Higgins saw the series out with issue #62, which apparently came as a surprise to the creative team as there was no real ending written in. The resulting cliffhanger was later addressed in Power Pack Holiday Special as well as a one-off, #63, that appeared many years after cancellation.
As the series shifted through various creative teams, many writers still managed to pull together much of the characterization and well-intentioned interest in social justice causes, though that somewhat waned in the final issues as it morphed into a sci-fi story. This trade specifically manages to stay surprisingly consistent over several major creative shifts, a wild influx of crossovers that the Power Pack are only tangentially involved in, and an apparent lack of general direction overall. Regardless of these potentially derailing factors, Power Pack remains entertaining well into its later issues.
Support For Comic Book Herald:
Comic Book Herald is reader-supported. When you buy through links on our site, we may earn a qualifying affiliate commission.
Comic Book Herald's reading orders and guides are also made possible by reader support on Patreon, and generous reader donations.
Any size contribution will help keep CBH alive and full of new comics guides and content. Support CBH on Patreon for exclusive rewards, or Donate here! Thank you for reading!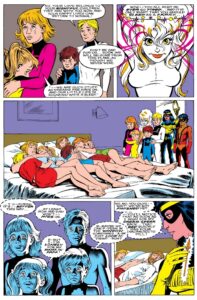 The New Mutants and Inferno
Though none of the Power children are mutants, it is perhaps a byproduct of being created by one of the most influential writer-editors in X-Men history that their connection to Marvel's Merry Mutants has always been significant. Early on, there is an extended scene of the siblings doing their chores and listening to a news broadcast around the X-Men's apparent deaths and the Mutant Registration Act. The kids are all worried about their friends, but they're also appalled at the right-wing hysteria over mutants. Scenes like this are vital to the series, because they show us what a strong moral compass the kids operate under, even in the comfort of their home without any parental figures in sight. This is a family that is accustomed to taking care of each other, and it extends to how they view the world.
As noted, Power Pack is like much of the media aimed towards children in the 1980s: incredibly bleak. Indeed, one of the first major subplots of the series is a young girl named Rebecca Littlehale, whose power of teleportation at one point leads to her clinging desperately to the top of the Empire State Building all alone. The kids rescue Rebecca, but her troubles continue. Journalists provoke her into having an episode, and then she is kidnapped by the Bogeyman, a member of the anti-mutant group The Right, which was created by none other than X-Factor villain Cameron Hodge. This leads to a friendly encounter with the New Mutants and Power Pack as they join forces to search for Rebecca.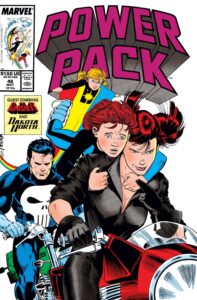 The teams find the Bogeyman, who collects and sells mutant children to the demonic N'astirh of Limbo, and engage in an ugly fight. At one point, Dani pulls an image of his greatest wish from his mind, and it is simply a graveyard for mutants. Realizing that the one thing that would make him the happiest would be to see all mutants dead, Illyana snaps, saying "Enough kids have died," and sending him to Limbo, noting that it's "where he deserves to be." Sadly, his time in Limbo only transforms him into an actual monster, and he continues to terrorize the team.
Meanwhile, the Inferno issues of Power Pack are crucial to setting the overall mood for the crossover. While the X-Men run around New York City trying desperately to fight against a constantly changing terrain filled with demonic appliances, the Power Pack simply feels the effects of a city out of control. Their father James trudges across the city in the overbearing heat only to come home to a house in crisis. The kids are overheating and sick, and the bathroom spurts out muck and grime instead of water. The whole room is quickly overgrown with an impenetrable mold. As the crossover escalates, the Boogeyman attacks, proving to James and Maggie that their children are indeed the Power Pack.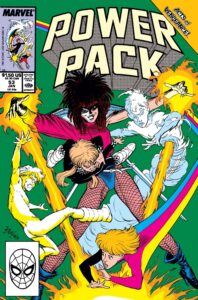 Being a Child Is Terrifying and We Need to Talk about the Parents
Issue #46 features a surprising team-up with Dakota North and the Punisher. When a children's book author named Jessie Wilcox Jones is brought up on embezzlement charges, Jack and Katie seek out adults to help them clear her name. Jack asks North while Katie goes to demand assistance from Castle. The story is a lot of fun despite the generally more adult-themed nature of its guest stars, which is likewise true of the subsequent guest appearance of Typhoid Mary during the "Acts of Vengeance" crossover.
If you have found yourself wondering, "So, where are these kids' parents during all this?" suffice it to say, you are not alone. James and Maggie Power are parents of the '80s and they have their careers to think of, which is why they're around about 15% of the time. The kids actively hide their adventures from their parents, who are overworked enough that it falls by the wayside for them. However, when James and Maggie finally discover that the kids are superheroes, they both go into fits of depression and despair until their memories are wiped. James has a "stay away from my family!" moment in the fight against the Bogeyman, but their children ultimately decide that they can't handle the truth. Maggie begins to suffer from mental health issues later in the series, and it adds a weird vibe to the book. It was fine when they just didn't notice because they were at work all the time. No suspension of disbelief required.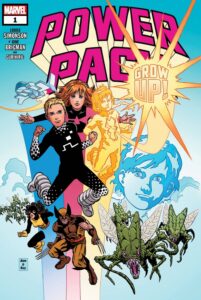 The Return
In the last issues of the series, Franklin Richards joined the Power Pack. The addition of a fifth child already mired in his own family drama is one of the things that more or less overwhelmed the book alongside plots like Alex transforming against his will into a Kymellian. Still, there remains a sense of zany fun up until the end, and it was nice to read Franklin interacting with people outside of his immediate family for a while.
A year after the series was cancelled, Simonson and Brigman returned for Holiday Special, which helped resolve some of the questions unanswered in the series while also aged the kids up a bit. The team's creators returned again more recently in Power Pack: Grow Up! which is a wildly delightful romp in which Alex attempts to go on a date without his siblings on his birthday and fails. Everyone hangs out with Kate Pryde at a Lila Cheney concert while various Cosmic Marvel shenanigans play out, and the story ends on a heartwarming note when Katie presents Alex with a signed Lilia Cheney action figure.
The 2000 mini-series and the guest appearances in Fantastic Four and FF mostly read as filler, but it's good to see the Power kids show up in a more modern context. Still, a major part of what makes these stories click is their attachment to their time period, in which the wide-eyed sincerity of the Power family could intersect with an increasingly grim Marvel Universe. Throughout its original run, Power Pack navigated a lot of heavy topics while remaining ultimately light-hearted, and the sense of enthusiasm the many creators that worked on this collection bring to the book is always palpable.