Generation X has a special place in the hearts of X-Fans of a certain age. If you were born in the 80s, you probably just missed reading New Mutants as the issues hit shelves (unless you were an especially precocious pre-teen), Shadowcat had already moved to Excalibur by the time you were old enough to read, and Jubilee wasn't exactly a central character in X-Men plots.
I was twelve when the Phalanx Covenant kicked off what would be the first team of mostly-original mutants in nearly fifteen years, helmed by two Academy headmasters that hadn't exactly enjoyed the spotlight. I'd been reading X-Men in sporadic chunks for a couple years, but already knew I wanted to see more of Banshee, and that having the White Queen working for Charles Xavier was going to cause issues.
Of course, no book is going to run seventy-five issues with no snags. New Mutants was written almost entirely by Chris Claremont and Louise Simonson, two of the best people to ever write X-Men comics, and even that title can't lay claim perfection (Bird-Brain, anyone?). Nearly twenty years after Generation X's final issue, I say the best way to tackle the title is chronologically, and perhaps skim through the less-enjoyable parts. Naturally, that's assuming a level of dedication and availability of time not everyone has.
To that end, here are the top five essential arcs you should read, if you're an X-Men fan and want to get into Generation X. If you need more incentive than that, consider how much panel-time many of these characters are getting, two decades down the road, in the Hickman-led Dawn of X titles! We're going to take them chronologically: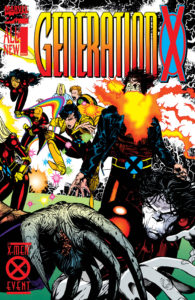 Generation X 1-3, Third Genesis. Lobdell, Bachalo, Buckingham.
Support For Comic Book Herald:
Comic Book Herald is reader-supported. When you buy through links on our site, we may earn a qualifying affiliate commission.
Comic Book Herald's reading orders and guides are also made possible by reader support on Patreon, and generous reader donations.
Any size contribution will help keep CBH alive and full of new comics guides and content. Support CBH on Patreon for exclusive rewards, or Donate here! Thank you for reading!
Gets the band together and introduces the entire team and concept while also telling a story that lives up to months of hype in preceding issues. The interactions between Banshee and the White Queen, and among the students, along with the school's outdoor Danger Room, the introduction of archvillain Emplate and the mystery of Penance all set a tone that, quite frankly, the entire back half of the run can't live up to.
I can't really explain how disappointed you're going to be at how Penance/Monet are handled at a certain point, but the good news is—you can skip that! There's nothing wrong with leaving big shoes to fill, however, and this first arc of the title does lead to a few years' worth of really good comics.
Generation X 12-16, The Return of Emplate and Out of Synch. Lobdell, Grummett, Various.
It's two arcs in one, but the last two issues proceed directly from the events of the first three. Emplate faces down with Generation X for the first time since the initial arc, and this time he has friends. We get a huge addition to the Emplate/Monet mythos. Jubilee has a big part in taking him down. Bishop guest stars. And we get a big look at Synch's life before the team when they have to save him from himself.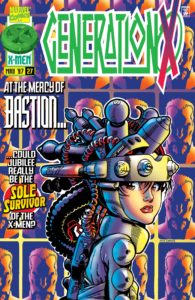 Generation X 27, The Last X-Man. Lobdell, Bachalo/Mhan, Vey/Hanna.
Narrowing down single issues of the book that stand apart from the rest is a tough task. There are arcs that stand out more; at least one that I'm ignoring in favor of this, actually. But one issue that does the trick by itself, without any support from what comes before or after? I'd be at a loss. Except for this one.
The team just had their face-off with Black Tom and Mondo, which didn't make the list because it was just a little too neat; the aftermath, however, was still significant. Jubilee was spared because Bastion killed the Mondo-clone and, arguably, "rescued" her. Yeah, this is an "Operation: Zero Tolerance" lead-up. We see Bastion attempt to deconstruct Jubilee, thinking that she's an easy way to the X-Men. And Jubilee gives us everything we'd want from her and more.
 
Generation X 55-56, Sins of the Past. Faerber, Dodson, Dodson.
Jay Faerber's run is probably the best the book gets, after Lobdell of course, and inclusive of James Robinson's short run. His run spans from #48-62 and is the portion of the series that is most reminiscent of the New Mutants. He quickly writes out Gaia, the last remnant of Larry Hama's insanely bad Monet retcon storyline and introduces Emma's older sister, Adrienne, as an additional headmaster/sometime antagonist. There's legitimate school drama, involving our heroes and stemming from the inclusion of baseline human students at the Academy. He brings in Tom Corsi as supporting cast and writes some great material between Emma and Tom and Emma and Firestar, both of whom she has history with from her time with the Hellfire Club.
This particular two-issue storyline inserts Gen X into the events of Uncanny X-Men #281-282, wherein Trevor Fitzroy and some Sentinels attack the Hellfire Club, kill the Hellions and put the White Queen into the coma she doesn't come out of until Uncanny #314.
Generation X # 71-74, Four Days. Wood, Pugh, Various.
I can't explain why Faerber's run didn't rejuvenate the book's sales to the editors' satisfaction, but Warren Ellis was brought in after to kind of "show-run" the Counter-X relaunch of X-Man, X-Force and Generation X. After he plotted roughly five issues which Brian Wood scripted, Wood himself took over for a reasonably fitting road to #75, the book's final issue.
Instead of one last big, inclusive arc, issues focus on specific members. Chamber has a day-date with an intriguing, deaf goth woman; Jubilee and M bond over the death of Synch by foiling a trainjacking, Banshee and Skin share a pint in a pub after Sean finds out about Moira's death, and Husk spends the day overachieving while everyone else is out of the house. Wood tells a good story despite almost certainly knowing it was the book's swan song (or perhaps, because of it).
Honorable Mention: Generation NeXt 1-4, Lobdell, Bachalo, Buckingham. 
The Age of Apocalypse, twenty-five years after publication, is a signature X-Men story. The thing is, what gives it most of its punch is turning what readers and fans already know about the X-Men, on its head. You know the X-Men; here they are led by Magneto. The Summers brothers? They're here, too, but raised by Mister Sinister. You get the idea.
Doing that with characters we've barely gotten to know, and delivering possibly the most heart-wrenching subplot of an entire four-month, forty-issue event? Colossus and Shadowcat, as twisted as they are, give us the bit of familiarity we need to anchor the book, especially with Jubilee off with Gambit's X-Ternals and Blink, part of the core X-Men team.
We get Chamber, Husk and Skin essentially on-model, but with some modifications. Mondo is used to far better effect than he ever is in the mainstream universe, and we even get a brand-new character, Vicente, who eventually surfaces in the 616 as a villain. As heartbreaking as the conclusion is, they do manage to meet Magneto's objective, and Lobdell saves a bit more pain for X-Men Omega, the closing issue of the storyline.