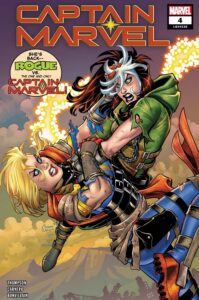 Content Warning: There is no way to talk about Carol Danvers and Anna Marie LeBeau without discussing The Marcus Story from Avengers #200, which involved gaslighting and rape. You can read Carol Strickland's famous essay on the issue here, information on the relationship between Carol and Rogue here, and the long-term effects of all of these things here.
Of all of Marvel's many long-suffering heroes, Carol Danvers (Captain Marvel) and Anna Marie LeBeau (Rogue) are two that have undergone decades of growing pains to get to where they're at today. Carol survived a troubled home life, a disastrous military career, amnesia, rape, having her powers and memories stolen from her, years in deep space battling the Brood… the list goes on. Meanwhile, Rogue hospitalized and ultimately killed the first person she kissed, fled a troubled home to be raised by a supervillain power couple before fleeing to the Xavier Institute to gain control over her wildly traumatic powerset. They share one event in common: the same issue where Carol was attacked, Rogue was the one doing the attacking, and both of their lives changed forever.
It might go without saying that these are two characters that would have been better off if they had never met, but as it stands, their first encounter gave us one of the most complicated stories of redemption vs. revenge in mainstream superhero comics: Captain Marvel vs. Rogue.
Collects: AVENGERS ANNUAL #10; UNCANNY X-MEN (1981) #158, #171 and #269; MS. MARVEL (2006) #9-10; X-MEN LEGACY (2008) #269-270; CAPTAIN MARVEL (2019) #4-5 and material from MARVEL SUPER-HEROES (1990) #11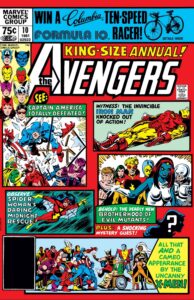 Many-Faceted Traumas
The story of Rogue and Carol Danvers begins with Avengers Annual #10, which just so happened to be the unceremonious conclusion of another unresolved plotline in Carol's life: The Marcus Story. The issue begins with her falling quite literally from the sky right into the rocky sea. Spider-Woman sees her go and risks life and limb to pull her out of the drink, taking her to a nearby hospital. Traumatized and alone, Carol seeks out Professor Xavier's help at Spider-Woman's suggestion.
Support For Comic Book Herald:
Comic Book Herald is reader-supported. When you buy through links on our site, we may earn a qualifying affiliate commission.
Comic Book Herald's reading orders and guides are also made possible by reader support on Patreon, and generous reader donations.
Any size contribution will help keep CBH alive and full of new comics guides and content. Support CBH on Patreon for exclusive rewards, or Donate here! Thank you for reading!
We learn that the culprit behind Carol's amnesia is Mystique's Brotherhood of Evil Mutants. Mystique and Destiny's adoptive daughter Rogue used her touch-based power to attack Carol, draining her of her memories and powers, immediately putting her into a coma and nearly killing her. When the Avengers come to wish her well, Carol is angry with them. This is the first time we've seen her since Marcus took her away from the Avengers against her will with their blessing, and she does not hesitate to call them out for their betrayal. Though unintentional, they had allowed a sexual predator to kidnap her to a place where he had all the power and she would never be able to escape from. The Avengers are defensive at first, but ultimately Wanda at least begins to understand, and she apologizes to Carol.
This issue has a lot going on to say the least, and every page means something for Carol's development. The Avengers don't respond great to being called out, and they don't seem to learn much from the interaction overall, though it does clear the air somewhat. The X-Men are there for Carol, but the downside is becoming one of Xavier's heady thought experiments. Wanda relates to Carol's pain, which is called back to later in Busiek's Avengers run, but the lack of sympathy the team has for her overall is concerning and would last for decades to come.
Marcus didn't plan for his own rapid demise, but he also never expected that Carol would ever leave. She figures out how to send herself back home on her own after he turns to dust. Then, after the attack from Rogue, she is tossed off the Golden Gate bridge, and would have drowned if not for Spider-Woman's heroism. The image of her seemingly lifeless body crashing into the waves, utterly discarded, is a difficult one to forget.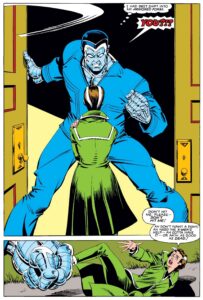 The Road to Redemption
In Uncanny X-Men #151, we see that Carol has become a recurring character for the X-Men after rejecting the Avengers' half-hearted attempts to invite her back to their ranks. She and the other X-Men break into the Pentagon in hopes of gaining access to her files, but they run right into Mystique and Rogue. Carol slips away and deletes her files so that they can no longer be used against her in any way. This is a major moment of triumph for Carol, who desperately seeks to leave her memories behind.
The X-Men's Brood Saga is not collected here, but the changes Carol underwent there would see her adopt a new powerset and the name Binary after being experimented on at length by the Brood. Yet another violation; perhaps it is no wonder that when she returned home in Uncanny X-Men #171 to find that a broken and traumatized Rogue had been taken in by Xavier with no thought for Carol, she was overcome with disgust for yet another betrayal and went into deep space for years with no mission other than to destroy the Brood en masse.
Rogue, however, stayed on Earth with the X-Men, despite their misgivings around her. It took years for her to gain their trust, and it was hard won through endless sacrifice and heroism. Perhaps worse, Rogue's powers were still never fully under her control, and she continued to be plagued by Carol's memories. In Uncanny X-Men #269, Rogue, who had gone through the Siege Perilous and emerged apparently unchanged, realizes that Carol's memories have disappeared. Sadly, these memories are given their own physical form in a Carol who is quickly corrupted by the Shadow King and whose body rapidly decomposes. She attacks Rogue, citing that they cannot both exist. While Rogue defeats Carol, she does not attack her, and this new, bizarro Carol perishes.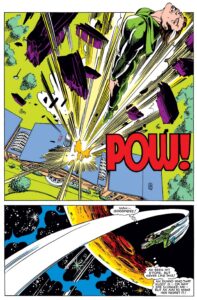 Letting Go
In Ms. Marvel (2006) #9-10, an alternate-reality Carol appears on the scene, attacking Rogue with the intention to kill her. Here, we see a Carol who has been completely destroyed by Rogue's attack. She descends into alcoholism, and her anger and self-pity grows. The Avengers end up in a big fight, but Carol refuses to help, and her world apparently comes to a catastrophic end as a result. Carol of our world lashes out against Rogue, shouting a handful of cruel things, before engaging again in battle with her other self. Ultimately, she decides to continue on her quest to forgive Rogue while acknowledging that Rogue might have her own reasons to distrust Carol by now, as well.
In X-Men Legacy (2008) #269-270, as part of AVX and the Phoenix Five arc, Carol tries to appeal to Rogue's long standing guilt around what happened between them to get the X-Men to listen to reason. Rogue is infuriated by this, and she and Carol have a lengthy brawl in which she actually tries to absorb Carol's memories again. Carol is mortified by this, but acknowledging the line that was crossed is a big part of why Rogue becomes one of the first X-Men to defect in order to end the conflict. This story definitely pushes into uncomfortable territory, and no new conclusions are found. The potential for better understanding between these two is limited to a few panels while most of the two issues is a big superhero fight.
Finally, in Captain Marvel (2020) #4-5, the villain Nuclear Man kidnaps Rogue and puts her under his control to force her into yet another fight with Carol. This time, however, Carol games the system by allowing Rogue to absorb her. The act of trust—built on Carol's knowledge that whoever she once was, Rogue is now a hero—is what allows them to pool their resources to defeat Nuclear Man. As such, Rogue doesn't just save Carol; they end the villain's tyranny and free countless women. At the end of this story, Carol forgives Rogue, and tells her that she's proud of who she's become, while Rogue acknowledges that they'll never know how much of that was Carol's stubbornness and tenacity, forcing her to be a better person. After years of struggle and bad blood, it's beyond gratifying to see them reach a place of tenderness and acceptance with one another. Both of them have grown tremendously, and they can finally be at peace.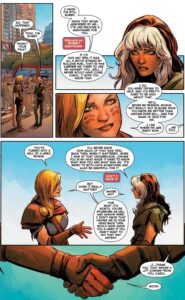 Where We Are Now
Rogue remains perhaps the greatest redemption story in genre history, and that's because her road has been difficult, painful, and drenched in sincere remorse. She has suffered apart from Carol, but in many ways alongside her as well. She was young when she did what she did, but it doesn't change the harm she caused. She was urged to do it by Mystique, but Rogue seldom hides behind that excuse, choosing instead to confront her own actions. Mystique is perhaps incapable of exercising the same remorse for Carol, and that's a primary reason why their relationship as mother and daughter remains so fraught.
Likewise, Carol's grief and resentment practically bleeds off of some of these pages. Though she struggles to maintain a self-image of someone that never needs to rely on others, her inner pain is only made worse by her inability to trust the people around her, especially after both the Avengers and the X-Men failed her by befriending her tormentors. Jessica is the only person who sees through that to the heart of her suffering. While Carol has remained friends with all of these heroes, her distrust towards the Avengers and the X-Men make perfect sense, as does her unwavering loyalty to Jessica.
These stories are not always handled with the sensitivity they and their audiences would benefit from. As these are superhero comics, there tends to be a lot of punching one's way through long-standing emotional problems before any attempt towards meaningful conversation can occur. By the end of the fight, both parties are exhausted enough to shrug it off, but the feud will only rear its head again once more when enough time has passed. In this way, even the act of printing a collection like this can feel a bit tactless, amping up the "girl fight!" aspect of a very real violation that left both characters reeling for decades of continuity.
Still, flaws and all, these stories are some of mainstream comics' most memorable attempts at dealing with the long-term effects of emotional and physical violations. One could justifiably say that they shy away from some of the most important aspects of trauma and recovery, but within the confines of superhero comics, there is still significant commentary on the pain Rogue causes Carol—and why they both spent years recovering from it.