After five Spider-Man movies (and a Captain America 3: Civil War appearance), the Vulture's finally ready to make his first cinematic appearance in Spider-Man: Homecoming. Sure, good old Adrian Toomes was reportedly going to be played by John Malkovich in the apocryphal Spider-Man 4 (directed by Sam Raimi), but the wait for Michael Keaton and Iron Man cameos appears to have been worth it.

As that delayed film entrance suggests, the Vulture has had a tough time maintaining A-list (or even B-list) Spidey villain status, which is exactly the sort of thing that would drive this jealous avian menace wild. Nonetheless, Vulture is actually the second recurring supervillain Spider-Man ever faced (in Amazing Spider-Man #2), and a founding member of the original Sinister Six (in Spider-Man Annual #1).
There's never been a better time to enjoy Spider-Man comics through the ages with a focus on his aerodynamic, age-challenged nemesis.
Related Reading Orders:
Comic Book Herald's Amazing Spider-Man reading order
Collected:
Spider-Man vs. The Vulture
Support For Comic Book Herald:
Comic Book Herald is reader-supported. When you buy through links on our site, we may earn a qualifying affiliate commission.
Comic Book Herald's reading orders and guides are also made possible by reader support on Patreon, and generous reader donations.
Any size contribution will help keep CBH alive and full of new comics guides and content. Support CBH on Patreon for exclusive rewards, or Donate here! Thank you for reading!
Spider-Man vs. the Vulture!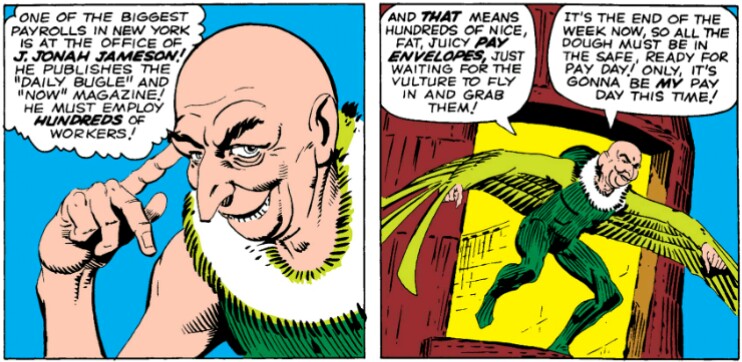 Steve Ditko, Stan Lee, and Vulture in the 1960's
Amazing Spider-Man #2, #7
Amazing Spider-Man Annual #1 (Sinister Six)
Amazing Spider-Man #48 to #49
Adrian Toomes appears to die in prison, but not before revealing the location of his wings to Blackie Drago, who takes on the role of the new Vulture. Drago never surpasses Toomes as the Vulture for me, but these issues do feature a classic super-villain team-up gone wrong (is there any other kind?), with Kraven the Hunter.
Amazing Spider-Man #63 to #64
Toomes is back and mad at Blackie Drago! I got every intention that Romita and Lee actually intended to off Toomes in favor of a younger Vulture, but a mere fifteen issues the original geriatric genius is back!
Amazing Spider-Man #127 to #128
"The dark wings of death!" The Vulture appears to be on a murderous rampage and only Mary-Jane Watson can testify as a witness! One of those times Peter Parker comes across like a total pompous fool to MJ. It's a wonder she ever said yes to marrying him.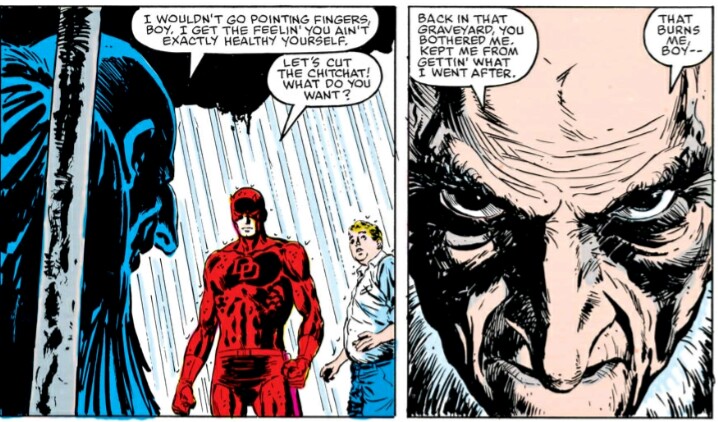 Roger Stern Reinvents The Vulture For The 1980's
Peter Parker, The Spectacular Spider-Man #4 to #5
Peter Parker, The Spectacular Spider-Man #45
The first of Roger Stern's takes on The Vulture. Transforms him into a villain with clearer Kingpin interests. Sure, the Vulture's rule of the New York mafia never really takes flight (hee), but it's interesting to see him try.
Amazing Spider-Man #224
"Let Fly These Aged Wings." Vulture breaks out of a nursing home, in perhaps the most on the nose and excellent poke at Vulture's extensive age. An excellent issue from Stern, with oft-forgotten but long-lasting ramifications for the Parker family.
Amazing Spider-Man #240 to #241
Vulture lashes out at an old business partner for stealing his technology, in what would become one of the most frequently used tropes in non-comics media appearances. From the 90's Spider-Man The Animated Series to the late 2000's Spectacular Spider-Man, Adrian Toomes always begins his descent into villainy after being crossed in the corporate world (usually by Norman Osborn).
Web of Spider-Man #1, Web of Spider-Man #24, Web of Spider-Man #45
Louise Simonson and Greg LaRocque's opening salvo on Web of Spider-Man introduces the Vulterions, a trio of prisoners who memorize Vulture's flying technology designs in prison. Actually one of the more entertaining takes on the legacy of the Vulture.
Daredevil #225
Denny O'Neil and David Mazzucchelli deliver a Daredevil vs. Vulture throwdown, with some of my absolute favorite 80's Vulture art.
New Mutants #86
Vulture's Acts of Vengeance crossover appearance in New Mutants (by Louise Simonson and Rob Liefeld) might be the most gloriously villainous the ornithological oldie had ever been. Reading all of Acts of Vengeance is generally a good idea, but honestly you can just jump straight into this one and enjoy a wild ride.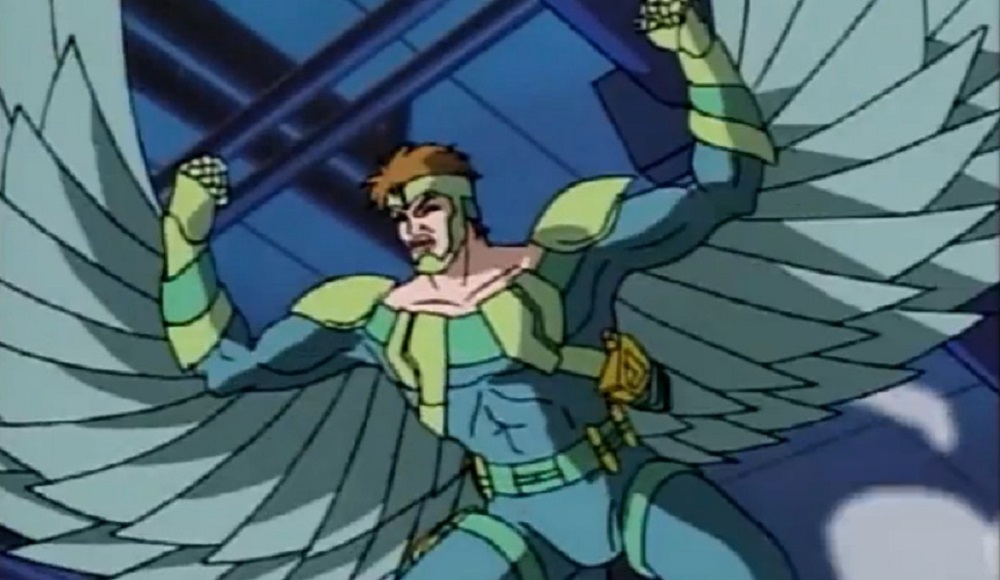 Vulture In The 1990's
Amazing Spider-Man #334 to #339
Return of the Sinister Six by David Michelinie and Erik Larsen, where Vulture proves himself the only member sensible enough to suggest attacking Spider-Man all at once instead of one at a time.
Spider-Man #18 to #23
Revenge of the Sinister Six by Erik Larsen.
Spectacular Spider-Man #186 to #188
Lethal Foes of Spider-Man #1 to #4
Amazing Spider-Man #386 to #388
David Michelinie and Mark Bagley in the comic book story that would fuel the 90's Animated "Neogenic Nightmare." Vulture develops technology to sap victim's youth directly into his body, giving us the toyetic Young Vulture for three issues.
Untold Tales of Spider-Man #5, #20
Kurt Busiek "lost" Vulture stories.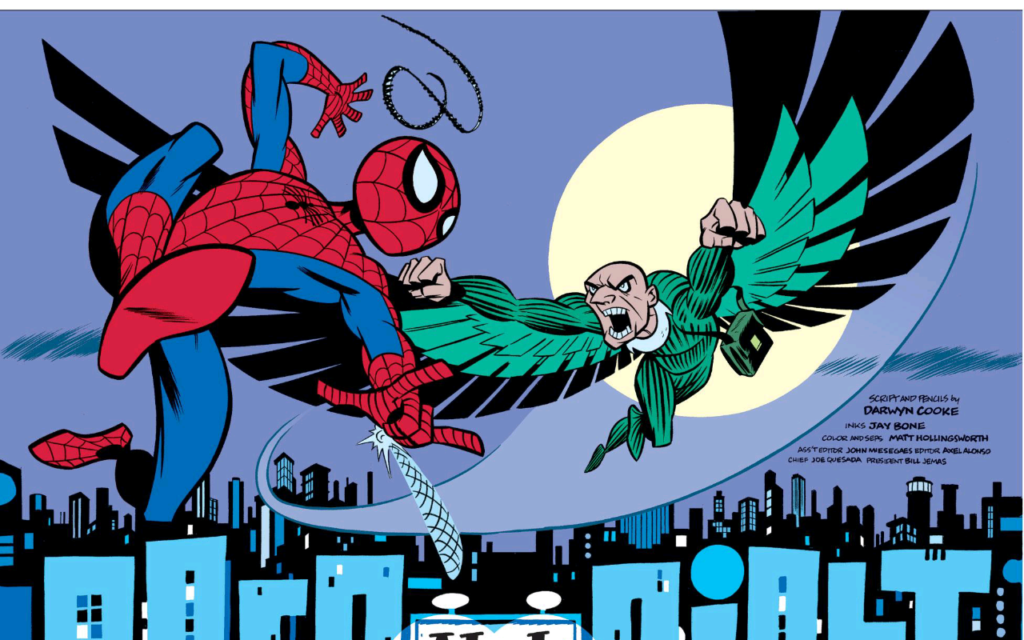 Spidey vs. Vulture in the 2000's!
Spider-Man's Tangled Web #11, #13
#11 is a Valentine's Day farce by Darwyn Cooke (with likely the happiest ending the Vulture ever gets in any comic book), and #13 is a seedy villain bar with Vulture, new Kraven, and a mysterious figure swapping stories of Spidey. Both well worth the read.
The Pulse #2
Marvel Knights Spider-Man #1 to #4
Identity Disc #1 to #5
If you've followed Comic Book Herald long enough (perhaps in the My Marvelous Year reading club) you know I try to champion this blatant The Usual Suspects homage any chance I get. That's partially because it's one of the best Vulture stories in the modern era, with perhaps his greatest victory in comics.
Friendly Neighborhood Spider-Man #14 to #16
A Peter David written story in the wake of Spider-Man revealing his identity to the world in Civil War #2. Vulture uses the information to lash out at Deb Whitman (Spider-Man's ex-girlfriend and author of a tell-all confessional) to draw out Peter, who of course happens to be in attendance.
Punisher War Journal #13 to #15
Vulture would almost certainly like to pretend these issues never happened, with Kraven the Hunter displaying Vulture in his animal-themed villain super-zoo.
Amazing Spider-Man #592 to #594
Avengers: The Initiative #27
Amazing Spider-Man #623 to #624