Deadpool, "the Merc with a Mouth" is one of my very favorite characters. He is annoying, hilarious, and violent – but he has a tendency to curb his antics when it's time to help other people. His voracious eating of tacos, numerous nerd references, and endless self-sabotaging redefines what to expect from a bloodthirsty maniac with a taste for homicide. There is an uncertainty as to whether he is a hero, antihero, or villain. Perhaps the truth is he cannot be boxed into any of them because he is unpredictable, and his schtick puts him in a position where he can be anything he chooses. For better or worse, whether you love him or hate him, Wade Wilson is here to stay because you CAN'T KILL HIM.
Related: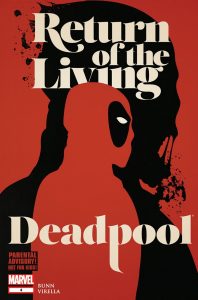 Who doesn't love George A. Romero? As a dedicated horror nerd, I am sold on the concept of Deadpool as a zombie. Technically speaking, Deadpool could be considered a type of zombie since he has rapid healing capabilities that keep him alive. He doesn't consume the flesh of others – until Night of the Living Deadpool and Return of the Living Deadpool places the goofy assassin in a zombie apocalypse. Upon awakening in his favorite Mexican restaurant, Deadpool realizes that the staff had locked him in the restaurant for his safety. Safety from what? Talking zombies! Yes, the zombies ACTUALLY talk. In an homage to Romero's politicization of the zombie genre, the zombies reiterate the same lines they would have done as "productive humans" in society. It's quite refreshing to witness zombies stumbling around saying "I have to walk the dog" or "Oh my god, I am so sorry but I am so hungry."
Filled with tacos and meeting up with two young children and "Grandma" along the way, Deadpool navigates the zombie-infested world and finds that his healing capabilities are not all they're cracked up to be. We see the emotional depths of Wade shine in this series, especially when it comes to his crushing guilt from eating people. We all know that despite his egregious flaws, Deadpool can be a good person, if he tries really hard. Like, really hard.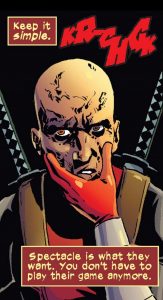 I am a huge fan of unhinged revenge stories (I swear I am not a vengeful person in real life) and this one takes the cake. Deadpool, after receiving a wacky mental job turns into a homicidal maniac. He doesn't feel like our normal 'charismatic' Deadpool, and is very, very intense. Though Deadpool is naturally violent, we are somewhat desensitized by his actions because of his banter. In this particular arc, his almost unrecognizable in his pursuit to murder Marvel's finest. The wit and sarcasm is present but it is darker and more soulless. I am actually surprised that they let Deadpool shoot Peter Parker (in the head!) This comic is definitely not the easiest to digest (it gets… graphic) but it is an interesting world to discover the darker elements of Deadpool, behind the wit and sarcasm.
Support For Comic Book Herald:
Comic Book Herald is reader-supported. When you buy through links on our site, we may earn a qualifying affiliate commission.
Comic Book Herald's reading orders and guides are also made possible by reader support on Patreon, and generous reader donations.
Any size contribution will help keep CBH alive and full of new comics guides and content. Support CBH on Patreon for exclusive rewards, or Donate here! Thank you for reading!
This may be a bit too much for the fainthearted but in retrospect, because Deadpool is constantly belittled because of his personality, it is a bit refreshing to see him get revenge on everyone who tried to change him.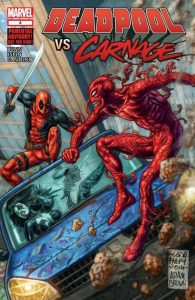 No one knows Deadpool better than Cullen Bunn. In Deadpool VS Carnage, Deadpool follows the signals of the universe to strike down the infamous Carnage! In this story, Cletus Cassidy is on a rampage with his symbiote, escaping Ryker's Island and leaving a trail of bodies behind him. Considering that Cletus and Wade are on the same boat of wackiness, it makes sense that they would be pitted against each other. In a weird, universal synchronicity trope, Deadpool "listens to the signs" in order to find Cletus and confront him. This is interesting because Wade is not the first character to come to mind when I think about "universally conscious" characters. Mysticism and Marvel also don't come to mind but it works fantastically. The only problem that exists is that they liken it to having a mental illness, which Cletus and Deadpool do experience. The idea of anything having to do with 'external forces' that help us along in life being akin to being sick in the head is laughable considering that there are literal symbiotes on the planet, overtaking people's bodies. Anything is possible, even that funny feeling you feel in your gut telling you what to do (intuition).
Nevertheless, Shriek, Cletus' main squeeze, comes to his rescue once Deadpool figures out (by way of divine television signals) where he is. What ensues is a massive love fest between Deadpool and Carnage, that spills out on the freeway and eventually the Mercury Teams super secret hideout. Chock full of Aliens references and some perfect Wade Banter™, this story will provide some laughs and a healthy amount of gore to satiate your appetite. Absolute Carnage!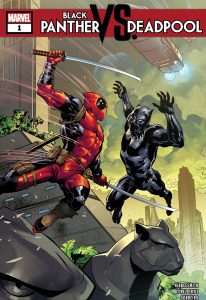 Wade has fought (and killed) almost everyone within the Marvel universe, so it makes sense that he would eventually find his way to Wakanda to annoy T'Challa & Friends™. After rescuing a school bus of children from The Wrecker, Deadpool goes off in search of vibranium to help a local postman who was harmed while Wade was "rescuing" children (and destroying a neighborhood).
Of course, vibranium is one of the most sought after materials within the Marvel universe, so it makes sense that T'Challa is not willing to give that to Wade, whose reputation precedes his arrival. T'Challa, after cutting off Wade's arm with a new contraption that he invented discovers that Wade doesn't have "healing" capabilities – instead, his cancer just keeps replicating. That means that Deadpool is nothing but a walking tumor! The irony is lost within the first minutes of hearing the news, so in natural Deadpool fashion, after being expelled by T'Challa, Deadpool persists in obtaining the vibranium and saving the Fantastic Four's mailman. Fast forward to Jack O' Lantern also wanting to visit Wakanda (it's a cool place, who wouldn't?) resulting in T'Challa and Wade joining forces to combat evil! Of course! Never saw it coming.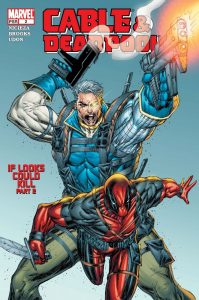 Cable and Deadpool, sigh. The two frenenimes have so much chemistry, that they even made a movie about it! In If Looks Could Kill, Deadpool is hired by a very blue Minister to turn everyone in the world… Blue. Traveling to France and then Frankfurt Germany, Deadpool is tasked to steal a bioweapon called 'Façade Virus'. Cable intercepts the plan once but is eventually infected by it. After losing his powers, the pair have to work together in order to save themselves and the rest of the world.
Deadpool and Cable are like oil and water but they make a great team, and their dialogue is very entertaining. Professor Xavier shows up to give Cable some friendly "Daddy of the Mutants" advice and Lightmaster makes an appearance to be the actual supervillain of the story. This comic series pokes fun at a lot of things, including "Anarchists" who called themselves "Spammers." After stealing the virus it's discovered that it is not stabilized and the kids literally melt as they carry out their plans of doom and destruction.
In classic centrist style, Cable stops the kids, chastising them for the audacity to rage against the machine. What a loser. Themes such as authoritarianism, cults, time travel and the forced validity of Professor Xavier remaining neutral despite the world's attempt to annihilate mutants are present within the 6 book series. By the end of the series we are shown that there is no correct way to exist in the world, but we can stand up for those who think that they are powerless. The answer to the world's tyranny is not to become "one race" of people but to accept people for who they really are – even if they are obnoxious mercenaries with an odd obsession with The Golden Girls.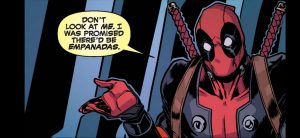 Honorable Mentions
Domino, Atlas Bear, Outlaw, Diamondback, White Fox, Black Widow and..Deadpool? We all know that Wade ends up in some pretty wacky situations, but this one kind of tops the cake. Written by Gail Simone, Deadpool seems like an unlikely comrade in this sweet story about an alien artifact and the global rush to harness it's powers. Gail has the ability to write Deadpool as I like to see him – as a tortured human being that utilizes humor in order to cover up his painful life experiences. Once you get past all of the bad jokes, Deadpool is just a little boy who has made the biggest mistake of his life – becoming immortal.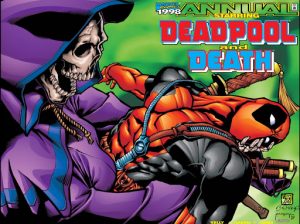 I really liked this one off series because of its odd, Baudelaire meets Muppet Babies feel. Deadpool and Al have adventures at a museum, an escapade with Blarney the Dinosaur and a series of other 'baby kid like' themes that are reminiscent of Wade's own childish behavior.
A one off that explores the 'death' of Wade Wilson at Weapon X. Death is a tricky lady but she has a thing for Wade. As it turns out, Wade had a difficult time embracing his newfound 'superhero powers' once he was turned into a 'monster'. Death acts as a sort of 'therapist' to aid in his acceptance of his new life.