Go big or go home. It's not just a phrase for sports rallying or partying like there's no tomorrow. In comics, it can easily be used to describe the epic-est of epics and any list coming out of this criteria is sure to include some tales from beyond space and the expanses of the "final frontier". Witness now, a collection of Marvel Comics' Most Cosmic Stories!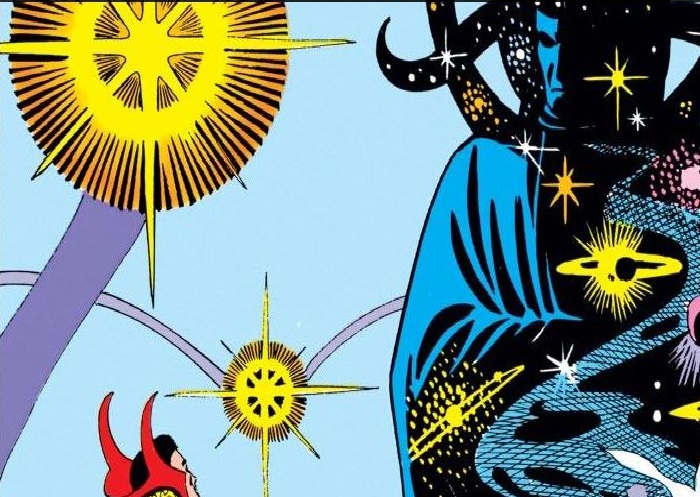 Dr. Strange Meets Eternity
Strange Tales (1951) 138
(Collected in: Doctor Strange Epic Collection: Master of the Mystic Arts)
Dr. Strange's arch-enemies have formed an unholy alliance, and pursue the Master of the Mystic Arts and his mentor across the globe. Along the way, Strange is sent on a quest to unlock the secrets of "Eternity"- hoping it will give him an edge against his adversaries.
Eventually, Strange comes to realize that "Eternity" itself is a conceptualized being! During the course of the series, artist Steve Ditko certainly illustrates a lot of insane alternate dimension "landscapes" but this particular issue wherein Stephen seeks an audience within Eternity's abstract realm is truly a visual cut above.
Support For Comic Book Herald:
Comic Book Herald is reader-supported. When you buy through links on our site, we may earn a qualifying affiliate commission.
Comic Book Herald's reading orders and guides are also made possible by reader support on Patreon, and generous reader donations.
Any size contribution will help keep CBH alive and full of new comics guides and content. Support CBH on Patreon for exclusive rewards, or Donate here! Thank you for reading!
Jack Kirby may (rightfully) get a lot of props for his iconic "Kirby Krackle" energy depictions but Ditko's "star fields" are just as impressive and will prove equally integral to the formula of "Marvel Cosmic" from here on out. In addition, the introduction of Eternity as a personified character will undoubtedly influence the work of Jim Starlin, the uncontested godfather of all things Cosmic Marvel and his creation of Death, Lord Chaos, Master Order and others.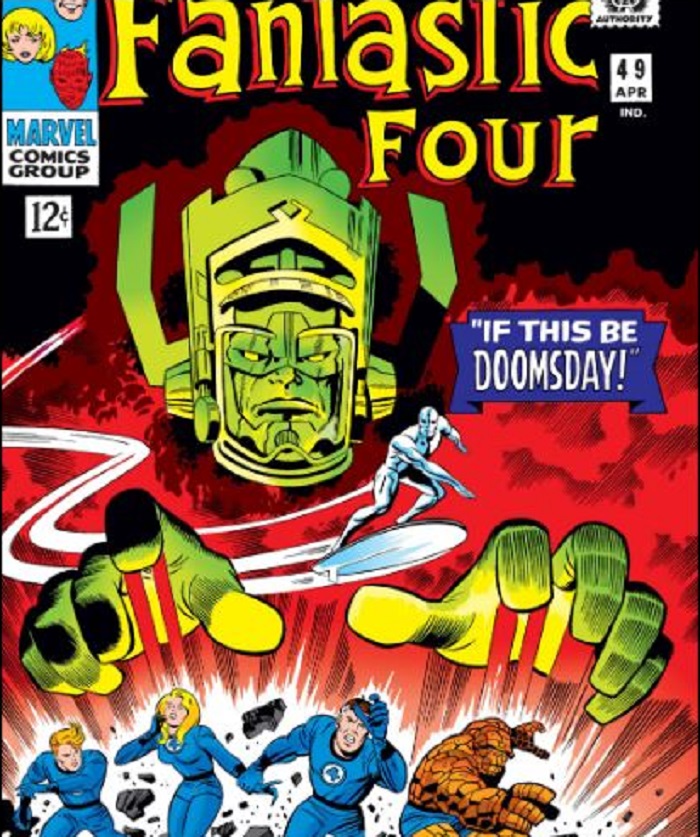 Galactus Trilogy
Fantastic Four (1961) 48- 50
(Collected in: Fantastic Four Masterworks Vol. 5)
In their first five years of publication, the Fantastic Four get up to some pretty wild adventures and encounter many strange and interesting individuals. However, nothing can prepare them for the coming of… Galactus!
Tiring of street-level thugs and would-be alien conquerors, Stan Lee and Jack Kirby conceive of "Big G" as something more akin to an actual force of nature rather than as somebody not so easily thwarted, apprehended and roundly handed over to the authorities, per se. Aside from pushing the envelope on creative problem solving, it's apparent over these three issues that not only do Lee and Kirby have a rightful benchmark on their hands but that the entire Marvel Universe is about to undergo something of a conceptual "Phase 2" level up.
Literally heralding the way (ha ha) is the story's other new character: the Silver Surfer. Although, they'd been doing the "conflicted anti-hero" shtick for a few years now (The Hulk, early Thing, etc.), in Lee & Kirby's alien rider of the spaceways, the creators tap into a whole different type of "stranger in a strange land" analogy, allowing the Surfer's cold detachment as commentary on the human condition. Indeed, "mouthpiece for allegory" very well goes on to become one of the character's core defining traits. (Much better than "once worked for tall and hungry guy with weird hat.")
Thor vs. Ego The Living Planet
Thor (1966) 131- 133
(Collected in: Thor Masterworks Vol. 5)
It's not every day an opportunity comes along to literally fight an entire planet but when you're the God of Thunder and that chance comes along? Great Odin's Raven- you jump on that!!
What starts out as a rather strange hijacking/ attempted conquering of Earth by the Colonizers of Rigel instead finds Thor going from prisoner to champion explorer. Once the abducted Thor arrives on Rigel, the Colonizers realize he's too mighty for them (it's in his name- duh) and are forced to rethink their Earth plans.
Making the most of an awkward and inconvenient situation, the Colonizers ask Thor to look into a problem they've been having with another planet rudely firing energy at them from… The Black Galaxy!
Turns out the Black Galaxy is in itself alive, a "bio-verse" if you will. Its primary inhabitant is a sentient planet named Ego, complete with a giant bearded face. However, after Thor gets through with him, Ego concedes to stop firing on the Rigellians. Not bad for a first accidental day as space cop, Odinson.
Fantastic Four vs. Annihilus
Fantastic Four Annual (1963) 6
(Collected in: Fantastic Four Masterworks Vol. 8)
The cosmic rays that gave the Fan 4 their powers are now causing complications in Sue Richards' pregnancy and it's up to Reed and the boys to save their lives! Racing against the clock to find a rare element in an anti-matter universe, the explorers instead encounter… Annihilus, the Living Death That Walks!
Not only a cool name, but Kirby also outdoes it with another over-the-top character design. Again proving ahead of the curve, 1968's Annihilus looks like the album cover mascot of a circa 1980 New Wave of British Heavy Metal act!
But the bombasticness doesn't stop there as Kirby delivers page after page of sense-shattering, visuals, offering many explosive splash pages and digging in with his experimental multi-medium "collage" work.
Best of all? It's all in and out in one forty-something page sitting! A nice reminder that "epic" doesn't always have to equate "long and drawn out."
The Kree-Skrull War
Avengers (1963) 89- 97
(Collected in: Avengers: Kree/Skrull War)
Earth is caught in the middle of an ongoing intergalactic war and the Avengers can't help but get drawn in deeper and deeper!
There's a lot to unpack over the course of this nine issue run so, suffice to say, you really do get a little bit of everything. On the cosmic front, you get the first look of the Avengers doing the whole "space marines" thing- launching on a deep space rescue mission with the unspoken underpinnings of "potential suicide run" (by the end, they literally don't know what happens to Clint Barton).
You also have straight-up "space opera" as the emotional heartbeat of the piece is the Vision literally crossing the universe to get to his love, the Scarlet Witch.
Oh, and the unlimited brain power of a teenager is the thing that actually saves the day. So, wrap your head around that. Cosmic, indeed!

Thanos War
Iron Man (1968) 55; Captain Marvel (1968) 25- 33; others (as found in the CBH Thanos reading order!)
(Collected in: Captain Marvel by Jim Starlin: The Complete Collection)
Despite a bizarrely intriguing cold open beginning in a random issue of Iron Man that makes you wonder if they stapled the wrong cover onto some other comic, this is another saga seeing the Avengers taking to the stars. Only this time, the fight is a lot closer to home!
Also like "The Kree-Skrull War", this is a story that meanders around a bit in its subplot side-quests before getting to the nitty gritty. But once it gets there? Oh boy, it is clear we are now in "Marvel Cosmic 2.0" as writer-artist Jim Starlin combines the "big-ness" of Kirby with Ditko's introspective psychedelia and delivers something that connects in a whole different way from either predecessor.
Most notably this epic is known as the first appearance of some purple guy named "Thanos." He's supposed to be some kinda big deal or something. May be a character to look for, possibly.
Warlock and the Final Threat
Warlock (1972) 9- 15; Avengers Annual (1967) 7; others
(Collected in: Warlock by Jim Starlin: The Complete Collection)
Shifting gears, in 1975 Jim Starlin takes over a revived series featuring a pseudo-messianic misfit, Adam Warlock. Although created by Stan and Jack in the mid-60s and later re-purposed by Roy Thomas, Warlock is a character that really doesn't come into his own until this run. In fact, many consider Starlin to be the character's definitive architect so much that it's easy to forget this earlier pedigree!
In regard to the "cosmic" aspects though, Starlin really turns up the gas on the trippy zen navel-gazing. Thought some of those segments in "Thanos War" were out there? Buckle up because things really get abstract and metaphysically deep in the pages of Warlock! Ever wanted to see the phrase "if you meet the Buddha in the road, kill him" play out in superhero allegory? Well, look no further…
Oh, and Starlin then finally wraps up his 1970s Marvel escapades by teaming up Warlock with the Avengers against Thanos for one last hurrah. It's a fitting cap on this era and one with a certain amount of staying power.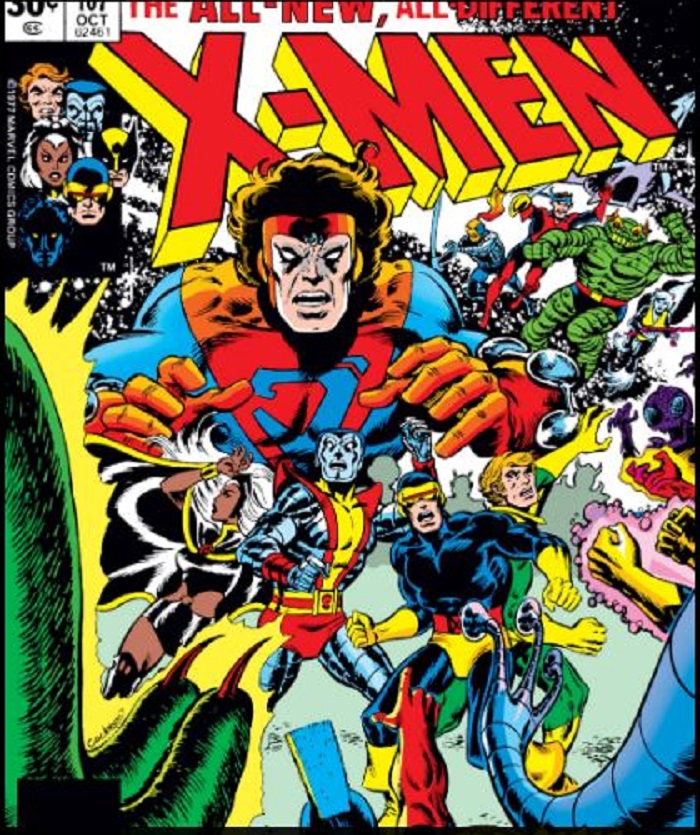 X-Men and the M'Kraan Crystal
Uncanny X-Men (1963) 105- 108
(Collected in: Uncanny X-Men Masterworks Vol. 2)
The Avengers aren't the only ones to get mixed up in intergalactic turmoil as the X-Men are transported away to the Shi'ar Galaxy to fight for the honor of Professor X's new space girlfriend. Oh, and try to keep reality from blinking out of existence. That, too…
Although the individual issues only average 17 or 18 pages each, it's almost indescribable how much world-build occurs over this short arc (which also bridges across a fill-in issue in #106). Of course, the pinnacle of this eye candy-fest is the mass introduction of the Shi'ar Imperial Guard, a winking homage to DC's Legion of Super Heroes.
Indeed, Chris Claremont and company may or may not have been fully aware of the lightning they were bottling in that particular moment but it is still -to this day- such a rich source of material.
If you ever need an example of "why do people love the X-Men"? This.
Elders of the Universe vs. Galactus
Silver Surfer (1987) 3- 10
(Collected in: Silver Surfer Epic Collection: Freedom)
In the course of his "Final Threat", one thing Thanos demonstrated is that the Soul Gems (ye olden term for "Infinity Stones") can be weaponized. Fast forward a few years and the Elders of the Universe begin to apply this to a scheme of their own devices.
During the course of their cosmic shenanigans, the loose association of ancient beings of singular, narrow-minded purpose known as the "Elders" got themselves permanently 86'd from the realm of death. That's right: the oldest dudes ever simply cannot die.
That being said, they figure "hey, why not just change up all the laws of the frikkin' cosmos and hey, aren't we just the guys to do it!". Their plan? Use the gathered Soul Gems to create an energy field that will destroy Galactus. Brilliant!
The only one to stop them: The Silver Surfer!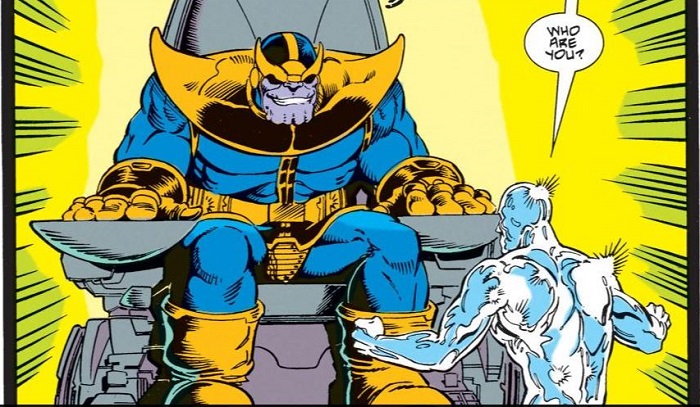 Thanos Returns
Silver Surfer (1987) 34- 38; Thanos Quest (1990) 1- 2
(Collected in: Silver Surfer: Rebirth of Thanos)
Jim Starlin returns to Marvel and so does his signature creation!
A universal imbalance brings Thanos back to the land of the living and it's arguable that multiple universes haven't been the same since (both actual and fictitious). The Surfer gets put in the passenger seat of his own series for a while as the Mad Titan takes center stage before moving on to his own limited series.
All of this is direct prelude to the Infinity Gauntlet
event series- in itself an over-the-top spectacle but this arc is probably a much more succinctly dialed-in commentary on the state of the universe and the condition of existence.
Planet Hulk
Hulk (1999) 92- 105
(Collected in: Hulk: Planet Hulk)
Talk about world building. Literally. And world breaking. Again, also literally…
The Incredible Hulk's been in space before- he's actually a very early friend of Rocket Raccoon's but he's never been tricked into a shuttle and launched across the universe against his will before!
Getting off course and landing on the gladiatorial planet of Sakaar, Hulk's journey isn't exactly as far "out there" as it is surprisingly grounding, with the alien backdrops only serving to accentuate a mythically transcendent humanity.
Capitol "E" for "epic" on this one for sure!
Omniversal
Ultimates (2015) 1- 6
(Collected in: Ultimates: Omniversal Vol. 1: Start With The Impossible)
In the wake of the Multiversal destruction of 2015's Secret Wars mega-event, a newly reconstituted Prime Marvel Universe means potential for new rules and new science-y exploration stuff. Without a Fantastic Four around, who will heed such an obtuse task?
Answer: The Ultimates. All leaders. All forward thinkers. Totally above-boards transparent and accountable. Their first job? Fix Galactus to make him his best self!
From there, the job only gets better and series writer Al Ewing does an amazing job of explaining away that any and all past continuity glitches aren't actually glitches- the past keeps mutably changing as well now! So, your no-prize is now Schrodinger's Cat- so there you go!